I'm all about necklaces lately. Now that my kids are old enough to know that it isn't okay to grab at my necklace all day long, I've been adding a few new pieces to my small collection. In the previous few years I've kind of shied away from anything hang-y that could easily be grabbed at after a few unfortunate broken accessories.
Particularly, I've been all about this Vintage Flower Necklace that I purchased on Etsy as a "birthday gift" for myself this spring.
What I love most about this vintage flower necklace is how colorful it is. The variety of color with no clear pattern or scheme makes it an easy compliment to almost any outfit. The hardest part was choosing which flower necklace to purchase. And believe me, I've got my eye on a few other colorful pieces in the Nest Pretty Things shop.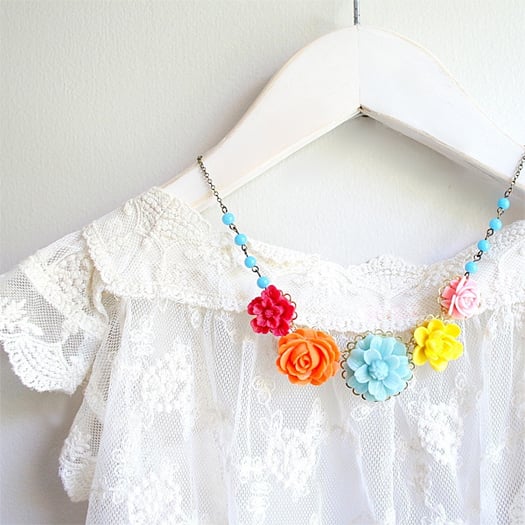 Vintage Flower Esme Necklace available at Nest Pretty Things, $48
Photo by Tamar (shop owner)
I don't think there has been a time yet where I've worn this colorful floral piece by Nest Pretty Things and not had at least one person comment on it's beauty. It is pretty memorable too.
In one instance the lady working at the library check out desk commented on it. I told her about Etsy and the shop's name as best as I could remember. Not only did she thank me, but she had to show someone else the necklace I was wearing.
A few days later I was back at the library to pick up some holds (If you know me, that's no big surprise!). The same lady was working. She smiled and looked at me: "You're wearing that pretty flower necklace again!"
Yes, yes I am. It's my new favorite piece to wear.
Now that fall is here and winter on it's way. I think it's time to add another Vintage Flower Necklace to my collection, perhaps in more subdued colors. I'm thinking this or this.
Do you have a favorite piece of jewelry to wear?