I have a little problem. I can't seem to find just the right camera bag to fit my needs. Big enough to stash keys, cell phone, Logan's epi-pen and a couple other necessities (plus camera), but small enough that I don't feel like I'm juggling a piece of luggage.
I've tried several different bags and all of them end up feeling way too big to be carrying around once I've removed the camera for use. And I don't feel like it is exactly safe to make a habit of stashing my camera in my unpadded purse.
Enter The Bowery from ONA, purvyor of fine hand-crafted camera bags and accessories. It is a small bag, but not so small that you can only carry a camera. It is fully padded. Constructed out of water-resistant waxed canvas. Can be worn on the shoulder or cross body with the adjustable strap. Has pockets.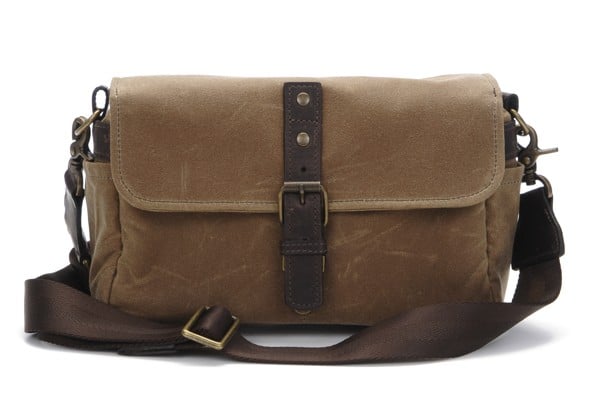 I tested The Bowery Bagout first on my recent trip to Napa, which I knew would be a "camera heavy" kind of trip (how could you not bring a camera when there is great food, olive oil tasting at a vineyard and hot air ballooning involved?) Then I used it again on a recent trip up the mountain for the day of fun with the kids. I was able to stash the following in this 10.5″L X 7″H X 4″D bag:
How to Pack The Bowery Camera Bag

The sunglasses easily fit in one of the side pockets when not in use. My phone fit in the opposite side pocket.
Inside the large section is a removable velcro padded divider. I removed that and placed my camera with lens attached in the main pocket. The strap was folded and tucked underneath. Next to that was the epi-pen. On the side of the camera fit my wallet.
Car keys clipped to the bag's strap. Lipstick, gloss, and sunscreen fit in one of the two small inside pockets.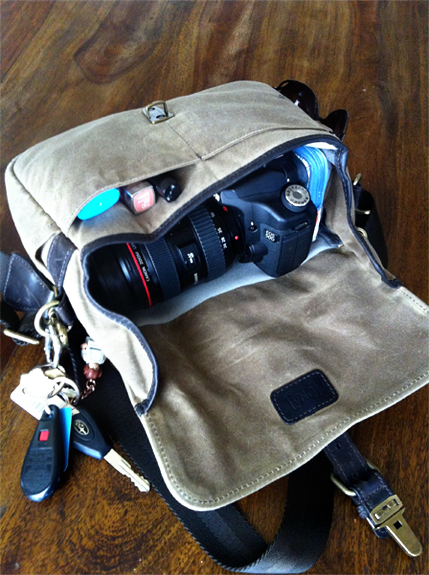 iPhone not pictured – had to use that to snap the pic!
Pretty cool, huh? That's quite a lot to fit in a bag described as "small," but do you really need much else when out and about for the day or even a short weekend trip? You could easily fit a whole lot more if you had a smaller lens, such as the 50mm f/1.4.
It gets better. If you do need a bigger bag, you can remove the strap from the Bowery, fold the lid back and slip it inside a larger bag to use as an organizer (and padded protection) for your camera.
I can see that I'll be getting a lot of use out of my Bowery. It is an all around great daily camera bag! I'd be ok if it were just slightly bigger, but for now this camera bag is the best I've found to suit my needs for a compact bag to use on day outings and short trips. Way to go, ONA!
ONA sent me a bag for review, but experiences and opinions shared here are my genuine thoughts.