Though Napa Valley may be known for its grape vineyards and wine tastings, there are plenty of other activities to indulge in while visiting. I recommend an Olive Oil and Vinegar tasting at Round Pond Estate.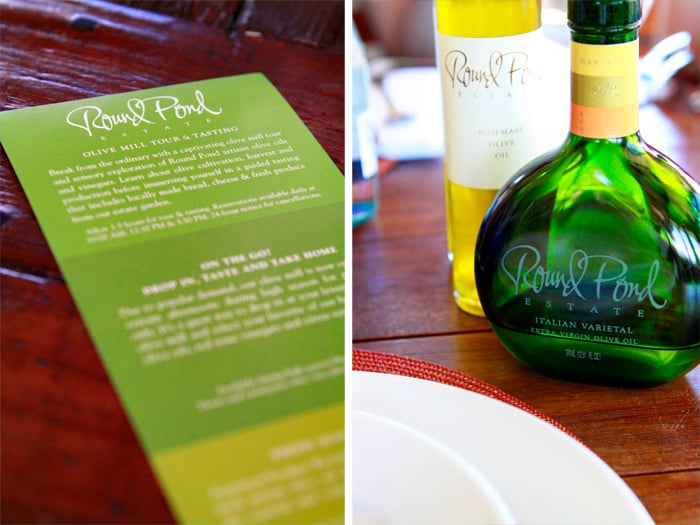 During my preview of the Your Ticket to Dine prize package for the Hilton HHonors Seven Tickets to Your Paradise Sweepstakes I very much enjoyed our afternoon at Round Pond Estate, located in the Rutherford area of Napa Valley, where we participated in an Olive Oil and Vinegar tasting followed by a gorgeous, fresh lunch.
It's hard to go wrong when you start your day with a hot air balloon ride and spend the afternoon with delicious food like this!
During a portion of the guided tasting we were taught exactly how to properly taste olive oil and vinegars.
How to Taste Olive Oil
We were given small cobalt blue cups with a small amount of each of the three oils that we would be tasting – Italian Varietal Extra Virgin, Meyer Lemon, and Blood Orange. The blue glass is to obscure your view of the oil so you don't make the mistake of pre-judging the flavor or quality based on the oil's color.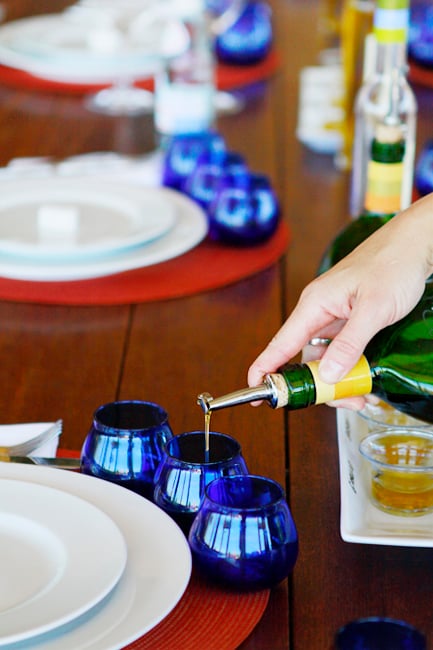 Swirl the glass three times, smell, swirl again, smell and take a small sip. Allow the oil to coat your mouth. Then, form your lips as if around a straw and take three "sips" of air.
We also tasted Round Pond Estate's Herb Infused Oils – Basil, Rosemary, and Garlic – with plenty of locally made artisan bread for dipping. Garlic was my favorite if you're curious.
How to Taste Vinegars
To taste Round Pond's Red Wine Vinegars we had a plate with two sugar cubes on it. One at a time we soaked a cube in vinegar, then pressed it to our lips and sucked the vinegar through the sugar.
This process is supposed to help you really sense the underlying notes that are present in a vinegar and make it unique.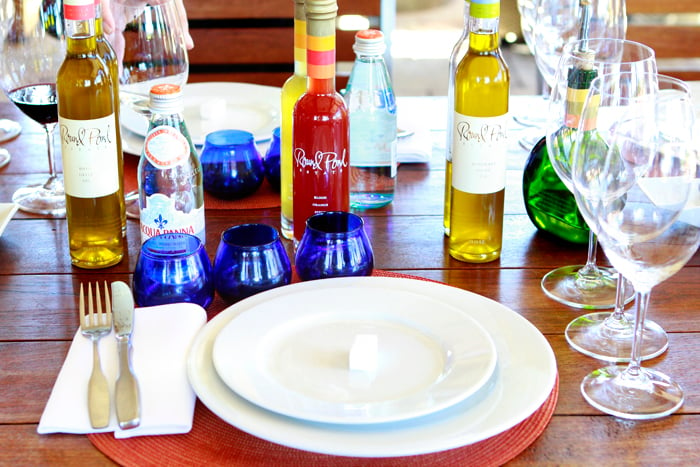 I love a simple oil and vinegar dressing, but we also talked about unexpected ways to serve vinegar, like with fresh fruit for dessert using a fruity vinegar or adding a bolder vinegar to a BBQ sauce recipe.
Olive Oil Tour and Tasting
If you have more time, you can take a tour of Round Pond's Olive Mill where you will learn about olive cultivation, harvest and production prior to participating in the guided tasting of their artisan olive oils and vinegars.
Each tour lasts about 90 minutes and requires advance reservation. Tours run at 10 am, 12:30 pm, and 3:30 pm. This is something I'd love to participate in during a future trip to Napa.
Citrus Syrups
If you follow me on Instagram, you may have seen this image with a caption that read as follows: "Yuuuuum. Blood orange & Meyer lemon syrup at Round Pond Estates. #hhparadise"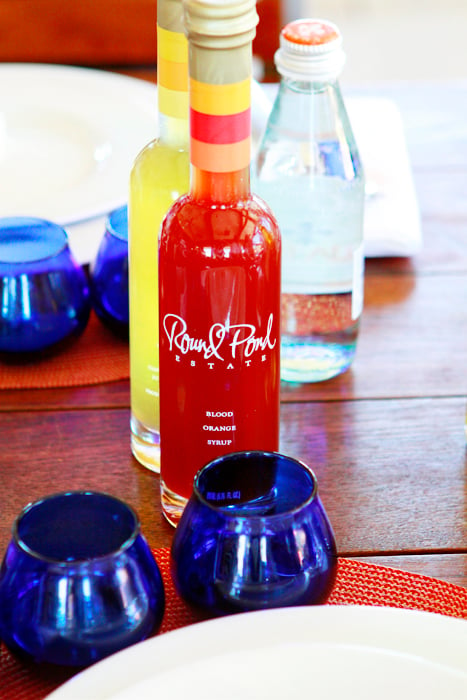 Not only do the Blood Orange and Meyer Lemon Syrups taste amazing, they are incredibly versatile: served with a fruit and cheese plate for dessert, drizzled over Round Pond Estate's Meyer Lemon Olive Oil Cake, added to a cold glass of San Pellegrino, brushed with one of the infused olive oils over grilled chicken…or just licked off your fingers!
I also love the story behind these syrups! "While crafting our acclaimed Meyer Lemon and Blood Orange Olive Oils, using the skins of California grown citrus fruits, we found ourselves with an abundance of vibrant, fresh-squeezed juice. Our delicious solution – the pure essence of citrus syrups. A sweet and whimsical match for an array of food and beverages, we invite you to discover this delightful treat" (quote via Round Pond).
If this sounds like something you'd like to experience, make sure you head to HHonors.com/Paradise and enter daily for your opportunity to win the featured prize package. If you win the Your Ticket to Dine prize package, you can have your very own Round Pond Estate experience.
What are your favorite places to visit in Napa Valley?
Hilton HHonors invited me on an all expense paid trip to Napa Valley and I was compensated for my participation. I had a fabulous time and am happy to share my experiences and recommendations with you.