Last weekend I had the opportunity to be a guest of Hilton HHonors in Napa, CA. Hilton HHonors is a loyalty program for Hilton Worldwide's 10 Hotel brands. Hilton HHonors is currently running a sweepstakes for their members While in Napa, CA a group of food and travel bloggers previewed one of the Seven Tickets to Your Paradise Sweepstakes trips.
If you are a Hilton HHonors member, you are going to want to enter that sweepstakes. Just sayin'!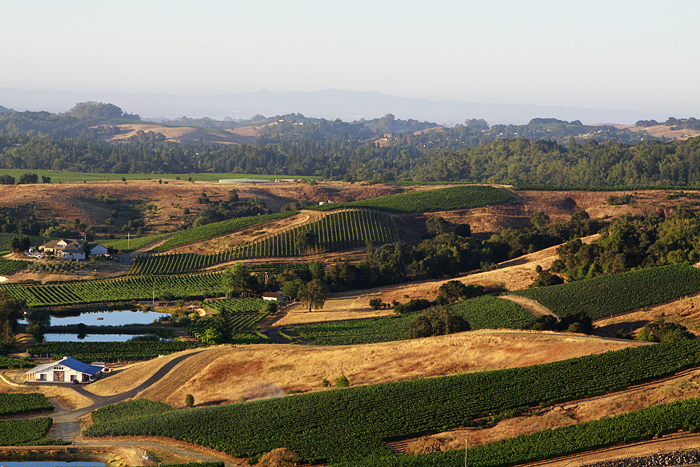 The theme of our trip was Your Ticket to Dine. With that in mind it was only natural that while in Napa we ate lots of delicious, fresh local food, but we also experienced some amazing beauty as we soared 2,000 feet above the gorgeous Napa Valley in a hot air balloon. A camera worthy occasion if there ever was one!
Being around Hot Air Balloons are no new thing to me. Seven years in New Mexico brought hot air balloons to our neighborhood nearly every day and a big Balloon Fiesta each October.
But all those years with balloons so easily accessible and I never experienced them from anywhere but the ground. I was thrilled and a little nervous to have a chance to get up in the air and see (and photograph!) it from a different view.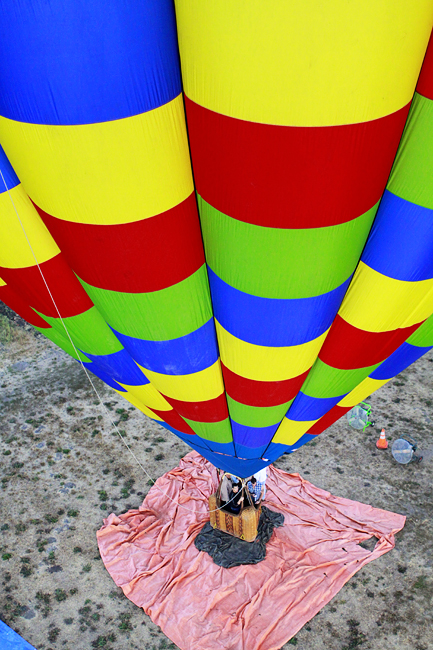 We weren't the only ones out with Balloons Above the Valley that morning. There were several groups getting ready for flight. A field full of brightly colored balloons is always a welcome sight to my eyes. Here is one getting ready to take off just after us.
Balloons Above the Valley offered fabulous service including items like pre-flight coffee, tea, hot chocolate and pastries. You have to get up quite early for the flight and I love that they took care of our early morning breakfast needs.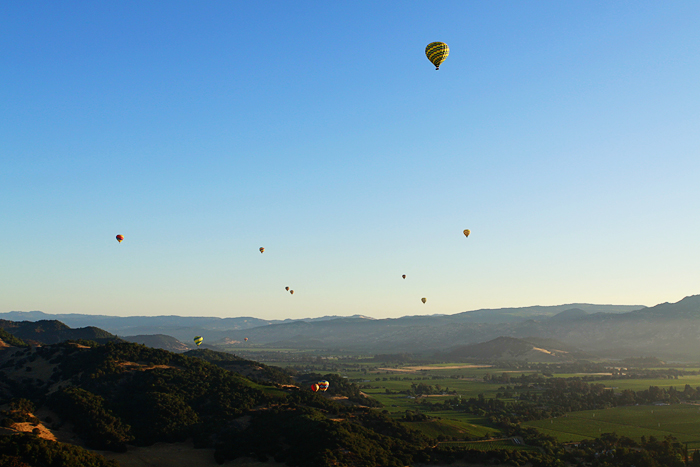 During the flight our pilot offered lots of information about the Napa Valley and pointed out gorgeous landmarks for our photography. We could even see San Francisco and the Bay from our balloon.
Once high in the air we could see all of our other colorful ballooning companions that morning. I spot 12. How many can you see?
The flight itself lasted about an hour, but I didn't time it. I was too enthralled with the views and had a difficult time removing my camera from my face. Moments where I sat back and took it all in (minus the camera) were magical. I don't know that anything is more peaceful.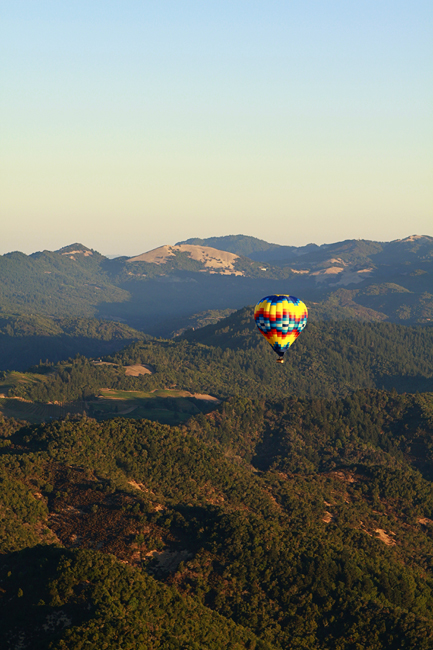 The balloons are smooth, effortlessly floating through the sky, and with plenty of room to move around and take photos despite seating up to 16 passengers in our rectangular basket.
Prior to the trip I was a bit nervous about the ballooning, but once we arrived to our launch location I told myself that I wouldn't think about all the crazy "what ifs" or let my imagination run away with itself.
I felt safe and secure the whole time, even when looking down. The sides of the basket are plenty high so there is absolutely no worry of falling out – unless, perhaps, you are performing some ridiculous acrobatics!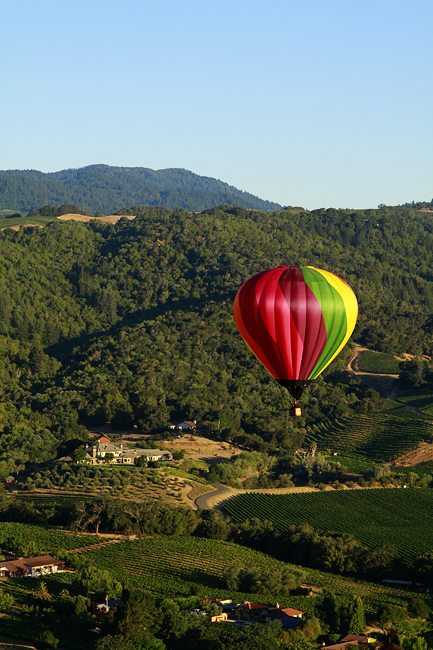 This is one of my favorite images, though it was quite hard to choose. I love the contrast of the colorful balloon against the gorgeous green vineyards and vibrant blue sky. I'll never get tired of a mountain view.
Logan and Madeline would have had a fabulous time, but I don't know if they are quite tall enough to see over the basket yet. However, there are some foothold cut outs in the basket to aid in entering and exiting, that might be the right height for children to safely peer through.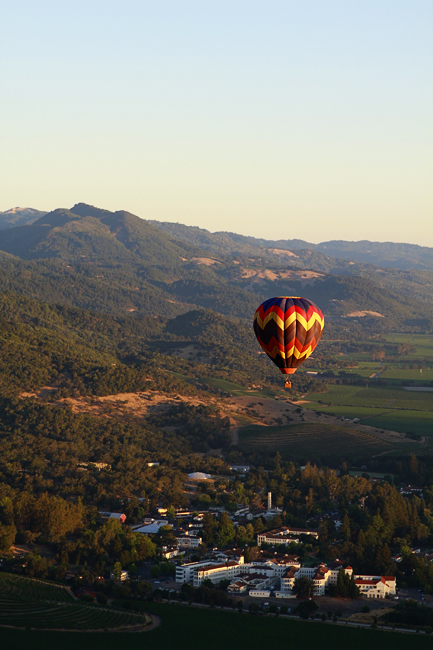 If you've been contemplating going up in a balloon and haven't yet done it, make sure you do! It will be an experience that you'll remember forever as the beauty is simply indescribable. Hopefully the photos help.
I don't know that I could have picked a better locations for a first time experience. Napa was fantastic. I know that I will always remember this flight. I can't wait to do it again – next time with Eric.
If you'd like the opportunity for a chance to win your own Ticket to Dine from Seven Tickets to Your Paradise Sweepstakes, head over to Hilton's promo page and enter. The contest runs through August 31, 2012. Official rules available here.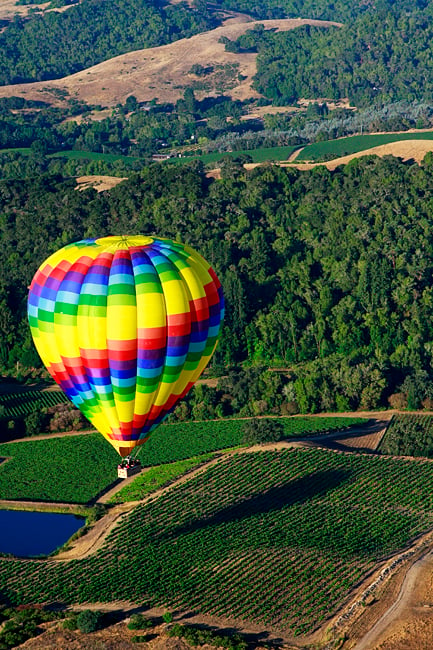 The winner of the Napa Valley Ticket to Dine trip receives a trip for two to Napa Valley wine country which includes: A 5-night stay for two at the Embassy Suites Napa Valley, Roundtrip airfare for two, Exclusive dining and wine tasting experiences, $1,000 Hilton HHonors™ Gift Card, and 500,000 Hilton HHonors Points. Quite a deal!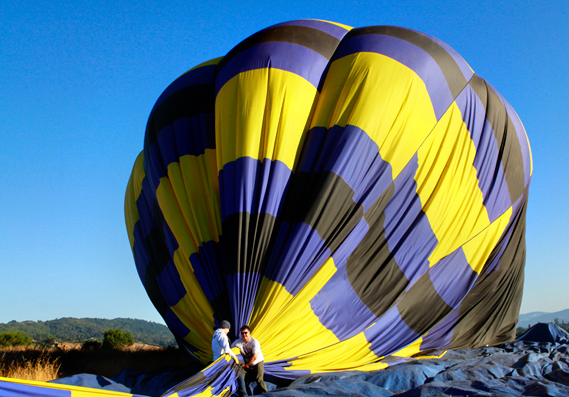 After our landing the crew team packed up the balloon and we were whisked away in the van to a post-flight brunch provided by Balloons Above the Valley for all their passengers. The buffet of fresh fruit, roasted potatoes, eggs, juice, waffles and more was a welcome sight!
I was really grateful for the weekend away from the kids to do some relaxing and fun things on my own after this crazy summer of moving. Thanks so much to Hilton HHonors for making that happen. Napa was the perfect location!
Have you ever been in a hot air balloon?