While in Napa Valley to preview the Your Ticket to Dine prize package for the Hilton HHonors Seven Tickets to Your Paradise Sweepstakes we tasted some amazing food. I thought I'd share a few of my favorite Napa Valley restaurant picks with you. There certainly is no shortage of good food in California!
Oenotri
Located in downtown Napa Valley, Oenotri specializes in local, fresh, seasonal offerings. Its menu changes daily to accommodate what is available each day. Oenotri reminded me very much of Cucina Urbana, a favorite restaurant that we dined at last summer while vacationing in San Diego.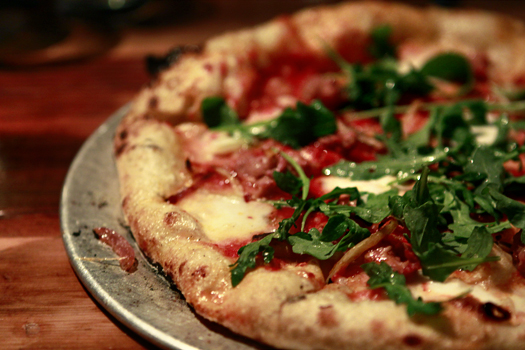 My favorites from our menu for the evening were the Fingerling Potato Pizza and the Pork Sausage and Fennel Pizza, both of while were cooked on the restaurant's wood-fueled Acino oven they imported from Naples to bake authentic pizza Napoletana. My eyes and taste buds got the better of me and I started out the dinner a little too fiercely, but who could help it with such delicious pizza?
From the salad course, I was partial to the Little Gem Lettuces with Basil, Pecorino, and Walnuts. Both of the pastas were divine for different reasons.
The Pork Ragu was so rich in taste. It was one of those dishes that you can't help but continue to eat despite your ever expanding waistline. The Pomodoro with Parmesan was the most fresh tasting tomato sauce I've had in a long while. It was like eating straight out of the garden.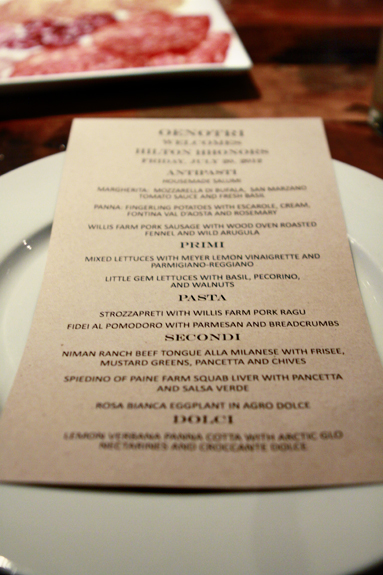 I passed on the next course as organs or other body parts aren't really my thing, though my dinner companions said that the Beef Tongue and Squab Liver were both delicious.
It is one of those things for me where I'd have no problem eating it if I didn't know what exactly it was, but once I know I can't get past that. The Eggplant contained pine nuts, which I'm allergic to, so I passed on that as well.
Dessert was fantastic. I'm a big fan of Panna Cotta and Oenotri's Lemon Verbena Panna Cotta with Nectarines hit it out of the park. I'll definitely return to Oenotri if I have the opportunity.
Auberge du Soleil
Or last morning in Napa allowed us to sleep in after a busy previous day (we had been up before the sun for a Hot Air Balloon Ride and spent the day touring vineyards). That morning we enjoyed a delicious breakfast with a beautiful view at Auberge du Soleil. It's hard to believe how much we were able to fit into just a weekend.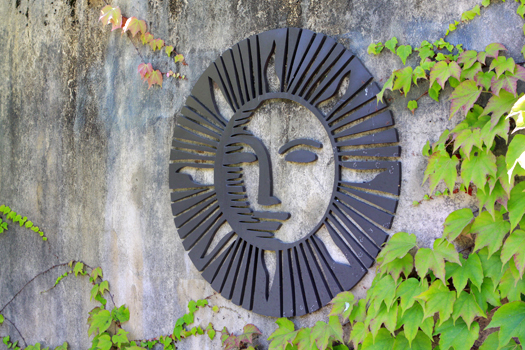 Located in Rutherford, Auberge du Soleil is hailed as one of Napa Valley's first fine-dining establishments.
In 1981 French restaurateur Claude Rouas, inspired by the gorgeous views of the area, set forth to bring the ambiance of a Provençal restaurant in the California Wine Country.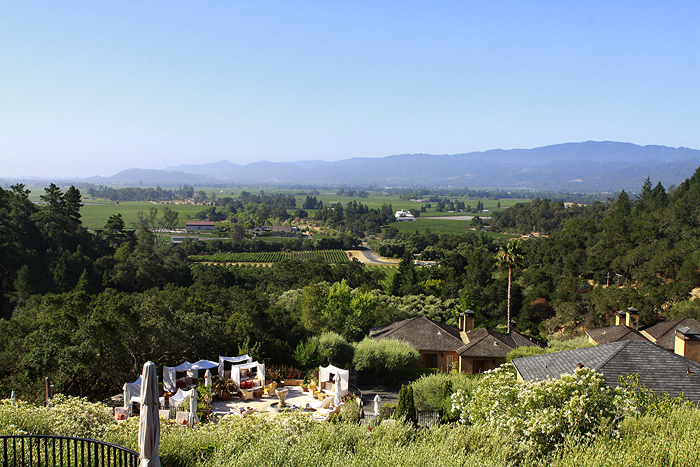 Auberge du Soleil opened in 1981. Its cuisine highlights the rich ingredients and natural diversity of the area. Like many California restaurants, Auberge du Soleil relies on regional produce.
Auberge du Soleil also offers luxury guest rooms that are perfect for a romantic getaway as well as a spa. The property's spa features treatments that incorporate house-infused oils as well as various herbs grown in the spa's garden.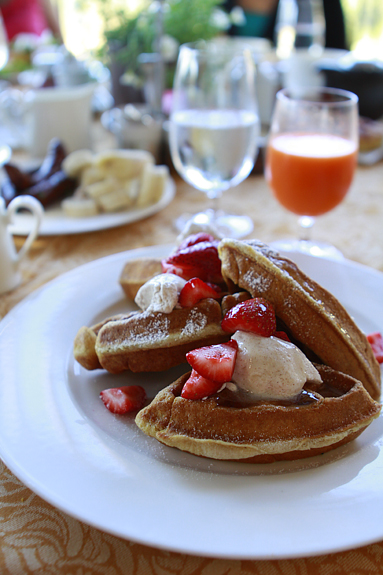 Many of my brunch companions enjoyed the Esperanza Breakfast: Huevos Rancheros, Scrambled Eggs, Chorizo, Black Beans which left me with breakfast envy.
I did however greatly enjoy my Belgian Waffles with cinnamon cream and fresh strawberries. The Orange Carrot Juice was incredibly refreshing.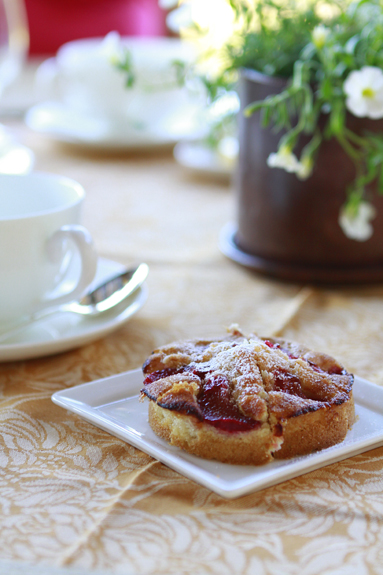 Prior to ordering we were treated to a complimentary coffee cake – the most tender, sweet rhubarb breakfast cake I've had. We asked for seconds after it was quickly devoured as we enjoyed the spectacular views our seats offered.
Bouchon Bakery
Bouchon Bakery is located on Main Stree in the town of Yountville, such a charming area set in the heart of Napa. It boasts some impressive neighbors including The French Laundry and Napa Style.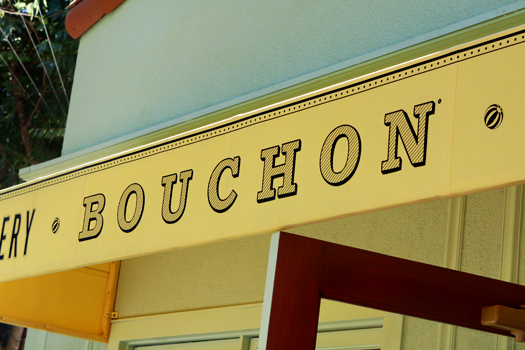 We stopped in here after our breakfast at Auberge du Soleil in search of some fun treats to bring home to Eric in the kids. I couldn't have picked a more perfect place.
While the line looked rather long, extending out the door and down the street, it moved rather quickly. Inside we were met with breads, pastries, and cookies of all kinds. More than I could ever dream up myself.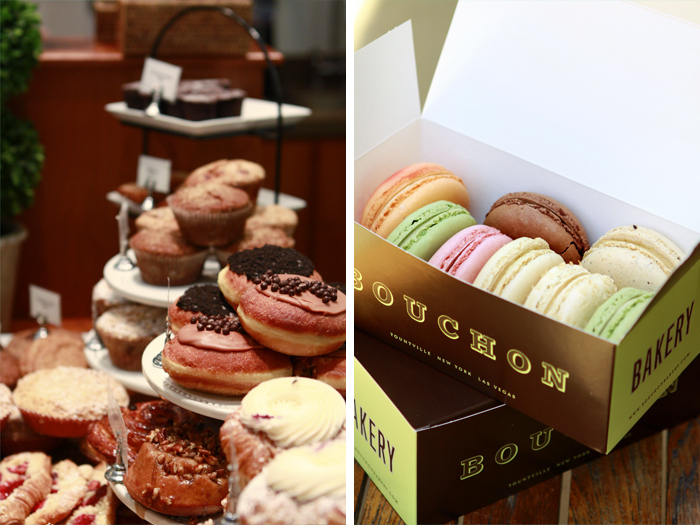 I settled on a small box filled with French Macarons, pretty little round pastries filled with buttercream. They are light and airy with a crisp outside and come in as many flavors as and colors as you can imagine.
My favorite was hands down the pistachio with the coconut at a close second. Though there were one or two that Eric ate and I never tasted.
What are your favorite places to eat in Napa Valley?
Head over to HHonors.com/Paradise and enter daily for your opportunity to win the featured prize package – Your Ticket to Dine in Napa, California. If you win the Your Ticket to Dine prize package, make sure you check out some of these amazing restaurants.
Hilton HHonors invited me on an all expense paid trip to Napa Valley and I was compensated for my participation. I had a fabulous time and am happy to share my experiences and recommendations with you.