This has been a summer of firsts. My first passport. My first time with international travel. Our first time visiting Crete and Athens. And the our very first time traveling without the kids. As if that wasn't enough adventure for one summer, we decided that it'd be fun to take our first, real family trip with the kids.
We've never been on a family trip anywhere that didn't involve visiting other family members. I had been thinking for a while about how much we needed to get away with the kids and have an adventure of our own with just us.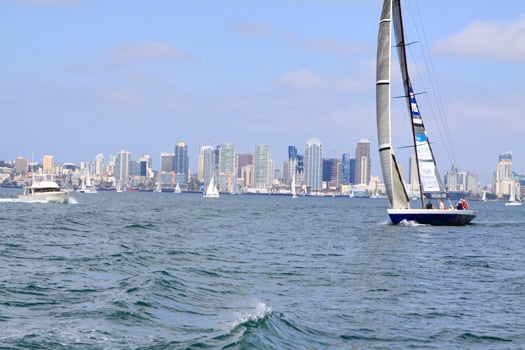 We decided that a family trip to San Diego was what we really wanted to do. Beautiful city, great weather, and so many fun family things to do.
It was such a great time! I can honestly say that this trip brought us closer together as a family and if nothing else with the added bonus that we FINALLY (successfully) potty trained our Madeline. Now I'm home in New Mexico pining away for that gorgeous San Diego weather.
Does family travel stress you out? Or do you enjoy it? Here are some highlights from the first two days of our adventure.
Day 1 – San Diego Harbor
We arrived in San Diego early in the day and spent the afternoon in the harbor before checking in at our hotel. At the Maritime Museum of San Diego we toured restored and operating ships and submarines. The museum has one of the world's finest collections of historic ships available for public tour.
We toured a few ships and subs of interest. The Maritime Museum is a fun place for kids to explore, especially little boys! Logan and Madeline both loved looking through the periscope of the submarine.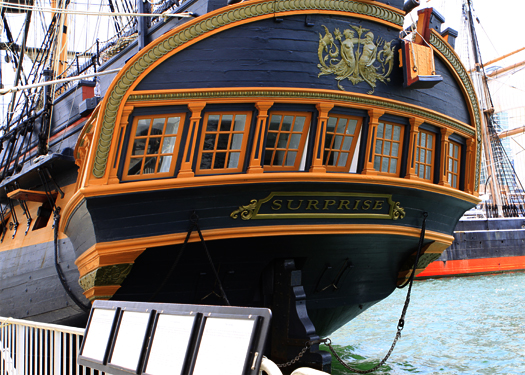 HMS Surprise – the star ship of the movie Master and Commander – The Far Side of the World. HMS Surprise was a recreation of a 24 gun frigate specific to Great Britain's Nelson era Royal Navy.
B-39 Submarine – a diesel electric submarines the Soviet Navy commissioned in the early 1970s and is one of the largest conventionally powered submarines ever built. B-39 was designed to track U.S. and NATO warships throughout the world's oceans. This submarine carried a crew of 78 and was able to dive 985 feet.
USS Dolphin Submarine – the world's deepest diving submarine. Her November 1968 depth record for operating still stands. In The USS Dolphin set another record in August of 1969 when she launched a torpedo from the deepest depth that one has ever been fired.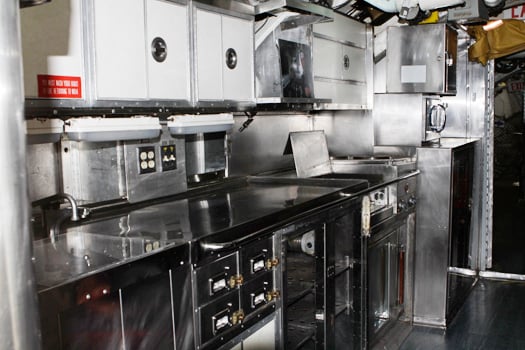 the kitchen of the USS Dolphin
Also in the area, you can tour the USS Midway Museum at the harbor. I really wanted to go here and check it out but the kids were getting tired so we had to call it a day. The USS Midway is one of America's longest serving aircraft carriers.
At the museum you can explore more than 60 exhibits and 27 restored aircraft.The ship's exhibits range from the crew's sleeping quarters to a massive galley, engine room, the ship's jail, officer's country, post office, machine shops, and pilots' ready rooms, primary flight control and more.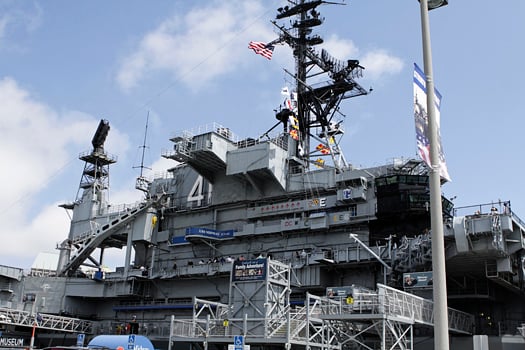 We did walk past the USS Midway to show it to the kids and we got a great view of it on the way in from our Harbor Tour. The kids were really excited to go on a boat for a tour of the harbor.
We didn't have a lot of time left on our first day before we needed to head back to our hotel and get cleaned up for dinner, so we just took the 1 hour North Harbor Tour.
The 1 hour North Harbor Tour includes 12 miles of scenery. You'll see
North Island Naval Air Station
Naval Submarine Base
Fort Rosecrans Cemetery
1863 Star of India and Maritime Museum Vessels
Cabrillo National Monument and Point Loma Lighthouse
Sea Lions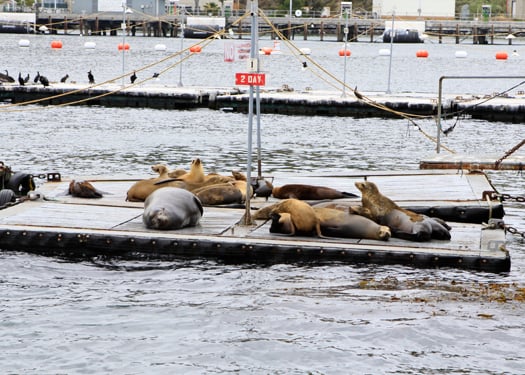 The highlight of the tour were, of course, the sea lions! We were running a little late getting on the boat for the tour, so we had to sit on the lower level because the top was all full. Unfortunately, the tour guide sound is a lot harder to hear on the lower level than on top, but we still had a great time.
Family Sleeps
We were pretty tired after all that and ready to get cleaned up for dinner. We stayed at Paradise Point for the first two nights. It was a great family place. Paradise Point is located on a private island on Mission Bay.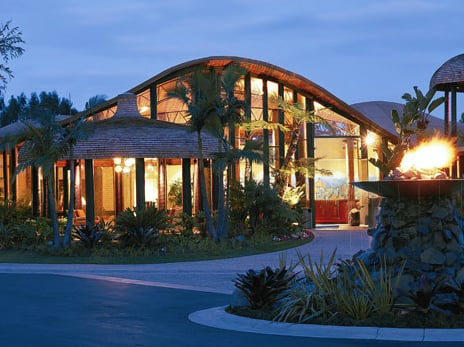 It's not a traditional hotel in the sense of the building and rooms. Instead, each guest has a bungalow-style guest room. Eric and I had our own bedroom with a king sized bed.
There was a tv/sitting room in the front with a fold out couch where the kids slept and a small kitchenette. The two rooms connected through a bathroom, each with their own sink and closet.
The landscape felt lush and tropical and it was so nice to see so many beautiful flowers everywhere, as that isn't typical here in the New Mexican desert. California definitely agreed with me. San Diego was such a nice change of scenery.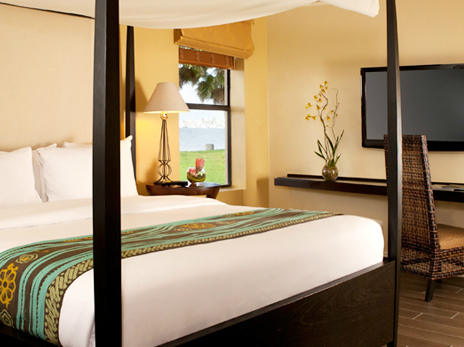 We had a waterfront room and enjoyed the sand and water just feet from our front door. One night we had a great view of the Sea World closing fireworks from our room.
The location of Paradise Point is great if you plan on attending Sea World (like we did) because it's just a few minutes down the road.
San Diego Eats
After cleaning up from our day's adventures, we headed to dinner at the Corvette Diner. This had to be the kids favorite place to eat of the whole trip.
We were instantly transported back in time as we were greeted by a waitress decked out in a poodle skirt and bouffant hair get-up, a vintage Corvette, and all the best songs of the 1950's.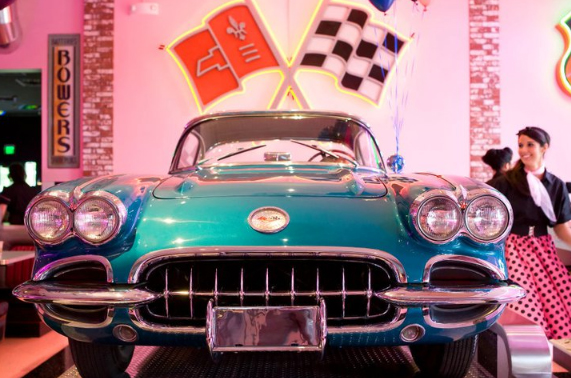 Corvette Diner was definitely a place that made eating out with kids fun. And the menu had something for the whole family with items like Fajitadilla (Fajita Quesadillas), Hula-Hoop Onion Rings, old-fashioned soda fountain drinks, bottom-less chocolate milk, and classic grilled cheese for the kids.
Eric noshed on the Blues Brother Burger, while I enjoyed the BLAST Sandwich (bacon, lettuce, avocado, swiss and turkey).
After that it was off to bed for us. We had a big day at the San Diego Zoo awaiting us the next morning.
Day 2 – The San Diego Zoo
Madeline is completely obsessed, smitten, in love, whatever you want to call it…with animals. I knew a trip to San Diego wouldn't be complete for our animal lover without a stop at the world famous San Diego Zoo.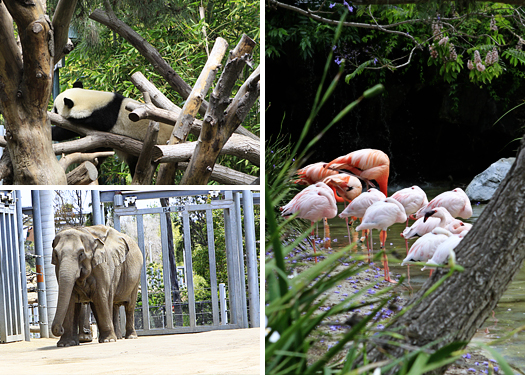 First up on the schedule was head over to the Panda Bears. I've heard that they can be quite popular so it's best to check them out earlier in the morning before the line gets too long. They were so cute, I can see why they are so popular!
A few interesting facts about the Pandas: China loaned two giant pandas, Basi and Yuan Yuan, to the San Diego Zoo for 200 days in 1987. Over two million people were able to view the pandas during their stay.
In August of 1999, Bai Yun gave birth to Hua Mei, the first giant panda born in North America to survive to adulthood. Millions of people around the world watched Hua Mei grow up via the Zoo's Panda Cam.
The little elephant in the above picture was just too adorable. He (or she?) was dancing around swinging his trunk back and forth and looked like he was having a grand old time putting on a show. I'm not sure which elephant this was because there are several young elephants listed on the San Diego Zoo's website. You can Meet the Elephants and view the Elephant Cam.
We had a wonderful time at the Zoo. It is so much larger than our Zoo and impossible to see everything all in one day, but everything we saw was enjoyable. It might seem silly, but we had a lot of fun going on the Skyfari Aerial Tram. Riding above the Zoo like that showed how big it really is. The views were amazing, and it was the fastest (and most fun) way from one end of the park to the other
San Diego Eats
While the kids' favorite place to eat was definitely Corvette Diner, Eric and my favorite place was hands down Cucina Urbana. If you visit San Diego in the future, do me a favor and eat dinner at Cucina Urbana.
I was a tad nervous about going to a place so nice with the kids after a long day out at the Zoo, but they were on their very best behavior and surprised us.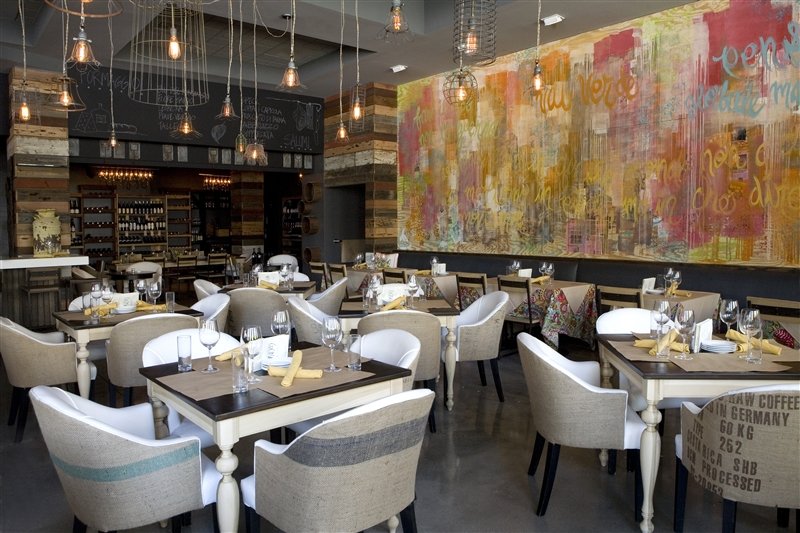 Everything about this place was perfect. The atmosphere, the food, the service…even the kid's menu was impressive! It was nice without being overly formal and the kids were definitely welcome there. I told Eric if I could just bring only one souvenir home from San Diego, that I wanted it to be this restaurant.
We started with Buffalo Mozzarella with Fried Baby Artichokes and a Little Gem Lettuce Caeser Salad to share. Eric had Goat Cheese and Mascarpone Ravioli with Spring Peas, Carrots, and Parmesan Butter. I had the Bosc Pear and Gorgonzola Pizza with Caramelized Onion, Pecans, Arugula and Balsamic Vinegar.
I just had a taste of Eric's dish, and it was definitely delicious. But the pizza…oh the pear pizza! It was one of those dishes that I kept trying to eat long after my stomach started to feel full.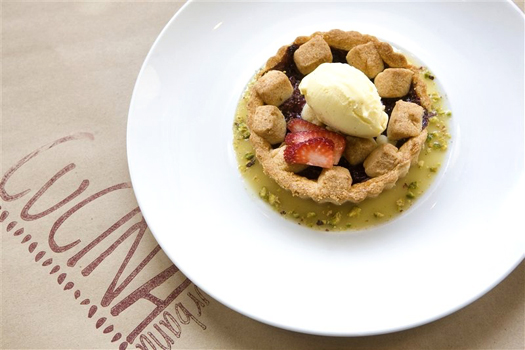 Logan and Madeline had a Cheese Pizza off the kid's menu and it was the best darn Cheese Pizza I've ever tasted. For dessert we shared Roasted Strawberry Fregolata with Pistachio Gelato and Meyer Lemon Coulis and Zeppole Italian Donut Holes with Blueberry Tarragon Sauce. It was so hard to decide on anything because everything sounded equally amazing.
After that it was back to Paradise Point and off to bed. Stay tuned for the rest of our trip. More great San Diego Eats, Sea World and Legoland.
Read about days 3 and 4 here: San Diego Family Fun Part 2

Big thanks to the wonderful people at the San Diego Convention and Visitors Bureau for helping us plan such an amazing family trip.