If you've never made Tzatziki Sauce, you're missing out on a delicious and simple recipe! Come learn what tzatziki is, how easy it is to make homemade tzatziki sauce, and all the great ways to enjoy this tasty cucumber sauce.
As you've probably noticed, I've been pretty quite around here over the past few weeks.
I sure hope you've enjoyed all the amazing guest posters who agreed to help me out while I took a little time away from the blog to spend with the family. I can't wait to try out the delicious recipes they shared!
If curiosity has gotten the best of you, then you'll surely enjoy this week. Since I couldn't bring all of you along for the fun ride, I thought I'd share what I was up to while away.
My husband had the opportunity to attend a conference for work in Crete. When I first heard mention of the possibility many months back, I made one thing clear: He would not be going alone!
A six and three and a half year old wouldn't have survived the sprint through JFK to a connecting flight with carry-ons in tow, a 5 hour layover in Athens, a total of 3 connections, or the nearly 24 hours it took us to get to our final destination.
I'm not sure I "survived" it, but it was worth it!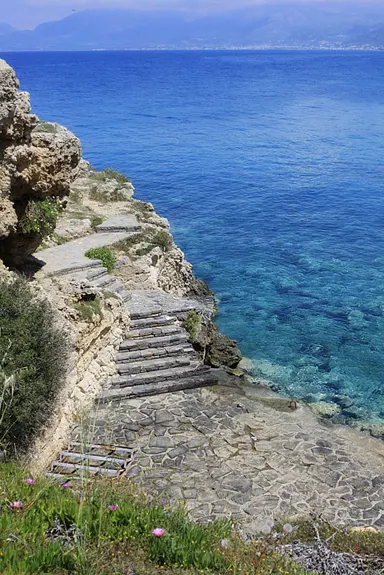 Unfortunately, we didn't have a whole lot of time to explore the island of Crete. My husband was in conference most of the time, but I did have lots of down time to explore the beach and read by the ocean.
The views near where we stayed were stunning! Though I hear the southern beaches of Crete are even more incredible (and less touristy).
Our evenings epitomized the phrase "long walks on the beach." I don't know where everyone went after dinner, but the place was deserted in the evenings.
We were easily the only ones on the beach at sunset. It was such a nice relaxing break.
One interesting tidbit – Heraklion is filled with Russians on vacation. Everywhere we went, especially on the resort property, we heard Russian. And there were fur shops everywhere!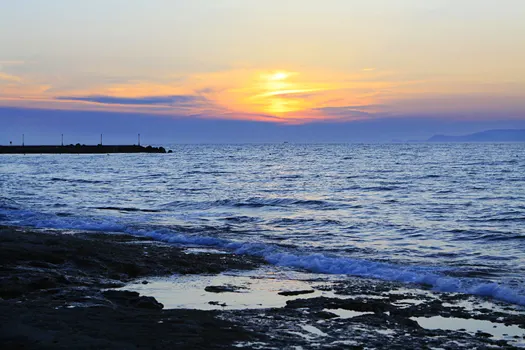 Most everyone also spoke English. I hardly had any need for Greek while visiting beyond the courtesy of saying "good morning" and "thank you."
I took hundreds of photos on the trip and I'm still going through all of them. If you'd like to see more of them, check out my Greece Photo Collection on Flickr.
Enjoying Tzatziki Sauce in Greece
Feta, Yogurt, Tzatziki, Greek Salad and…Oranges. I didn't realize that oranges were particularly special in Greece, but I frequently saw oranges trees in the area.
Every morning I enjoyed a large bowl of deliciously thick authentic Greek Yogurt flavored only with honey. It was so thick and pure.
The oranges in Crete were some of the sweetest and juiciest I've tasted, so I piled slices of them on top of my yogurt.
I've always loved Greek Salad and I'm pretty sure I ate it at every lunch and dinner, but one of the recipes I was most looking forward to trying at home was Tzatziki.
I love this cucumber yogurt dip and I can't believe I've never made it before! Tzatziki is great as an appetizer with toasted pita wedges and vegetables for dipping.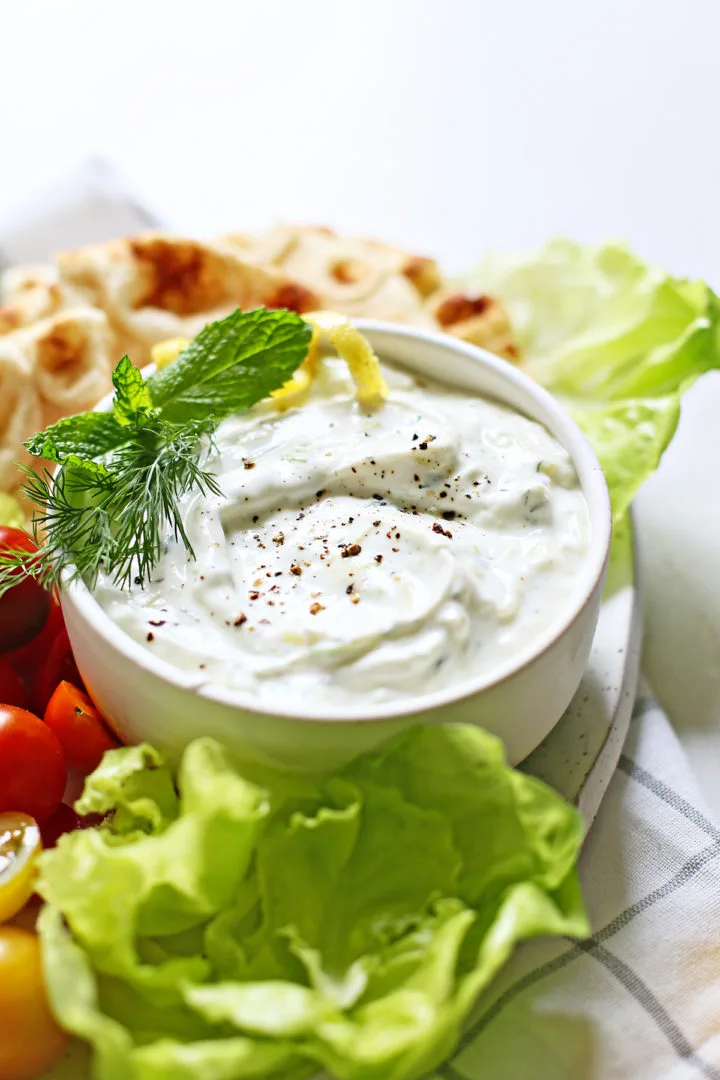 What is Tzatziki Sauce?
Tzatziki is a yogurt and cucumber based sauce that is prevalent throughout Southeast Europe and the Middle East.
In Greece, tzatziki sauce is typically served as a meze (a collection of small plate appetizers; essentially the Greek version of tapas).
It is made using strained yogurt, cucumbers, garlic, salt, olive oil, lemon juice, and fresh herbs (typically dill, mint, parsley, or even a combination).
How is Tzatziki Pronounced?
The hardest thing about tzatziki is learning how to pronounce it. The good news is, you're definitely not the first person to ask this question! Tzatziki is pronounced "tsah-see-key."
Tools to Make Homemade Tzatziki
You'll need a few kitchen tools to prepare this cucumber and Greek yogurt sauce. Here's what I recommend having on hand before getting started:
Measuring Cups and Spoons – to measure the ingredients.
Vegetable Peeler – to peel the cucumber.
Box Grater – to grate the fresh cucumber.
Fine Mesh Sieve – to strain excess liquid from the grated cucumber.
Citrus Juicer – to juice the fresh lemon.
Large Bowl – to make the creamy sauce in.
Wooden Spoon or Silicone Spatula – to mix the sauce.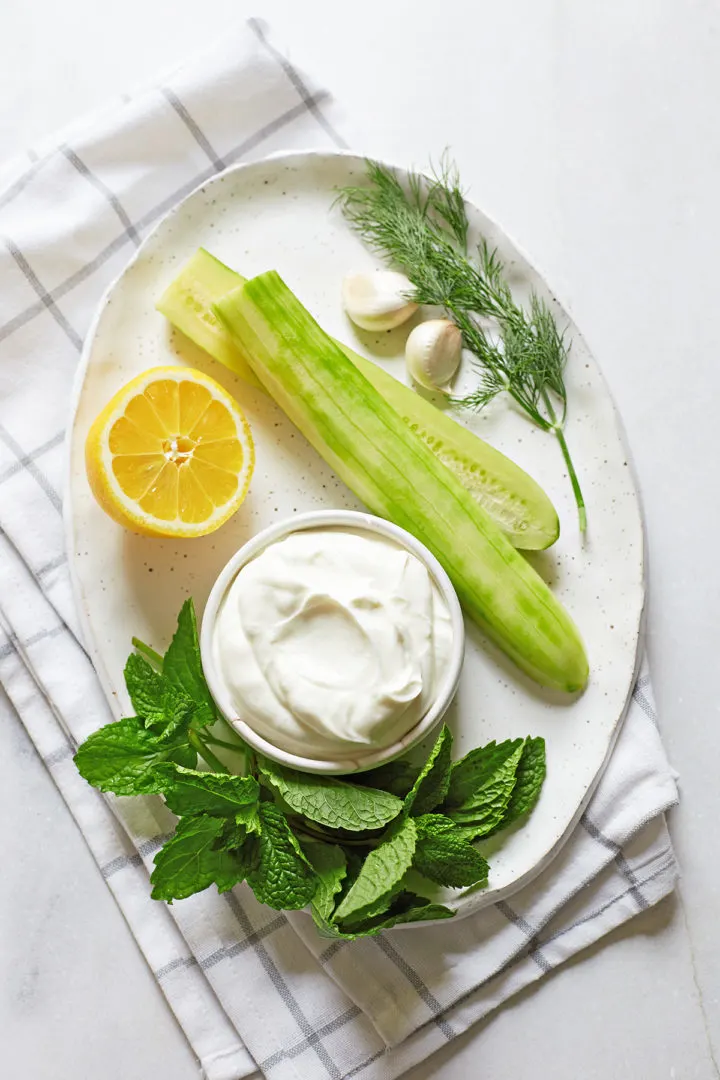 Tzatziki Sauce Ingredients
There are just a handful of simple ingredients in this delicious cucumber sauce. Here's what you'll need to get started with the recipe:
Persian or English Cucumber
Full-Fat Greek Yogurt
Extra-Virgin Olive Oil
Lemon Juice
Fresh Dill
Fresh Garlic
Salt
Pepper
For the complete ingredient list and detailed instructions to make this creamy tzatziki sauce, scroll to the bottom of this post for the FREE printable recipe card.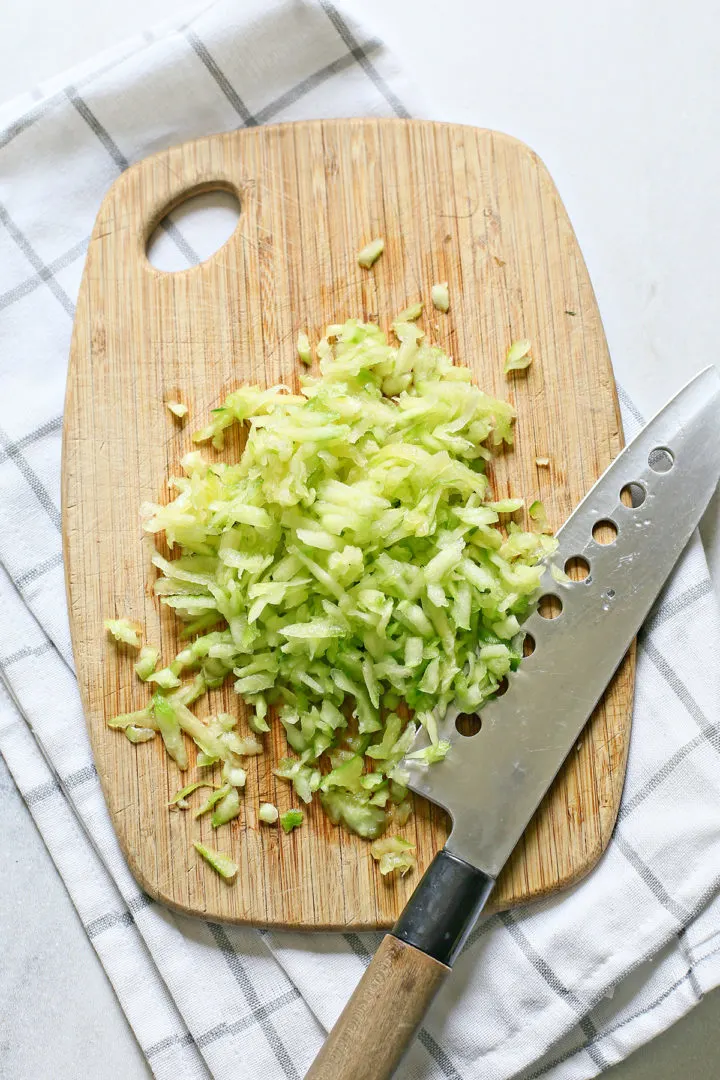 How to Make Tzatziki Sauce
Peel and de-seed the cucumber, then grate it.
Place the grated cucumber in a fine mesh strainer, then cover with a paper towel. Press the cucumber to drain as much liquid as possible.
Then, combine the yogurt, olive oil, lemon juice, grated cucumber, dill, garlic, salt, and pepper in a bowl. Stir to combine.
The above is simply a quick summary of this easy tzatziki recipe. Check out the full recipe in the free printable recipe card at the bottom of this post for all the detailed instructions.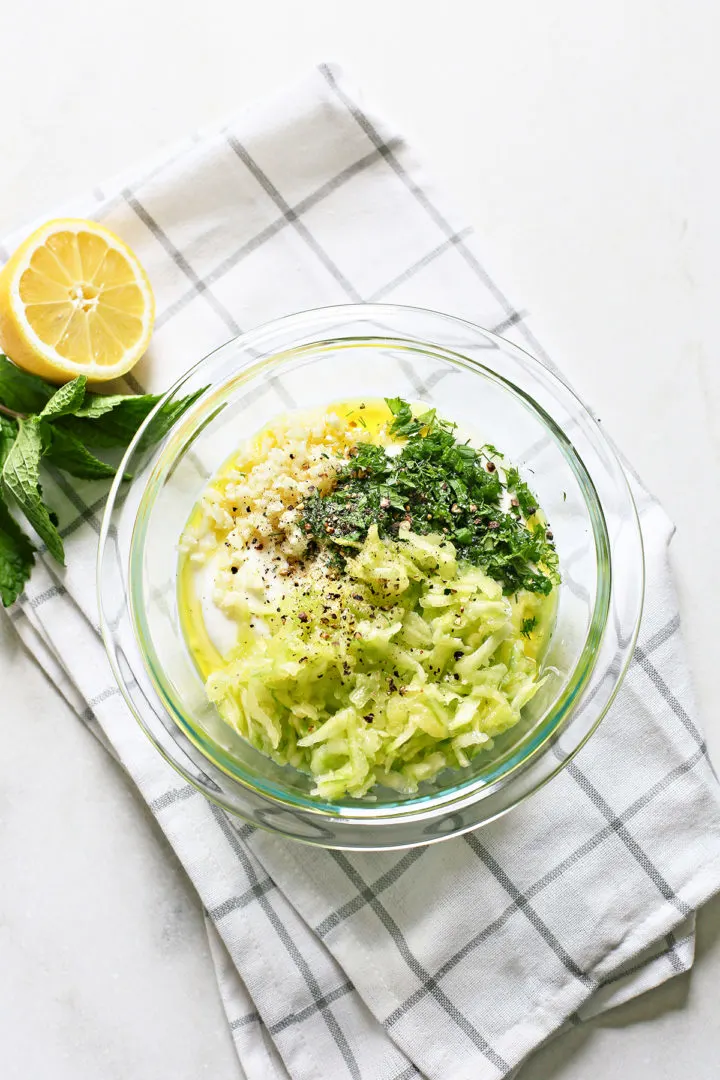 Tips for Making the Best Tzatziki Recipe
For best results, use thick Greek yogurt. I recommend purchasing full fat Greek yogurt as it is typically thickest.
You also want to make sure you're using plain Greek yogurt.
Squeeze as much liquid from the grated cucumber as possible so the sauce isn't watery.
Use fresh herbs, not dried. The flavor will taste so much fresher!
Chop fresh garlic cloves instead of using jarred minced garlic. It tastes better!
Lemon juice from fresh lemons also has a better taste than bottled, so squeeze lemon juice from fresh lemons.
Refrigerate the tzatziki for 1 – 2 hours before serving to enhance the flavor.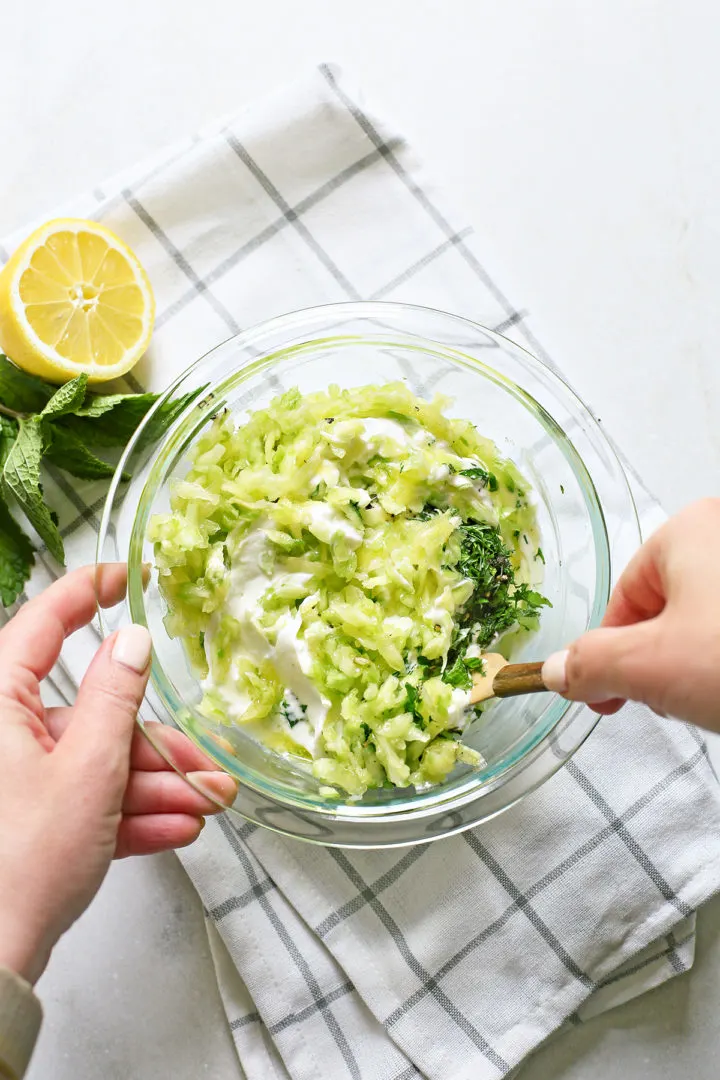 Tzatziki Sauce Recipe FAQs
Got questions about how to make this delicious sauce? Here are the answers to a few commonly asked questions. Feel free to leave any other questions in the comments on this post and I'll respond with answers.
Do I Have to Use Greek Yogurt?
No, I suppose you could use plain regular yogurt, however Greek yogurt tastes so much better because it is thicker.
If you don't have Greek yogurt, or if your Greek yogurt isn't very thick, Line a colander with a double layer of cheesecloth. Then place it over a bowl and strain the yogurt overnight.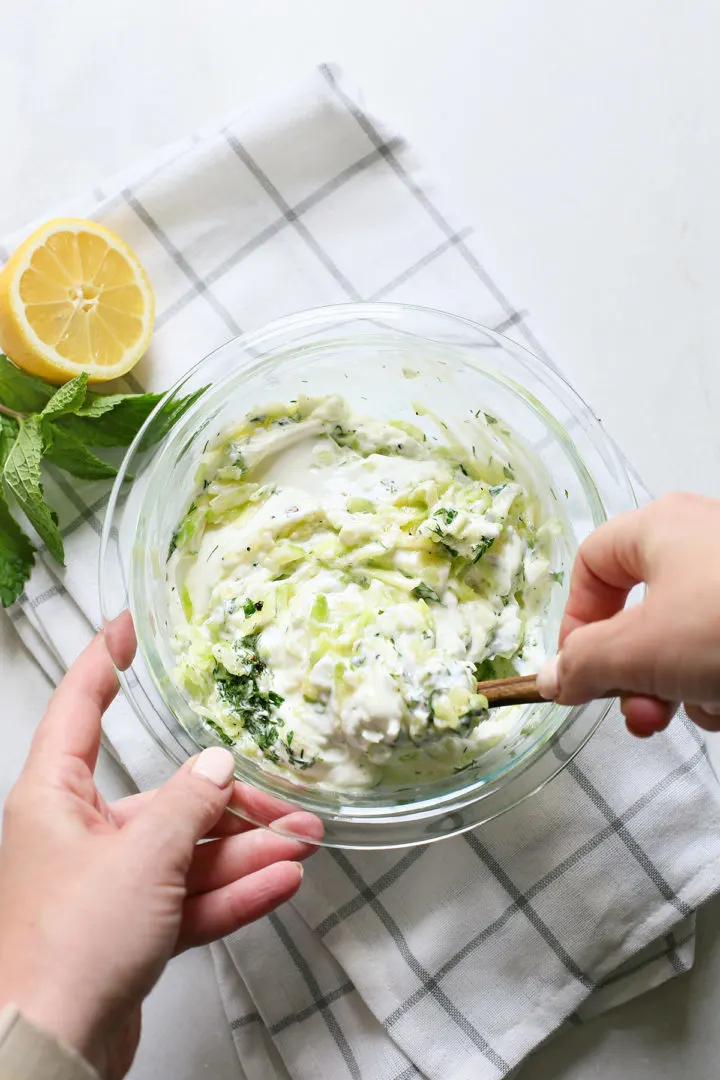 Can this Recipe be Made in Advance?
Yes, you can make it up to a day in advance. The cucumbers may release some liquid, so you'll want to stir it up before serving.
How Should I Serve this Easy Tzatziki Sauce?
There are so many ways you can enjoy this recipe! Here are a few of our favorite ideas:
Tzatziki sauce is perfect when you need an easy appetizer recipe. Serve as a dipping sauce it with a plate of fresh veggies, pita chips, or pita bread.
We also love using it as a topping on other recipes, like this Kebab Platter with Greek Pork or easy Grilled Greek Chicken Pitas.
How Do You Store Homemade Tzatziki Sauce?
If you are making this recipe ahead of time or have leftovers, the tzatziki should be stored refrigerated in an airtight container.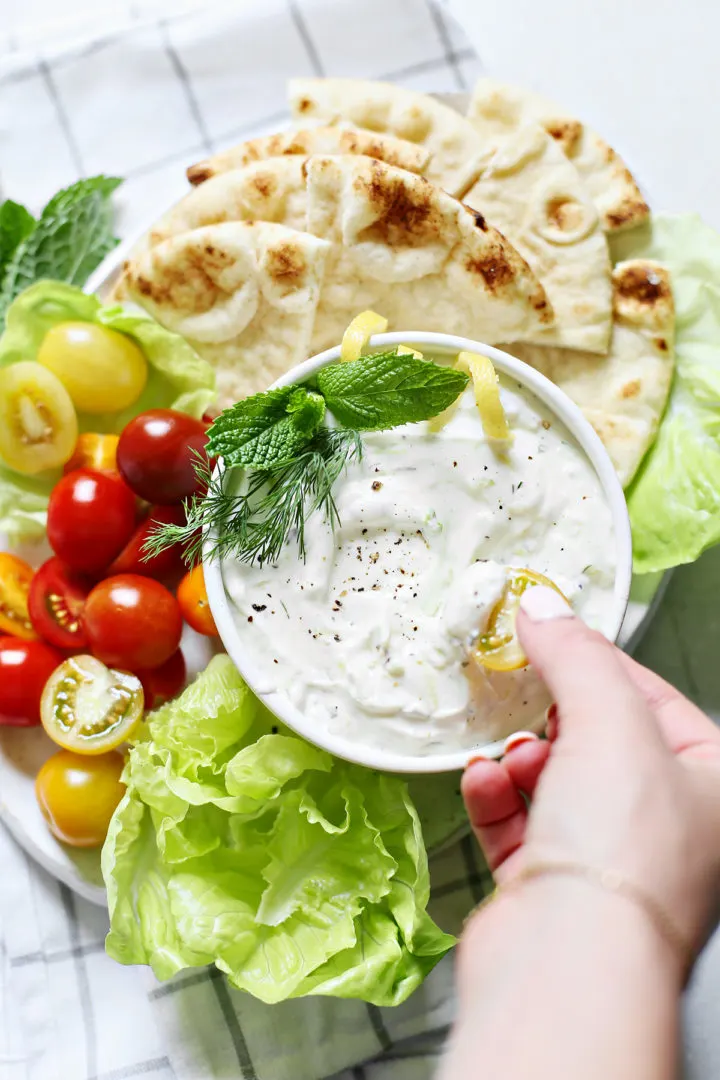 Try this Greek Essential at Home!
Next time you're looking for something to make with your summer garden cucumbers, give this homemade tzatziki sauce recipe a try!
Did you love the fresh flavors of this Greek sauce? Leave a comment below and give it a review for others to see what you thought of this great recipe.
On Instagram? Share your photo and tag me with @goodlifeeats and #goodlifeeatsrecipes. I'd love to see your photo of tzatziki dip!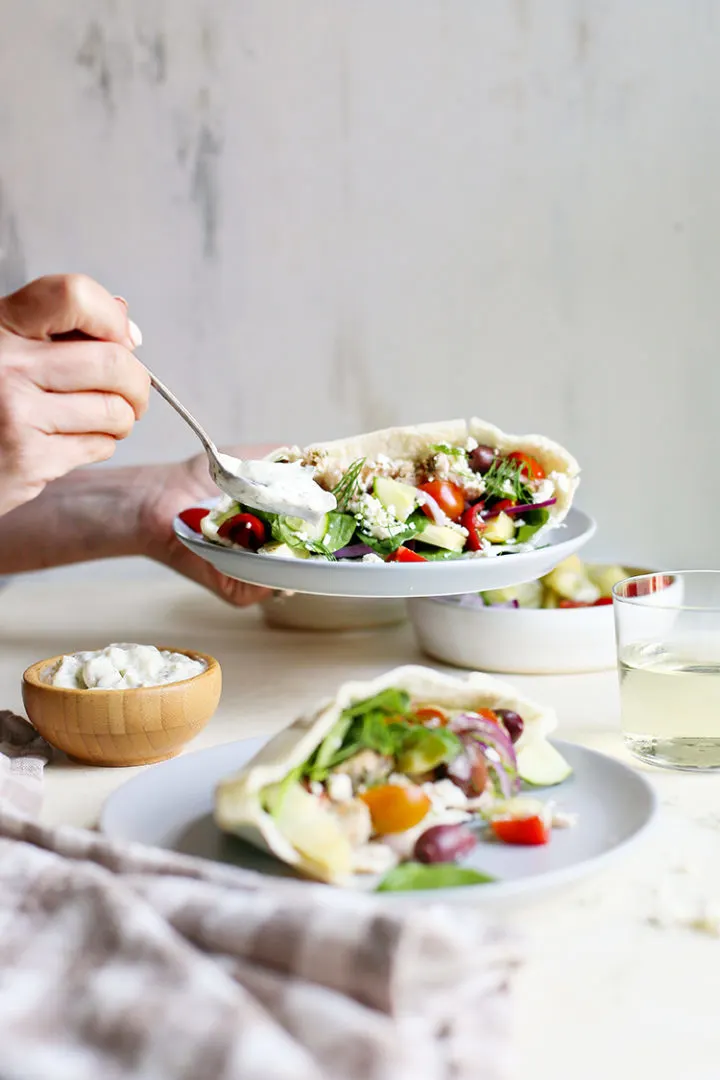 More Greek Cuisine Inspired Recipes
Serve this Marinated Feta Appetizer with crackers or crusty bread. In this recipe, feta cheese is marinated in olive oil, fresh herbs, garlic, lemon, and sun dried tomatoes for a delicious and simple appetizer.
Skip store-bought spice blends and make your own instead! This homemade Greek seasoning blend can be used on pork, chicken, seafood, and so much more!
This Easy Pico de Gallo with Cucumber is a great fresh appetizer and especially delicious during the summer months when tomatoes and cucumbers are in season!
Cucumber strips are rolled up with a creamy filling featuring sun-dried tomatoes, fresh herbs, feta cheese, and kalamata olives in this Cucumber Roll Up Appetizer.
These Greek Chicken Thighs are a delicious one skillet meal with tons of amazing flavors. You'll love that this roasted Greek chicken is easy enough for a weeknight, but nice enough for company.
Don't see what you're looking for here? You can always head over to check out the recipe index to look for more recipes.
Get More Simple Recipe Ideas
Did you love this creamy Greek yogurt dip? Sign up to receive Good Life Eats Email Updates and never miss another recipe!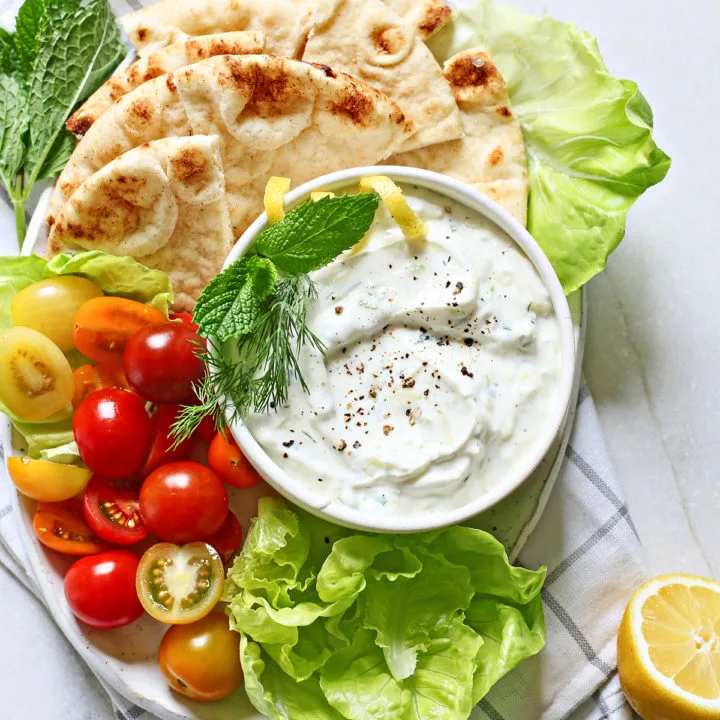 Tzatziki - Greek Yogurt and Cucumber Dip
Total Time:
1 hour
10 minutes
If you've never made Tzatziki Sauce, you're missing out on a delicious and simple recipe! Tzatziki is great as an appetizer with toasted pita wedges and vegetables for dipping or as a sauce on many recipes.
Ingredients
1 English Cucumber
2 cups Full-Fat Plain Greek Yogurt
juice of half a Fresh Lemon
1 tablespoon Extra-Virgin Olive Oil
2 cloves Fresh Garlic, peeled and finely minced
1 tablespoon chopped Fresh Dill, Fresh Mint (or a mix of both)
1/4 - 1/2 teaspoon Sea Salt, to taste
1/8 teaspoon Black Pepper, to taste
Instructions
Preparing the Cucumbers
Peel the cucumber. Then, slice it in half from end to end.
Using a soup spoon, scrape all of the seeds out of the center of the cucumber and discard them.
Grate the cucumber using a box grater set atop a cutting board (or use a food processor).
After grating, transfer the grated cucumber into a fine mesh strainer. Then, place a folded sheet of paper towel on top of the cucmber.
Hold the strainer over the sink, and press the paper towel down on top of the cucumber, squeezing as much liquid out as you can.
Discard the paper towel and transfer the grated cucumber to a medium sized bowl.
Making the Tzatziki Sauce
Add the Greek yogurt, lemon juice, olive oil, garlic cloves, fresh dill and/or fresh mint, salt, and pepper to the bowl with the cucumber.
Stir until the ingredients are combined.
Cover the bowl with a lid or plastic wrap and transfer to the refrigerator to chill for 1 - 2 hours before serving.
Serving the Tzatziki
Garnish with fresh dill and/or mint, if desired.
Serve with warm pita bread, toasted pita chips, and/or raw vegetables for dipping (or anything else you'd like to dip or top with tzatziki).
Notes
If you don't have Greek yogurt, or if your Greek yogurt isn't very thick, Line a colander with a double layer of cheesecloth. Then place it over a bowl and strain the yogurt overnight.
Recommended Products
As an Amazon Associate and member of other affiliate programs, I earn from qualifying purchases.
Nutrition Information
Yield

6
Serving Size

1
Amount Per Serving
Calories

65
Total Fat

3.75g
Saturated Fat

0g
Trans Fat

0g
Unsaturated Fat

0g
Cholesterol

3mg
Sodium

72mg
Carbohydrates

10g
Fiber

1g
Sugar

7g
Protein

6g
GoodLifeEats.com offers recipe nutritional information as a courtesy and is an estimate only. This information comes from online calculators. Although GoodLifeEats.com makes every effort to provide accurate information, these figures are only estimates.