Fresh summer meals and outdoor entertaining are where it is at when it comes to this Greek Pork Kebab Platter with Greek Pico de Gallo. Juicy chunks of pork tenderloin are grilled with onion, lemon, and oregano and served platter style with Greek Pico de Gallo.
This recipe was originally created in partnership with Smithfield on June 15, 2017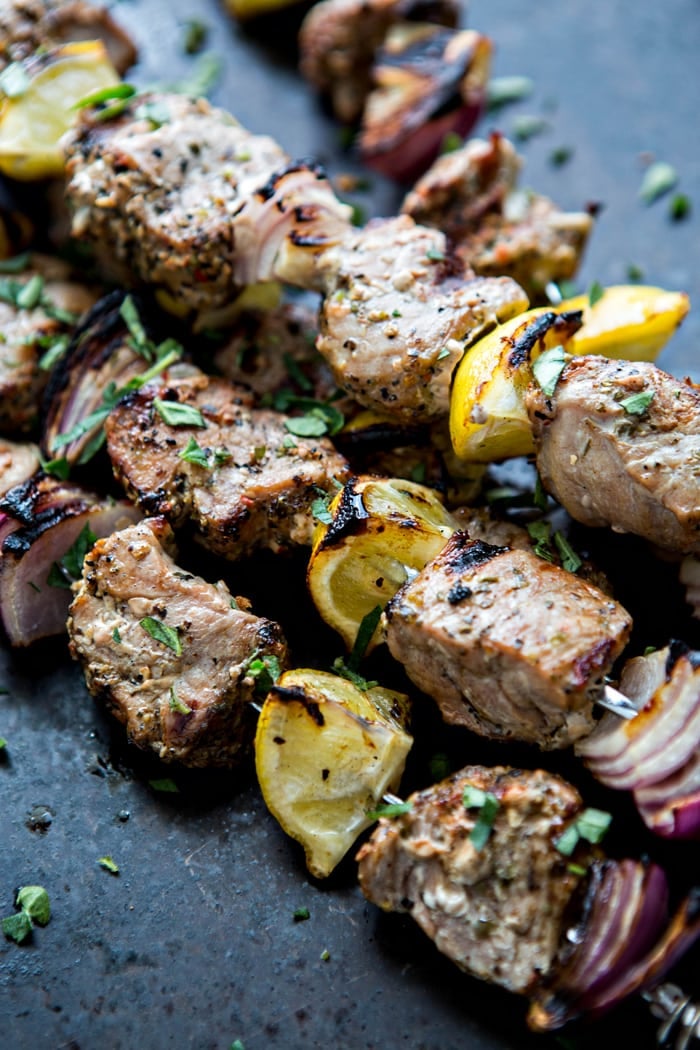 It was the summer between my sophomore and junior year that I learned about things like Mediterranean food and feta cheese. I went to live with my Aunt and Uncle in Madison Wisconsin for the summer and worked at the UW Madison Medical School in the Pharmacology Department where they were both professors.
In the mornings I worked in the office doing things like filing paperwork, sorting the mail, organizing the department's library. In the afternoon I worked in my Aunt and Uncle's research lab along side graduate students that were working on their masters thesis or dissertations and the lucky undergrad that was able to score such a job.
I did things like prepare basic solutions, sterilize lab equipment, ran some simple tests and had tons of fun having a job that few undergrads were able to score and certainly none of my 16-year-old peers.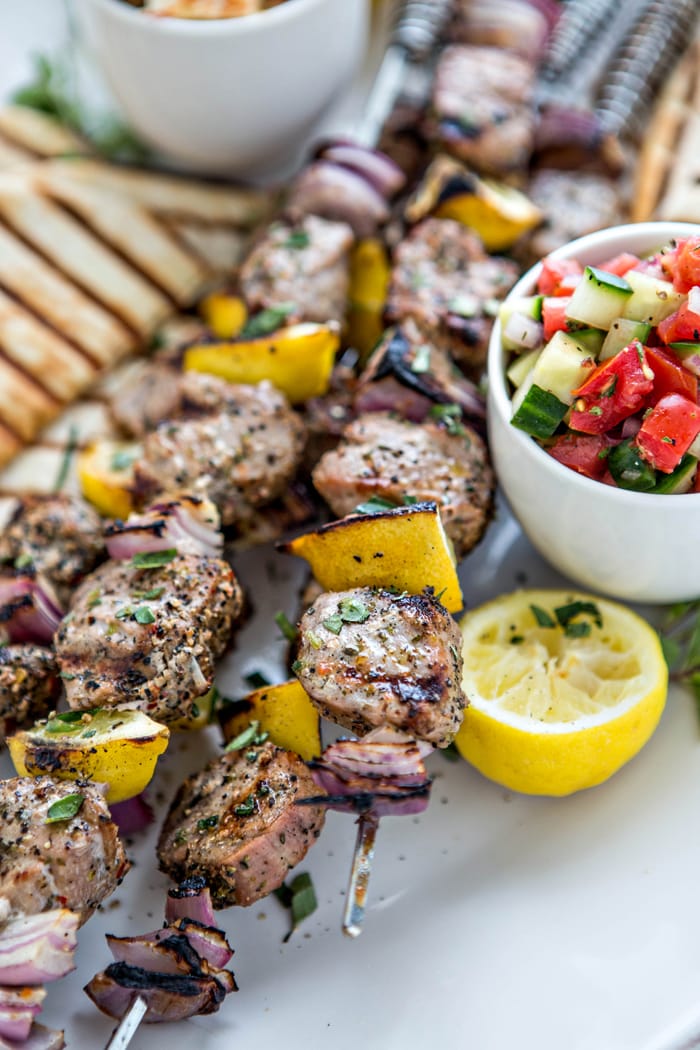 My Aunt and Uncle were busy with their research, so I cooked dinner for us almost every evening since I got back home several hours before them after my workday.
When I look back at my younger years, I see that this was really when my creativity in the kitchen and started. I had, within reason, full reign of the kitchen and access to whatever ingredients I wanted them to buy as long as I cooked the dinner.
So, we spent weekends eating out, trying many restaurants and foods that I had never before in my life. Things like feta cheese, fresh mozzarella, Greek food, Thai food, Indian food, and so much more, were all new to me. My aunt and uncle taught me so much about foods that I have never heard of in my life.
It was an amazing cultural experience all around. We went camping in Door County and swam in Lake Michigan, we went to plays and musicals, we went to the farmers market around the Madison capital building on the weekends, and even attended a Fourth of July concert on the capital lawn, delicious picnic in tow.
Creating this Recipe for Greek Pork Kebab Platter with Greek Pico de Gallo
One of the dishes that I remember eating at that concert, and a lot that summer, was Greek tomato and cucumber salad with feta and couscous. I'm pretty sure that this was my first experience ever having had feta cheese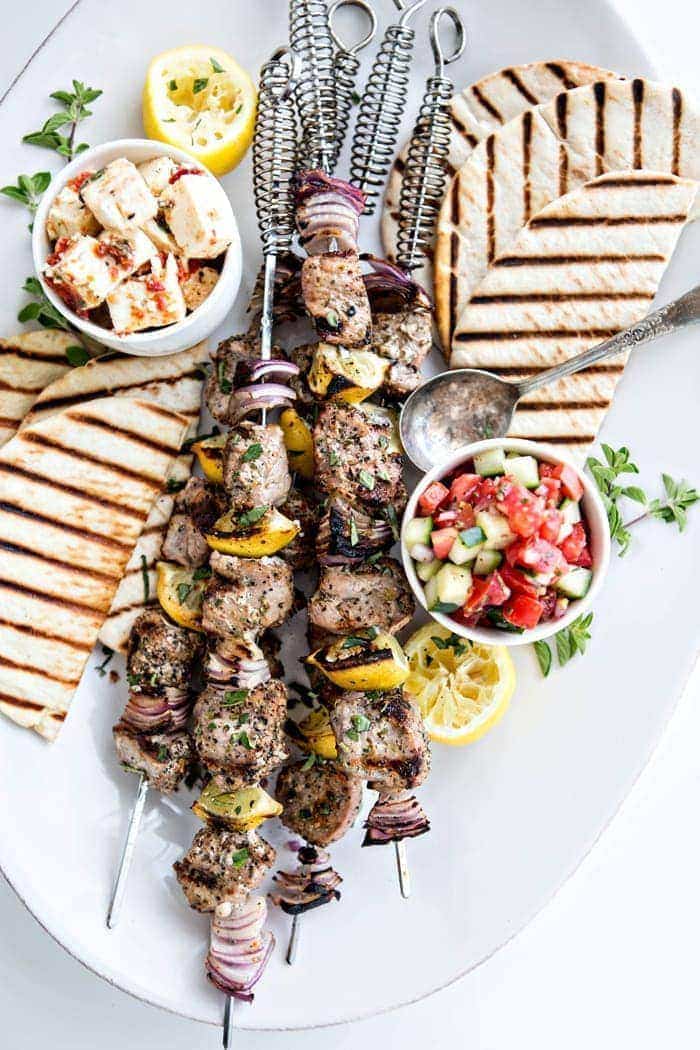 Aside from the cultural aspect, it gave me a ton of real world life experience that I don't think other young high school students my age had access to. It was my first experience being away from home.
I learned how to manage grocery list and meal planning, I shopped for groceries by myself, carrying only what I could since I didn't have access to a car, I rode my bike several miles to and from work, and if I didn't feel like riding my bike, I figured out how to navigate public transportation and took the bus with other college students.
I had such a great time with this job that I did it again the following year between my junior and senior year.
I have so many great memories about those summers and the food that I ate. I knew I wanted to create a recipe that reflected these memories and the flavors I learned to love during those summers in Madison.
So, the flavors of this Greek Pork Kebab Platter with Greek Pico de Gallo served with Marinated Feta, Grilled Pita Bread, and Hummus really bring me back to that first summer in Madison Wisconsin.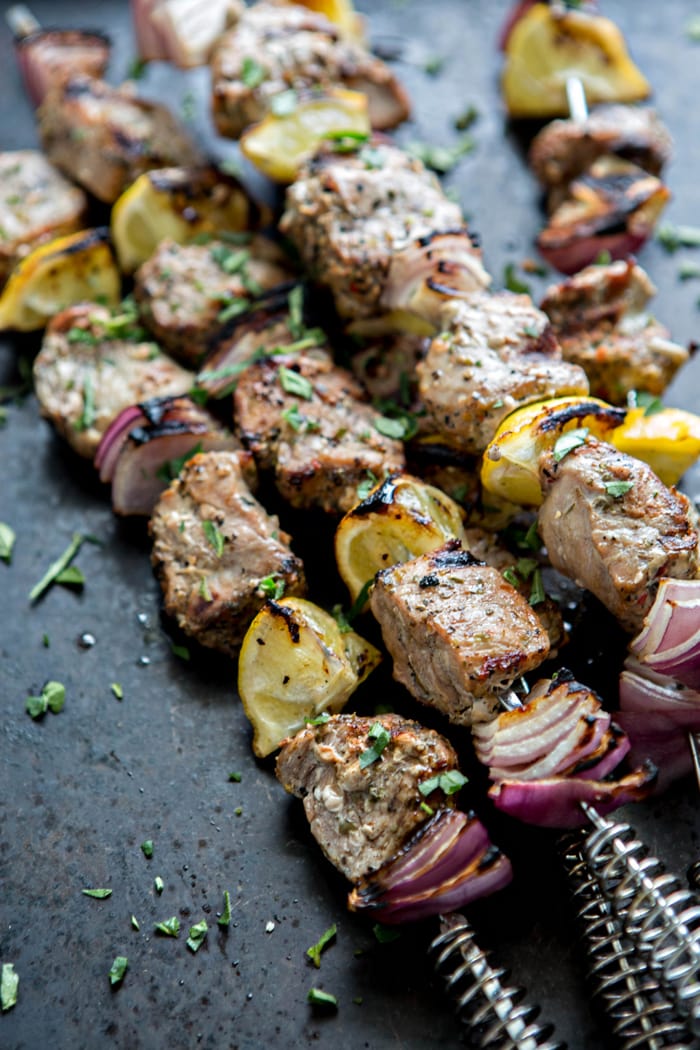 I imagine this being a great meal for summer grilling out, serving it platter style where everybody can assemble their own plates or bowls (I like a low bowl that is almost flat like a plate) exactly how they want it.
You could even prepare the elements ahead of time and pack them up to take you for an outdoor meal, such as a picnic or a light dinner or concert on the lawn type summer event.
I used Smithfield Roasted Garlic and Cracked Black Pepper Fresh Pork Tenderloin, and simply cubed up the tenderloin and threaded it on kebabs along with wedges of red onion and lemon to give it a little Greek inspired zing. Then, brushed the onion and lemon in olive oil. After grilling the kebabs, I sprinkled it with fresh chopped oregano.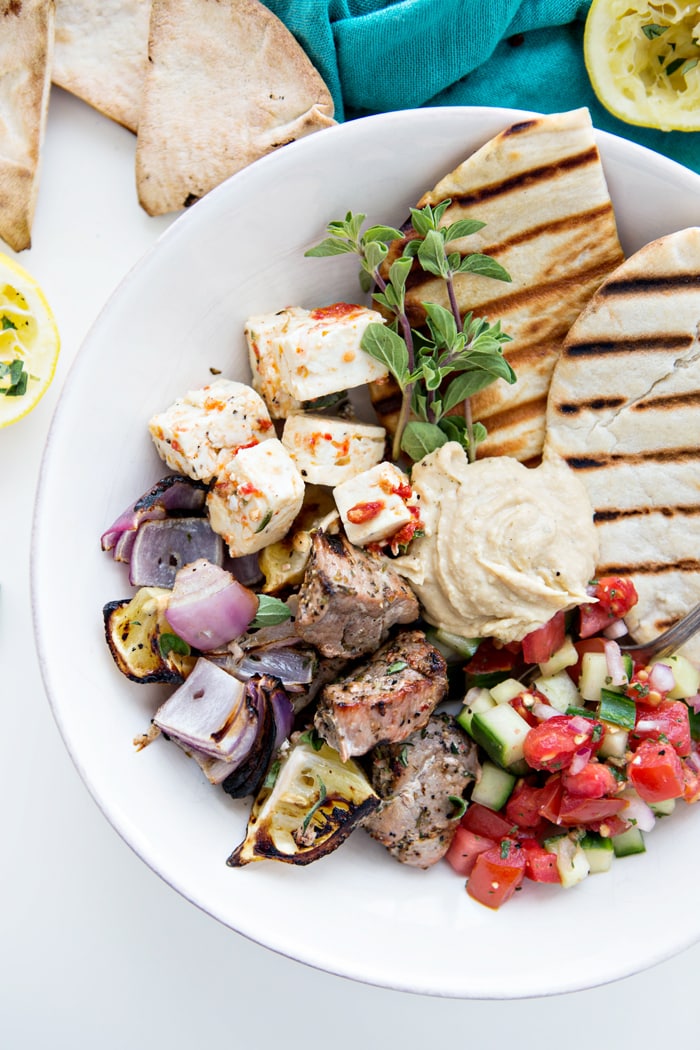 I love Marinated Fresh Pork from Smithfield because it helps me get a jump start on getting dinner on the table quickly. This recipe is no exception! It is a hassle-free go-to for dinner with tons of flavor varieties. Plus, I love how you can use the marinade flavors as a base, and build off of that as I've done with these Greek Pork Kebabs.
The Greek Pico de Gallo has Roma tomatoes, English Cucumber, Red Onion, Lemon Juice, and chopped Oregano. I also served bowls of marinated feta and creamy hummus alongside grilled pita bread.
This Greek Pork Kebab Platter with Greek Pico de Gallo is a fresh summer meal that takes advantage of many of the delicious fresh options that summer offers, like ripe and juicy tomatoes and fresh herbs you might even be growing in your own backyard.
Plus, it offers a meal that doesn't take along time make and is on the lighter side which is always appealing during the summer months.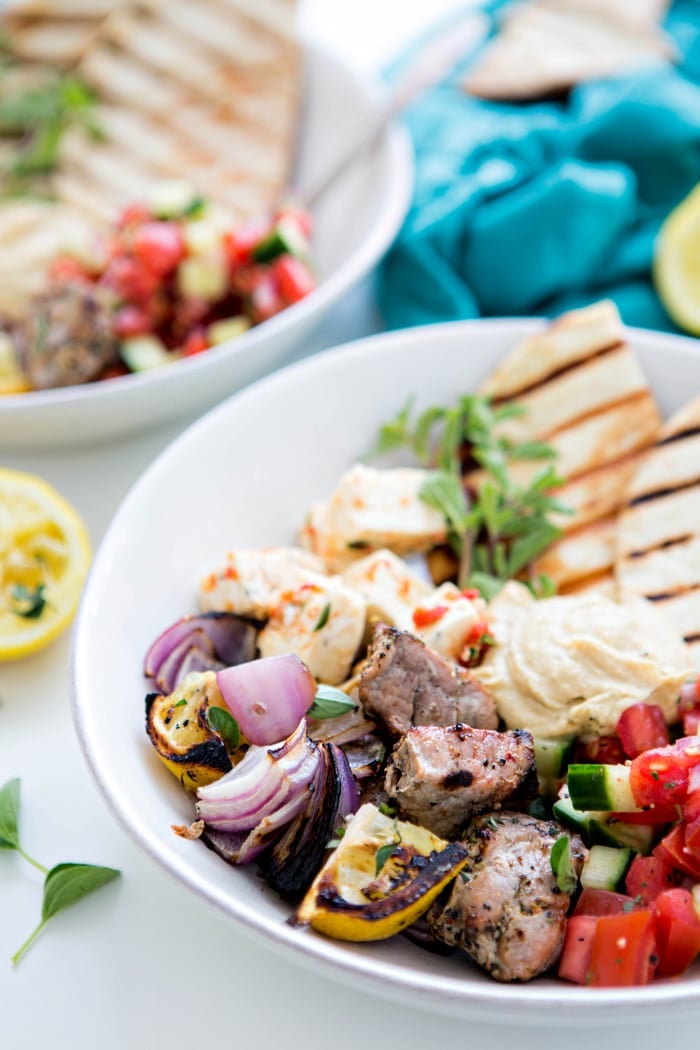 Did you love this post?
Sign up for Good Life Eats email updates and never miss another update!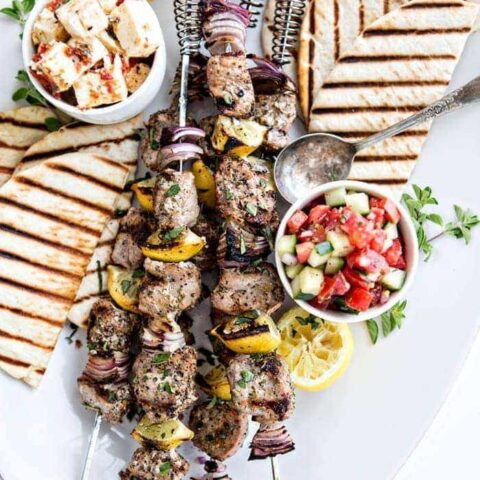 Greek Pork Kebab Platter with Greek Pico de Gallo
Fresh summer meals and outdoor entertaining are where it is at when it comes to this Greek Pork Kebab Platter with Greek Pico de Gallo. Juicy chunks of pork tenderloin are grilled with onion, lemon, and oregano and served platter style with Greek Pico de Gallo.
Ingredients
For the Pork
For the Greek Pico de Gallo
1 lb. Roma Tomatoes, diced
1/4 cup minced Red Onion
1 English Cucumber, diced
1/2 teaspoon Minced Garlic
Juice of 1 Lemon
1/8 teaspoon Lemon Zest
1 - 2 teaspoons finely chopped Fresh Oregano, according to taste
Salt and Pepper, to taste
Instructions
For the Pork
Preheat the grill to medium-high.
Thread the pork, onion wedges, and lemon wedges on to grill-safe skewers in the order of onion, pork, lemon with a total of 4 pieces of pork per skewer.
Place the skewers on the preheated grill and cook 5 minutes per side, or until the pork is cooked through, transferring the skewers to a higher grill rack to provide indirect heat as needed.
Remove and transfer the skewers to a large platter, sprinkle with fresh oregano, and allow to rest for 2-3 minutes before serving.
For the Greek Pico de Gallo
Combine the tomato, onion, cucumber, garlic, lemon, lemon zest, and oregano in a medium mixing bowl. Stir until the ingredients are well distributed. Season with salt and pepper to taste.
Notes
Serve with hummus, marinated feta, and pita bread as accompaniments. To grill the pita bread, lightly brush a grill pan with olive oil. Heat over medium high. Place the pita on the grill pan and cook for 1 - 2 minutes per side to warm the bread through and get nice grill marks.
Recommended Products
As an Amazon Associate and member of other affiliate programs, I earn from qualifying purchases.
Nutrition Information
Yield

4
Serving Size

1
Amount Per Serving
Calories

259
Total Fat

8g
Saturated Fat

2g
Trans Fat

0g
Unsaturated Fat

5g
Cholesterol

83mg
Sodium

148mg
Carbohydrates

16g
Fiber

4g
Sugar

7g
Protein

32g
GoodLifeEats.com offers recipe nutritional information as a courtesy and is an estimate only. This information comes from online calculators. Although GoodLifeEats.com makes every effort to provide accurate information, these figures are only estimates.
I am privileged to have working relationship Smithfield on Good Life Eats. I've been compensated for my time in creating this recipe for Greek Pork Kebab Platter with Greek Pico de Gallo, but as always – my opinions are my own!