Fresh, summertime vegetables are tossed in pesto and balsamic and cooked with boneless pork chops in this makeover version of the classic foil dinners from childhood.
This recipe for Pesto Pork Chop and Summer Vegetable Foil Dinners was created in partnership with Smithfield.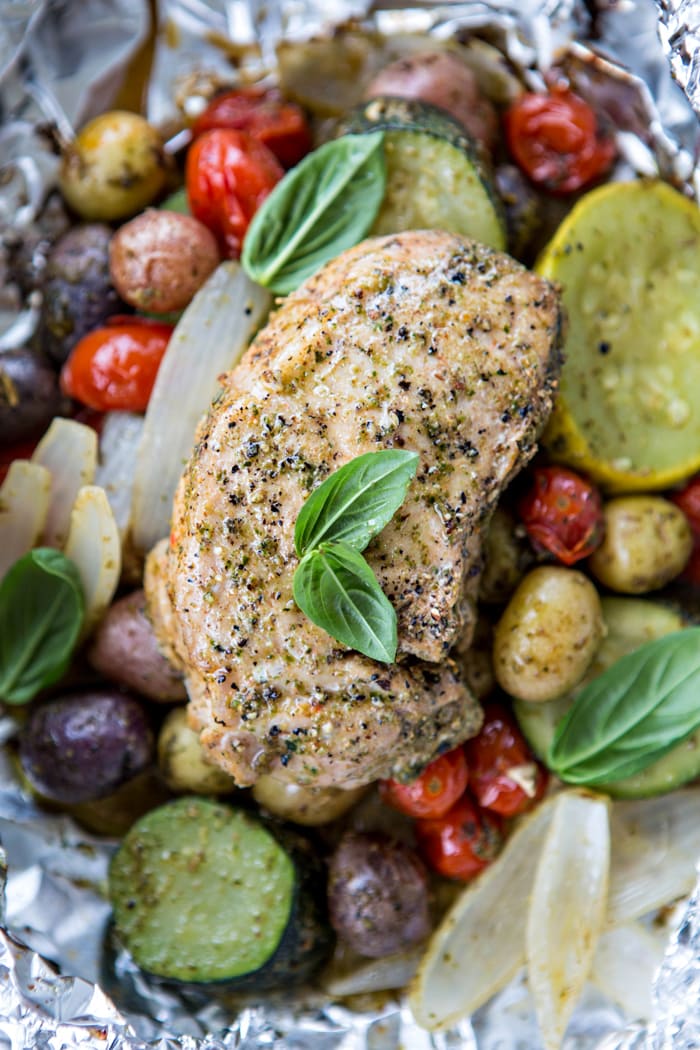 One of the summertime activities I loved doing when I was a kid was making foil dinners.
They were a guaranteed dinner whenever I was on a camping trip.
I'm sure they're a camping classic because they're easy.
You just make a little foil pouch full of meat and veggies and cook it on the fire.
But, we also made them at home on the grill.
I love taking a part of childhood camping memories and bringing it home with me.
Who says you can only cook foil dinners when you're camping?
During our busy summer days and evenings, I can appreciate how taking this camping cooking method and using it with the grill is so great.
Everyone can assemble there own, there is very little clean up because you aren't getting pots and pans dirty, and you're keeping the heat outside (where it belongs during the summer!).
All very appealing things if you ask me!
Plus, it is a simple way to make family dinner interactive with the kids and fun.
Anytime we do a hands on approach at dinner, whether it is foil dinners like these Pesto Pork Chop and Summer Vegetable Foil Dinners or make your own pizza, the kids have a blast.
I haven't camped with our kids before, but earlier this summer I wanted to introduce them to this, in my opinion, summer classic at home, but with a bit of a twist.
Growing up, we typically used a burger patty, carrots, onion, potato, and seasoned with salt and pepper.
Chances are you've probably had that classic recipe, or at least heard of it.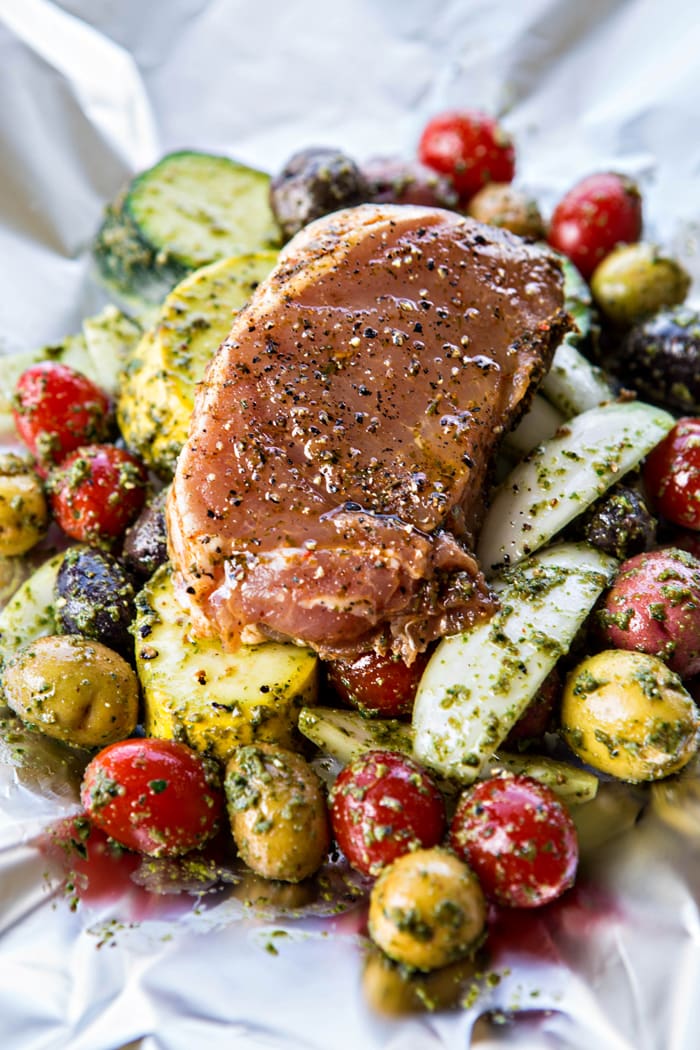 My goal was to use the same method as the classic foil dinners of my childhood, but to fill the foil pouches with with something that fit our family's food lifestyle – fresh, full of produce, really flavorful, and seasonal.
My version utilizes the produce that summer offers, and many people grow in their home gardens, because I wanted the meal to be fresh, seasonal, and full of flavor.
Tomatoes, basil, and zucchini are all abundant this time of year.
When I used to have a vegetable garden I always needed new recipes to use up these ingredients that seemed to multiply exponentially just over night.
For the meat, I used Smithfield Roasted Garlic and Herb Pork Chops and then built the flavor profile off of that. I love how simple these pre-seasoned pork chops make dinner.
It gives me an easy starting point to build the meal off of.
I thought that vegetables like cherry or grape tomatoes, onion zucchini, and yellow squash would go well with the roasted garlic and herb rub on the meat.
I added some tiny potatoes, too, because our kids always love grilled and roasted potatoes.
To give the vegetables some added flavor I tossed them in a bit of fresh basil pesto a little balsamic, and seasoned with salt and pepper.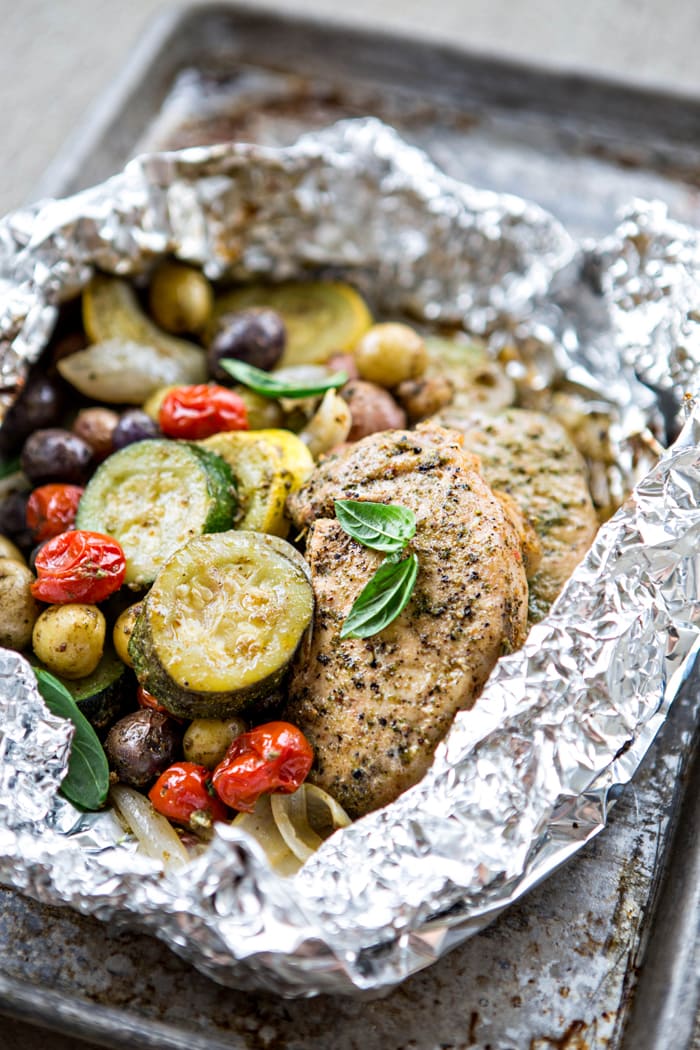 To assemble the foil dinner, all you need is a large sheet of heavy duty foil for each person. In the center of the foil, you add your desired vegetables.
In this case, the vegetables that have been coated with pesto and balsamic.
I prefer to place my vegetables on the bottom in the foil packet.
Then I add the meat on the top, that way the juices and flavors that release from the meat during the cooking process enhance the vegetables.
It creates a nice, flavorful sauce that can be poured back over the vegetables and the pork when the meal is served.
Then, you place the Smithfield Roasted Garlic and Herb Pork Chops on top of the vegetables.
I used a silicone brush to brush the top of the pork with a little bit of the balsamic and pesto mixture.
To enclose the food, pull 2 sides of the foil towards the center and then fold down.
Then fold or roll the other ends of the foil until it is sealed.
After that, all you have to do is place the pouches on the grill and cook until the vegetables are tender and the meat is cooked through.
That's it!
Such a great, easy summertime dinner that the whole family will love.
Smithfield is looking for your very best tips on how to get a meal on the table in 30 minutes or less using Smithfield Marinated Fresh Pork through the Smithfield Real Flavor Real, Fast Contest.
Head over to SmithfieldRealFlavorRealFast.com and submit your original tip for a chance to win some awesome prizes.
For more delicious, easy and seasonal recipe ideas to help you get dinner on the table quickly, like this recipe for Garlic & Herb Tenderloin with Apple Ginger Chutney, check out Smithfield's website.
What is your favorite version of this summertime classic?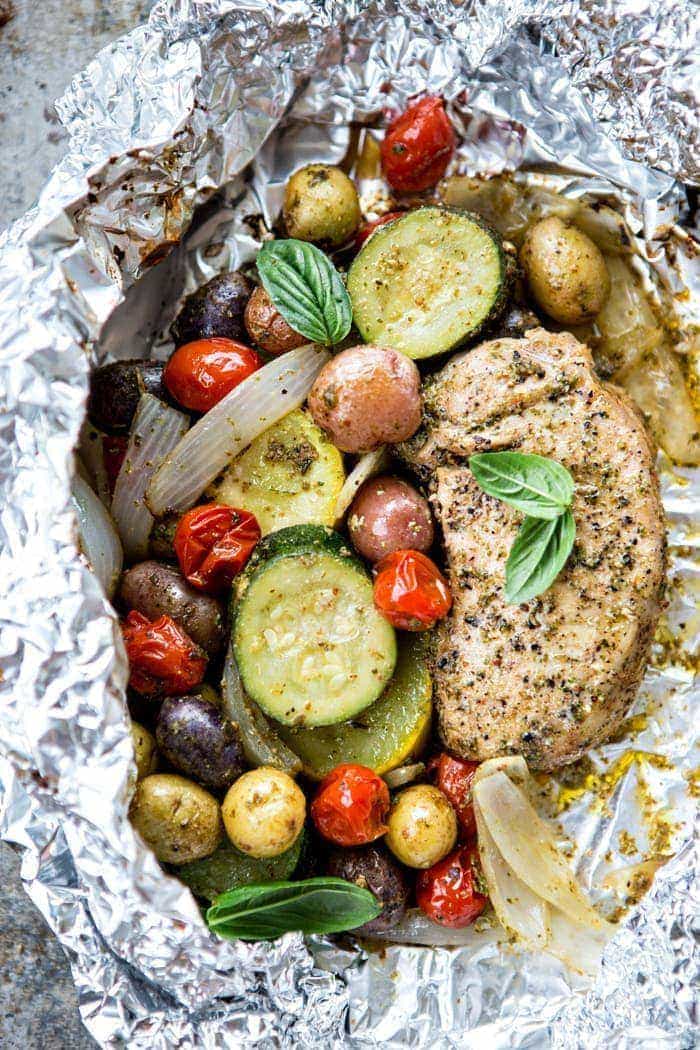 MORE ZUCCHINI RECIPES
Looking for more tasty recipes to use up that garden zucchini before zucchini season is over?
Check out some of these favorite recipes, or browse the recipe index archives for even more great recipe ideas:
Grilled Summer Squash Crostini with Goat Cheese and Pesto is a great way to savor the abundance of zucchini and yellow squash during the summer months.
This Zucchini Tomato Basil Salad with Lemon Basil Vinaigrette is a light and refreshing summertime salad and perfect when your garden is exploding with tomatoes, basil, and zucchini in the later summer months.
Ricotta is mixed with a combination of primavera style vegetables, parmesan, and fresh herbs to create a tasty primavera stuffing to fill manicotti pasta.
The manicotti primavera is then baked smothered in homemade marinara sauce and mozzarella cheese for a comforting meal
Italian Chicken, Mushroom, and Zucchini Skillet is a super easy dinner recipe for busy school nights. It features pan seared chicken tenderloins, zucchini and sliced mushrooms in garlicky herbed tomato sauce.
For a sweet treat for breakfast, try these Zucchini Cherry Muffins with Pecan Streusal Topping – it can even be made in the food processor.
Zucchini is stuffed with a mixture of salsa and ground turkey and topped with cheese and avocado salsa for a quick, easy and healthy dinner in this recipe Tex-Mex Stuffed Zucchini with Avocado Salsa.
Try this recipe for No-Bake Grilled Vegetable Lasagna when it is still too hot to turn the oven on.
This Fresh Zucchini Corn Salsa would make a great appetizer or snack, but with the added protein from the black beans, it also makes a perfect light and healthy lunch.
Did you love this post?
Sign up for Good Life Eats email updates and never miss another update!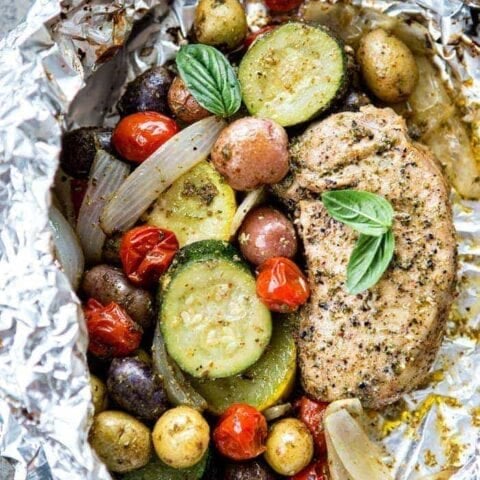 Pesto Pork Chop and Summer Vegetable Foil Dinners
Fresh, summertime vegetables are tossed in pesto and balsamic and cooked with boneless pork chops in this makeover version of the classic foil dinners from childhood.
Ingredients
1 1/2 cups Grape Tomatoes
1 Zucchini, sliced in 1/2 inch rounds
1 Yellow Summer Squash, sliced in 1/2 inch rounds
1 cup Miniature Potatoes
1 Yellow Onion, sliced in wedges
2 tablespoons Pesto
2 teaspoons Balsamic Vinegar
Salt and Pepper, to taste
Fresh Basil Leaves, for garnish
Instructions
Preheat the grill to medium heat.
In a mixing bowl, combine the tomatoes, zucchini, yellow squash, potatoes, and onion.
Add the pesto and balsamic vinegar and stir until the vegetables are completely coated. Season, to taste, with salt and pepper.
Divide the vegetables between 4 large sheets of heavy duty foil.
Add 1 pork chop to each sheet of foil, placing it centered on top of the vegetables.
Using a silicone brush, spread some of the remnants of the balsamic pesto mixture from the mixing bowl onto the top of the pork chop.
To enclose the food, pull 2 sides of the foil towards the center and then fold down.
Then fold or roll the other ends of the foil until it is sealed, making that the foil isn't folded so tightly that it doesn't allow room for circulation inside the pouch.
Place the foil pouches on the grill, close the grill lid,.
Cook for 15 - 20 minutes, or until the meat is cooked through to desired doneness and the vegetables are tender. Serve.
Notes
If the potatoes are not the miniature bite sized variety, then be sure to cut them into smaller bite sized pieces so that they are cooked tender on the same timeline as the rest of the vegetables and the meat.
Recommended Products
As an Amazon Associate and member of other affiliate programs, I earn from qualifying purchases.
Nutrition Information
Yield

4
Serving Size

1
Amount Per Serving
Calories

180
Total Fat

8g
Saturated Fat

2g
Trans Fat

0g
Unsaturated Fat

5g
Cholesterol

21mg
Sodium

138mg
Carbohydrates

20g
Fiber

4g
Sugar

7g
Protein

10g
GoodLifeEats.com offers recipe nutritional information as a courtesy and is an estimate only. This information comes from online calculators. Although GoodLifeEats.com makes every effort to provide accurate information, these figures are only estimates.
I am privileged to have working relationship Smithfield on Good Life Eats.
I've been compensated for my time in creating this recipe for Pesto Pork Chop and Summer Vegetable Foil Dinners, but as always – my opinions are my own!