In these Foil Packet Pesto Pork Chops, fresh, summertime vegetables are tossed in pesto and balsamic and cooked with boneless pork chops. You'll love this makeover version of the classic foil dinners from childhood.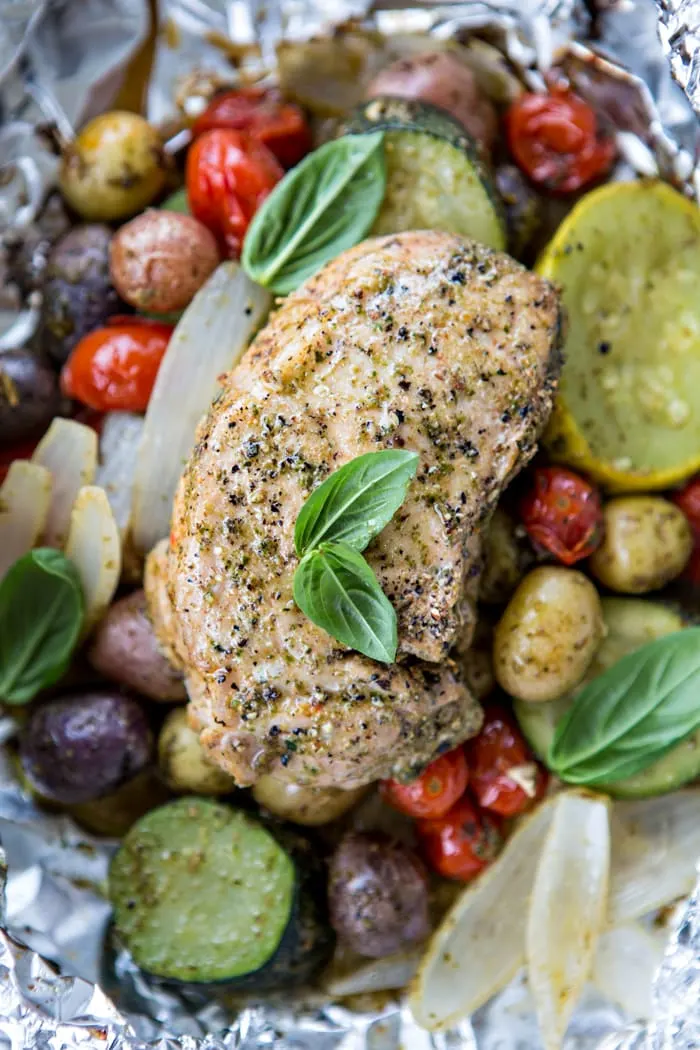 This recipe for Pesto Pork Chop and Summer Vegetable Foil Dinners was created in partnership with Smithfield.
Creating this Recipe for Pesto Pork Chops in Foil Packets
One of the summertime activities I loved doing when I was a kid was making foil dinners.
They were a guaranteed dinner whenever I was on a camping trip. I'm sure they're a camping classic because they're easy. You just make a little foil pouch full of meat and veggies and cook it on the fire.
But, we also made them at home on the grill. I love taking a part of childhood camping memories and bringing it home with me.
Who says you can only cook foil dinners when you're camping? During our busy summer days and evenings, I can appreciate how taking this camping cooking method and using it with the grill is so great.
Everyone can assemble there own, there is very little clean up because you aren't getting pots and pans dirty, and you're keeping the heat outside (where it belongs during the summer!).
All very appealing things if you ask me! Plus, it is a simple way to make family dinner interactive with the kids and fun.
Anytime we do a hands on approach at dinner, whether it is foil dinners like these Pesto Pork Chop and Summer Vegetable Foil Dinners or make your own pizza, the kids have a blast.
I haven't camped with our kids before, but earlier this summer I wanted to introduce them to this, in my opinion, summer classic at home, but with a bit of a twist.
Growing up, we typically used a burger patty, carrots, onion, potato, and seasoned with salt and pepper. Chances are you've probably had that classic recipe, or at least heard of it.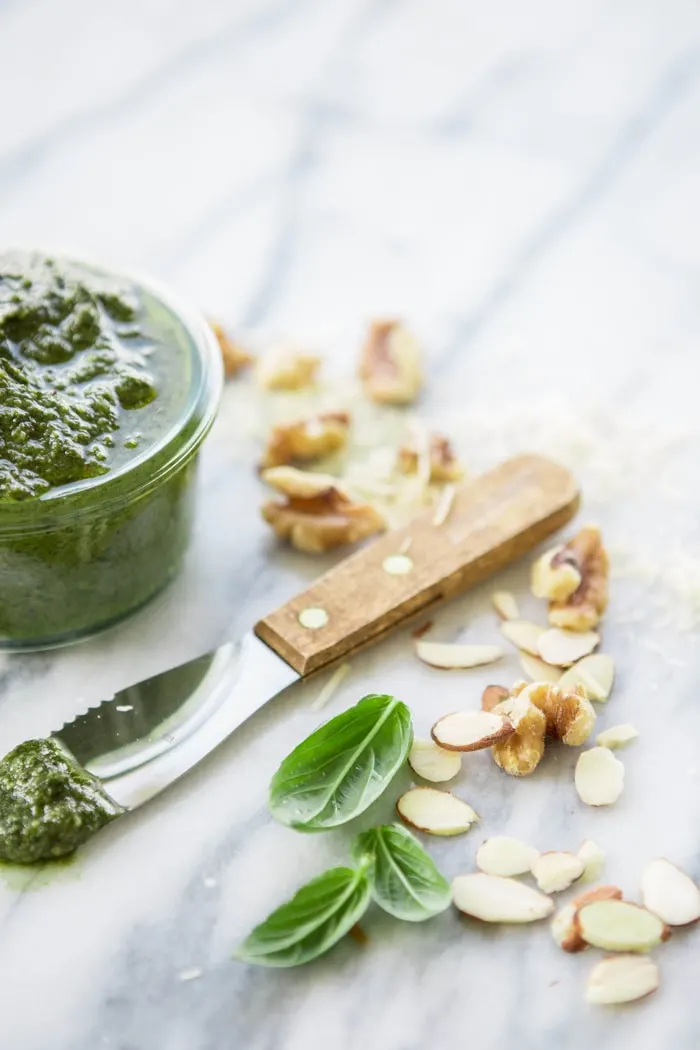 Foil Packet Pork Chops with Pesto
My goal was to use the same method as the classic foil dinners of my childhood, but to fill the foil pouches with with something that fit our family's food lifestyle – fresh, full of produce, really flavorful, and seasonal.
My version utilizes the produce that summer offers, and many people grow in their home gardens, because I wanted the meal to be fresh, seasonal, and full of flavor.
Tomatoes, basil, and zucchini are all abundant this time of year.
When I used to have a vegetable garden I always needed new recipes to use up these ingredients that seemed to multiply exponentially just over night.
For the meat, I used Smithfield Roasted Garlic and Herb Pork Chops and then built the flavor profile off of that. I love how simple these pre-seasoned pork chops make dinner.
Pesto Pork Chop Ingredients
I thought that vegetables like cherry or grape tomatoes, onion zucchini, and yellow squash would go well with the roasted garlic and herb rub on the meat. I added some tiny potatoes, too, because our kids always love grilled and roasted potatoes.
To give the vegetables some added flavor I tossed them in a bit of fresh basil pesto a little balsamic, and seasoned with salt and pepper.
Boneless Pork Chops with Garlic and Herb Seasoning
Small Potatoes, such as fingerling
Grape Tomatoes
Zucchini
Summer Squash
Yellow Onion
Balsamic Vinegar
Salt and Black Pepper
Fresh Basil Leaves
For the complete ingredient list and detailed instructions, scroll to the bottom of this post for the FREE printable recipe card.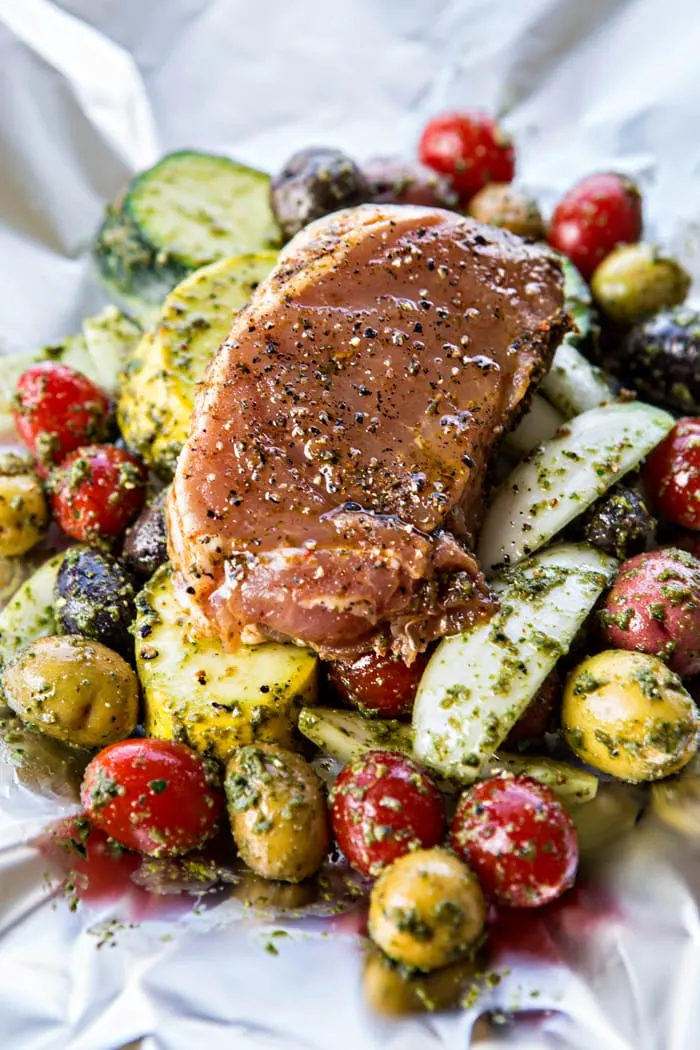 How to Make Foil Packet Pesto Pork Chops
Preheat the grill to medium heat. Then, while the grill is heating, combine the vegetables in a large bowl with the pesto and balsamic vinegar. Stir to completely coat the vegetables, and season to taste with salt and pepper.
After the veggies are prepared, place one fourth of the vegetables on a large sheet of heavy duty foil. Then, top the vegetables with a pork chop. If desired, add a dollop of pesto on top of the pork chop. Repeat with the remaining 3 pork chops and vegetables.
After you've divided the pork chops, pesto, and vegetables between the 4 sheets of foil, fold them up into packets. Once they're secured, cook them on the grill for 15 – 20 minutes.
The above is simply a quick summary of this recipe. Check out the full recipe in the free printable recipe card at the bottom of this post for all the detailed instructions.
How to Fold a Foil Packet for Pesto Pork Chops
To enclose the food, pull 2 sides of the foil towards the center and then fold down.
After that, fold or roll the other ends of the foil until it is sealed, making sure that the foil isn't folded so tightly that it doesn't allow room for circulation inside the pouch.
After that, all you have to do is place the pouches on the grill and cook until the vegetables are tender and the meat is cooked through. That's it! Such a great, easy summertime dinner that the whole family will love.
Tips for Cooking Foil Packet Pork Chops
I don't recommend thinner pork chops because they'll cook too quickly while you wait for the potatoes. If you do want to use a thinner chop, then cut the potatoes into quarters or slices so they cook on the same timeline
Check the internal temperature of the pork with a meat thermometer before serving. Food safety recommendations say to cook pork chops to an internal temperature of 145 degrees F. [source]
Let the pork chops rest for 3 – 5 minutes at room temperature before cutting into them. This allows the juices to redistribute once the meat has finished cooking. Allowing the meat to rest results in tender, juicy pork chops.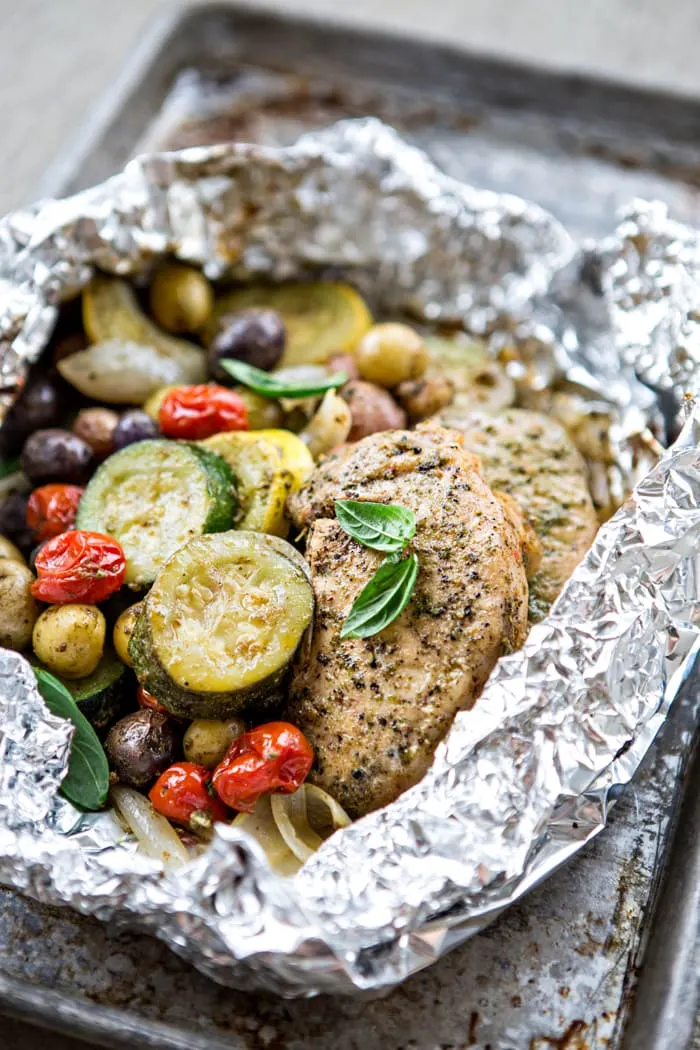 Ingredient Substitutes
Looking to swap out some of the ingredients in this easy pesto pork chop foil packet recipe? Here are my suggestions:
Other veggies: green beans, bell peppers, broccoli, mushrooms, eggplant, or asparagus would all taste good. Make sure you cut them in large enough pieces so they don't cook too quickly. For asparagus, look for thicker spears.
Other proteins: chicken breasts are a great substitute for the pork in this foil packet recipe. Keep in mind that chicken needs to be cooked until the internal temperature reaches 165 degrees F.
Try Seafood: you could certainly try substituting seafood in this pesto pork chop recipe. I recommend shrimp or salmon.
For the Pesto: you can use store bought pesto or you can make your own pesto. I like this Pesto Recipe. It is made with almonds, walnuts, whole garlic clove, olive oil, fresh basil, and parmesan cheese. Almonds and walnuts are less expensive than pine nuts, plus I'm allergic to pine nuts. For a dairy-free pesto, try this Vegan Pesto.
Tips for Making these Juicy Pork Chops with Pesto
Heavy duty foil is sturdier than regular foil, so it is better for making foil packet meals.
To assemble the foil dinner, all you need is a large sheet of heavy duty foil for each person. In the center of the foil, you add your desired vegetables.
Place the vegetables on the bottom in the foil packet. Then, place pork chops on the top. That way the juices and flavors that release from the meat during the cooking process enhance the vegetables.
It creates a nice, flavorful sauce that can be poured back over the vegetables and the pork when the meal is served.
Use a silicone brush to brush the top of the pork with a little bit of the balsamic and pesto mixture.
This recipe uses pre-seasoned pork chops, but adding pesto and balsamic on top of the garlic herb flavor tastes great. For unseasoned pork chops, coat both sides of the pork with salt, pepper, pesto and balsamic before cooking.
What to Do with Leftover Pesto Pork Chops
Got leftovers of these foil packet pork chops with pesto? Leftovers should be transferred to an airtight container in the refrigerator. Leftovers will be good for 3 – 4 days when stored properly.
I prefer to reheat these pesto pork chops wrapped in foil in the oven. I don't think they reheat as well in the microwave because microwaved pork tends to dry out and get tough.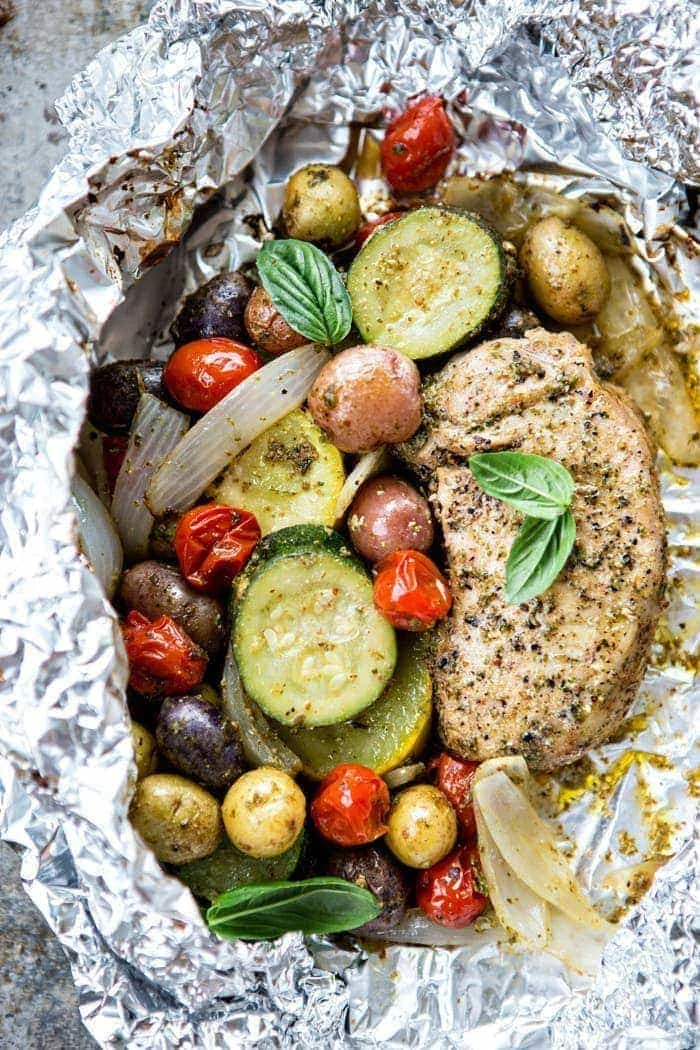 More Pork Recipes for Easy Dinners
Here are a few more pork recipes you might like:
This Greek Pork Kebab Platter with Greek Pico de Gallo platter style meal is fun! Juicy chunks of pork tenderloin are grilled with onion, lemon, and oregano with all the fixings.
Next time you're craving Pork Carnitas, try this Slow Cooker Pork Carnitas Lettuce Wrap version with fruity mango salsa – flavorful, but a super simple recipe!
Apple Cider Pork Chops with Caramelized Apples is the perfect fall meal. Fragrant sage and sweet caramelized apples pair perfectly with savory pork chops!
This Banh Mi Lettuce Wrap Recipe features seared Banh Mi Pork in lettuce leaves with plenty of Vietnamese Pickled Veggies and Cilantro Rice for a light and refreshing meal.
Smoked Pork Shoulder is a classic summertime BBQ recipe. Come check out my tried and true method for making Traeger Smoked Pulled Pork along with my 9 pro tips for the best smoked pork
Sheet pan meals, like this Fall Sheet Pan Pork Tenderloin with Honey Balsamic Roasted Vegetables, make weeknight dinners super quick.
If you're looking for a great weeknight dinner this fall — one that is flavorful, hearty, and simple — try this Roasted Pork Marsala with Mushrooms.
In this Roasted Pork Sandwich Recipe, crusty sandwich rolls are layered with savory steakhouse mushroom marinated roasted pork loin, caramelized onions and mushrooms, melted provolone cheese, and a hint of baby arugula.
Check out some of these favorite recipes, or browse the recipe index archives for even more great recipe ideas:
Get More Recipes via Email
Looking for more easy recipes like these foil packet pork chops? Sign up to receive Good Life Eats email updates and never miss another recipe!

What is your favorite version of foil packet dinners?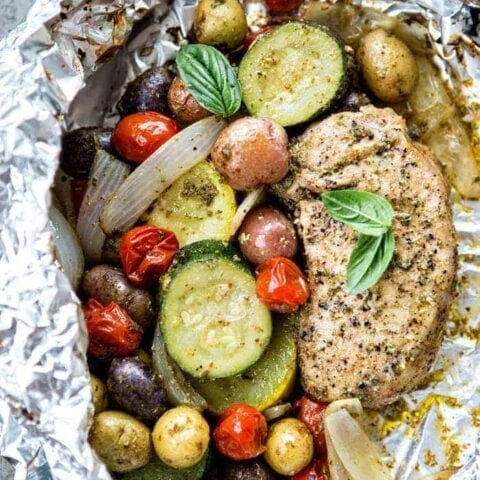 Pesto Pork Chop and Summer Vegetable Foil Dinners
Fresh, summertime vegetables are tossed in pesto and balsamic and cooked with boneless pork chops in this makeover version of the classic foil dinners from childhood.
Ingredients
1 1/2 cups Grape Tomatoes
1 Zucchini, sliced in 1/2 inch rounds
1 Yellow Summer Squash, sliced in 1/2 inch rounds
1 cup Miniature Potatoes
1 Yellow Onion, sliced in wedges
2 tablespoons Pesto
2 teaspoons Balsamic Vinegar
Salt and Pepper, to taste
Fresh Basil Leaves, for garnish
Instructions
Preheat the grill to medium heat.
In a mixing bowl, combine the tomatoes, zucchini, yellow squash, potatoes, and onion.
Add the pesto and balsamic vinegar and stir until the vegetables are completely coated. Season, to taste, with salt and pepper.
Divide the vegetables between 4 large sheets of heavy duty foil.
Add 1 pork chop to each sheet of foil, placing it centered on top of the vegetables.
Using a silicone brush, spread some of the remnants of the balsamic pesto mixture from the mixing bowl onto the top of the pork chop.
To enclose the food, pull 2 sides of the foil towards the center and then fold down.
Then fold or roll the other ends of the foil until it is sealed, making that the foil isn't folded so tightly that it doesn't allow room for circulation inside the pouch.
Place the foil pouches on the grill, close the grill lid,.
Cook for 15 - 20 minutes, or until the meat is cooked through to desired doneness and the vegetables are tender. Serve.
Notes
If the potatoes are not the miniature bite sized variety, then be sure to cut them into smaller bite sized pieces so that they are cooked tender on the same timeline as the rest of the vegetables and the meat.
Recommended Products
As an Amazon Associate and member of other affiliate programs, I earn from qualifying purchases.
Nutrition Information
Yield

4
Serving Size

1
Amount Per Serving
Calories

180
Total Fat

8g
Saturated Fat

2g
Trans Fat

0g
Unsaturated Fat

5g
Cholesterol

21mg
Sodium

138mg
Carbohydrates

20g
Fiber

4g
Sugar

7g
Protein

10g
GoodLifeEats.com offers recipe nutritional information as a courtesy and is an estimate only. This information comes from online calculators. Although GoodLifeEats.com makes every effort to provide accurate information, these figures are only estimates.
Try These Tender Pork Chops with Pesto at Home!
Next time you're looking for a quick meal, give this pork chop recipe a try! Did you think it was the best pork chop recipe for summer? Leave a comment below and give it a review for others to see what you thought of this great dinner idea.
On Instagram? Share your photo and tag me with @goodlifeeats and #goodlifeeatsrecipes. I'd love to see your photo of this Foil Packet Pesto Pork Chop Recipe!