These Greek Chicken Pitas are a family favorite chicken recipe! The Greek pita chicken is marinated with a delicious marinade to give it tons of flavor. After cooking the chicken, you will fill your pita with chicken, homemade tzatziki, and all of your favorite chicken pita wrap toppings.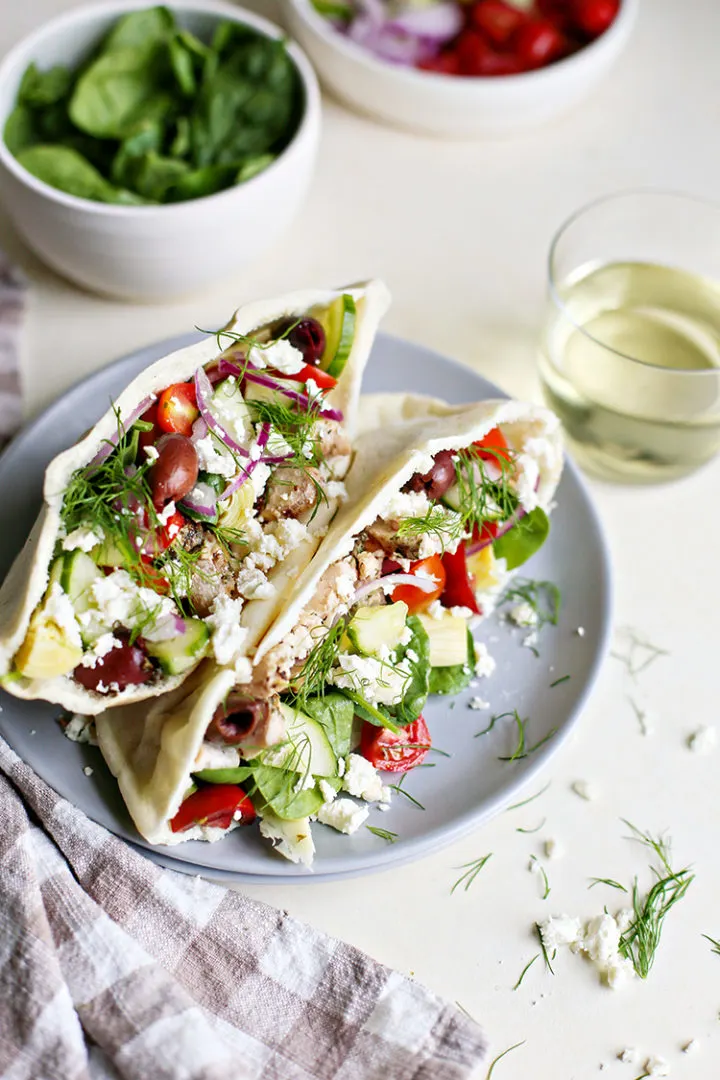 Read on to learn how to make this recipe for pita with chicken, how to meal prep recipes with pita pockets, and what to serve with this delicious recipe for Greek Chicken Pitas
Creating this Recipe for Greek Chicken Pitas
This Greek chicken pita recipe is one of our kids' favorite things to eat during the summer! They go nuts for easy meals like this that allow the option to customize their individual servings.
Everyone is a big fan of this delicious chicken recipe. The marinade gives the chicken for the pitas TONS of flavor and makes the meat super tender.
Healthy Dinner Leftovers for Lunch!
Back to school is just around the corner. That means it is time to start packing school lunches again and time to think about what I'm going to eat for my midday meal while the kids are at school.
Something I have been doing lately is making extra grilled chicken for dinner and keeping the leftovers in the fridge for a couple of days to use in various easy lunch meals.
I've also been stocking the kitchen with pita pockets because I've discovered how much I like a "sandwich" stuffed inside pita bread as opposed to regular sandwich bread all of the time.
Pita pocket recipes, like these Grilled Chicken Greek Pita Pockets, are perfect for moms to enjoy at home for lunch while the kids are at school. I love this recipe because most of the ingredients that go inside the pita pockets with the chicken are usually on hand in my pantry or refrigerator.
So moms, while the kids are away at school, treat yourself to something a little extra special at lunch time and enjoy a few minutes of peace and quiet.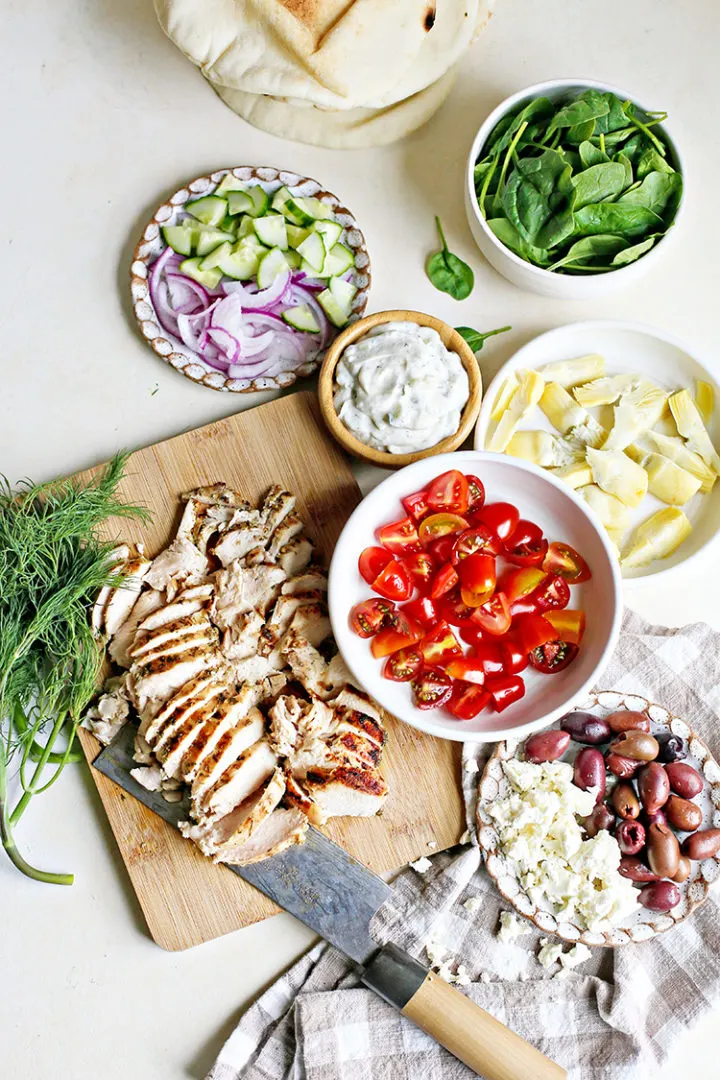 Ingredients in this Greek Pita Chicken Recipe
Here's what you'll need to make this delicious chicken recipe:
Greek Chicken Marinade – you'll marinade chicken breasts and grill them
Pita Pockets
Shredded Lettuce or Baby Spinach
English Cucumber
Red Onion
Artichoke Hearts
Kalamata Olives
Tomatoes
Store bought or Homemade Tzatziki Sauce (a delicious yogurt sauce)
Feta Cheese
Fresh Dill
What Can I Substitute for Chicken in this Recipe?
For a different variety of meat, I recommend pork tenderloin marinated in the same way as the chicken. Then, cook on the grill.
If you're vegetarian or vegan, you might try making crispy tofu or falafel to use in place of the chicken. You'll want to season the tofu with a little Greek seasoning so it has some flavor.
Mushrooms Sautéed with olive oil and Greek seasoning would also work as an alternative to chicken in these Greek Pitas.
Another meatless option to use in this recipe would be Chickpeas. Drain a can of chickpeas and add Greek seasoning (just season to taste) and heat them.
For the complete ingredient list and detailed instructions, scroll to the bottom of this post for the FREE printable recipe card.

How to Make this Pita with Chicken Recipe
Grilled Chicken Greek Pita Pockets are easy to prepare, especially if you grill the chicken ahead of time! Here's an overview of the preparation process:
First, you'll combine the marinade ingredients and marinate the chicken in a greek chicken marinade. Afterwards, grill the chicken over medium high-heat until done (165 degrees F internal temp).
Let the grilled chicken rest for 5 minutes, then slice it thinly. After that, assemble the pita pockets by stuffing the warm pita bread with the chicken pieces , artichoke hearts, spinach or lettuce, cucumber, kalamata olives, tomatoes.
Then drizzle with tzatziki sauce and garnish with crumbled feta and fresh dill.
Can I cook the chicken in the slow cooker
The above is simply a quick summary of this recipe. Check out the full recipe in the free printable recipe card at the bottom of this post for all the detailed instructions.
Can I Cook the Chicken in the Slow Cooker?
I haven't tried it, but I definitely think that this would work. Make sure you drain the chicken from the marinade before adding it to the slower cooker. You'll end up with a shredded chicken (related: how to shred chicken) instead of sliced grilled chicken with nice char marks, however.
Tips for Making the Best Greek Chicken Pitas
You can marinade the chicken ahead of time and store it in the refrigerator for up to 2 days before grilling. Longer marinade times will result in chicken with more flavor.
An outdoor grill is ideal, but if you don't have one you can also use an indoor grill pan.
Use a meat thermometer to check the internal temperature of the chicken. Chicken is done when a thermometer inserted at the thickest portion of the chicken reads at 165 degrees F.
If you don't have time to make your own tzatziki sauce, there are usually store bought options at most grocery stores. Don't skip skip the sauce, though!
Warm pita bread in the oven for a few minutes before assembling.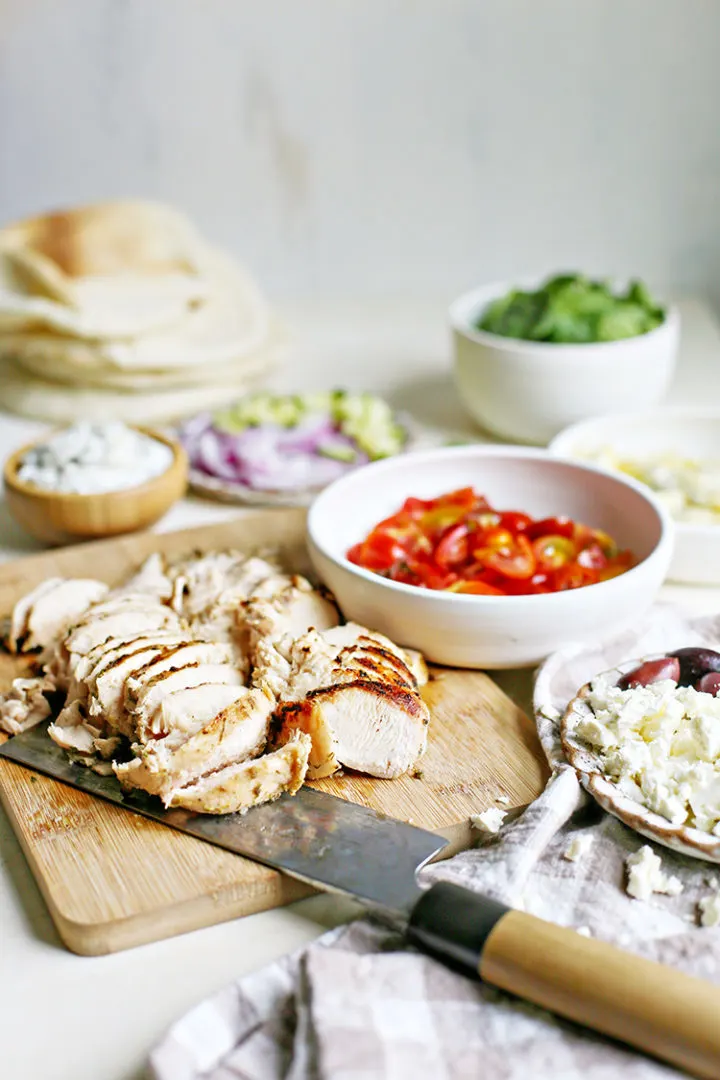 Meal Prep Tips for this Recipe
Love doing meal prep to make your week easier? Here are some of the ways you can do that with this recipe:
Make a freezer marinade – Prepare the marinade and place the chicken in a gallon sized freezer bag with the marinade. Seal, date, and label and transfer to the refrigerator. Then, remove the chicken from the freezer and defrost the meat in the refrigerator for 2 days. Cook as instructed once thawed.
Cook the chicken in advance – The chicken can be cooked and sliced ahead of time and stored in an airtight container in the refrigerator for up to 5 days.
Prep the toppings – cut and chop the toppings ahead of time and store then in individual containers in the refrigerator.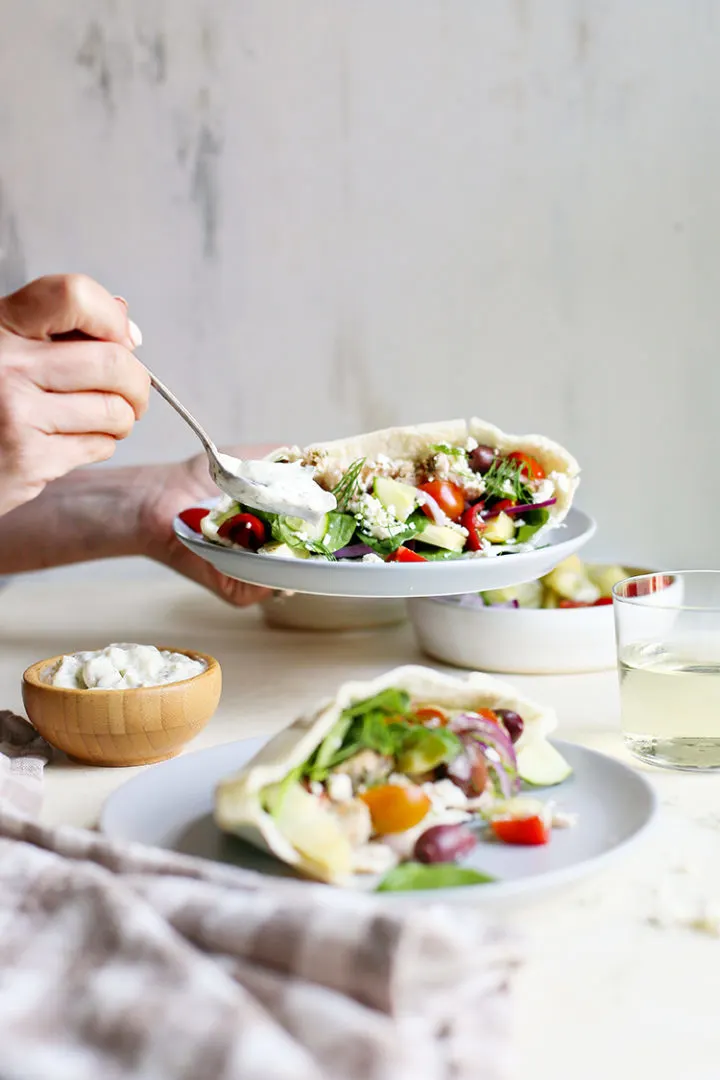 What to Serve with Grilled Chicken Pita Pockets
Need help coming up with side ideas to make this a complete meal? Here are some of our favorite things to serve with this Greek Pita Chicken recipe:
How to Store Leftover Greek Chicken Pita
If you have leftovers of this Greek pita chicken recipe, I recommend storing the individual components separately in the refrigerator in an airtight container. Storing them separately will help them stay the freshest. The grilled, marinated chicken will last for up to 5 days in the refrigerator.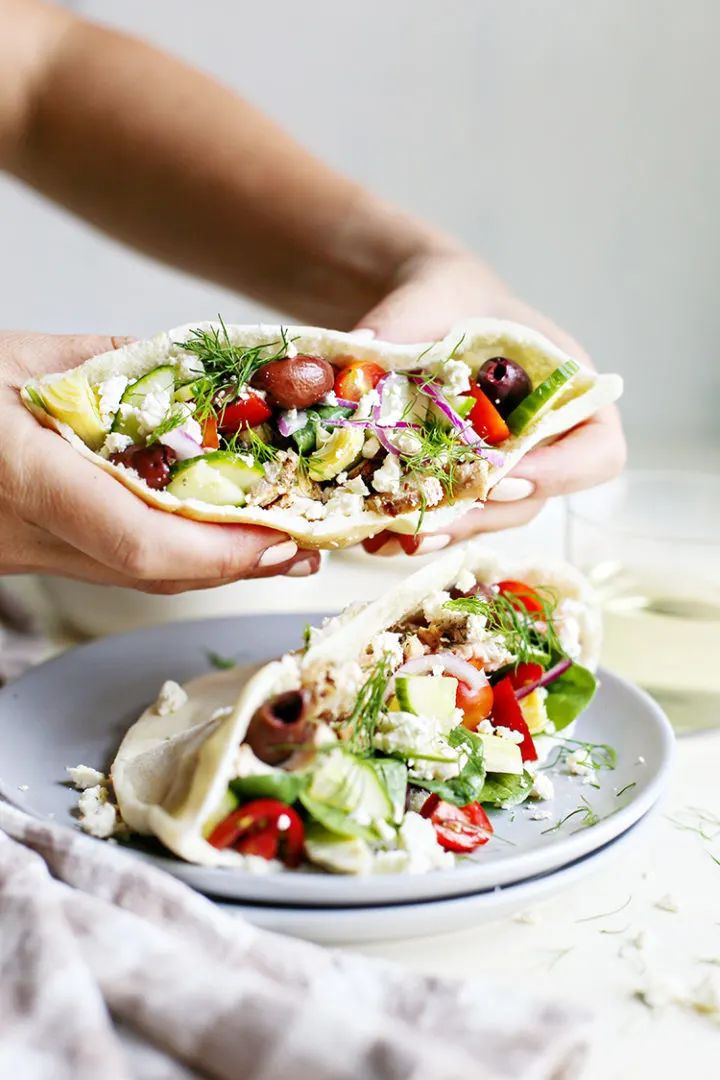 Try this Easy Recipe for Greek Chicken Pitas!
Next time you're looking for a delicious recipe for dinner with tender chicken, give these Greek Chicken Pita Wraps a try! Did this recipe become a new favorite in your home? Leave a comment below and give it a review for others to see what you thought of this healthy meal.
On Instagram? Share your photo and tag me with @goodlifeeats and #goodlifeeatsrecipes. I'd love to see your photo of this Greek chicken pita pocket recipe!
More Chicken Recipe Ideas
Chicken tenderloins are marinated in a sweet and savory honey mustard sauce with sprigs of fresh rosemary and lemon juice, then quickly cooked on a hot grill in this recipe for Grilled Honey Mustard Chicken.
This Creamy Tarragon Chicken Salad is the perfect chicken salad for a spring brunch or a light summer meal, plus 6 ways to serve this chicken salad recipe!
Crock Pot Mexican Chicken is the perfect shredded chicken recipe for your next Mexican recipe. Packed with flavor and super tender thanks to hours in the crock pot, this recipe is sure to please!
Italian Chicken, Mushroom, and Zucchini Skillet is a super easy dinner recipe for busy school nights. It features pan seared chicken tenderloins, zucchini and sliced mushrooms in garlicky herbed tomato sauce.
Indian Butter Chicken with Basmati Rice is a delicious, easy Indian recipe. It features tender chicken in an Indian spiced creamy, tomato based sauce featuring the flavors of garam masala.
Don't see what you're looking for here? You can always head over to check out the recipe index to look for more recipes.
What are your favorite chicken recipes?
Get New Recipes via Email
Did you love this Greek Pita Chicken? Sign up to receive Good Life Eats Email Updates and never miss another recipe!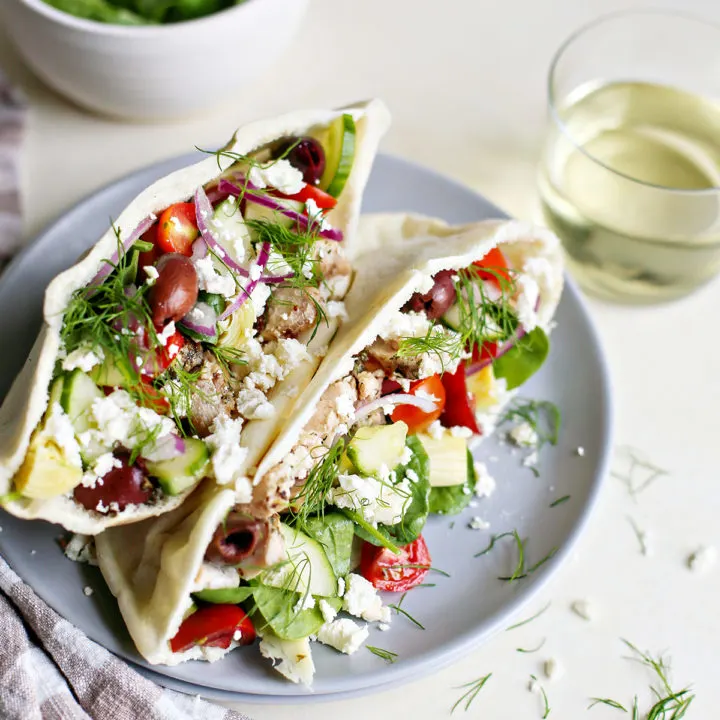 Grilled Chicken Greek Pita Pockets
These Greek Chicken Pitas are a family favorite chicken recipe! The Greek pita chicken is marinated with a delicious marinade to give it tons of flavor. After cooking the chicken, you will fill your pita with chicken, homemade tzatziki, and all of your favorite chicken pita wrap toppings.
Ingredients
For the Chicken Marinade
2 tablespoons olive oil
3 tablespoons plain Greek yogurt
2 tablespoon white wine vinegar
1 tablespoon minced garlic cloves
1 large lemon, juiced
Zest of 1 large lemon
1/2 teaspoon salt
1 teaspoon pepper
For the Grilled Chicken
1 lb. Chicken Breasts
Chicken Marinade
For the Grilled Chicken Pitas
1 lb. Greek Marinated Grilled Chicken, sliced thin
Pita Pockets
Baby Spinach or Shredded Romaine Lettuce
Thinly Sliced Red Onion
Chopped or Thinly Sliced English Cucumber, unpeeled
Artichoke Hearts, quartered
Kalamata Olives
Chopped Tomatoes
Garnish
Instructions
Marinating the Chicken for the Pitas
Pound the chicken so it is even thickness.
Measure the marinade ingredients into a large glass measuring cup or mixing bowl. Whisk using a wire whisk until well combined.
Add the chicken to a glass bowl or other container. Then, pour the marinade over, cover, and transfer to the refrigerator. Allow the chicken to marinate for at least 4 hours.
Cooking the Grilled Chicken for the Pitas
Preheat the grill to 450 degrees F.
After marinating, remove the chicken from the marinade, and pat dry.
Cook the chicken on the preheated grill for 5 minutes per side, or until the chicken reaches 165 degrees F internal temperature.
Remove the chicken from the grill. Let it rest on a plate for 5 minutes. Then, slice the chicken into thin strips.
Assembling the Greek Chicken Pitas
Stuff pitas with chicken and additional toppings in desired amounts. Add crumbled feta cheese and fresh dill for garnish.

Recommended Products
As an Amazon Associate and member of other affiliate programs, I earn from qualifying purchases.
Nutrition Information
Yield

6
Serving Size

1
Amount Per Serving
Calories

290
Total Fat

7g
Saturated Fat

2g
Trans Fat

0g
Unsaturated Fat

4g
Cholesterol

42mg
Sodium

495mg
Carbohydrates

37g
Fiber

2g
Sugar

2g
Protein

20g
GoodLifeEats.com offers recipe nutritional information as a courtesy and is an estimate only. This information comes from online calculators. Although GoodLifeEats.com makes every effort to provide accurate information, these figures are only estimates.