Roasted Red Pepper Hummus
It is officially way too hot in New Mexico. Absolute torture to come home from vacation (Visiting Crete and Athens in a day) and be transported from Spring to Summer. There was no easing into the hot. Combine said hot weather with the reality of being home from vacation and there's really not a whole lot of motivation to cook anything for dinner.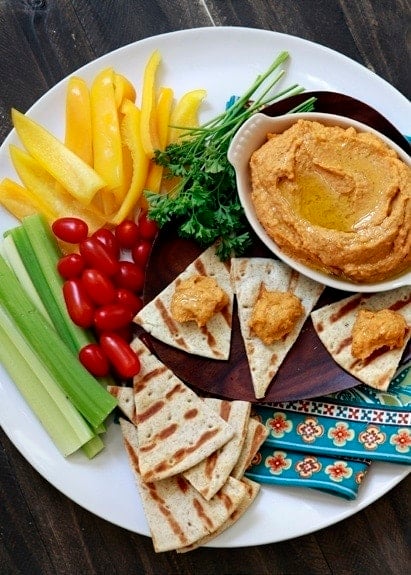 I made this recipe for Roasted Red Pepper Hummus on a particularly hot day. We don't do a lot of dips, but when we do I try to make dip recipes that add nutritional value to the meal or snack rather than being empty calories. Hummus is great as a dip because it is made largely from garbanzo beans (or chickpeas).
Beans are filling and packed with protein and fiber which makes hummus a great addition to many no-cook summer meals and snacks. I love recipes like this because they're so versatile. Hummus can be served so many ways. From a simple appetizer or starter to a meal with cut vegetables to part of a larger meal.

During the summer we tend to eat a lot of dinners that are appetizer or snack like. Healthy dips, lots of vegetables and fruits, and whole grains to fill up. These kind of meals are perfect for when it is too hot to turn on the oven. With this Roasted Red Pepper Hummus I served a variety of vegetables: grape tomatoes, yellow pepper, celery, and grilled whole wheat pita bread wedges.
Ways to Eat Hummus this Summer
What are your favorite uses for hummus?
Don't be afraid to get creative with hummus. You can experiment with different beans, spices, or other vegetables to add in. Check out these creative hummus recipes:
Roasted Red Bell Pepper Hummus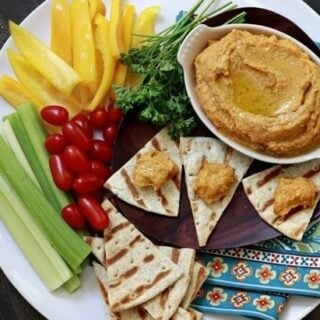 Ingredients:
1 - 15 ounce can garbanzo beans, drained and rinsed (I like Bush's brand)
2 cloves garlic
1/3 - 1/2 cup chopped roasted red bell pepper
2 1/2 tablespoons olive oil
2 tablespoons Tahini
juice of half of a lemon
1/2 teaspoon salt, or to taste
1/4 teaspoon black pepper, or to taste
1/8 teaspoon cumin
Directions:
Combine all ingredients in a blender and puree until smooth. If additional liquid is needed, you may add a tablespoon or two of water.