Black Bean Hummus
One of my favorite easy, snacks is hummus. It is healthy so you don't have to feel guilty about eating it and it tastes great. Plus there are endless variations depending on what beans you use or what flavors you impart to the recipe.
I usually tend to stick with garbanzo beans (also known as chickpeas) when I'm making homemade hummus and change up the flavor by keeping it more traditional or blending in ingredients such as sun-dried, roasted peppers, spinach or artichokes.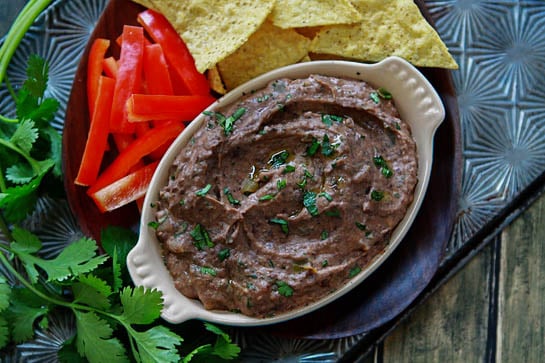 Really, though, you can be as creative with a hummus recipe as you'd like as long as you stick to the basic structure of a hummus recipe. Just find a recipe that you like in its basic form, then you can begin altering things such as the type of bean used, seasonings, other add-ins, etc.
Components of Basic Hummus
Beans
Tahini – roasted sesame paste, usually located on the ethnic aisle of the grocery store or in a specialty market)
Olive Oil
Lemon Juice
Garlic
Salt and Pepper
Hummus Add-In Ideas
Try a few of these mix in ideas to give your hummus variety and flavor.
Pine Nuts
Edamame
Roasted Garlic
Baby spinach leaves
Chopped kalamata olives
Sun-dried or oven roasted tomatoes
Diced roasted chiles, jalapeno, or roasted peppers
Chopped artichoke hearts
Sometimes it is nice to mix things up a bit. I adapted my
Roasted Red Pepper Hummus
into a Black Bean Hummus recipe. I swapped black beans in place of garbanzos, lime juice instead of lemon, increased the Mexican spices, added cilantro and optional fire roasted green chiles if you like a little heat.
How to Eat Hummus
Hummus is a great all purpose dip that pairs well with many different accompaniments. Think of the accompaniments as a medium to getting the hummus into your  mouth. It can also be used as a spread. This Black Bean Hummus would be great paired with Baked Cumin Chipotle Lime Tortillia Chips. Here are a few other ideas.
Black Bean Hummus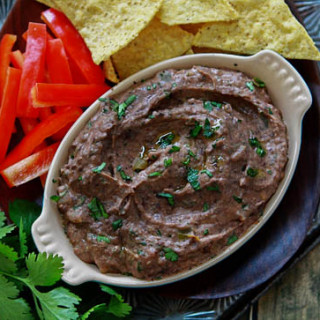 Ingredients:
1 - 15 ounce can Bush's Low Sodium Black Beans, drained and rinsed
1 clove garlic
2 1/2 tablespoons olive oil
2 tablespoons Tahini
juice of 1/2 a lime
1/2 teaspoon cumin
1 teaspoon chili powder
1 - 2 tablespoons (packed) chopped fresh cilantro
1 - 2 tablespoons fire roasted diced green chiles, optional
salt and pepper, to taste
Directions:
Combine the black beans, tahini, lime juice, olive oil, garlic cloves, cumin, and chili powder into a food processor and blend until smooth.
If additional liquid is needed to form desired consistency, add a tablespoon or two of water.
Stir in the chopped cilantro and diced green chiles (if using). Season to taste with salt and pepper.
Note: If you prefer a completely smooth hummus, you may blend the green chiles, if using, and cilantro with the other ingredients.
I have an ongoing relationship with Bush's Beans where I am compensated for my time, however this is a brand that I have always used in my own kitchen and any opinions expressed regarding the product are my own.