This simple Greek Yogurt Pesto Dip only requires 2 ingredients – Pesto and Greek Yogurt. Use it as a healthy dip for your favorite summertime grilled veggies.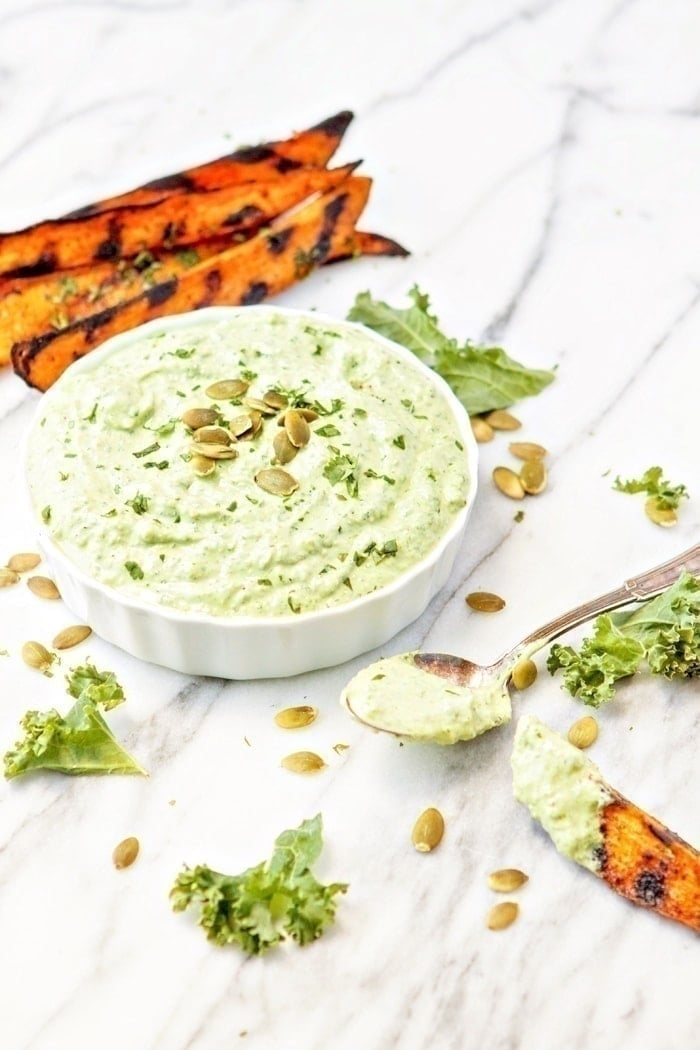 Creating this Recipe for Greek Yogurt Pesto Dip
A few weeks ago I posted a recipe for Kale Cilantro Pesto. Some of that pesto got turned into a this Greek Yogurt Kale Cilantro Pesto Dip.
YUM! I could seriously not stop eating it.
Ever since we moved away from New Mexico and my friend Allison (from Some the Wiser) had us over for a goodbye dinner at her parents house. Allison's mom made a delicious dinner and I remember a dipping sauce that she made using Greek Yogurt and Pesto.
The past couple of summers I have been wanting to make homemade pesto. I'm allergic to pine nuts, so I always have to use an alternative seed or nut and rarely can purchase pre-made pesto or order it out.
For whatever reason, I always end up pushing that recipe to the back of the to-do list.
It isn't that pesto isn't versatile or worthwhile to prepare – there are TONS of great uses for pesto besides pasta. I just always allow myself to get so busy during the summertime.
It is different with the kids being home. I want to do things with them. And honestly, I am really bad with the work/life balance at the beginning of summer.
It always takes me a while to get into the routine of having the kids home, doing fun things so they don't feel like mom is always working and they're always doing chores. But, working enough and regularly so that I'm getting things done that I need to get done and making some of the fun recipes that I want to make.
We just got off of a super busy weekend of family in town, my boyfriend meeting most of the men in my family, boating at Boyd Lake, and a family BBQ.
Life doesn't slow down and I don't know that I really want it to even though sometimes it seems like it. Last weekend was so busy but it was all good things that I'm glad we made time for.
Anyway, a few weeks ago before the busy onset of summer I buckled down and tested the Kale Cilantro Pesto that I've been wanting to experiment with so that I could then make the Greek Yogurt Pesto Dip that I've been wanting to make for a couple of years now.
I loved it! It was such a refreshing, but filling and healthy dip.
I think it is a great quick, healthy snack to have on hand in the fridge for when afternoon pre-dinner munchies strike (like right now!).
Ingredients for Greek Yogurt Pesto Dip
You only need 2 ingredients to make this delicious Greek Yogurt Pesto Dip!
If you don't already have pesto on hand, or you don't want to use store bought pesto, you'll need a few more ingredients depending on what recipe you choose to use for this pesto dip recipe. Here are a few of my favorite recipes for pesto to use in this Greek Yogurt Dip:
For the complete ingredient list and detailed instructions, scroll to the bottom of this post for the FREE printable recipe card.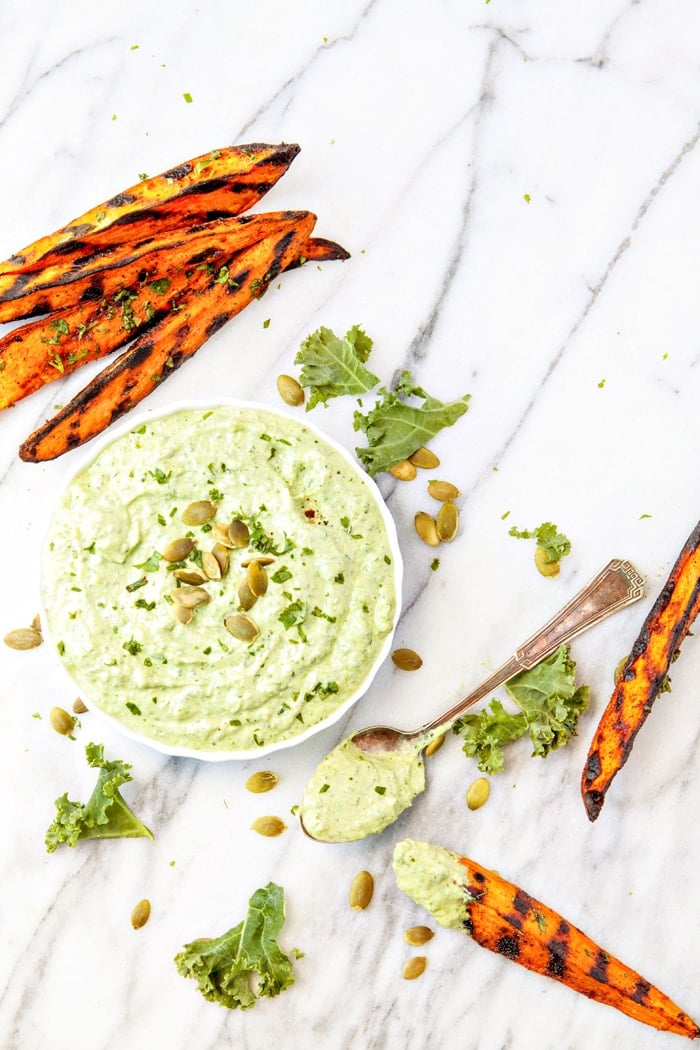 How to Make this Greek Yogurt Pesto Dip
This Greek Yogurt Pesto Dip has been on my "to make" list for a while and I would have made it sooner if I had realized it was so simple!
First, prepare your choice of pesto or purchase store bought pesto.
Next, in a medium bowl, combine the Plain Greek Yogurt with pesto.
After that, mix the yogurt and pesto well.
Last, chill the dip in the refrigerator for 20 minutes.
Make Ahead Tips for Greek Yogurt Pesto Dip
Seriously, it is so easy to make this healthy dip recipe! If you are preparing your own pesto and want to make this Greek Yogurt Pesto Dip even easier to prepare, then you can make pesto in advance and freeze it until you plan to make the dip.
Ever year at the end of summer, I love to strip all of the leaves from my basil plants and make a huge batch of pesto to use throughout the coming months. I freeze the pesto in large ice cube trays, and then transfer them to a bag so I can take one out at a time as needed.
The above is simply a quick summary of this recipe. Check out the full recipe in the free printable recipe card at the bottom of this post for all the detailed instructions.
How to Store Greek Yogurt Pesto Dip
This recipe is best stored in an airtight container or a bowl with plastic wrap covering the top and it needs to be refrigerated. It is best used within 2 days of preparing for maximum freshness and best test.
Greek Yogurt Pesto Dip Recipe Substitutions
Typically I don't recommend making a bunch of substitutions when preparing a new recipe. When making substitutes, you won't know if you don't like the recipe or if the recipe didn't turn out due to a preparation mistake, an ill effect from the substitute, or something else.
However, if you do choose to make substitutions in a recipe, I recommend only making one substitute at a time so you don't have a building effect of multiple poor substitutions.
In this recipe, I don't recommend trying dairy-free yogurt as it typically has a different consistency and is much thinner. I don't think you would have a problem with using lactose-free Greek Yogurt, however, for those who are lactose intolerant but do not have a dairy allergy and who are not vegan.
You can use different kinds of pesto in this recipe if you like, but that is about the extent of recipe substitutions that I feel comfortable recommending.
What to Serve with Greek Yogurt Pesto Dip
The first time I made this Greek Yogurt Pesto Dip I was dipping everything in it, including these Smokey Grilled Sweet Potato Wedges that you see in the photo. I can't wait to make it again to serve alongside any of these other ideas or with another batch of sweet potato wedges.
Fresh Veggies: carrots, celery, radishes, bell peppers, broccoli, cauliflower cherry tomatoes
Great as a spread if you're looking for a simple way to dress up your sandwich.
Dipping Sauce for Grilled Chicken
Pretzels
More Dip Recipes
Looking for more dip recipe ideas? Here are a few that we love:
Caramelized Onion Bacon Dip with Blue Cheese is a revamped and homemade version of the classic onion dip. This dip has tons of flavor thanks to the addition of blue cheese and plenty of crumbled bacon.
Classic hummus is transformed into this Roasted Salsa Verde Hummus with the addition of roasted poblano, jalapeño, tomatillo, onion, cilantro, and lime.
This Basic Guacamole recipe features the delicious flavors of red onion, jalapeño, garlic, cilantro, and fresh lime juice paired with ripe, mashed avocados. It's simple and basic, but oh so delicious!
Roasted Red Pepper Hummus can be served so many ways. From a simple appetizer or starter to a meal with cut vegetables to part of a larger meal.
Tzatziki is great as an appetizer with toasted pita wedges and vegetables for dipping (or with a main course like this Greek Pork Kebab Platter). I love this cucumber-y Greek yogurt dip!
Don't see what you're looking for here? You can always head over to check out the recipe index to look for more recipes.
Get More Recipes via Email
Did you love this recipe? Sign up to receive Good Life Eats Email Updates and never miss another recipe!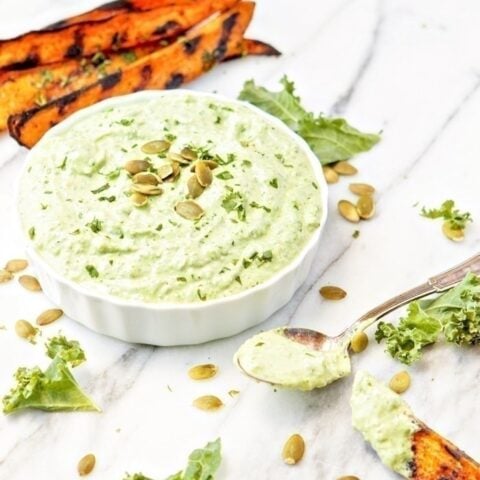 Greek Yogurt Pesto Dip
This simple Greek Yogurt Pesto Dip only requires 2 ingredients - Pesto and Greek Yogurt. Use it as a healthy dip for your favorite summertime grilled veggies.
Ingredients
1 cup Plain Greek Yogurt
Salt and Pepper, to taste (if desired)
Instructions
First, prepare the Kale Cilantro Pesto recipe.
In a medium bowl, combine the Plain Greek Yogurt with the Kale Cilantro Pesto.
Stir until the mixture is well combined.
Season, to taste, with additional salt and pepper if desired.
Cover with plastic wrap and chill in the refrigerator for approximately 20 minutes.
This may be prepared up to a day in advance and refrigerated if desired. Simply, stir prior to serving.
Notes
Serve with your favorite grilled veggies, such as sweet potatoes, zucchini, or red peppers. May also be used as a sandwich spread or a dip for French fries.
Recommended Products
As an Amazon Associate and member of other affiliate programs, I earn from qualifying purchases.
Nutrition Information
Yield

6
Serving Size

1
Amount Per Serving
Calories

79
Total Fat

5g
Saturated Fat

1g
Trans Fat

0g
Unsaturated Fat

4g
Cholesterol

4mg
Sodium

118mg
Carbohydrates

3g
Fiber

0g
Sugar

1g
Protein

5g