Thinly sliced, cool cucumbers are layered with mashed avocado and cream cheese spread on whole grain bread to make this satisfying Cucumber and Avocado Sandwich.
I was reminded of this Cucumber Avocado Sandwich yesterday while I was planting some vegetable plants for our summer garden.
One of my picks this year was Lemon Cucumbers.
An old neighbor planted them years ago and I loved them so I wanted to give them a try myself.
This cucumber sandwich recipe is really tasty and perfect for a light, simple lunch during spring and summer.
I can't wait for our lemon cucumbers to be ready for picking so I can try this cucumber avocado sandwich with garden fresh produce.
Another sandwich that is great for summertime garden produce is this Grilled Summer Squash Sandwich.
If you end up with an abundance of tomatoes in your garden, give this Herbed Ricotta and Tomato Crostini a try.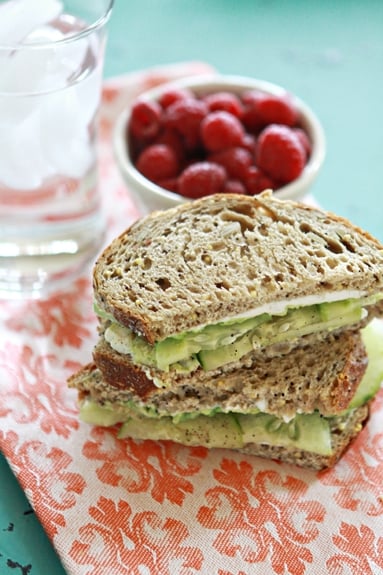 Click and save this Cucumber and Avocado Sandwich to Pinterest!
Cucumber and Avocado Sandwich Ingredients
The great thing about this easy sandwich recipe is that you can switch up the ingredients to suit your tastes.
This particular recipe calls for:
Whole grain bread
Laughing Cow Garden Vegetable Cream Cheese Spread
Avocado
Cucumber
Salt and pepper
How to Make Cucumber Avocado Sandwiches
This vegetarian sandwich recipe can be made in just 5 minutes!
First, toast the bread.
Then spread each slice with the cream cheese spread.
Top the cheese with mashed avocado, then lay on the sliced cucumber.
This avocado sandwich can be enjoyed as an open-faced sandwich, if desired.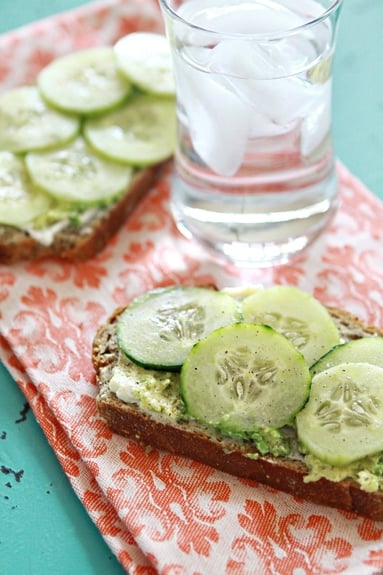 Click and save this Cucumber and Avocado Sandwich to Pinterest!
Ways to Dress up a Sandwich
Sandwiches don't have to be boring. There are so many different ways to dress them up. Try a few of these next time you need to break out of a rut:
1. Use non-traditional bread
Whether it is with baguette, a wrap, focaccia, or a bagel you can add a little more style to your sandwich if you stray from sandwich bread.
If you can, make your own breads.
It's not as hard as it seems and will save your precious money.
Bakery bread is a pretty penny.
2. Spread it with something other than mayo and mustard
Spreadable cheese, pesto (like Sun Dried Tomato Spinach Pesto, Kale Cilantro Pesto, or Vegan Basil Pesto), 5 Minute Basic Guacamole, or Roasted Red Pepper Hummus all make great sandwich spreads.
3. Grill, toast, or broil it
This can change a lot: melted cheese, a hot sandwich, crispy bread, all of these change the feel of the sandwich.
4. Use out of ordinary fillings
Experiment with different cheese, vegetables, and meats (or lack of for vegetable loaded sandwiches).
Consider roasting or caramelizing onions and mushrooms instead of using fresh for different flavors.
Look around in your fridge for what you already have on hand and you'll be inspired to create new combination.
Sandwiches are a great way to use up remnant ingredients from previous meals.
5. Take inspiration from your favorite deli menu
Most deli sandwiches are not that difficult to recreate at home.
A simple glance at the ingredient list or sandwich name can give you all sorts of inspiration, and may even spark a completely new idea.
More Easy Sandwich Recipes
This Chipotle Roast Beef Sandwich is topped with avocado, Pepper Jack cheese, and more!
Nothing beats a Bacon, Apple, and Cheddar Grilled Cheese on a cold day!
This Roasted Pork Sandwich with Caramelized Onions requires some planning, but it's great as leftovers.
Greek Pita Pockets are a fun addition to any lunch. This recipe calls for chicken, but you can use any meat you have on hand.
Switch things up with these Black Bean Quinoa Burgers. You can enjoy these as a sandwich or in lettuce cups.
Love this recipe for Cucumber and Avocado Sandwich? Sign up for Good Life Eats email updates and never miss another recipe!
What is your favorite easy sandwich recipe?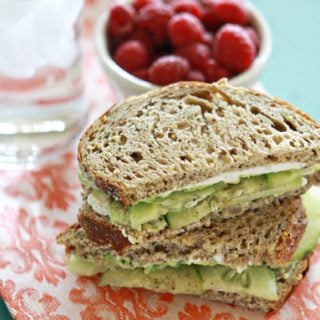 Cucumber and Avocado Sandwich
Thinly sliced, cool cucumbers are layered with mashed avocado and cream cheese spread on whole grain bread to make this satisfying Cucumber and Avocado Sandwich
Ingredients
2 slices whole grain bread
2 wedges Laughing Cow Garden Vegetable Cream Cheese Spread
3 tablespoons mashed avocado
12 thin slices cucumber
salt and pepper, to taste
Instructions
Toast the bread.
Spread each slice of bread with the Laughing Cow Garden Vegetable Cream Cheese Spread on one side.
Top the cheese on both slices with mashed avocado.
Then, layer the cucumber slices on top and sprinkle with salt and pepper (if desired).
Eat open faced or place the two halves together.
Notes
Other great additions would be alfalfa sprouts, bacon, tomato slices, sliced olives, red bell pepper.
Recommended Products
As an Amazon Associate and member of other affiliate programs, I earn from qualifying purchases.
Nutrition Information
Yield

2
Serving Size

1
Amount Per Serving
Calories

246
Total Fat

12g
Trans Fat

0g
Unsaturated Fat

4g
Fiber

5g
Protein

9g
Be sure to follow Good Life Eats on Instagram.
Tag @goodlifeeats and include the hashtag #goodlifeeatsrecipes so I can see what you're cooking up in YOUR kitchen!
Click and save this Cucumber and Avocado Sandwich to Pinterest!
Let me know if you try this recipe and what you think of it by leaving a comment below.
I am a compensated Community Leader for The Laughing Cow, but as always all opinions are my own. I just love their cheeses and have been a fan for many years before my working relationship began.