This Rosemary Focaccia Bread is perfect for dunking into soups, sopping up pasta sauce, or using as sandwich bread. Learn how to make perfect focaccia every time with this recipe!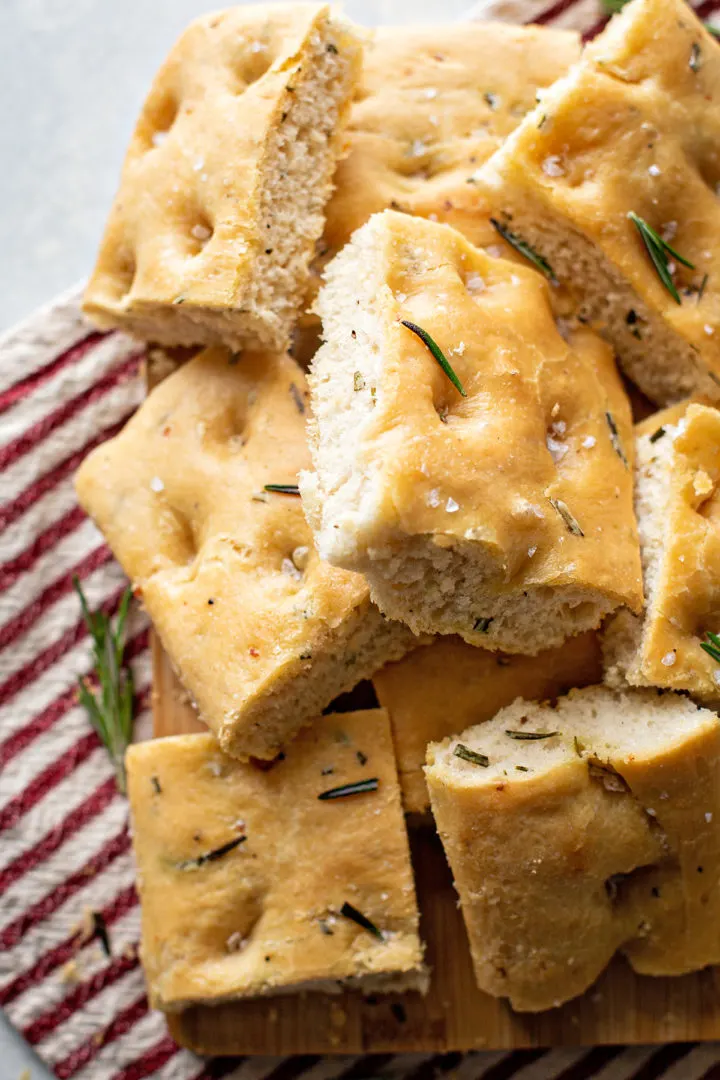 What Is Focaccia?
Focaccia (pronounced "fuh-KA-cha") is a type of leavened Italian flat bread.
The dough is drizzled with olive oil before baking, which adds flavor and makes the crust crispy while the interior remains springy. Focaccia bread is often flavored with fresh herbs and plenty of salt.
It's easy to tell focaccia apart from other kinds of bread thanks to its flat, dimpled appearance. It also has a unique texture. Some people liken it to pizza dough, but it's much thicker than any pizza crust and is both airier and chewier.
In this post, I'll be sharing my go-to recipe for rosemary focaccia. My recipe uses both olive oil and butter to create the perfectly chewy texture that focaccia is known for. It's also flavored with both fresh rosemary and garlic.
Focaccia makes a wonderful addition to any bread basket and is delicious on its own. Or, serve it alongside a warming bowl of soup.
It can even be used in place of sandwich bread when making sandwiches!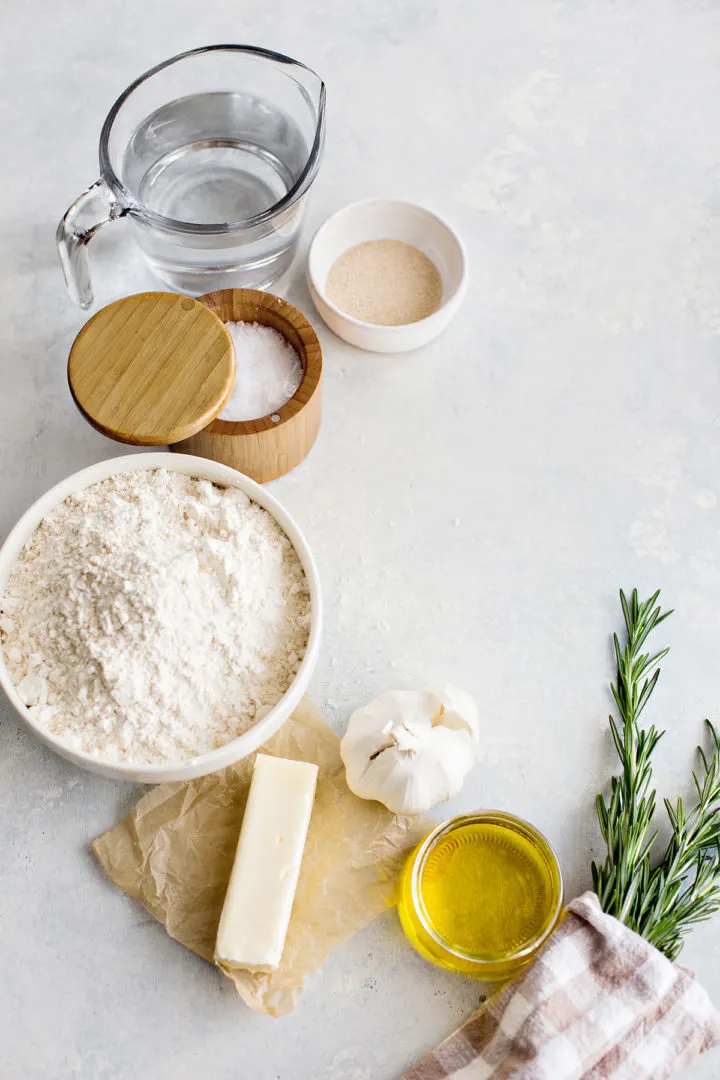 Tools Needed for Making Focaccia
This is an easy focaccia recipe that can be made with just a mixing bowl, a wooden spoon, and your hands. Here's what else you'll need to make focaccia from scratch:
Mixing bowl: Use a bowl that's large enough to hold the big batch of dough.
Measuring cups: A must for any baking recipe!
Jelly roll pan: Focaccia is always baked in a flat pan. I recommend using jelly roll pans, which have a short lip that will contain the dough as it bakes.
Chef's knife: Makes quick work of chopping the fresh rosemary.
Plastic wrap: For covering the dough as it sits in the jelly roll pan for its second rise.
Rosemary Focaccia Recipe Ingredients
Making focaccia with rosemary requires just eight basic ingredients. Here's an overview of what you'll need to make the focaccia bread:
Active Dry Yeast
Warm Water
Flour
Butter
Fresh Rosemary
Salt and Pepper
Olive Oil
Fresh Garlic
For the complete ingredient list and detailed instructions, scroll to the bottom of this post for the FREE printable recipe card.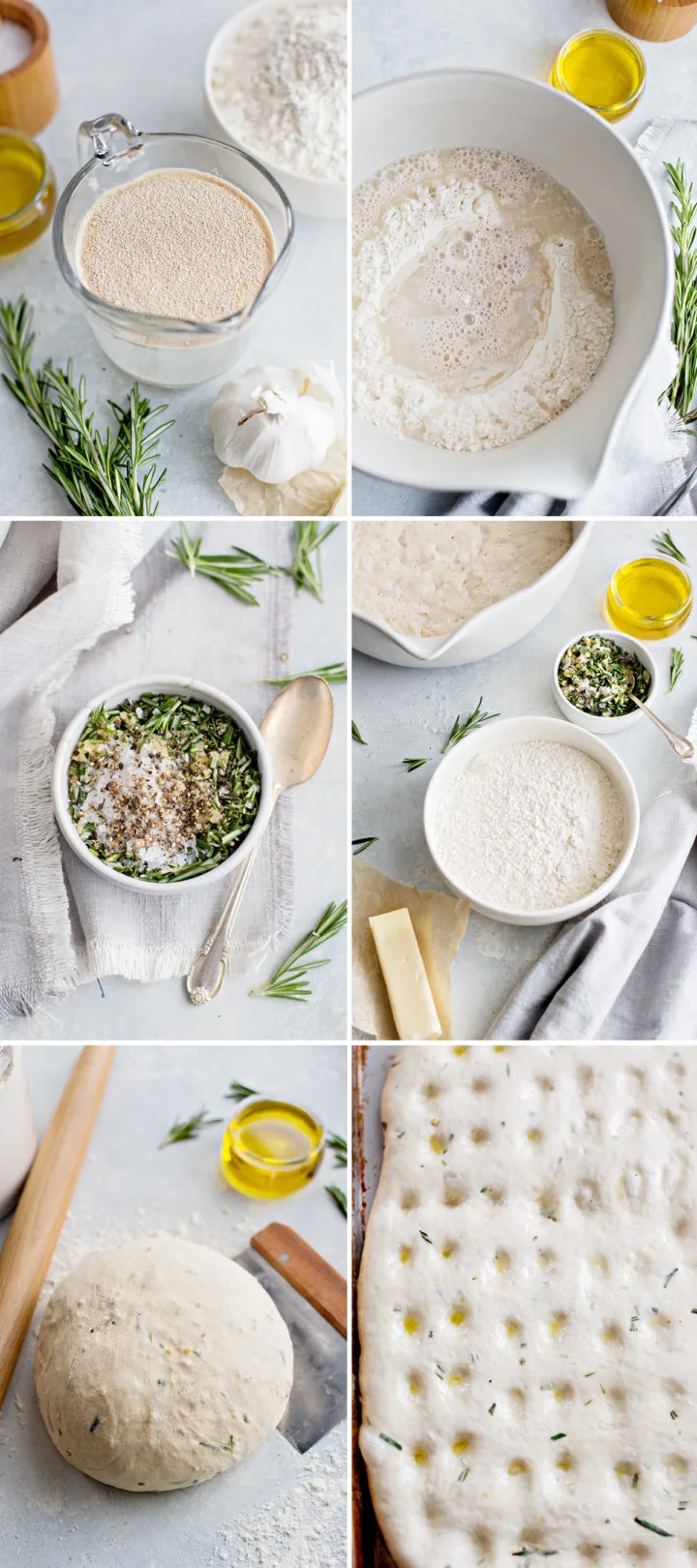 How to Make Rosemary Focaccia
Homemade focaccia is simple to prepare, but it does require some patience since the dough will need to rise two times before the bread can be baked. Here's a look at the key steps to making focaccia:
Combine yeast and water; let stand for 5 minutes. You're looking for it to become slightly foamy.
Combine 4 cups of flour with the prepared yeast mixture. Cover and let rise in a warm place for 1 hour.
Sprinkle the remaining flour onto a flat surface. Turn the dough out onto the floured surface and knead until the flour is completely incorporated.
Combine the butter, rosemary, garlic, salt, and pepper in a small bowl.
Gradually knead the butter and rosemary mixture into the dough.
Brush two jelly roll pans with olive oil.
Divide the dough in half and roll each portion into a rectangle, and place in the pans.
Cover and let rise in a warm place for 40 minutes.
Using your fingertips, dimple the dough all over in both pans. Drizzle with remaining olive oil.
Bake at 375ºF until golden.
The above is simply a quick summary of this recipe. Check out the full recipe in the free printable recipe card at the bottom of this post for all the detailed instructions.
Tips for Making the Best Focaccia
Reduce the rise time — If you want a shorter rise time, substitute the active dry yeast with quick rise or instant yeast.
Soften the butter — If you forgot to set the butter out in advance, you can soften it quickly using one of these tricks.
Let the dough rise in a warm place — Your oven or microwave (both turned off!) would make for a warm, draft-free place to let the dough rise. If the dough is left to rise in a cold place, it will take much longer to rise.
Check the expiration date of your yeast — If your yeast has expired, the dough won't rise properly. Be sure to read my additional tips for baking with yeast if you don't use it very often!
Use good quality olive oil — You'll want to use a quality bottle of extra virgin olive oil to make the rosemary focaccia. You'll definitely be able to taste the olive oil since a good amount is drizzled on top before the bread is baked, so use a brand you trust!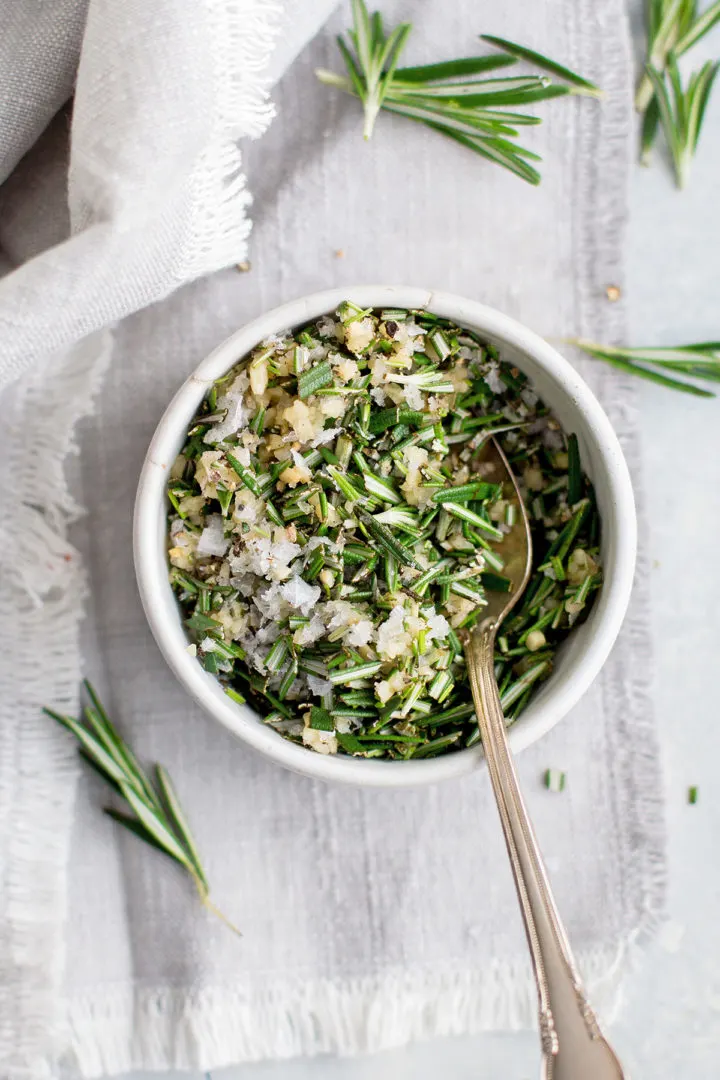 Can Other Herbs Be Used in This Recipe?
Absolutely! I love making focaccia with fresh rosemary, but you're welcome to try other fresh herbs like thyme, oregano, or sage. Use any combination of fresh herbs you'd like!
Can Dried Herbs Be Used Instead of Fresh?
Yes! Just note that dried herbs are more potent than fresh. If using dried herbs, keep in mind that 1 tablespoon of fresh herbs = 1 teaspoon of dried.
What's the Best Olive Oil for Focaccia?
Use a good quality extra virgin olive oil for this recipe. Extra virgin olive oil is unrefined and is therefore more flavorful than regular olive oil.
Focaccia Recipe Variation Ideas
Feel free to customize this recipe using one or more of the following variations:
Swap the fresh garlic for garlic powder
Adding parmesan, romano, asiago, or another favorite cheese
Adding sun-dried tomatoes
Use a blend of fresh herbs instead of just rosemary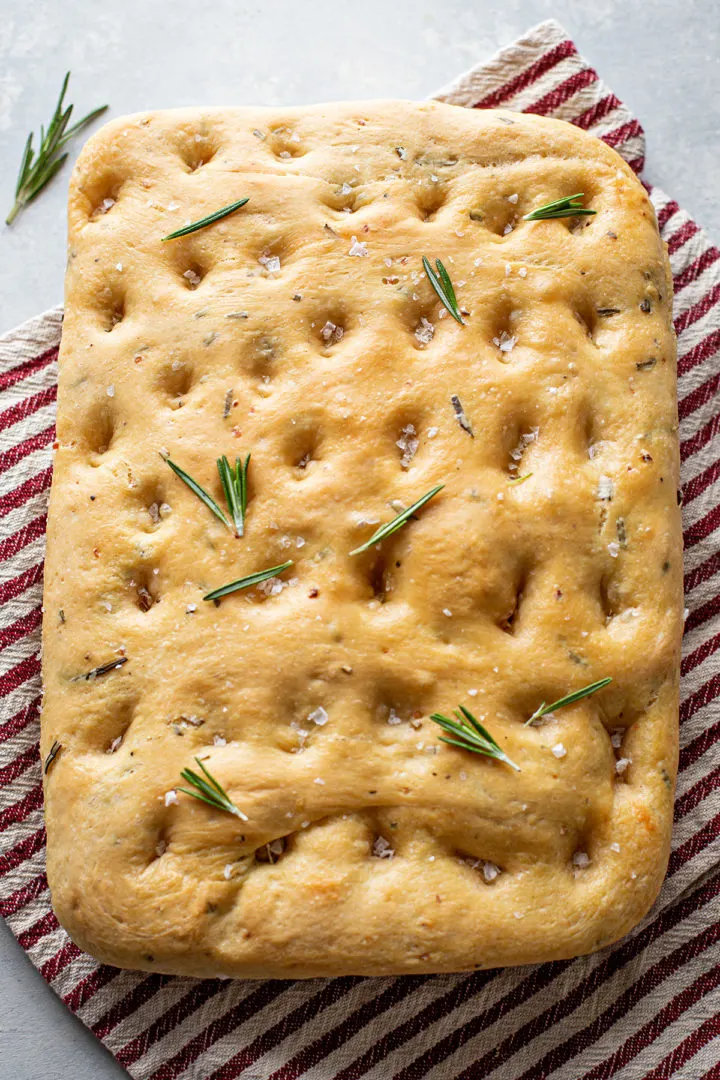 Can This Recipe Be Made in Advance?
Yes! The entire recipe can be prepared as written and then stored on your countertop in an airtight container for up to 3 days.
Or, prepare the recipe up to the point where the dough is added to the jelly roll pans. At this stage, cover the pans tightly with plastic wrap and pop them into the fridge overnight.
The next day, set the pans on the counter to come to room temperature and then let them rise for the second time. Bake as directed after the second rise.
Can Focaccia Be Frozen?
Very easily! Let the focaccia cool completely, then slice and seal inside a freezer bag or container. Label, date, and freeze for up to 3 months.
When ready to eat, thaw on the counter overnight. You can reheat the focaccia in a warm (325ºF) oven for roughly 10 minutes, if desired.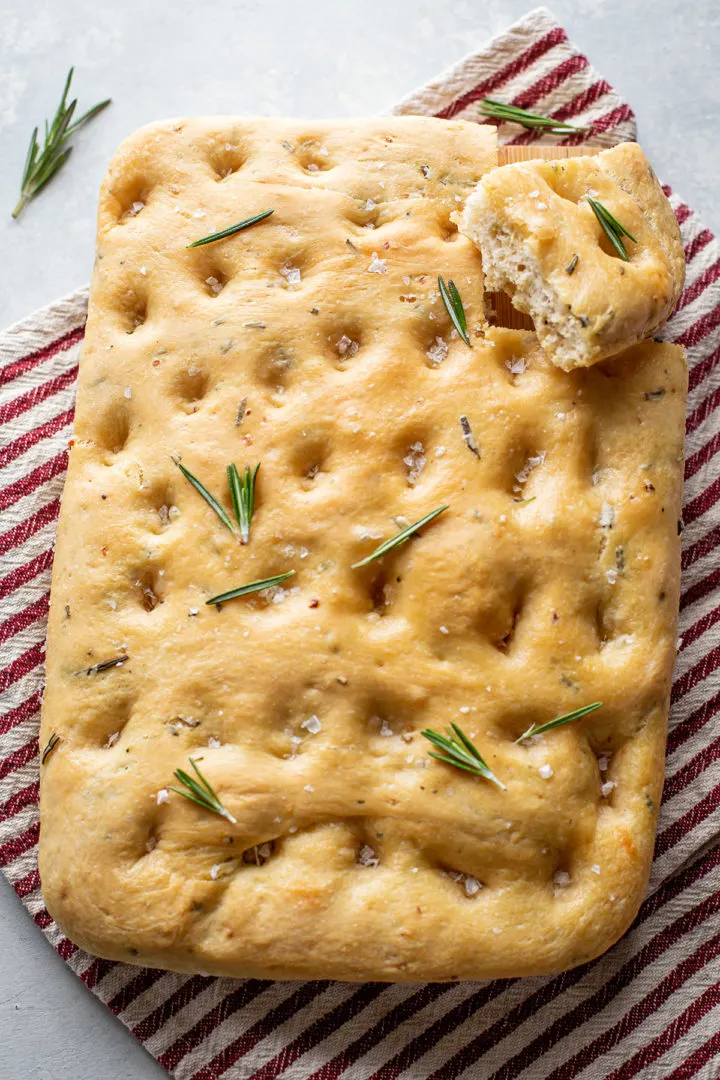 What to Serve with Focaccia Bread
Rosemary focaccia bread pairs well with almost any soup or Italian entree. It's also delicious transformed into sandwiches, such as this chicken apricot panini!
Serve the homemade focaccia with any of the following dishes:
Try This Recipe for Rosemary Focaccia!
Next time you're looking for an easy focaccia recipe, give this rosemary focaccia a try! Did you think it was tasty?
Leave a comment below and give it a review for others to see what you thought of this homemade focaccia.
On Instagram? Share your photo and tag me with @goodlifeeats and #goodlifeeatsrecipes. I'd love to see your photo of this focaccia bread!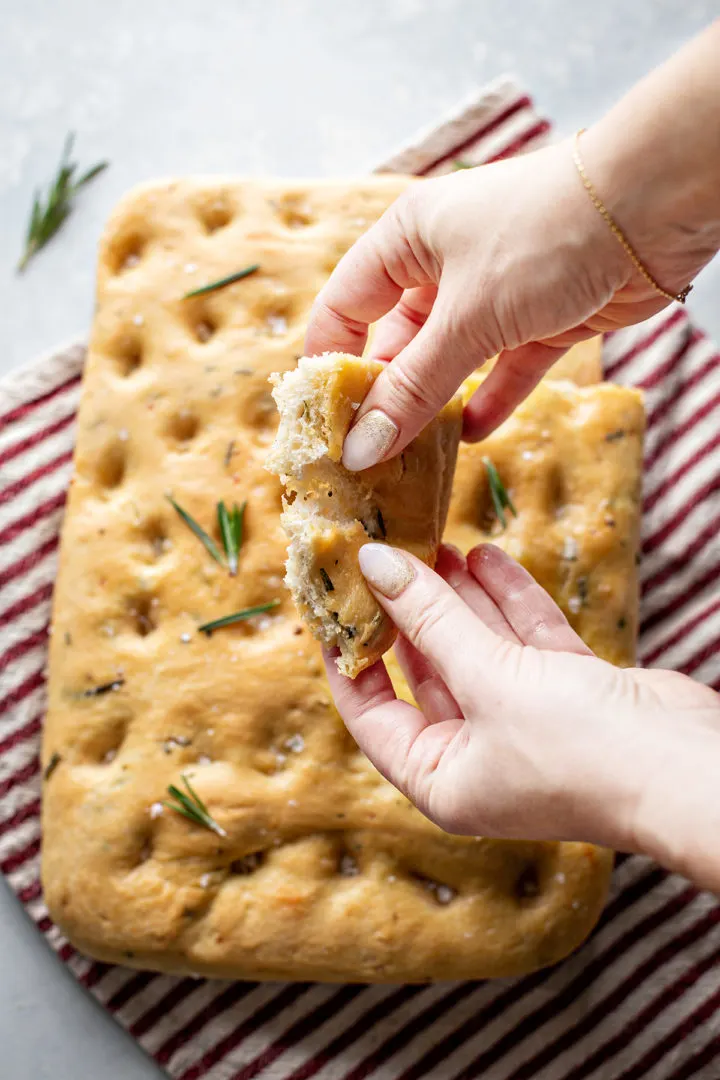 More Easy Yeast Bread Recipes:
While these tender Sweet Potato Rolls will make an excellent addition to any Thanksgiving menu, they're also a great way to use up leftover baked sweet potatoes for a post-Thanksgiving treat. Use these Sweet Potato Dinner Rolls as buns for turkey sandwiches, too!
Learn how easy it is to make homemade brioche hamburger buns from scratch. They're delicious and a great addition to your summer BBQ!
A simple recipe for Ham and Cheese Calzones with a whole wheat crust. Perfect for using up leftover holiday ham. Like a "hot pocket," but better!
This Rosemary Garlic Bread is a rustic artisan-style loaf of bread that is easy to make. Read on to learn how to make this delicious homemade bread, tips for making the best rosemary bread, and how to serve it.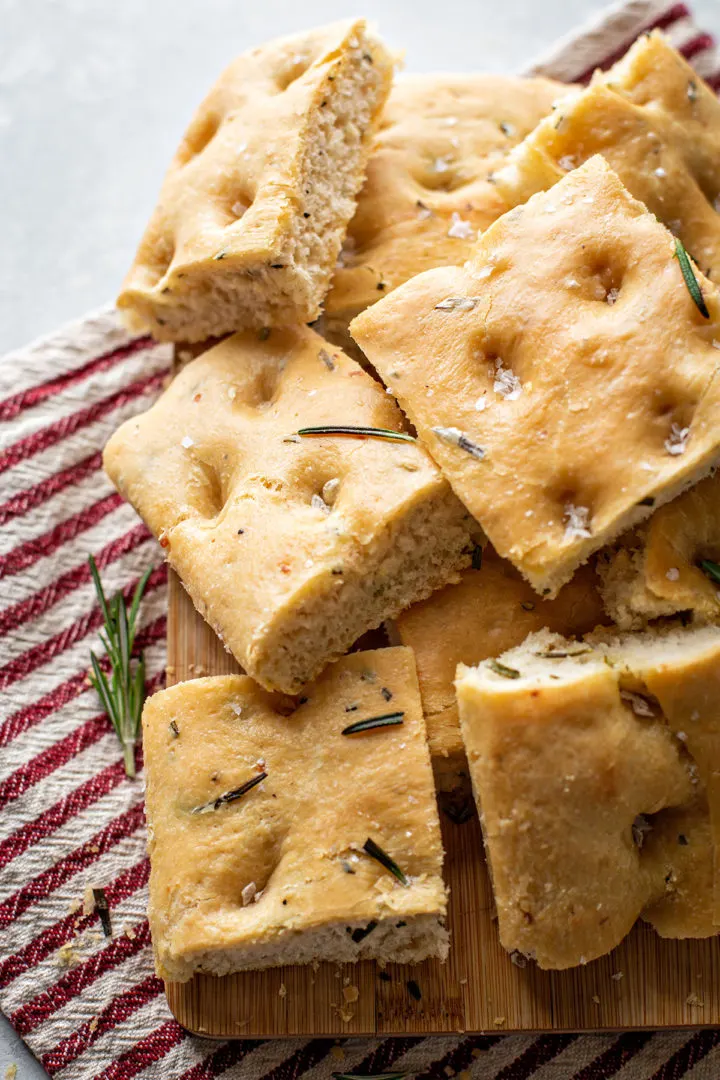 Get More Delicious Recipes via Email
Did you love this Rosemary Focaccia recipe? Sign up for Good Life Eats email updates and never miss another update!
Have you ever made homemade focaccia bread?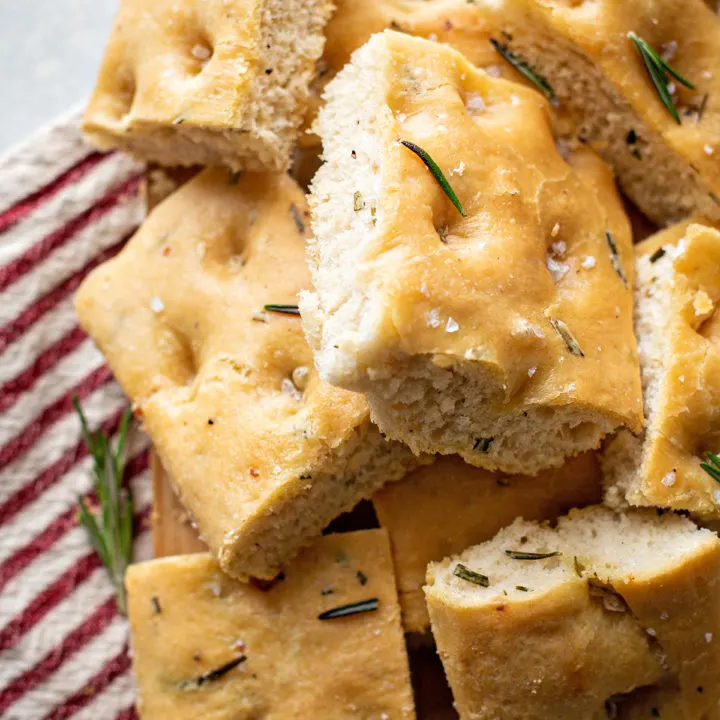 Rosemary Focaccia Bread
Total Time:
2 hours
25 minutes
Focaccia bread is a wonderful, classic Italian bread. It goes so well with any soup you'd like to serve.
Ingredients
2 packages active dry yeast
2 cups warm water
6 cups flour, divided
1/2 cup soft butter
1/2 cup chopped fresh rosemary
3 teaspoons salt
1/2 cup olive oil
8 cloves chopped garlic
1/2 teaspoon pepper
Instructions
Combine yeast and water; let stand 5 minutes.
Place 4 c flour in a large bowl; make a well in the center. Add yeast mixture; stir until a soft dough forms.
Cover and let rise in a warm place for 1 hour.
Sprinkle remaining 2 c flour onto a flat surface. Turn dough out onto floured surface, and knead until flour is incorporated into dough.
Combine rosemary, garlic, salt, and pepper in a small bowl. Gradually knead butter and rosemary mixture into dough. Knead until smooth and elastic, about 5 minutes.
Brush two 15×10 inch jelly roll pans with 2 T oil. Divide dough in half. Roll each portion into a rectangle, and place in pans.
Cover and let rise in a warm place for 40 minutes.
Using fingertips dimple the dough all over in both pans. Drizzle with remaining 6 T olive oil.
Bake at 375 degrees for 25-30 minutes, or until golden. Cut or tear into squares.
Notes
Making this Recipe with a Bread Machine
I didn't have time tonight for all the different kneading steps, so I used my bread machine on the dough cycle.
I put the ingredients in the container in the order recommended by my machine: water first, then salt, pepper, garlic, rosemary, and butter, next the flour, and last the yeast.
After the dough cycle was over I began again with the recipe where you brush the pans with oil.
Also, this isn't in the original recipe, but I sprinkled a mix of Parmesan, Asiago, and Romano cheese on top before baking.
Recommended Products
As an Amazon Associate and member of other affiliate programs, I earn from qualifying purchases.
Nutrition Information
Yield

12
Serving Size

1
Amount Per Serving
Calories

383
Total Fat

18g
Saturated Fat

6g
Trans Fat

0g
Unsaturated Fat

10g
Cholesterol

20mg
Sodium

650mg
Carbohydrates

49g
Fiber

3g
Sugar

0g
Protein

7g
GoodLifeEats.com offers recipe nutritional information as a courtesy and is an estimate only. This information comes from online calculators. Although GoodLifeEats.com makes every effort to provide accurate information, these figures are only estimates.