This stunning Antipasto Wreath is such an easy holiday appetizer to prepare! Antipasto skewers are arranged around a plate to look like a festive wreath. Feel free to customize this recipe however you'd like!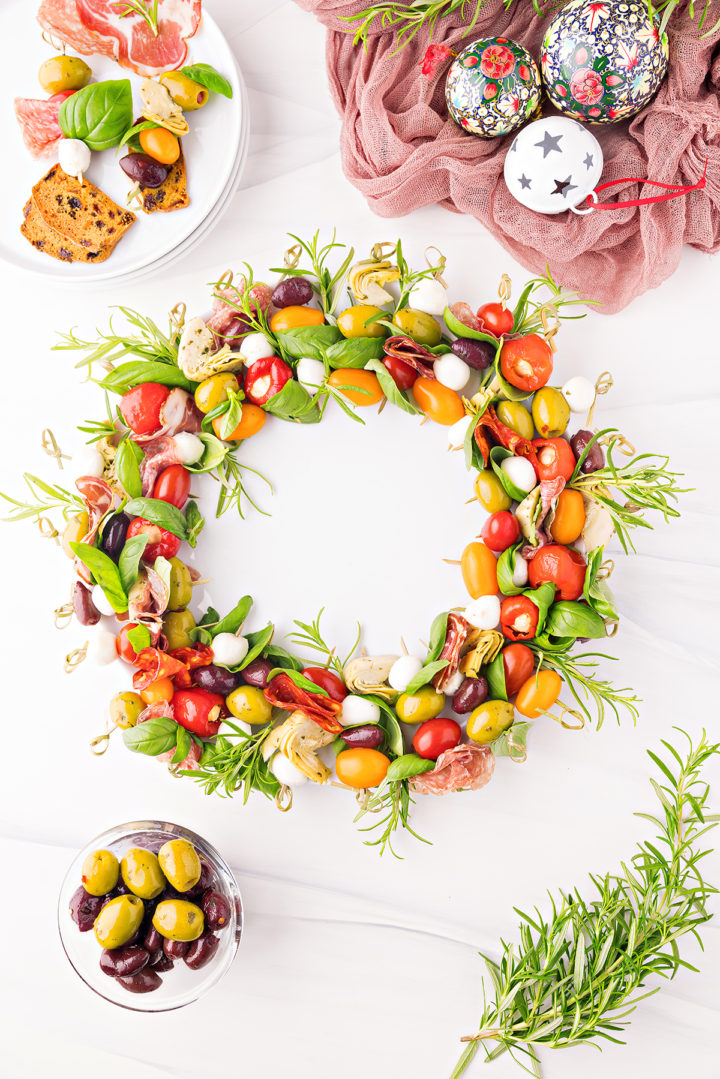 What Is Antipasto?
Translated literally from Italian, antipasto means "before food." Antipasto refers to the first course of a formal Italian meal.
The antipasti course (the plural of antipasto) is made up of bite-sized morsels that are meant to stimulate the appetite. These small servings are generally served family-style so everyone can help themselves to a little of each dish.
Common foods served as antipasti dishes include olives, cured meats, cheeses, and vegetables.
Making This Antipasto Wreath
When it comes to holiday entertaining, an antipasto appetizer of some kind is one of my favorites.
Antipasto bites are easy to prepare, don't require additional cooking, are crowd pleasing, and look elegant.
The antipasto platter I'm sharing with you today is made from skewers arranged in the shape of a wreath. It's a special touch that makes any appetizer table look extra festive, but all you do is arrange the antipasto skewers in a circle.
If you really want to take this holiday appetizer over the top, you could even customize the ingredients so that they're only red or green in color.
Tools Needed for the Antipasto Wreath
Preparing the antipasto kabobs is quick and easy, and there are no special kitchen tools required for this recipe. So long as you have a plate or platter large enough to hold the desired number of skewers, you're good to go!
Here's what I recommend using to make the antipasto skewer wreath:
4-inch wooden skewers — Plain toothpicks will also work, but sometimes it's nice to buy prettier skewers for parties.
Circular plate or platter — Opt for one that's roughly 12 inches in diameter.
Colander or strainer — For washing the tomatoes and basil.
Herb snips— For cutting the individual basil leaves off the stem.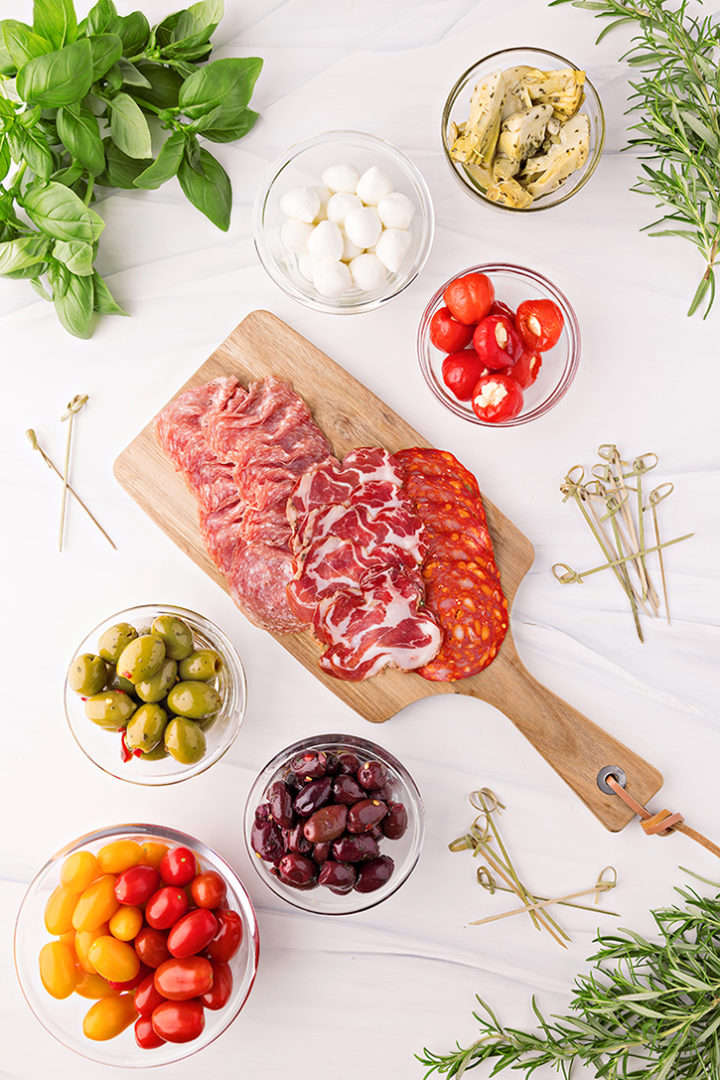 Ingredients in This Antipasto Wreath
The great thing about this holiday antipasto appetizer recipe is that it's easy to customize based on what you have on hand or your dietary preferences. Consider the ingredients listed below just my suggestions on what to thread onto the skewers!
Here's what I used to make the easy holiday appetizer:
Cured Meats
Tomatoes
Olives
Mozzarella
Ricotta Stuffed Cherry Peppers
Artichoke Hearts
Basil
Rosemary
For the complete ingredient list and detailed instructions to make this antipasto wreath, scroll to the bottom of this post for the FREE printable recipe card.
What Are the Best Type Olives to Use in Antipasto?
I prefer using a mixture of black and green olives on these antipasto skewers.
If you don't often purchase olives or aren't sure which brand actually tastes good (some of the cheaper olives are incredibly bitter or salty!), I recommend going to the deli counter at your local grocery store. The deli counter usually carries marinated olives of some kind, or at the very least you may be able to get advice on what kind of olives to buy.
You can also make your own marinated olives to use on the antipasto wreath.
What's the Best Type of Tomato to Use in Antipasto?
Cherry or grape tomatoes are best because they are bite sized and don't need to be cut before being threaded onto the skewers.
If you can, opt for red and yellow cherry tomatoes.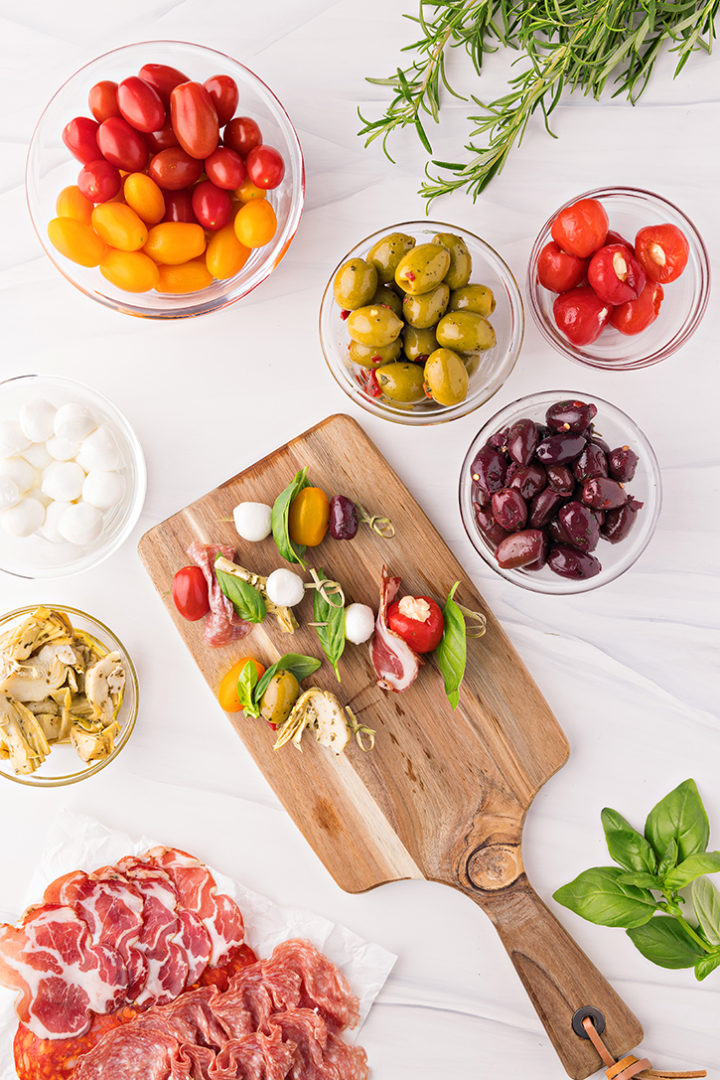 How Make to an Antipasto Wreath
Making a wreath out of antipasto bites is incredibly simple! This is one recipe where you can have the TV on in the background or you can chat with a friend on the phone while you make it. It's pretty much impossible to mess up!
Here's an overview of how the antipasto wreath is made:
Open all the ingredients and set them out in front of you.
Ready a large plate or platter.
Thread the ingredients onto a skewer, ensuring you have a good variety on each. You can make the skewers any way you'd like!
Arrange each filled skewer around the edge of the plate or platter in the shape of a circle. (If you run out of space, you can add a second layer.)
When you have a wreath shape, add sprigs of rosemary between the skewers.
The above is simply a quick summary of this antipasto appetizer recipe. Check out the full recipe in the free printable recipe card at the bottom of this post for all the detailed instructions.
Adapting This Recipe for Specific Diets
Vegetarian: We opted not to thread meat onto every skewer so that there would be enough choice for vegetarians at the party.
Dairy-free: To make the antipasto skewers dairy-free, simply eliminate the cheese or replace with your preferred dairy-free cheese alternative.
Tip: Depending on the severity of allergy or dietary restrictions of others, you may need to make 2 smaller wreaths and have the ones without the allergens/dietary restricted items on a separate plate to avoid cross contamination
Tips for Making the Best Antipasto Platter
Shop for fresh, high-quality ingredients — You want each antipasto bite to taste amazing, so it's important that the ingredients are all equally good.
A variety of colors will make the wreath look appetizing — Buy multicolored cherry tomatoes, unique cheeses, and don't be shy about adding plenty of basil!
Can't find ricotta stuffed cherry peppers? Add ricotta to a piping bag, cut the tops off of cherry peppers and pipe it in. Or, just use regular cherry peppers.
Adjusting the ingredient amounts — You can easily increase or decrease the amount of ingredients needed depending on how many servings you require.
Don't prep too far in advance — This holiday appetizer is best enjoyed within 2 hours of making it. I don't recommend making it the night before a party, as the basil will wilt and turn brown within a few hours.
Antipasto Recipe Variations to Try
Yes! The list of ingredients in the recipe card below is merely a guide. You can use any finger foods that will fit on a 4-inch skewer!
Some other ideas for your antipasto skewers include:
Veggies — marinated artichoke hearts instead of plain, marinated olives, roasted garlic cloves, pepperoncini peppers, roasted red pepper pieces, marinated mushrooms.
Carbs — cubes of focaccia or other Italian bread, small roasted potatoes, cooked tortellini.
Meats — any dry-cured meat will work well. Try salami, peperoni, mortadella, soppressata, or prosciutto.
Cheeses — mozzarella pearls, cubed provolone, Parmigiano-Reggiano, asiago.
What to Serve with an Antipasto Wreath
Serve the antipasto skewer wreath on a platter for a pretty display. I recommend pairing it with condiments (for drizzling or dipping the skewers into) as well as other small bites and appetizers.
I recommend serving condiments on the side for dipping or drizzling over individual portions. Condiment options include: olive oil, balsamic vinegar, balsamic glaze, herb dipping oil (oil + dried herbs), and / or pesto.
Other small bites that would accompany the antipasto well are: roasted nuts, grapes, figs, and dried fruits. Serve these in small bowls alongside the antipasto wreath.
Appetizers that would pair well with antipasto are: roasted portobello mushrooms, white bean bruschetta, shrimp-stuffed mushrooms, roasted tomato crostini, pear crostini, asparagus and prosciutto puff pastry squares, and rosemary cheese straws.
How to Store the Antipasto Wreath
This antipasto skewer wreath can be prepared 2 hours in advance. Keep refrigerated until you're ready to serve. Be sure to cover it in plastic wrap to keep the ingredients from drying out!
How Long Does This Recipe Last?
The individual ingredients will all last up to 5 days in the fridge. However, the skewers may soften over time as the juices from the tomatoes leech out and mingle with the cured meats, cheeses, and fresh basil.
So while leftovers will be safe to eat, they won't necessarily be something you'd want to serve to guests.
What to Do with Leftover Antipasto Skewers
If you end up with leftovers, you can enjoy them as is. Or, you can slide the ingredients off of the skewers to enjoy in a tortilla wrap, in a sandwich, or drizzle it with olive oil and balsamic vinegar to make a salad.
Try This Antipasto Wreath!
Next time you're looking for an easy holiday appetizer, give this antipasto skewer wreath a try!
Did you think it was a crowd pleaser? Leave a comment below and give it a review for others to see what you thought of this antipasto recipe.
On Instagram? Share your photo and tag me with @goodlifeeats and #goodlifeeatsrecipes. I'd love to see your photo of this antipasto wreath!
More Christmas Appetizer Ideas:
Serve this Marinated Feta Appetizer with crackers or crusty bread. In this recipe, feta cheese is marinated in olive oil, fresh herbs, garlic, lemon, and sun dried tomatoes for a delicious and simple appetizer.
Puff pastry shells are baked and filled with a mixture of kalamata olives, red bell pepper, fresh oregano, feta, and spinach with a warm lemony olive oil vinaigrette for a scrumptious puff pastry appetizer perfect for any holiday party.
Roasted Cranberry Salsa is a tasty and colorful holiday recipe for gifting and serving at parties. In this recipe roasted fresh cranberries pair perfectly with the traditional elements of salsa – jalapeño, cilantro, onion, and lime.
Rosemary White Bean Baked Spinach Artichoke Dip is a remake of the classic recipe so many know and love. In this recipe, creamy white cannellini beans and rosemary pair perfectly with artichokes, fresh spinach, and cheese.
This recipe for Sweet and Spicy Rosemary Nuts is so good and simple to prepare. Bar Nuts make a great savory, salty, crunchy snack!
Get More Recipes via Email
Did you love this recipe? Sign up to receive Good Life Eats Email Updates and never miss another recipe!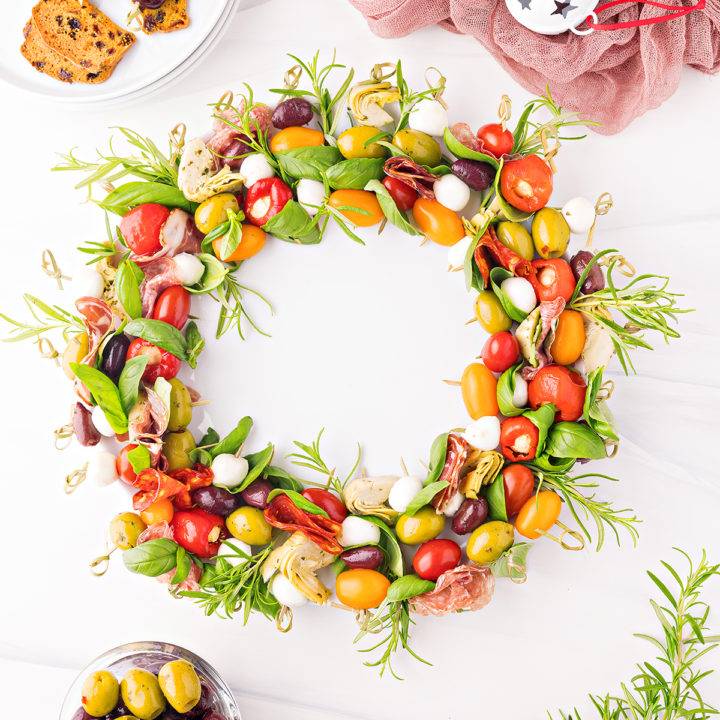 Antipasto Wreath
This stunning Antipasto Wreath is such an easy holiday appetizer to prepare! Antipasto skewers are arranged around a plate to look like a festive wreath. Feel free to customize this recipe however you'd like!
Ingredients
12 ounces sliced dry-cured meats (such as salami, parma ham, bresaola)
1 pint cherry tomatoes
8 ounces mixed olives (pitted)
12 ounces mozzarella pearls
6 ounces ricotta stuffed cherry peppers • 6 ounces artichoke hearts
bunch basil
bunch rosemary
Instructions
Open all the ingredients and set them out in front of you.
Ready a large plate or platter.
Thread the ingredients onto a skewer ensuring you have a good variety on each. For example, 1 cherry tomato, 1 slice of meat, 1 olive, 1 artichoke heart and 1 or 2 basil leaves per stick.
Arrange each filled skewer around the edge of the plate or platter in the shape of a circle.
If you run out of space you can add a second layer.
When you have a wreath shape add sprigs of rosemary between the skewers.
Serve immediately and enjoy!
Nutrition Information
Yield

12
Serving Size

1
Amount Per Serving
Calories

236
Total Fat

17g
Saturated Fat

7g
Trans Fat

0g
Unsaturated Fat

8g
Cholesterol

52mg
Sodium

834mg
Carbohydrates

6g
Fiber

2g
Sugar

2g
Protein

15g
GoodLifeEats.com offers recipe nutritional information as a courtesy. This provided information is an estimate only. This information comes from online calculators. Although GoodLifeEats.com makes every effort to provide accurate information, these figures are only estimates.