Take advantage of summer's colorful and delicious produce and make this Roasted Tomato Crostini with Walnut Almond Pesto and Goat Cheese. Crostini is a great summer appetizer to serve while sitting out on the patio in the evening.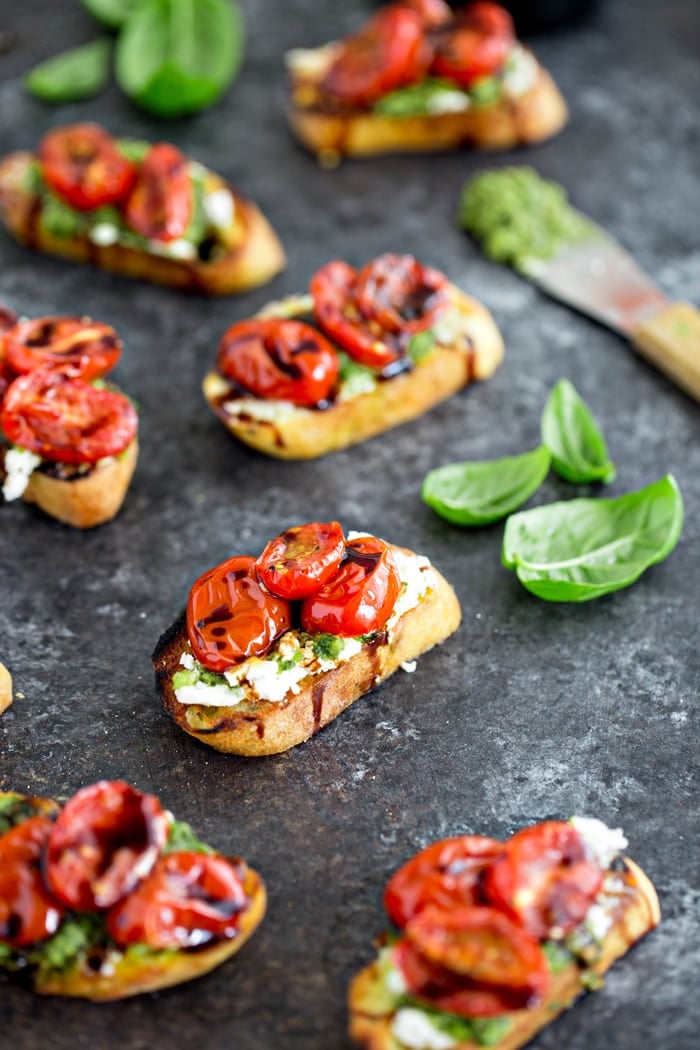 Re-sharing from the archives because we have tons of cherry tomatoes and fresh basil growing in our garden right now! This recipe for Roasted Tomato Crostini with Walnut Almond Pesto and Goat Cheese was originally published on June 15, 2018 and was created in partnership with Fisher Nuts.
Summer is finally here! And it has been seriously hot.
It always feels a bit like there is a switch that goes off in Colorado after about the first week of summer break, which is usually the end of May/beginning of June for us.
It is Spring forever here because the weather constantly fluctuates back and forth. Once we hit that magic week it can go from cool, breezy spring days to HOT summer overnight.
The pool is open which means we end up spending a lot of our afternoons outside. I'm actually sitting in the shade at one of the patio tables at the pool as I write this blog post with Madeline asking me every few minutes to throw all the diving toys in the pool for her.
Apparently one never grows out of diving toys. Not even when you're starting 5th grade next year. Evenings in our house are one of my favorite parts of summer.
We grill out a lot so there are usually significantly less dishes to do after dinner and the kitchen is a lot less of a mess.
I love that it stays light out so long and we spend so much time out on our back patio enjoying the yard and the weather.
I love summer weekend evenings when we have friends over for BBQs or a backyard fire pit and s'mores.
This Roasted Tomato Crostini with Walnut Almond Pesto and Goat Cheese is going to be on repeat for those summer backyard get togethers because it is so good and so simple.
Sometimes simple recipes are some of my favorites because the flavors really stand out.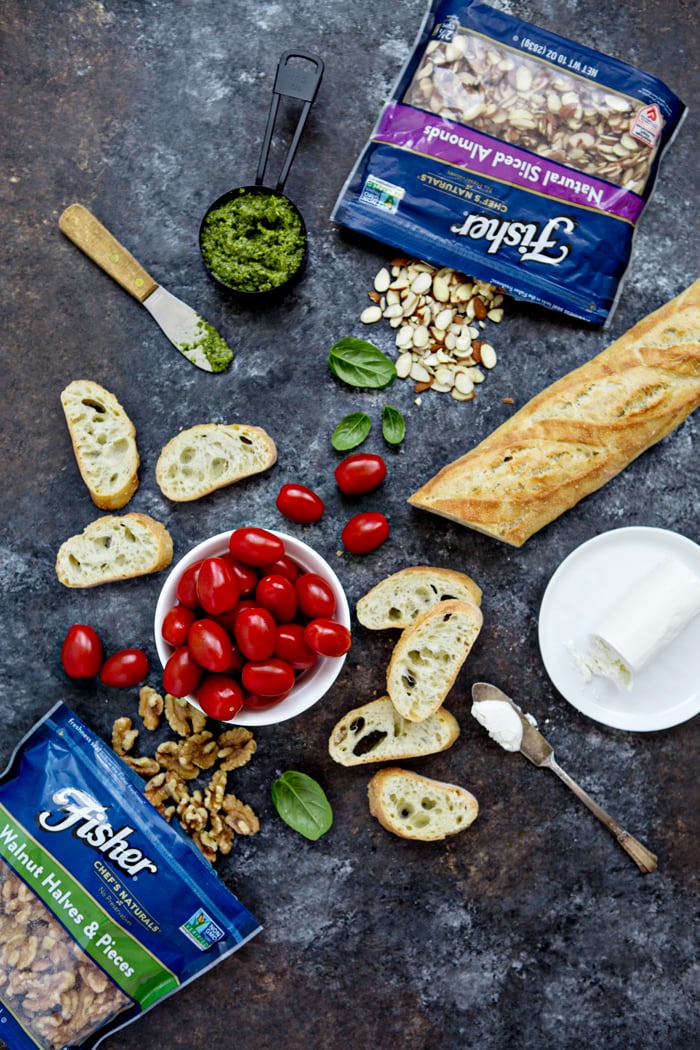 For the complete ingredient list and detailed instructions, don't forget to scroll to the bottom of this post for the FREE printable recipe card.
I think they're perfect to keep on hand for adding to all sorts of recipes – desserts, salads, appetizers, snacks, or any other recipe you want some extra crunch or flavor, and they make a pretty garnish, too.
I can grab herbs – fresh basil specifically – from the backyard to make the Walnut Almond Pesto.
And Summertime tomatoes are one of my favorites.
I love to grow fresh basil in my backyard every summer and often use it in all kinds of recipes, especially pesto. I really love pesto, but I have to be careful when purchasing pre-made pestos or ordering it in restaurants.
Traditionally, pesto contains pine nuts and I happen to be allergic to them.
I've solved that dilemma by making my own Basil Pesto with Almonds and Pecans at home using a blend of Fisher Nuts Almonds and Walnuts in place of the pine nuts.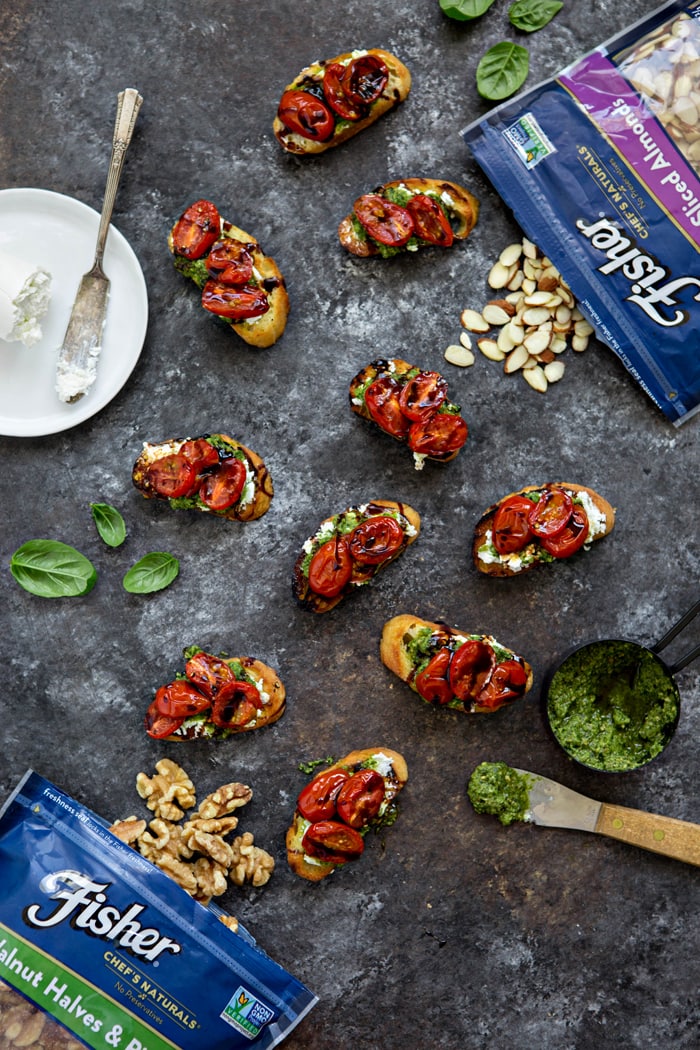 The flavor is great, and it makes for a much more enjoyable eating experience for me since my face isn't breaking out in hives.
When I cook with nuts, I like to use Fisher Nuts because their nuts are preservative-free, non-GMO Project Verified, and they come in a handy resealable bag helps keep the nuts fresh for longer.
I'm also a big fan of anytime that I can do online shopping and save myself an errand – especially in the summer – and Fisher Nuts happen to be available on Amazon.
Walnut Almond Pesto paired with tomatoes is such a summer flavor, but pesto is super easy to make large batches of it to freeze for use later.
If you have an abundance of fresh herbs as the summer comes to an end, I recommend making a large batch and freezing it.
Pesto can add a lot of flavor to winter meals, like soups and stews, or roasted meats and so it shouldn't be reserved for summer use only even though the ingredients are seasonally summer.
Be sure to check out my tips for freezing pesto.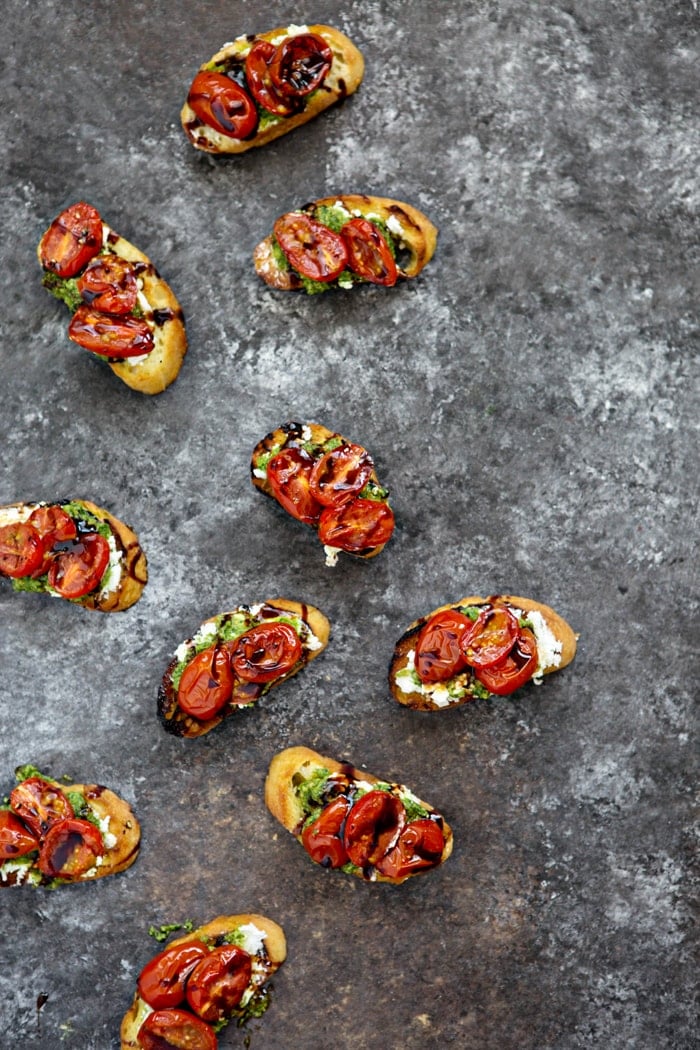 MORE SUMMER RECIPES FEATURING NUTS
Looking for more ways to incorporate nuts into your favorite summer recipes? Check out some of these delicious recipes, or browse the recipe index archives:
Try this Buffalo Chicken Cobb Salad with Walnuts next time you need a buffalo chicken fix. This lighter version makes a great summer salad. Nuts might not be a traditional Cobb Salad ingredient, but the tender, yet crunchy, walnuts really pair well with the Blue Cheese and add interesting dimension to the whole salad.
Mangoes and Almonds combine to make a delicious Fruity Mango Almond Butter. This is perfect for spreading on toast or using as a dip for your favorite summer fruits.
Homemade pesto is the perfect way to use that summer garden basil. It tastes great tossed with pasta, grilled veggies, or on grilled meats. This Basil Pesto with Almonds and Walnuts freezes well to offer you summer flavor year round.
Add it to some Greek yogurt to make this Greek Yogurt Pesto Dip – it is so good to dip grilled potatoes in.
Almonds would make a great addition to these Red, White, and Blue Berry Dessert Bites that feature fresh red raspberries, blueberries, and a sweet and tangy cream cheese spread layer on top of a simple crust. This makes a great summery dessert for any 4th of July BBQ!
Honey Pecan BBQ Sauce Chicken Sliders features a slider bun piled high with chopped BBQ chicken, coleslaw and chopped pecans. Unlike any other recipe for BBQ sauce that I've made before, this recipe is thickened with pecans, rather than using cornstarch or flour. This gives the sauce a hint of a nutty taste, while still tasting like a Honey BBQ sauce.
Pina Colada Energy Balls make a great summer snack for kids! These are a mix of protein, healthy fats, and naturally sweet pineapple, dates and coconut. Pop these bite sized treats in your mouth for a quick snack and energy fix.
Red, White, and Blue Berry Almond Frozen Yogurt Bites are a simple and healthy cold treat for hot summer days. Bonus: these take only a couple minutes to prep and since they're small they freeze really quickly.
Did you love this post?
Sign up for Good Life Eats email updates and never miss another update!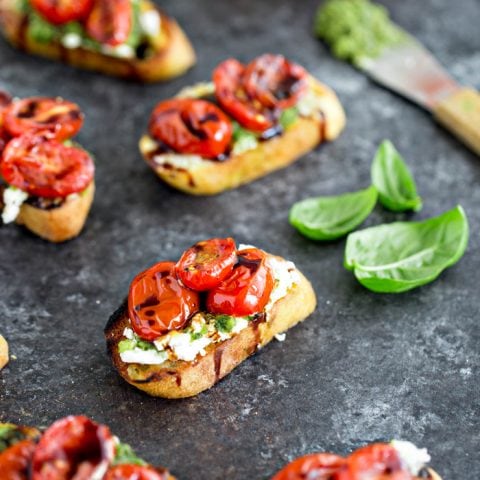 Roasted Tomato Crostini with Walnut Almond Pesto and Goat Cheese
Take advantage of summer's colorful and delicious produce and make this Roasted Tomato Crostini with Walnut Almond Pesto and Goat Cheese. Crostini is a great summer appetizer to serve while sitting out on the patio in the evening.
Ingredients
1/4 cup Fisher Nuts Almonds
1/4 cup Fisher Nuts Walnuts
6 Whole Garlic Cloves
3/4 cup Extra-Virgin Olive Oil
4 1/4 cups Fresh Basil
1/2 cup Fresh Grated Parmesan
1 teaspoon Salt, or to taste
1 pint Grape Tomatoes, sliced in half lengthwise
1 tablespoon Olive Oil
Salt and Pepper, to taste
1 Baguette, thinly sliced (1/2 inch thick)
6 ounces Goat Cheese
Pesto
Roasted Tomatoes
Balsamic Glaze, for garnish (optional)
Instructions
For the Pesto
Place a large frying pan on the stove top over medium heat. After the pan has preheated, add the nuts and whole garlic cloves in a single layer (working in batches if necessary) without any cooking oil or spray.
Stir the nuts frequently with a spatula, cooking until the nuts have turned golden brown and smell fragrant, about 3 - 5 minutes. Remove the nuts from the heat and transfer them to the bowl of a food processor.
Add the remaining ingredients (olive oil, fresh basil, fresh grated parmesan, and salt) to the bowl of the food processor.
For the Roasted Tomatoes
Preheat oven to 425 degrees F. Toss the tomatoes with olive oil on a large baking sheet and season with salt and pepper. Roast for 15 - 18 minutes, or until blistered and slightly browned.
For the Crostini
Brush the tops of the baguette lightly with olive oil. Toast both sides of the sliced baguette in a cast iron pan over medium heat.
Spread each toasted piece of baguette with goat cheese, then top with pesto, 2 - 4 tomatoes (depending on the size of the bread), and drizzle with balsamic glaze if desired.
Serve immediately.
Nutrition Information
Yield

8
Serving Size

1
Amount Per Serving
Calories

501
Total Fat

38g
Saturated Fat

9g
Trans Fat

0g
Unsaturated Fat

27g
Cholesterol

17mg
Sodium

823mg
Carbohydrates

29g
Fiber

2g
Sugar

5g
Protein

14g
GoodLifeEats.com offers recipe nutritional information as a courtesy and is an estimate only. This information comes from online calculators. Although GoodLifeEats.com makes every effort to provide accurate information, these figures are only estimates.
I have been partnering with Fisher Nuts since 2013 because it is one of the only brands of recipe nuts entirely without preservatives.
I have been compensated for my time creating this recipe for Roasted Tomato Crostini with Walnut Almond Pesto and Goat Cheese, but all opinions are my own.
Favorite Pasta Night Recipes