The hustle and bustle of fall schedules is upon us! Here are 35 of our favorite Easy Dinner Recipes for Busy Weeknights to ease you through busy back-to-school season, school pick-ups, sports carpools, and homework that never seems to end while still keeping you feed. These recipes feature Chicken, Beef, Pork, Pasta, and Vegetarian easy dinner ideas.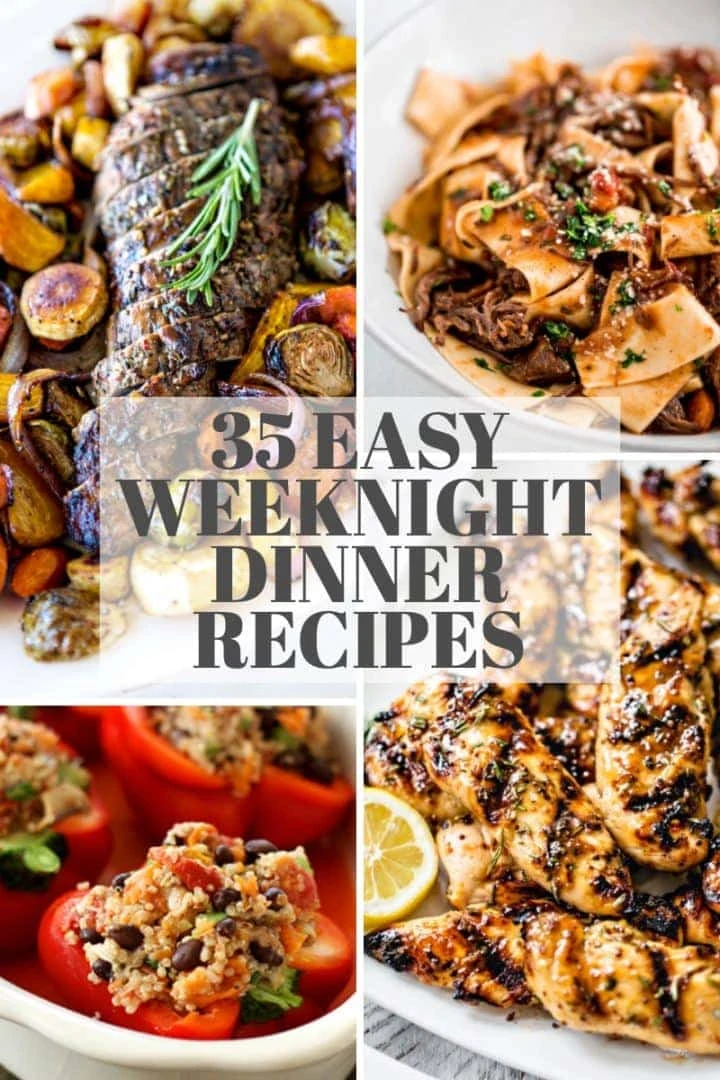 Click HERE to save these Easy Dinner Recipes to Pinterest!
The below post was originally published August 21, 2019 but I revisit this list almost every fall as we get organized for the new school year. Tomorrow will be our first day of school, and hopefully a more organized distance learning plan.
This 2020 school year looks a little different than in past years, but that doesn't mean that we're any less busy! If anything, we're probably busier thanks to work at home and school at home situations.
The schedule de-conflicting is no joke, not to mention all the effort we've put into setting up everyone's devices, boosting our internet as much as we can to accomodate video streaming, and finding a solution to help with all the homework scanning that occurs (believe me, after the spring I was done with this being a part time job for me), and so much more than anything else we've had to do before!
Dinner time rolls around before we know and and we're left scrambling for what to eat. We need all the easy weeknight dinner ideas that we can get!
School starts tomorrow for us and we'll be schooling at home at least until the end of September. We'll find out in about a month what the remaining semester will look like.
Logan's sophomore soccer season has been postponed until spring and with no activities on board for this fall, he's decided to join the cross country team. So, he and Kendall will both be running for the high school this year while Madeline continues in middle school. Kayden has decided to play baseball during his 8th grade year. You should seriously see my color coded white board calendar to keep all this straight!
I am so incredibly grateful that our school is offering some sports! They have reorganized the season to place the most high contact sports later in the year, put tons of extra measures in place to make this safe for them while still being fun and giving them an opportunity to have some in person with their friends and peers. It makes it all feel a little more normal(ish). Even if that means limits on spectators and often no spectators at all.
While I find myself trying to get back in the swing of weekly meal planning, grocery lists, and dinner ideas for busy nights, I've been relying so much on lists like these 35 Easy Dinner Recipes for Busy Weeknights.
Tips for Easy Dinner Recipes
Have a plan! Dinner becomes even easier when you know ahead of time what you're going to make.
Grocery shop with intent. Once you have a plan, make sure you have any necessary items on your weekly list so you don't need to run to the store last minute.
Do the chopping ahead of time! Chopped vegetables will be fine in the fridge for 3-7 days, depending on the vegetable.
Prepare what you can in advance – if there are multi steps to the recipe, do what you can a day or two before. For example, rice can be made ahead of time.
Click HERE to save these Easy Dinner Recipes to Pinterest!
Easy Dinner Recipes for Busy Weeknights
As a reminder for myself, and a resource for others, here are 35 of our favorite easy dinner recipes for busy weeknights to use during the busy school year! Just click the red "GET RECIPE" button to see the instructions for each easy dinner recipe!
Looking for some more easy recipes to make for dinner? Head over to the full RECIPE INDEX to search the recipes, or check out the Ingredient Index if you'd like to browse recipes by specific ingredients.
Click HERE to save these Easy Dinner Recipes to Pinterest!
What are your favorite easy dinner recipes to make on busy weeknights?
Get More Recipes via Email
Did you love this recipe? Sign up to receive Good Life Eats Email Updates and never miss another recipe!