Roasted Broccoli
One of our favorite vegetables to have alongside dinner is roasted broccoli.
Luckily, it is a vegetable that we can all agree on.
I've been roasting broccoli for a while, but lately I have been thinking about trying to be greener in the kitchen.
I started to think about how much energy it takes to heat the oven up on regular basis for roasting broccoli.
It isn't such a big deal if I am cooking other things, like our favorite Easy Honey Mustard Baked Chicken.
But, if we are having something cooked stovetop or a leftover main dish it does seem a little wasteful.
I decided to start experimenting with using our toaster oven to roast broccoli.
It is a much smaller space so logic tells me that it takes less energy to preheat and maintain the cooking temperature.
I thought that it also might possibly cook faster in a more enclosed space.
Our toaster oven has several settings – toast, bake, roast, and defrost to name a few.
On the roast setting, I can even select the temperature that I would like to use.
Perfect!
Follow these quick tips for roasting broccoli, with my notes about how to do so in a toaster oven.
I have also tried roasting potatoes, cauliflower, asparagus, and onions in the toaster oven and that all works great, too!
Additionally, here are a few fun ways to flavor your roasted broccoli.
I always start by lightly tossing the broccoli in extra virgin olive oil and seasoning it with salt and pepper, but you can make things a little more exciting with a few simple changes or additions.
Drizzle the roasted broccoli with balsamic vinegar
Substitute salt and pepper with lemon pepper seasoning
Sprinkle the roasted broccoli with freshly grated parmesan cheese
For an Asian twist, drizzle the broccoli with soy sauce and a little sesame oil
Roasted Broccoli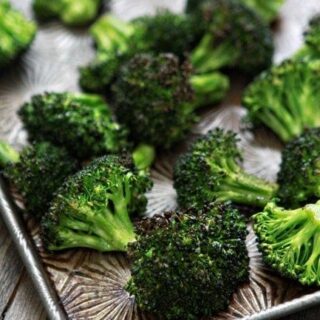 Ingredients:
1 pound broccoli florets
1 – 2 tablespoons extra virgin olive oil
salt and pepper, to taste
Directions:
Line a baking sheet with parchment paper. Set aside.
Preheat the oven or toaster oven to 425 degrees F. In a medium sized bowl, combine the broccoli and olive oil. Stir to coat.
On the prepared baking sheet, spread the broccoli in a single layer. Sprinkle, according to your taste preferences, with salt and pepper.
Transfer the baking sheet to the oven and roast for 15 – 20 minutes, or until the broccoli is cooked and browned.
If desired, add any additional ingredients (such as fresh parmesan), toss to coat and serve immediately.
Notes:
If using a toaster oven you will likely have to cook a smaller amount of broccoli. We have a small family, so that is no problem for us. We can easily cook enough for one meal in a toaster oven.
I have a small baking sheet that came with the toaster oven that is the perfect size for roasting on. I also cook the broccoli for closer to 10 – 15 minutes, rather than 15 – 20 minutes.
While SC Johnson is the sponsor of the 30 Green Days Challenge, all opinions and comments within this post are my own.