Easy Roasted Cauliflower and Tips for Perfectly Roasted Cauliflower
Roasted cauliflower is an incredibly easy side dish perfect for the fall and winter season.
Roasting cauliflower, rather than boiling or steaming, adds a delicious nutty flavor that paired with a little bit of olive oil, salt, and pepper is perfect in its simplicity.
If you want to get a little bit fancy, you can add freshly grated Parmesan to top it off.
Save this recipe for Easy Roasted Cauliflower to Pinterest!
Cauliflower is one of those funny preference things that my kids actually like it better than the more common counterpart: broccoli.
I discovered this phenomenon with Logan and Madeline when we were going back and forth with rice vs. quinoa.
I discovered that they actually like Easy Coconut Quinoa far better than rice.
Honestly, I really don't care what vegetable they're eating if they eating a vegetable.
I'm just as happy to serve Roasted Cauliflower or Roasted Broccoli as long as it is getting eaten – and it is.
These days our dinner table is a far cry (and significantly less frustrating) from what it used to be.
It took a long time, but through lots of trial and error, patience and perseverance, we have made huge strides towards managing picky eating tendencies.
I think part of the trick here is that roasting gives vegetables great flavor without overwhelming my kids palate with too many spices.
Chances are, I'd be willing to bet anyway, that if you had cauliflower at one point in your life and you hated it, that it was because it was cooked wrong.
Save this recipe for Easy Roasted Cauliflower to Pinterest!
Don't steam cauliflower.
Definitely do not boil cauliflower.
Cooked at higher heat, roasted vegetables begin to caramelize and develop a delicious, nutty flavor that can't be achieved through steaming or boiling..
No one likes soggy or mushy vegetables.
Roasting also sweetens the flavor of the vegetable.
I think that roasting makes almost any vegetable taste better.
3 Tips for Perfectly Roasted Cauliflower
Roasted Cauliflower makes a delicious side dish.
It also makes a great addition to roasted vegetable sandwiches or casseroles, like this Cheesy Spiced Cauliflower Gratin.
Here are 3 tips to help you perfect your roasting technique.
1. Keep Sizing Consistent
Try to cut the cauliflower into pieces of the same, or at least close to, size.
This will ensure even cook times for the whole pan.
You don't want some of the cauliflower perfectly roasted while other pieces are either burnt or not done enough.
2. Dry Before Cooking
Of course you are going to want to wash the cauliflower before roasting, but make sure to pat them dry (or allow to air dry while you prepare other parts of your meal) prior to the cooking process.
Make sure they are dried completely after rinsing them before you toss them in olive oil to roast them.
Wet cauliflower, when cooked, end up steaming and won't develop the delicious caramelized crust and nutty flavor that you get when you roast cauliflower.
3. Don't Crowd the Pan
You also want to make sure that they are not too crowded in their pan.
If you need to, separate the cauliflower into 2 pans.
If the pan is too crowded, the cauliflower will create moisture, which turns your roasted cauliflower into steamed cauliflower.
They'll crisp better if there is more room in between rather than if they are all layered on top of each other.
An extra large sheet pan is great for roasting
Love this recipe for Easy Roasted Cauliflower?
Sign up for Good Life Eats email updates and never miss another recipe!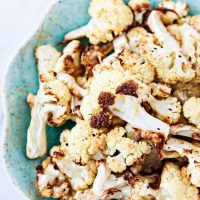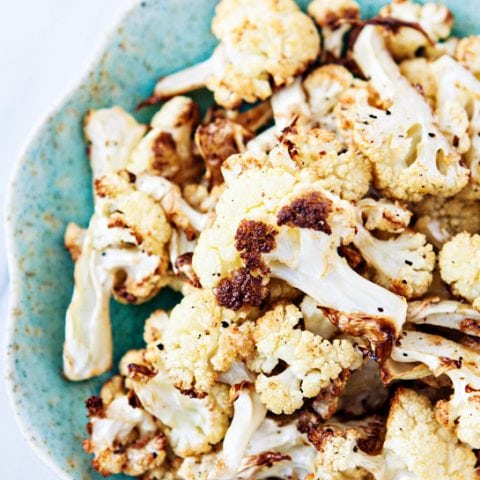 Easy Roasted Cauliflower
Yield: serves 4

Prep Time: 5 minutes

Cook Time: 20 minutes

Total Time: 25 minutes

Roasted cauliflower is an incredibly easy side dish perfect for the fall and winter season. 
Ingredients
1 pound cauliflower florets
1 – 2 tablespoons extra virgin olive oil
salt and pepper, to taste
Instructions
Preheat the oven to 425 degrees F.
In a medium sized bowl, combine the cauliflower and olive oil. Stir to coat.
On a large baking sheet, spread the cauliflower in a single layer.
Sprinkle, according to your taste preferences, with salt and pepper.
Transfer the baking sheet to the oven and roast for 15 – 25 minutes, or until the cauliflower is cooked and golden brown.
If desired, add any additional ingredients (such as fresh parmesan), toss to coat and serve immediately.
Recommended Products
As an Amazon Associate and member of other affiliate programs, I earn from qualifying purchases.

Be sure to follow Good Life Eats on Instagram. Tag @goodlifeeats and include the hashtag #goodlifeeatsrecipes so I can see what you're cooking up in YOUR kitchen!
Let me know if you try this recipe and what you think of it by leaving a comment below.