Roasted cauliflower is an incredibly easy side dish perfect for the fall and winter. Roasting cauliflower, adds a delicious nutty flavor that when paired with olive oil, salt, and pepper is perfect in its simplicity. If you want to get a little bit fancy, you can add freshly grated Parmesan to top your roast cauliflower off. Read on to learn how to roast cauliflower.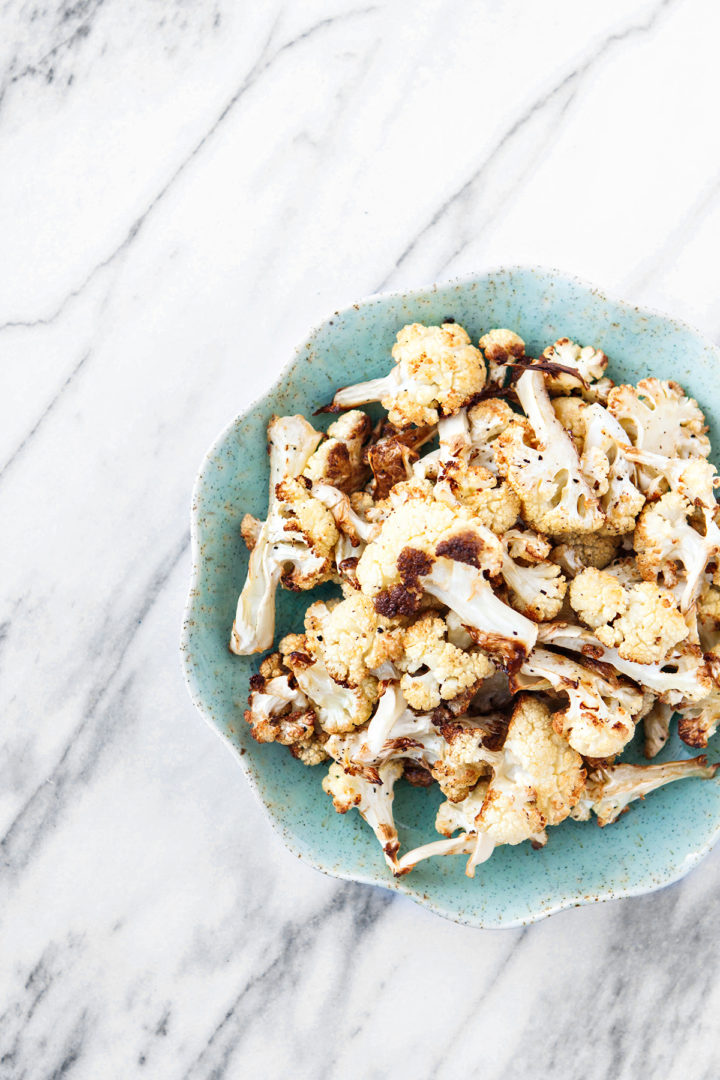 Save this recipe on How to Roast Cauliflower to Pinterest!
Oven Roasted Cauliflower Recipe
Cauliflower is one of those funny preference things that my kids actually like better than the more common counterpart, broccoli. I discovered this phenomenon with Logan and Madeline when we were going back and forth with rice vs. quinoa. I discovered that they actually like Easy Coconut Quinoa far better than rice.
Honestly, I really don't care what vegetable they're eating if they eating a vegetable. I'm just as happy to serve Oven Roasted Cauliflower or Roasted Broccoli as long as it is getting eaten — and it is.
These days our dinner table is a far cry (and significantly less frustrating) from what it used to be. It took a long time, but through lots of trial and error, patience and perseverance, we have made huge strides towards managing picky eating tendencies.
What I Love About Roast Cauliflower
I think part of the trick here is that roasting gives vegetables great flavor without overwhelming my kids' palates with too many spices.
Chances are, I'd be willing to bet anyway, that if you had cauliflower at one point in your life and you hated it, that it was because it was cooked wrong.
Don't steam cauliflower. Definitely do not boil cauliflower.
Cooked at higher heat, roasted vegetables begin to caramelize and develop a delicious, nutty flavor that can't be achieved through steaming or boiling. No one likes soggy or mushy vegetables.
Roasting also sweetens the flavor of the vegetable. I think that roasting makes almost any vegetable taste better.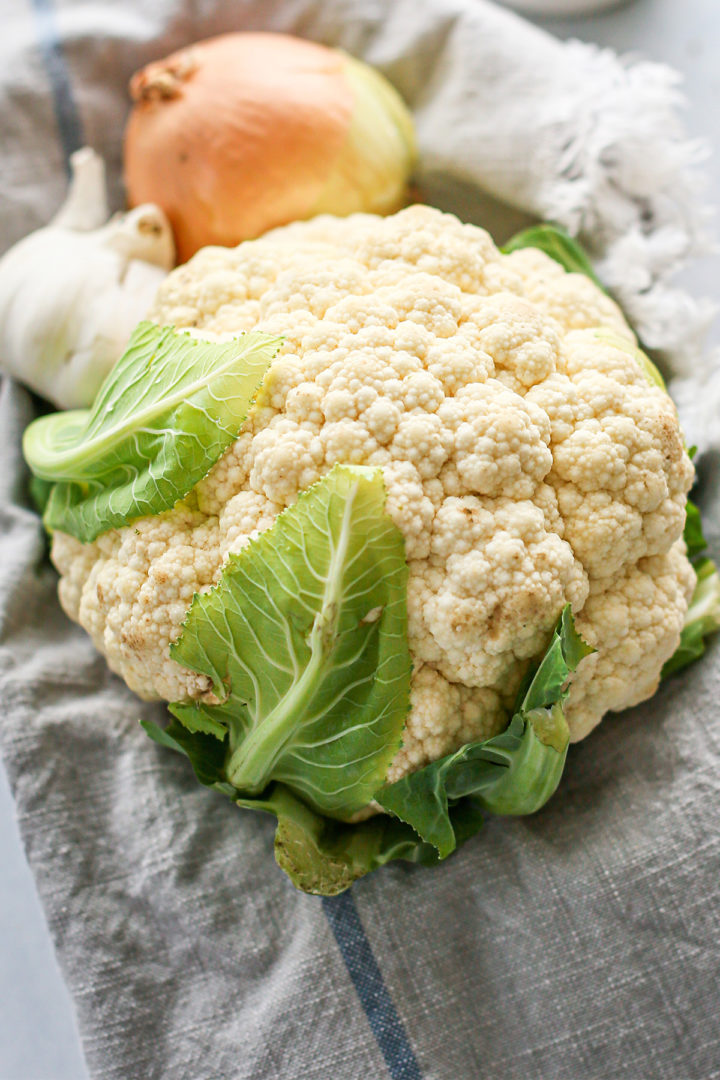 Tools Needed to Make Roast Cauliflower
You'll need a few different tools to make this roasted cauliflower recipe. Here's what I recommend having on hand before beginning this easy cauliflower recipe:
Cutting Board and Sharp Knife – to cut the whole cauliflower into bite-sized florets
Large Mixing Bowl – a large bowl makes it easy to coat the raw cauliflower pieces in a small amount of olive oil.
Aluminum Foil or Parchment Paper – not necessary, but it keeps the prepared baking sheet nice and clean while you cook the roasted cauliflower.
Large Rimmed Baking Sheet – to roast the cauliflower on.
Roasted Cauliflower Ingredients
Roasting cauliflower is one of my favorite ways to cook this simple vegetable. To make the best roasted cauliflower, you'll need a few simple ingredients:
Head of Cauliflower, cut into florets
Extra-Virgin Olive Oil
Sea Salt or Kosher Salt
Black Pepper
For the complete ingredient list and detailed instructions, scroll to the bottom of this post for the FREE printable recipe card.
How to Roast Cauliflower
Learning how to bake cauliflower couldn't be simpler. Here is a quick overview of the easy steps to making this oven roasted cauliflower recipe:
Preheat the oven to 425 degrees F.
In a medium sized bowl, combine the cauliflower and olive oil.
Spread the cauliflower onto a large baking sheet.
Sprinkle with salt and pepper.
Transfer the baking sheet to the oven and roast until the cauliflower is cooked and golden brown.
If desired, add any additional ingredients (such as fresh parmesan), toss to coat and serve immediately.
How Long to Roast Cauliflower
Cooking time can vary depending on how large the cauliflower florets are, this oven roasted cauliflower will need to be in the oven for roughly 15 to 25 minutes.
How to Tell When Cauliflower is Done Roasting
You'll know that your cauliflower is done roasting when it is tender and has golden brown edges.
The above is simply a quick summary of this recipe. Check out the full recipe in the free printable recipe card at the bottom of this post for all the detailed instructions.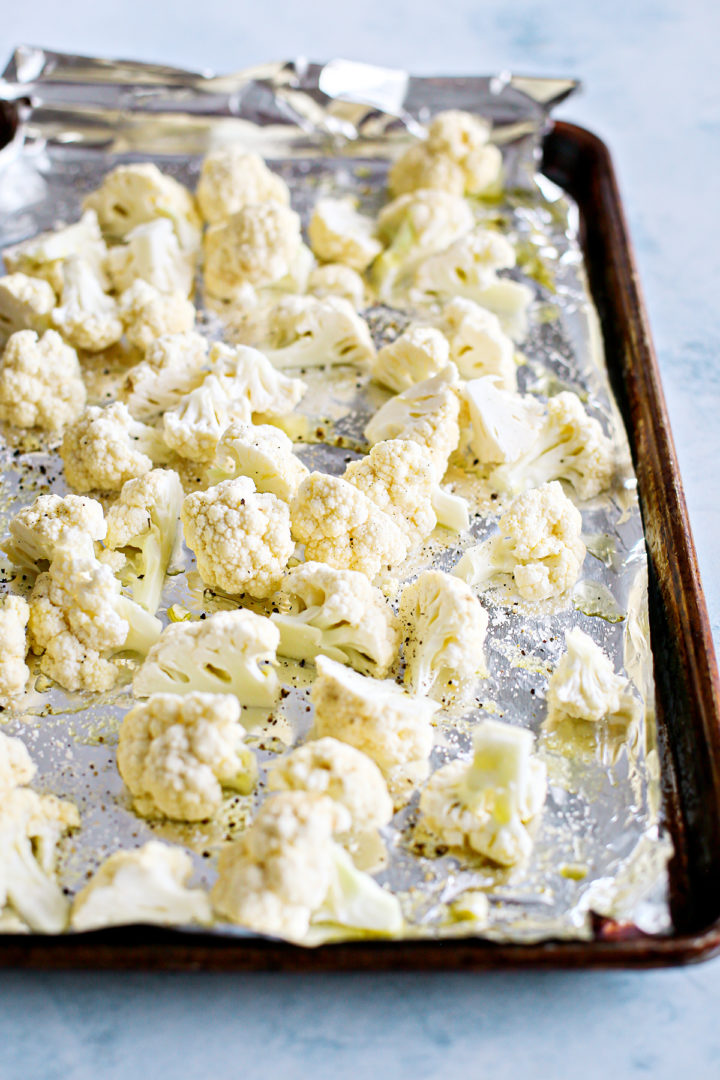 Save this recipe for Roast Cauliflower to Pinterest!
Can I Add Extra Spices to Roast Cauliflower?
Of course! I kept this roasted cauliflower recipe as simple as possible so you could doctor it up however you saw fit.
Other Seasoning Ideas for Roast Cauliflower:
garlic powder
parmesan cheese
red pepper flakes
balsamic vinegar
lemon juice or lemon zest
curry powder
Italian seasoning
fresh parsley or other fresh herbs
Tips for Making the Best Roasted Cauliflower
Roasted Cauliflower makes a delicious side dish. It also makes a great addition to roasted vegetable sandwiches or casseroles, like this Cheesy Spiced Cauliflower Gratin.
Keep reading to see a few of my top tips on how to roast cauliflower perfectly every time: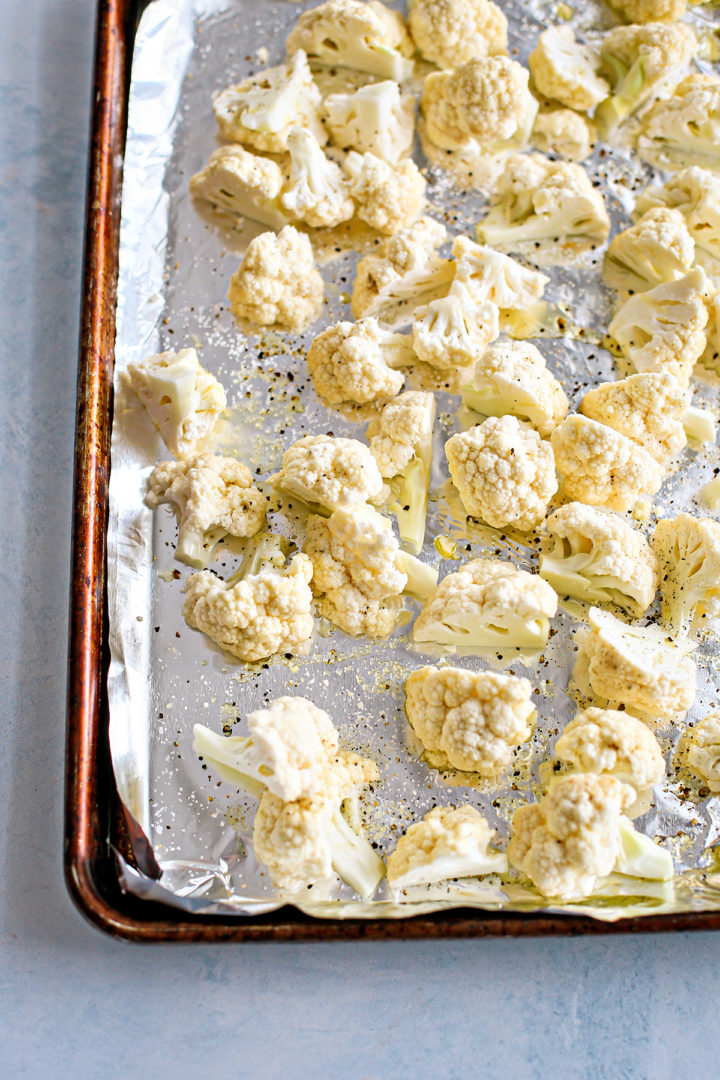 1. Keep the Cauliflower Floret Sizing Consistent
Try to cut the cauliflower into pieces of the same, or at least close to, size. This will ensure even cook times for the whole pan.
You don't want some of the cauliflower perfectly roasted while other pieces are either burnt or not done enough.
2. Dry Cauliflower Before Roasting
Of course you are going to want to wash the cauliflower before roasting, but make sure to pat them dry (or allow to air dry while you prepare other parts of your meal) prior to the cooking process.
Make sure they are dried completely after rinsing them before you toss them in olive oil to roast them.
Wet cauliflower, when cooked, ends up steaming and won't develop the delicious caramelized crust and nutty flavor that you get when you roast cauliflower.
3. Don't Crowd the Pan When Roasting Cauliflower
You also want to make sure that they are not too crowded in their pan. If you need to, separate the cauliflower onto two pans.
If the pan is too crowded, the cauliflower will create moisture, which turns your roasted cauliflower into steamed cauliflower.
They'll crisp better if there is more room in between rather than if they are all layered on top of each other. An extra large sheet pan is great for roasting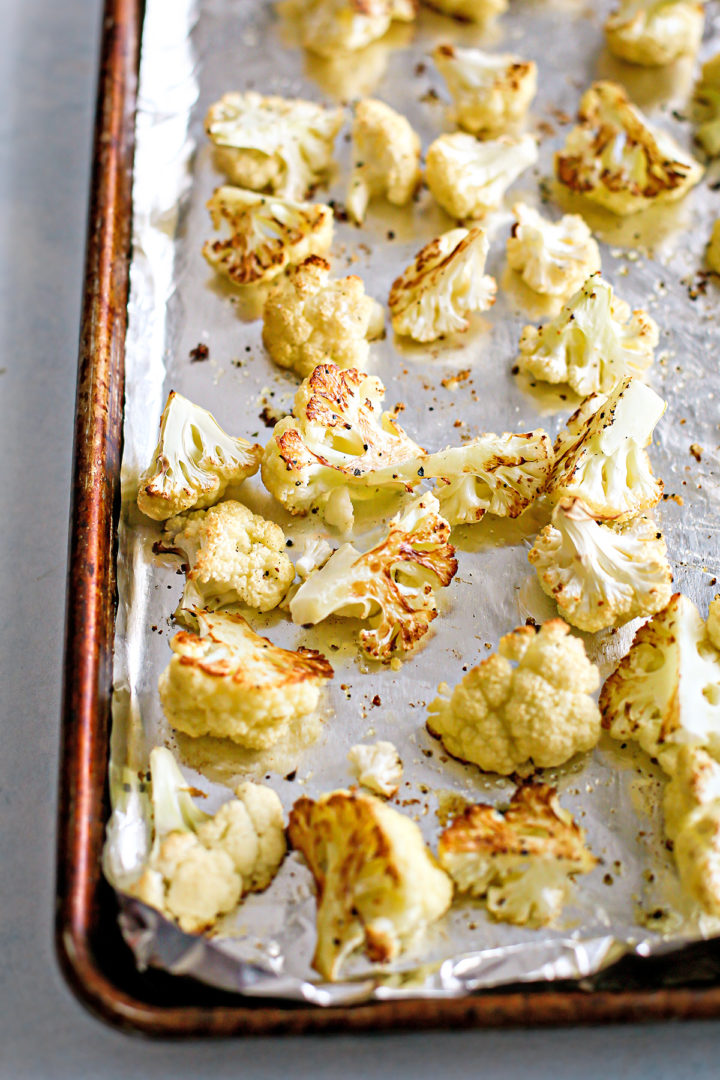 How to Reheat Roasted Cauliflower
If you wind up with leftovers, you can either reheat them in the oven or in a lightly oiled skillet. Small batches will reheat well on a tray in the toaster oven.
Avoid using the microwave to reheat leftover roast cauliflower, as that makes it mushy.
Try this Easy Roasted Cauliflower Recipe!
Next time you're looking for a simple way to cook cauliflower, give this oven-roasted cauliflower a try!
Did you love how easy this recipe was to make? Leave a comment below and give it a review for others to see what you thought of this roasted cauliflower.
On Instagram? Share your photo and tag me with @goodlifeeats and #goodlifeeatsrecipes. I'd love to see your photo of this easy side dish!
More Easy Side Dishes:
Rosemary Garlic Roasted Potatoes are the perfect side dish for any meal. I especially love making these in the cooler months.
Another super easy side is this Apple Cider Roasted Acorn Squash. It pairs well with casseroles, grilled meats, and more.
I love making Sautéed Green Beans with Bacon and Mushrooms at Thanksgiving instead of green bean casserole, but really you could make this vegetable side dish for any meal.
These Browned Butter Mashed Potatoes are a fun take on classic mashed potatoes. They're super creamy and my kids love them.
Along with knowing how to roast cauliflower and broccoli, you should also take the time to master roasting sweet potatoes. These Roasted Sweet Potato Cubes with Garlic and Sage are a great place to start!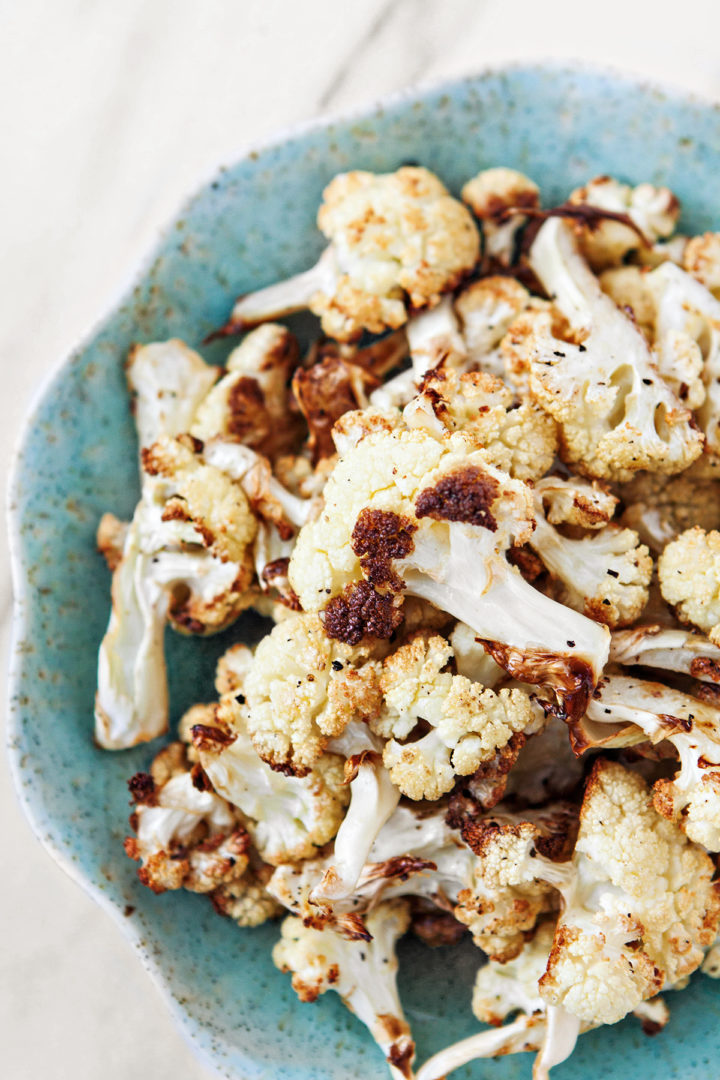 Get More Easy Recipes via Email!
Did you love this tutorial for How to Roast Cauliflower? Sign up for Good Life Eats email updates and never miss another recipe!
Have you ever roasted cauliflower before?

Easy Roasted Cauliflower

Roasted cauliflower is an incredibly easy side dish perfect for the fall and winter season.

Ingredients

1 pound cauliflower florets
1 – 2 tablespoons extra virgin olive oil
salt and pepper, to taste

Instructions

Preheat the oven to 425 degrees F.
In a medium sized bowl, combine the cauliflower and olive oil. Stir to coat.
On a large baking sheet, spread the cauliflower in a single layer.
Sprinkle, according to your taste preferences, with salt and pepper.
Transfer the baking sheet to the oven and roast for 15 – 25 minutes, or until the cauliflower is cooked and golden brown.
If desired, add any additional ingredients (such as fresh parmesan), toss to coat and serve immediately.

Recommended Products

As an Amazon Associate and member of other affiliate programs, I earn from qualifying purchases.

Nutrition Information

Yield

4

Serving Size

1 Amount Per Serving

Calories

86

Total Fat

7g

Saturated Fat

1g

Trans Fat

0g

Unsaturated Fat

6g

Cholesterol

0mg

Sodium

91mg

Carbohydrates

5g

Fiber

3g

Sugar

2g

Protein

2g

GoodLifeEats.com offers recipe nutritional information as a courtesy and is an estimate only. This information comes from online calculators. Although GoodLifeEats.com makes every effort to provide accurate information, these figures are only estimates.