Cheesy Spiced Cauliflower Gratin
When it comes to kids and vegetables, there really is no magic trick to ensure that the two will always get along. That being said, adding cheese to a veggie dish is almost always a good start.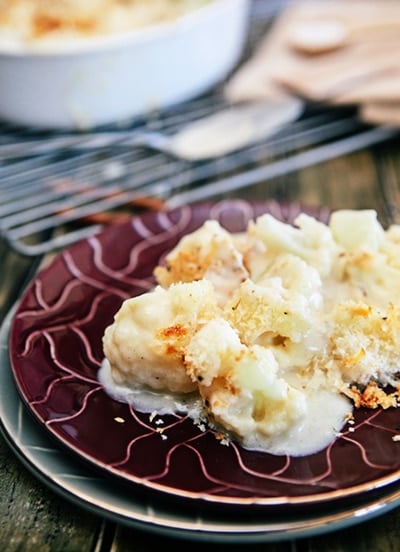 I can't make any promises, which I'm sure any readers who feed kids will understand, but I will say this: All of my kids eat this Cheesy Spiced Cauliflower Gratin every time I make it!
We all have different tastes. The key is finding how our children like their vegetables prepared or served. The acceptance of a vegetable is so often dependent on the way it is served and especially, I find, how it looks. There are so many different ways to prepare vegetables and often what it takes is to serve it in an unexpected way.
Set the steamed cauliflower aside, and try this Cheesy Spiced Cauliflower Gratin on your kids instead.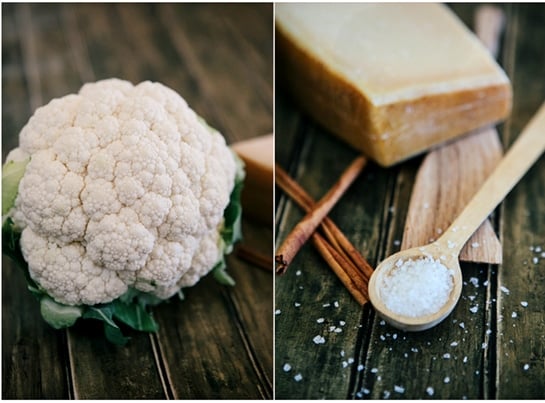 Cheesy Spiced Cauliflower Gratin not just a recipe for kids though. Both the texture and flavor are mild, which helps make it more appealing to young kids, but with Gruyere, Parmesan, and a hint of Dijon mustard, it is sophisticated enough to add to your adult dinner menu too.
This Cauliflower Gratin is so easy to prepare and makes a quick, no fuss side dish. I will also admit to eating it for lunch from time to time – it is a good dose of veggies after all!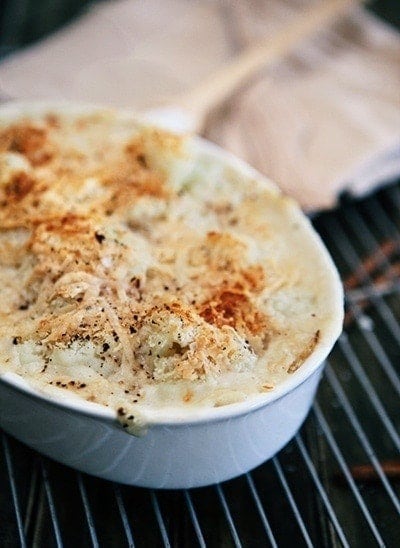 More Cauliflower Recipes
 How do you like to eat cauliflower?
Cheesy Spiced Cauliflower Gratin
Yield: 4 servings
Prep Time: 15m
Cook Time: 10 -15m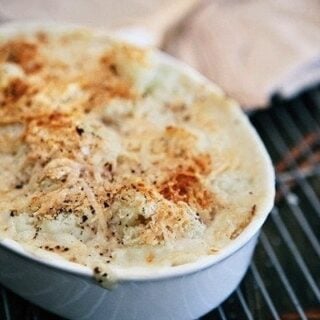 Ingredients:
1 large head cauliflower, cut into bite size florets
4 tablespoons butter, divided
3 tablespoons all purpose flour
2 cups milk
1/8 teaspoon cinnamon
1 teaspoon Dijon mustard
2/3 cup freshly grated Gruyere Cheese
1/2 cup freshly grated parmesan
1/3 cup bread crumbs
salt and freshly ground pepper to taste
Directions:
Preheat oven to 375 degrees Fahrenheit.
Bring a large pot of lightly salted water to a rolling boil. Add the cauliflower florets and cook for 5 minutes. Drain and set aside.
In a medium saucepan, melt 3 tablespoons of butter. Add the flour and stir constantly for about a minute until mixture thickens. Whisk in milk and bring to a boil. Whisk constantly until thick, about 1 minute. Remove from heat and stir in cinnamon, Dijon, and Gruyere. Season to taste with salt and pepper.
In a medium baking dish, combine the cooked cauliflower and sauce. Top with the Parmesan and Bread Crumbs and the remaining tablespoon of butter melted.
Bake for 10 to 15 minutes or until it is golden brown and bubbling. Serve warm.