Salmon en Papillote with Asparagus
We don't cook a lot of seafood at home, but when we do there are a few things that matter to me. Is it convenient? Is it reasonably priced? Is it sustainable?
When I learned that Target has committed to traceable seafood and 100% sustainability for their fresh and frozen seafood by the end of 2015 I was glad to hear it. Super Target is the closest grocery store to me and is where I shop for most of my groceries. I like their prices, the selection, the convenience and the feel of the store.
To meet this goal, Target has partnered with FishWise, a nonprofit focused on the recovery of ocean ecosystems.
I'm happy to hear that Target is taking an interest in healthy oceans and minimizing the impact that fishing has on water pollution and those habitats.
We don't live a no-waste lifestyle, never buy new things, or grow all of our own produce. But, we do like to help the environment however we can in the little ways, like recycling, using our library, buying food when we can that impacts the environment as little as possible.
When I'm cooking seafood, it is also important to me that the recipe is simple to prepare. These days I'm all about simplicity. I love good food, but I don't think food has to be complicated to be good.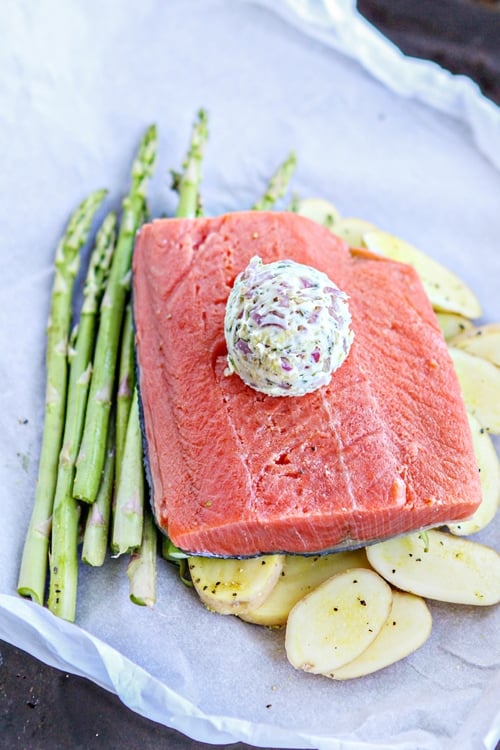 One of my favorite methods for a really simple meal is to cook en papillote. Cooking en papillote is pretty basic, though it sounds fancy. You're basically cooking your meal inside a packet made out of parchment paper.
This method gives really great flavor because the ingredients and seasonings all mingle together and the food is cooked in this flavorful steam. The meat always turns out really tender.
And guess what? There's hardly any mess to clean up when you cook with this method. You also aren't using gallons of water washing all of the dirty pots and pans you cooked with. Usually everyone is happy because each person can customize their own packet with the ingredients or seasonings they like best.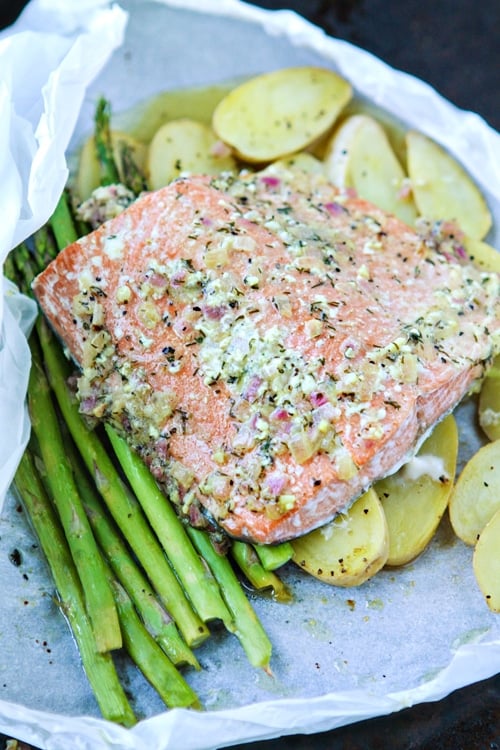 Next time you feel like seafood but want something that isn't complicated or time consuming to prepare, try this Salmon en Papillote with Asparagus.
The salmon is seasoned with butter, shallots, garlic, and dill. You also have thinly sliced potatoes and asparagus cooking along side. It is like a fancy version of a foil dinner.
Salmon en Papillote with Asparagus and Potatoes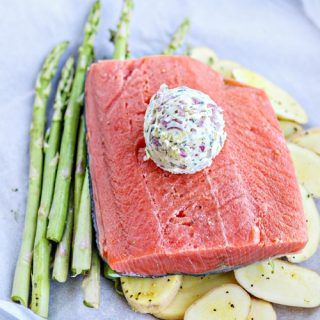 Ingredients:
2 tablespoons softened butter
1 - 2 teaspoons fresh dill, finely chopped
1 - 2 teaspoons shallots finely minced
1/2 teaspoon minced garlic
2 teaspoons white wine
lemon pepper seasoning, season to taste
6 baby potatoes, white or red, thinly sliced
1 Alaskan Salmon Filet
8 spears fresh asparagus
Directions:
Preheat oven to 350 degrees F. Prepare a parchment paper pouch to cook the salmon en papillote. For tutorials on how to cut and fold the parchment paper, see this tutorial.
In a small bowl, combine the softened butter, fresh dill, shallots, and garlic.
First, layer the potato slices. Then, on top of that place the salmon, drizzle the white wine and season according to your preferences with lemon pepper seasoning. Place the asparagus off to the side next to the salmon and the butter mixture on top. Fold the parchment paper over and crimp the edges of the paper to close the packet. Place the packet on top of a baking sheet.
Bake on the center rack in the oven at 350 degrees for approximately 25 minutes.
Notes:
Try this technique with other seasonings and vegetable choices depending on what is in season or what you have available at home.
Cooking time will depend on the thickness of the fish. Fish should flake with a fork when it is done. If you are using a small piece of fish that will not need to cook for very long, you will want to pre-cook the potatoes just slightly either in the microwave or boiling so they they finish cooking in the packet while the fish cooks and are not hard.
This post is brought to you by Target. With helping hands, Target is committed to building healthy and sustainable communities.