This post brought to you by Norwegian Salmon. All opinions are 100% mine.
Every year I tell myself that I need to incorporate more healthy seafood into our family's diet. I've always admired my mother-in-law's meal planning abilities, especially when it comes to incorporating a variety of protein sources throughout the week.
For as long as I've known her, she's kept a calendar on the fridge with the weekly meals labeled on each day. She is careful to serve fish or other seafood at least once a week in her menu planning – something I aspire to as most of us know how beneficial marine proteins and omega-3 fatty acids are for our bodies.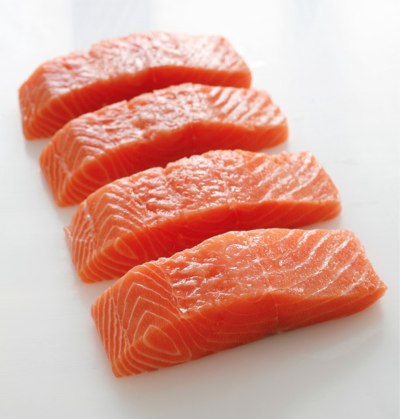 I didn't really grow up eating seafood – unless you count canned tuna fish, fish sticks, or the occasional grilled catfish. In reality, there is no fresh seafood source out here in New Mexico, so I often think of other protein sources first when planning our family's meals.
If anyone asked me what particular food I find intimidating in the kitchen, my answer would be seafood. There's a reason that the seafood section of the Good Life Eats recipe index features so few recipes.
The unfortunate truth is, I just don't know a lot about seafood. However, that doesn't mean I don't want to learn more. I was recently presented with an opportunity to work with the Norwegian Seafood Council. Of course I was immediately on board. I thought – this is my chance to learn from experts!
I wanted to take a moment to share with you some of what I've learned about seafood from the Norwegian Seafood Council, particularly about Norwegian Salmon ocean-farmed in the icy, cold waters of Norway.
Premium Ocean-Farmed Salmon
The artic waters of Norway have shaped and sustained the seafaring population for generations.
As pioneers in the development of ocean salmon farming in the early 1970's, Norway's passion for the sea and respect for nature have given them an international reputation for some of the finest, fresh seafood. The Norwegian's have found that their cold, clear waters product high-quality ocean-farmed salmon.
The first twelve months of an ocean-farmed salmon from Norway is spent safely in a hatchery tank on land until they become strong enough for life in the ocean. Once large and strong enough to grow at sea, the salmon are transferred into a spacious, protected ocean pen. These pens are large and allow maximum freedom to grow.
Not only is Norway currently one of the world's largest suppliers of seafood (including wild and farmed fish), they hold unsurpassed standards of excellence in the form of rigorous safety measures used to raise their ocean-farmed salmon.
Strict Safety Standards of Norway Salmon Farms
Norwegian's high esteem for nature and deep cultural pride lend themselves to continued efforts to advance their already strict ocean-farmed salmon safety standards. Their goal is to promise fresh, delicately flavored salmon from Norway that consumers can enjoy year round.
"The analogy I would give is that farmers in Norway are treating their salmon the way our organic farmers in the U.S. treat their farms," said Ashley Koff, R.D., M.S., on a Good Morning America Health Segment.
Norwegian law prevents overcrowding by requiring that salmon make up less than 2.5 perfect of an aquaculture facility's volume. What does that mean? Each facility is comprised of 97.5 perfect water. Norway clearly wants to ensure maximum comfort and quality growth of their fish.
The salmon's development is closely monitored by advanced technology. These monitors keep the farmers and vets updated on every aspect of the salmon's life, including when the fish are full so the feeding device can be shut down.
One of the Faces of Norwegian Salmon Farming
Aino Olaisen became involved in Norway's ocean-farmed salmon culture at an early age. Aino's father saw ocean-farmed salmon as a means to reverse Lovund's trend towards depopulation and depression during the early 1970's.
Early on, Aino worked the family business. Summers were spent working on the farm. By age 16, Aino left her hometown of Lovund to further her education in fishery. She later attended the NorwegianCollegeof Fishery Science in Tromso.
15 years were spent studying and traveling various regions before she returned home to start her own family and continue with the business her father founded. Aino is now the owner of Nova SeaAS, which was established by her father Steinar in 1972.
"We eat salmon for dinner at least once a week, and we often enjoy smoked salmon for breakfast and lunch," she says. "My favorite way to serve it is to oven bake a salmon fillet in aluminum foil after sprinkling it with soy sauce, herbs, fresh chili, fresh ginger and a few drops of freshly squeezed lime. My family loves it served with fresh vegetables."
Norwegian Gravlax
Gravlax is one of Norway's most distinctive dishes. Gravlax, literally translating to "Grave-Salmon," refers to the medieval practice of curing the raw fish by burying it in the sand above the high tide level.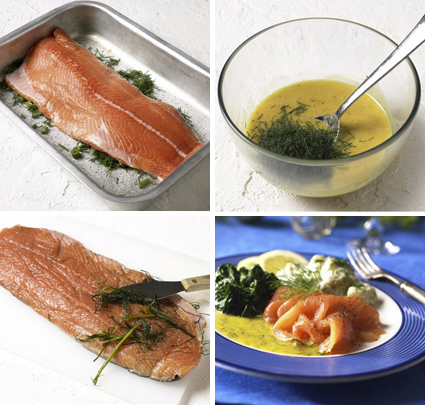 Today, however, a fresh, delicate flavor is achieved by curing gravlax with salt, sugar, and dill. This modern interpretation of this Norwegian dish is traditionally eaten on open-faced sandwiches or with stewed potatoes.
What is your favorite way to enjoy salmon? I'd love to see some of your favorite recipes!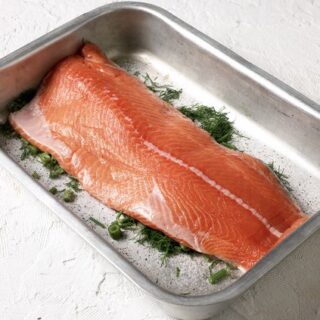 Norwegian Gravlax
This modern interpretation of this Norwegian dish is traditionally eaten on open-faced sandwiches or with stewed potatoes.
Ingredients
For the Salmon:
1 approximately 2 pound salmon fillet, skin on
3 tablespoon salt
2 tablespoon sugar
1 tablespoon coarsely ground pepper
1 bunch dill, coarsely chopped
For the Gravlax Sauce:
4 egg yolks
1/2 teaspoon salt
1/2 cup vegetable oil or mild olive oil
1 tablespoon sugar
1 tablespoon white wine vinegar
1/2 teaspoon white pepper
1 tablespoon mustard
2-3 tablespoon finely chopped dill
Instructions
For the Salmon:
Trim salmon fillets. Scrape the skin well and remove all bones (if any).
Blend salt, sugar, and pepper. Sprinkle half of the salt mixture in the bottom of a roasting pan, then sprinkle half of the dill over and place the fillet in the pan skin side down.
Gently press the remaining salt mixture and dill on the flesh side of the fillet. Refrigerate fish for 3-4 days. Turn it every day. Scrape seasoning and dill from the fillets before serving.
For the Gravlax Sauce:
Add salt to the egg yolks and stir until it reaches a thick consistency. Slowly pour in the oil while whisking quickly until the sauce is a consistency similar to mayonnaise.
Stir sugar, vinegar, pepper and mustard into the sauce. Just before use add the dill. The sauce will keep in the refrigerator for up to 1 week.
Cut the salmon into thin slices and serve with gravy, stewed potatoes or bread and salad.
Recommended Products
As an Amazon Associate and member of other affiliate programs, I earn from qualifying purchases.
Nutrition Information
Yield

8
Serving Size

1
Amount Per Serving
Calories

419
Total Fat

32g
Saturated Fat

5g
Trans Fat

0g
Unsaturated Fat

25g
Cholesterol

164mg
Sodium

2606mg
Carbohydrates

6g
Fiber

0g
Sugar

5g
Protein

27g
GoodLifeEats.com offers recipe nutritional information as a courtesy and is an estimate only. This information comes from online calculators. Although GoodLifeEats.com makes every effort to provide accurate information, these figures are only estimates.