Raspberry Hibiscus Soda for a Baby Shower
A group of us are throwing a special surprise baby shower for a dear friend of ours – Jamie from My Baking Addiction. There are lots of amazing baked sweets on the menu, so I thought I would bring a long a little something pretty to drink with this Raspberry Hibiscus Soda Recipe.
I am so excited for Jamie to embark on the awesome journey of motherhood as she awaits the birth of her sweet baby girl. I have had so much fun with my own baby girl, who is hardly a baby anymore at 6, that I get a little giddy every time another baby girl is born into this world.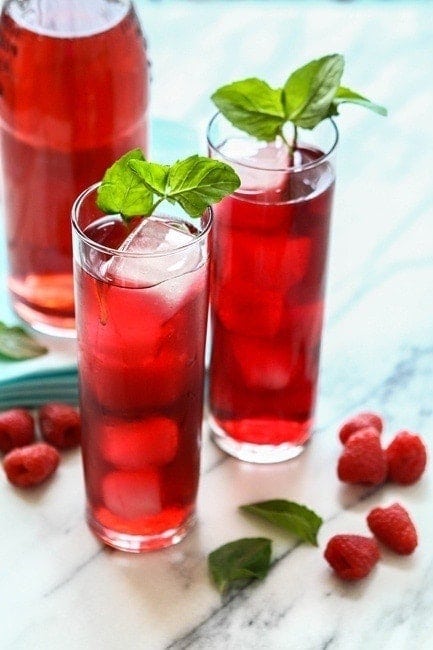 Happy Baby Shower, Jamie!
Head over to Jamie's blog – My Baking Addiction. Jamie specializes in delicious sweet treats to bake, but she has a wide variety of offerings on her site. A few of our favorites from Jamie are Spicy Chicken Pepper Jack Pizza, Greek Pasta Salad, Pumpkin Brownies, and so many of her cupcakes.
The Baby Shower Menu
Be sure to make the rounds to see all the delicious food prepared by other food bloggers.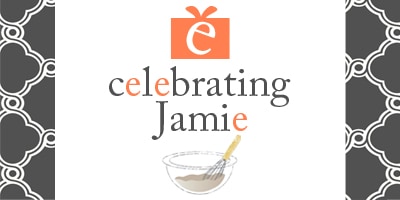 Amber from Bluebonnets & Brownies | Lemon Strawberry Cupcakes
Julie from The Little Kitchen | Pistachio Pudding Cupcakes
Jen from My Kitchen Addiction | Sugar and Spice Cookies
Shaina from Food for My Family | Vanilla Raspberry Mini Meringue Kisses
Glory from Glorious Treats | Modern decorated cookies
Cheryl from TidyMom | Chocolate Cake with Raspberry Buttercream
Katie from Good Life Eats | Raspberry Hibiscus Soda
Aimee from SimpleBites | How to freeze a big batch of homemade waffles
Amanda from I am Baker | Heath Bar Cake
Steph from Steph Chows | PB oatmeal cookies
Allison from Some the Wiser | Raspberry Chocolate Chip Muffins
Megan from Stetted | Strawberry Jalapeno Palmiers
Shelly from Cookies & Cups | Bacon Cheddar Scones
Emily from Jelly Toast | Meyer Lemon Scones
Kristan from Confessions of a Cookbook Queen | Samoa Layer Cake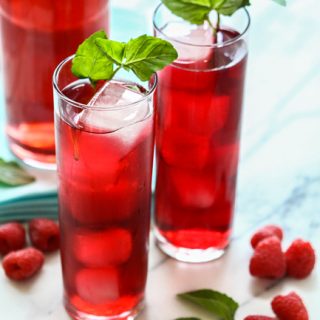 Ingredients:
Hibiscus Syrup:

1 cup water
3 tablespoons whole cane sugar
8 bags Hibiscus Tea, such as Celestial Seasonings Red Zinger Herbal Tea
Seltzer
Fresh Raspberries
Mint leaves, for garnish, if desired
Directions:
Hibiscus Syrup:

Bring the water to a boil. Stir in the sugar until dissolved. Add the tea bags and steep for 15 minutes. Remove and discard tea bags. Add additional sweetener, if desired. Let cool and store refrigerated for up to 3 days.
To make Raspberry Hibsiscus Soda:
Stir 2 - 3 tablespoons Hibiscus syrup, or more if desired, per 10 ounces seltzer.
Pour over ice in your preferred serving container and add fresh raspberries to individual glasses. Alternatively, you can add raspberries directly to the soda. Garnish, if desired, with mint leaves.
Disclosure: Celestial Seasonings hired me to photograph a selection of their drinks. I thought this Hibiscus Soda was perfect for the special occasion of a baby shower and wanted to share it.