Sparkling Rhubarb Raspberry Lemonade
I have been so in love with rhubarb this spring! I'm always looking for new ways to use it, but I just couldn't resist turning some of the ruby red stalks into a refreshing Sparkling Rhubarb Raspberry Lemonade. Doesn't that sound marvelous? Making homemade lemonade has been a fun thing for my family to do together. We love coming up with new ways to flavor our lemonade – the more adventurous the better.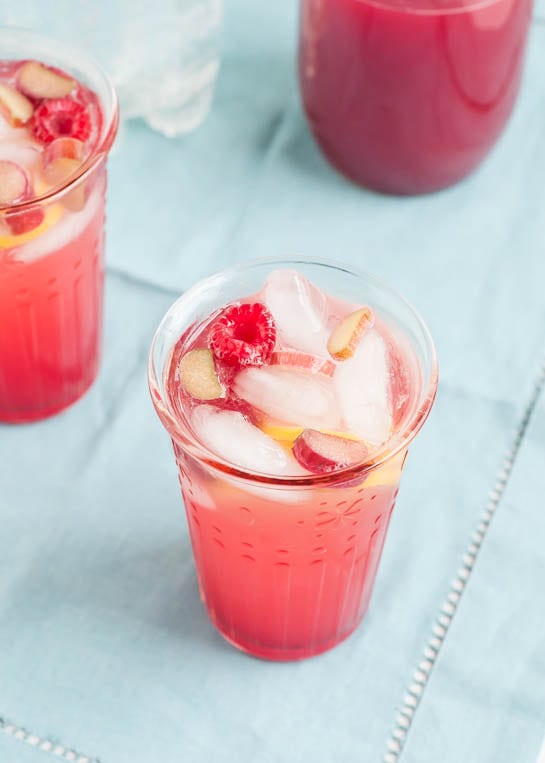 Written by: Lindsey Johnson of Cafe Johnsonia
I love the flavor of rhubarb. It's classically paired with strawberries, which I also really love. I bought a jam a few years ago that was made from rhubarb and Meyer lemons and I really loved that combo. Rhubarb is a little more versatile than we give it credit for.
I wanted to try this lemonade with raspberries. I knew it would be delicious, but also give the lemonade a gorgeous color. I was so please with how it turned out. Adding the sparkling water makes it ultra refreshing.
We guzzled it down after an afternoon out at the park. It's perfectly sweet and tart in equal proportions with just enough fizz to tickle your nose.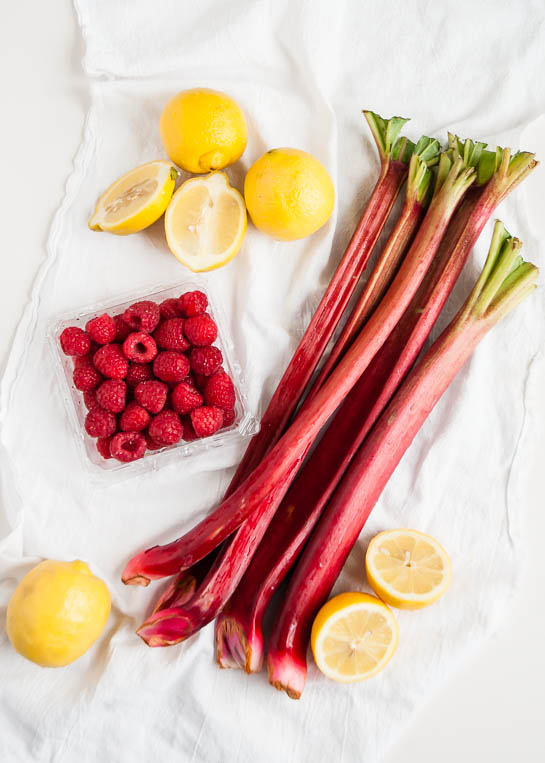 The recipe itself is pretty easy, though it does take a little preparation to make the rhubarb-raspberry simple syrup. A simple syrup is made with equal parts sugar and water. For this one, I added the rhubarb, raspberries, and lemon zest to the pot, let it cook for about 10-15 minutes, then strain it for a clear syrup.
The lemon juice is added at the end so it retains its brightness. The lemon zest adds an extra lemony element that is very nice. I've also included a bit of vanilla extract for another level of flavor. It's absolutely fantastic – you'll never want regular lemonade again!
More Refreshing Drinks
How are you enjoying rhubarb this year?
Sparkling Rhubarb Raspberry Lemonade
Yield: 10 servings
Prep Time: 1 hour
Cook Time: 15 minutes
Total Time: 1 hour 15 minutes
A refreshing springtime lemonade made with a flavorful rhubarb-raspberry simple syrup mixed with sparkling water and served over ice.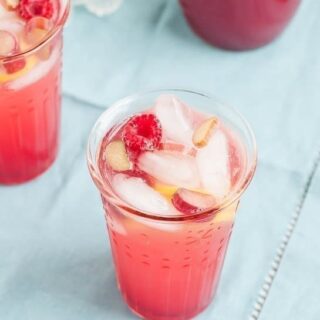 Ingredients:
4 cups chopped rhubarb stalks
1 cup raspberries
1 1/2 cups cane sugar
1 Tablespoon finely grated lemon zest
3/4 cup fresh squeeze lemon juice
1 Tablespoon pure vanilla extract
2 liters sparkling water, for serving
Ice, for serving
Directions:
Place rhubarb, raspberries, sugar, and lemon zest in a saucepan. Add 1 1/2 cups water. Bring to a simmer and let cook for 10 minutes on medium heat. Strain through a sieve into a clean bowl. Press against the solids to extract as much of the syrup as possible. Add the lemon juice and vanilla to the syrup. You should have about 3 1/2 - 3 3/4 cups of syrup. Let it cool completely. Store in the fridge until ready to make lemonade.
To make the lemonade, use 3 parts sparkling water to 1 part of the syrup. Mix together and serve over ice.
Notes:
-Substitute any berry for the raspberries, or for plain rhubarb lemonade, use a total of 5 cups chopped rhubarb.
-Lime juice can be substituted for the lemon juice for limeade.