This Rhubarb Lemonade is a refreshing springtime lemonade! This tasty lemonade recipe uses a flavorful rhubarb syrup mixed with sparkling water, lemon juice, and raspberries and is served chilled over ice.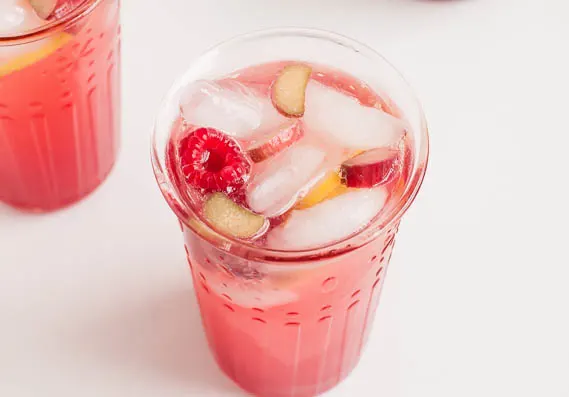 Creating this Rhubarb Lemonade Recipe
I have been so in love with rhubarb this spring!
I'm always looking for new ways to use it, but I just couldn't resist turning some of the ruby red stalks into a refreshing Sparkling Rhubarb Raspberry Lemonade. Doesn't that sound marvelous?
Making homemade lemonade has been a fun thing for my family to do together. We love coming up with new ways to flavor our lemonade – the more adventurous the better.
Rhubarb grows in stalks, almost similar in appearance to celery – except that it ranges in color from pale green, to pinkish, to dark red.
When purchasing rhubarb, look for stalks that have a dark red, bright pink or light green color. The stalks should be both shiny and firm. Rhubarb is best stored in your crisper drawer.
Interesting Facts About Rhubarb:
Did you know that redder rhubarb stalks have a slightly sweeter flavor than those that are not as red?
Rhubarb leaves are poisonous, so you will always want to discard them, and be careful if you are growing rhubarb and have pets.
When planning for recipes, keep in mind that 1 pound of fresh, uncooked rhubarb equals approximately 3 cups of uncooked rhubarb.
Original post, photos, and recipe by: Lindsey Johnson of Cafe Johnsonia. 5/11/2021 this Rhubarb Lemonade post was updated by Good Life Eats with additional content. The recipe remains the same.
What I Love About Rhubarb Lemonade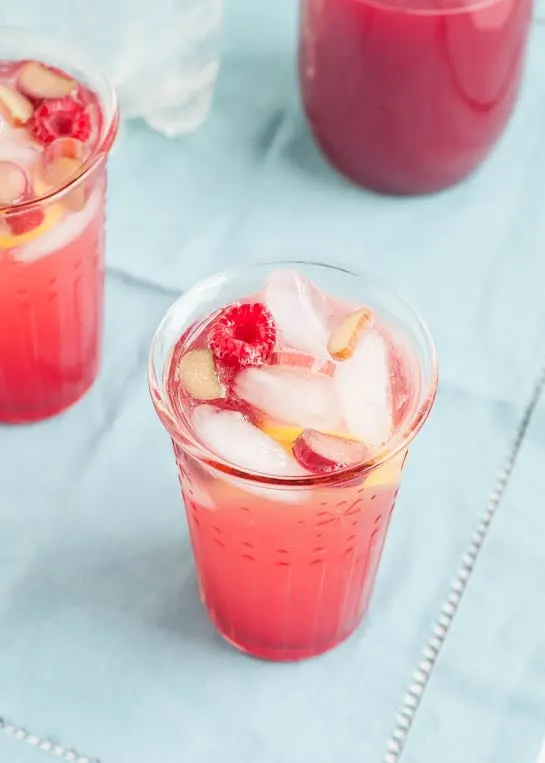 I love the flavor of rhubarb. It's classically paired with strawberries, which I also really love. I bought a jam a few years ago that was made from rhubarb and Meyer lemons and I really loved that combo.
Rhubarb is a little more versatile than we give it credit for. I wanted to try making this homemade lemonade recipe with raspberries. I knew it would be delicious, but also give the lemonade a gorgeous color. I was so please with how it turned out.
Adding the sparkling water makes it ultra refreshing. Like a Raspberry Rhubarb Spritzer. The perfect beverage for spring! We guzzled it down after an afternoon out at the park.
This Rhubarb Lemonade is perfectly sweet and tart in equal proportions with just enough fizz to tickle your nose.
Rhubarb Lemonade Ingredients
This recipe for Raspberry Rhubarb Sparkling Lemonade calls for only a few simple ingredients:
raspberries
rhubarb
sugar
water
lemons
sparkling water
vanilla
For the complete ingredient list and detailed instructions, scroll to the bottom of this post for the FREE printable recipe card.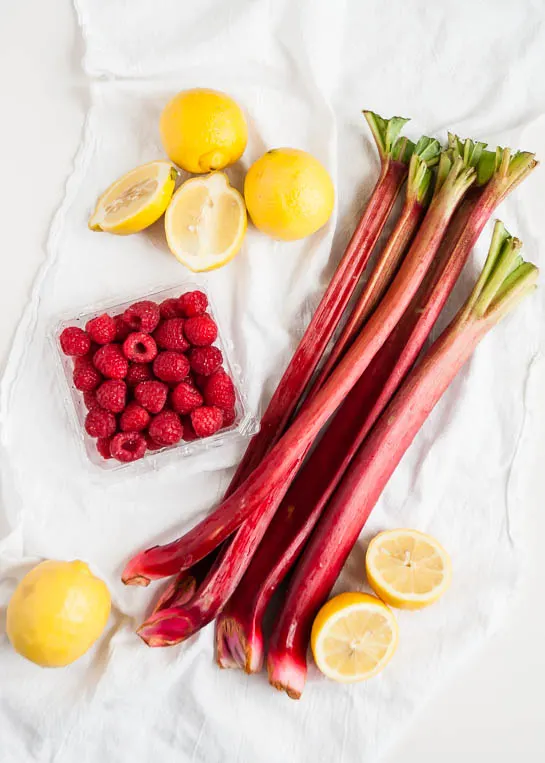 How to Make Rhubarb Lemonade
This Rhubarb Lemonade is really very simple to make and consists of the following steps:
First, make the rhubarb syrup.
Cool the syrup completely.
Mix the Rhubarb lemonade using a ratio of 3 parts sparkling water to 1 part rhubarb syrup.
It's absolutely fantastic – you'll never want regular lemonade again!
How to Make Rhubarb Syrup for this Rhubarb Drink
The most time consuming part of making this tasty rhubarb lemonade is preparing the rhubarb syrup. Once the syrup is made, you can make up a glass or a whole pitcher of this drink recipe.
To make the rhubarb syrup:
A simple syrup is made with equal parts sugar and water.
For this one, you'll need a few extra ingredients.
I added the rhubarb, raspberries, and lemon zest to the pot.
After it comes to a boil, let it simmer for about 10-15 minutes, then strain it for a clear syrup.
Then, add the lemon juice – adding it at the end helps retain its brightness – and some lemon zest for an extra punch of lemon flavor, and vanilla extract.
The above is simply a quick summary of this recipe. Check out the full recipe in the free printable recipe card at the bottom of this post for all the detailed instructions.
Make Ahead Tips for this Recipe
In this recipe you can prepare the Rhubarb Syrup ahead of time as needed, and it should store in the refrigerator for about 5 days. Then, you'll have all of the labor of the recipe done before you need to prepare a pitcher of the Rhubarb Lemonade.
I haven't tested it out, but I imagine that you can most likely freeze the syrup if you want to keep it on hand in the freezer for future uses.
Substitutions for this Rhubarb Lemonade Recipe
Typically I don't recommend making a bunch of substitutions when preparing a new recipe. When making substitutes, you won't know if you don't like the recipe or if the recipe didn't turn out due to a preparation mistake, an ill effect from the substitute, or something else.
However, if you do choose to make substitutions in a recipe, I recommend only making one substitute at a time so you don't have a building effect of multiple poor substitutions.
Here are a few recipe substitution ideas:
Try strawberries in place of raspberries in the rhubarb syrup if you don't have raspberries on hand.
You can use frozen fruit if you don't have fresh, just make sure to thaw the fruit and drain of excess liquid before making the syrup.
Look for Meyer Lemons during the spring (meyer lemons are a mix between lemons and mandarins).
Eliminate the berries and try plain rhubarb lemonade, use a total of 5 cups chopped rhubarb.
Lime juice can be substituted for the lemon juice for limeade.
What to Serve with Rhubarb Lemonade
This rhubarb lemonade goes fantastically with any of your favorite spring and summer BBQ meals. We love it with burgers, potato salad, coleslaw, pulled pork, and anything else with those fun summery flavors.
What Else to Make with Rhubarb
Looking for more rhubarb recipes to savor before spring produce season is over? Check out some of these favorite recipes:
No Churn Vanilla Frozen Yogurt with Balsamic Roasted Strawberry Rhubarb – Creamy vanilla frozen yogurt is swirled with sweet and tangy balsamic roasted strawberries and rhubarb. The perfect springtime dessert! Plus, you'll love how this recipe doesn't require churning.
Vanilla Bean Panna Cotta with Strawberry Rhubarb Compote – Panna Cotta is a fabulously simple, yet seemingly fancy, dessert recipe. Essentially, it is just gelled sweetened cream, but it tastes so much more than that.
Rhubarb Crumb Coffee Cake – is a delicious, seasonal spring coffee cake that would be perfect for any brunch gathering.
Don't see what you're looking for here? You can always head over to check out the recipe index to look for more recipes.
More Lemonade Recipes
Besides this Rhubarb Lemonade Recipe, here are a few more homemade lemonades that we love: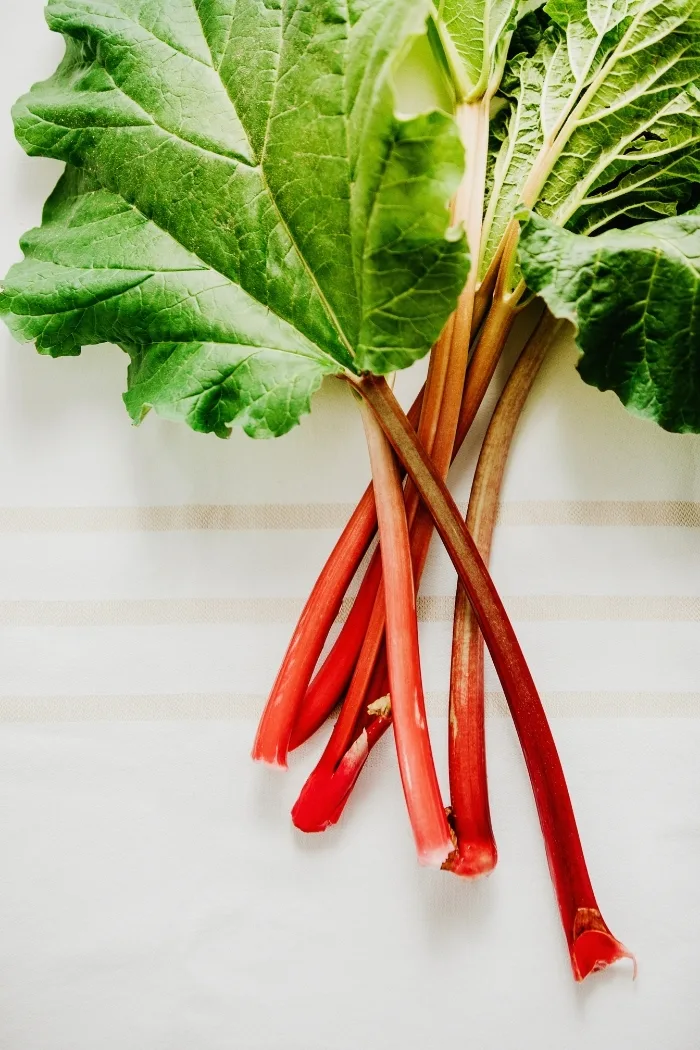 Homemade Watermelon Mint Lemonade is a fun take on the traditional homemade lemonade recipe — and it couldn't be more summery with its gorgeous bright pink color! The perfect fruity and refreshing drink for the whole family on a hot day!
Nothing says summertime like an ice cold glass of Fresh Squeezed Strawberry Lemonade. The perfect sweet and tart drink to pair with any summer BBQ. Drink it just like it is, or use it as the base for your favorite adult cocktail.
Spiced Lemonade is not as sugary sweet as a canned lemonade mix, which I appreciate, and its unique flavor is so refreshing! With a hint of cinnamon, cloves, and allspice, this lemonade makes a tasty summer treat that the whole family will enjoy.
Sweet watermelon gets a bright kick from some lime juice and sparkling water for a crisp balance of sweet and tang in this Sparkling Watermelon Lemonade Recipe
Get More Recipes via Email
Did you love this recipe? Sign up to receive Good Life Eats Email Updates and never miss another recipe!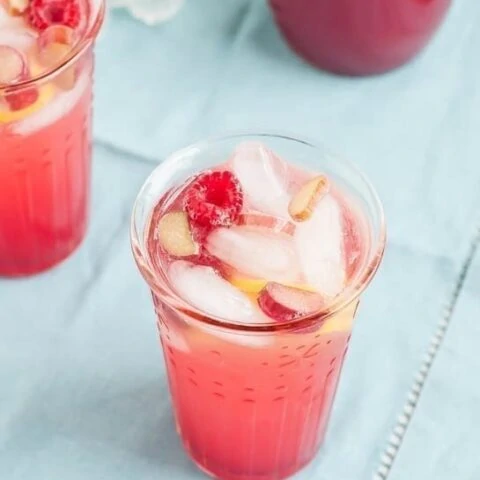 Sparkling Rhubarb Raspberry Lemonade
Total Time:
1 hour
15 minutes
A refreshing springtime lemonade made with a flavorful rhubarb-raspberry simple syrup mixed with sparkling water and served over ice.
Ingredients
For the Raspberry Rhubarb Syrup
4 cups chopped rhubarb stalks
1 cup raspberries
1 1/2 cups cane sugar
1 Tablespoon finely grated lemon zest
3/4 cup fresh squeeze lemon juice
1 Tablespoon pure vanilla extract
To Prepare the Lemonade
Prepared Raspberry Rhubarb Syrup
2 liters sparkling water
Ice, for serving
Instructions
To Make the Rhubarb Raspberry Syrup
Place rhubarb, raspberries, sugar, and lemon zest in a saucepan.
Add 1 1/2 cups water. Bring to a simmer and let cook for 10 minutes on medium heat.
Strain through a sieve into a clean bowl.
Press against the solids to extract as much of the syrup as possible.
Add the lemon juice and vanilla to the syrup. You should have about 3 1/2 - 3 3/4 cups of syrup.
Let it cool completely.
Store in the fridge until ready to make lemonade.
To Prepare the Lemonade
To make the lemonade, use 3 parts sparkling water to 1 part of the syrup.
Mix together and serve over ice.
Notes
Substitutions
You can substitute any berry for the raspberries, or for plain rhubarb lemonade, use a total of 5 cups chopped rhubarb.
Lime juice can be substituted for the lemon juice for limeade.
Recommended Products
As an Amazon Associate and member of other affiliate programs, I earn from qualifying purchases.
Nutrition Information
Yield

10
Serving Size

1
Amount Per Serving
Calories

140
Total Fat

0g
Saturated Fat

0g
Trans Fat

0g
Unsaturated Fat

0g
Cholesterol

0mg
Sodium

9mg
Carbohydrates

35g
Fiber

2g
Sugar

31g
Protein

1g