Spiced Lemonade
Spiced Lemonade. is perfect to keep cool on a hot summer day!
The dog days of summer have hit my corner of the world.
It is hot here, and with the summer monsoons rolling in.
It is also as humid as this dry desert state ever gets.
I'm not complaining though because I know we are marching steadily towards school schedules and busy days in the next few weeks.
It's hot here and the days are long.
But, we are doing our best to soak it all up and enjoy our last days of summer freedom and sunshine.
This recipe for Spiced Lemonade is written by: Allison Ruth of Some the Wiser
All the kids at my house have determined that there are two things that make these hot summer afternoons bearable:
Cold Drinks and Cold Water.
We are getting our Cold Water in the form of swimming pools, splash pads, a dip in the river here and there.
We also have a fun spinning sprinkler attached to the trampoline in the backyard.
The kids are living in their bathing suits for the next few weeks and it's probably only a matter of time before they start sporting gills and webbed feet.
When they do take a breather, they come looking for cold drinks.
This Spiced Lemonade is a recent creation that has been a big hit at my house.
Spiced Lemonade is not as sugary sweet as a canned lemonade mix, which I appreciate, and its unique flavor is so refreshing!
With a hint of cinnamon, cloves, and allspice, this lemonade makes a tasty summer treat that the whole family will enjoy.
Even the picky eaters like this Spiced Lemonade!
Spiced Lemonade
Yield: approximately 6 servings
Prep Time:10m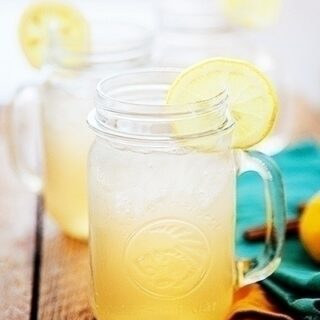 Ingredients:
1/2 cup sugar
1 quart, plus 2 cups water, divided
1/2 teaspoon whole cloves
2-inch cinnamon bark
1/2 teaspoon allspice
4 to 6 large lemons, juiced
1 lemon, sliced
Directions:
In a large saucepan, combine 1 quart of water, sugar and spices. Bring to a boil over medium heat. Simmer for 5 minutes and then strain.
In a large pitcher combine boiled water, lemon juice to taste, and 2 cups cold water. Refrigerate for at least one hour. Serve ice cold with sliced lemons on the side.