Triple Chocolate Raspberry Pudding Parfaits
I keep bemoaning the fact that I don't get to celebrate Valentine's Day with my sweetheart this year.
It's not that big of a deal really, but having been a single mom for over three years, it feels monumental to finally have someone special in my life and more than a little disappointing that we won't be together on the holiday dedicated to Love.
Still, I can't stop thinking about all of the special treats, like these Triple Chocolate Raspberry Pudding Parfaits, I would make to let him know how lucky I feel to be engaged to such a great guy.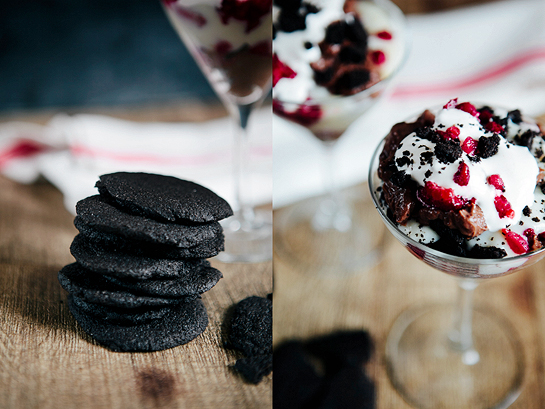 Written by Allison of Some the Wiser.
I dedicated my Chocolate Cherry Sweetheart Cookies to him last week.  This week, I'm dedicating these Triple Chocolate Raspberry Pudding Parfaits to the guy who turned my world upside down on this very website (Remember how he proposed to me right here on Good Life Eats!).
These parfaits look fancy, taste incredible, and are quite simple to make.  The combination of White Chocolate Pudding and Dark Chocolate Pudding makes these parfaits deliciously rich, but the chocolate pudding takes less than twenty minutes to whip up from scratch!
I made my own crunchy chocolate wafer cookies (I found a great chocolate wafer recipe here), but you could easily substitute store-bought chocolate cookies without sacrificing flavor.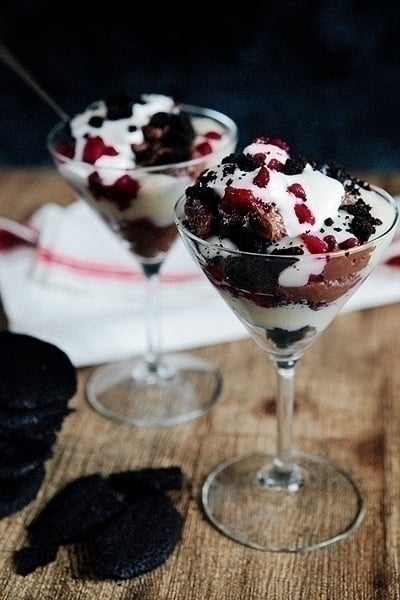 So, while my dear fiance will have to settle for some items in the mail (14 items, to be exact!) for Valentine's Day this year, I still get to show my love and appreciation in the kitchen for my kids, family, and friends.
Taking the time to make an extra special treat, something a little out of the ordinary, goes a long way towards making someone feel important and loved.
What do you do to make your loved ones feel special on Valentine's Day?
More Chocolate and Raspberry Valentine's Day Desserts
Chocolate Raspberry Pudding Parfaits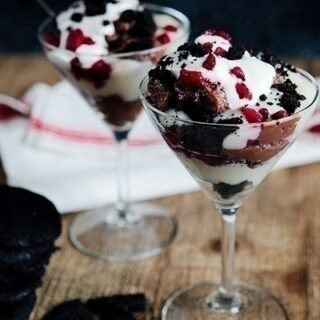 Ingredients:
2 1/2 cups skim milk, divided
3 tablespoons corn starch
1/3 cup sugar
1/4 teaspoon salt
2 egg yolks
1 teaspoon vanilla
2 teaspoons butter
2 1/2 ounces white chocolate, coarsely chopped
2 1/2 ounces dark chocolate, coarsely chopped
1 1/2 cups raspberries, fresh or frozen
1 cup chocolate wafer cookies, crumbled
1 cup whipped cream
Directions:
In a medium saucepan, heat 2 cups of milk over medium-low heat and bring to a boil. While milk is heating, combine starch, sugar, and salt in a medium bowl. Whisk together egg yolks and remaining 1/2 cup milk, then add milk mixture to the sugar mixture and stir to combine. When the 2 cups of milk come to a boil, reduce heat to simmer and whisk in the milk and sugar mixture. Stir constantly until pudding thickens, about 2 minutes, and remove immediately from heat. Stir in vanilla and butter.
Quickly divide pudding mixture evenly between two medium bowls. Stir the white chocolate into one bowl and the dark chocolate into the other bowl. Cover the surface of the puddings with plastic wrap and chill for 2 hours. When pudding is chilled, layer the dark chocolate pudding, white chocolate pudding, raspberries, and wafer cookies into four small bowls or cups. Top with whipped cream if desired and serve immediately or refrigerate covered for up to 2 hours.