These cut-out sugar cookies are a fun Valentine's Day dessert! Kids will love helping cut out the dough and decorating the finished Valentine cookies!
Click HERE to save this Valentine Cookies recipe!
Heart-Shaped Valentine's Cookies Recipe
When my kids were little, I had a tendency to focus on the kid aspect of Valentine's Day by doing fun things like baking cookies or cupcakes, and giving the kids a Valentine from me. Kids love to help decorate cookies!
Special Valentine's cookies, like these easy cut-out cookies, are a great way to celebrate at home and with friends.
If you want to host a fun Valentine's Day Cookie Decorating Party for your kids, check out my Tips for Hosting a Successful Kids' Cookie Party for lots of ideas and tips to get your started on your planning.
Valentine's Cookies Ingredients
To make the cut-out sugar cookies themselves, you'll need:
Unsalted butter
Granulated sugar
Light corn syrup
Lemon juice
Vanilla extract
Egg
All-purpose flour
Salt
And to make the cut out cookie frosting, you'll need:
Powdered Sugar
Whole Milk
Unsalted Butter
Vanilla Extract
Food Coloring (optional)
For the complete ingredient list and detailed instructions, scroll to the bottom of this post for the FREE printable recipe card!
Supplies for Making Cut Out Cookies
Besides the ingredients called for in this recipe, you'll need a few other supplies to make preparing and decorating these Easy Vanilla Cut Out Cookies easy: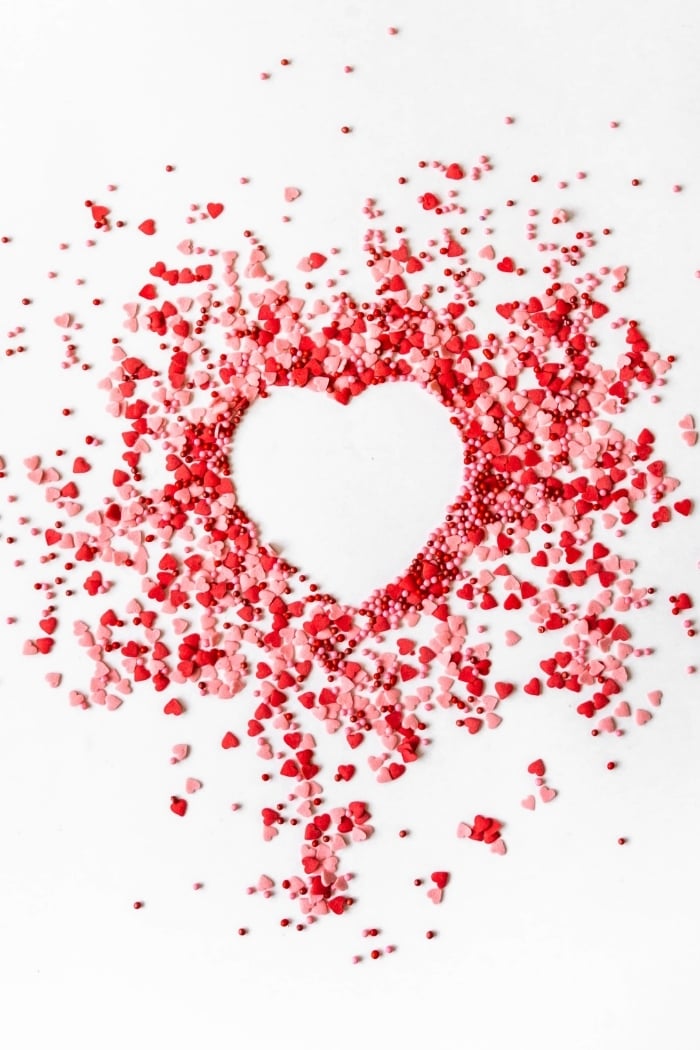 Click HERE to save this Valentine Cookies recipe!
How to Make Cut-Out Cookies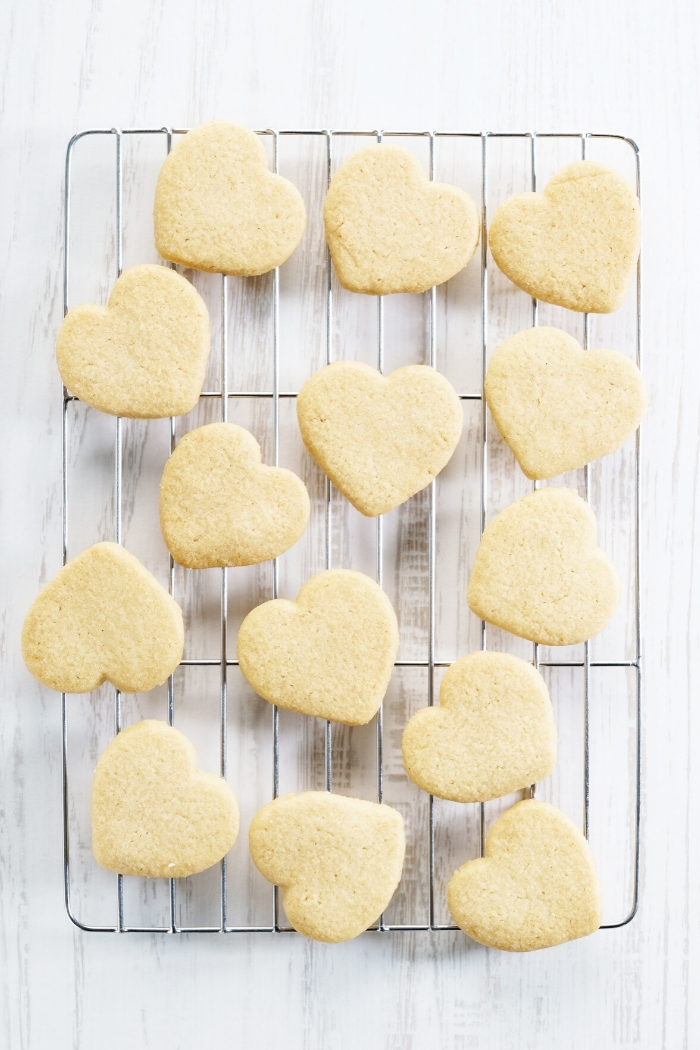 Don't let the pretty decorations fool you into thinking this Valentine cookies recipe is anything but easy! Here's how to make Valentine's Day cookies:
Cream together the butter and sugar.
Add the remaining ingredients to the butter mixture in stages, scraping down the sides of the mixing bowl as needed.
Cover the bowl with plastic wrap and chill the dough for 1 hour.
Roll out the dough until it's 1/8-inch thick.
Cut the sugar cookie dough into your desired shapes.
Bake the cut-out sugar cookies until lightly browned around the edges.
Once the Valentine cookies have cooled, make a batch of cut-out cookie frosting and decorate the cookies.
The above is simply a quick summary of this recipe. Check out the free printable card at the bottom of this post for all the detailed instructions.
Tips for Rolling Out Cut Out Cookie Dough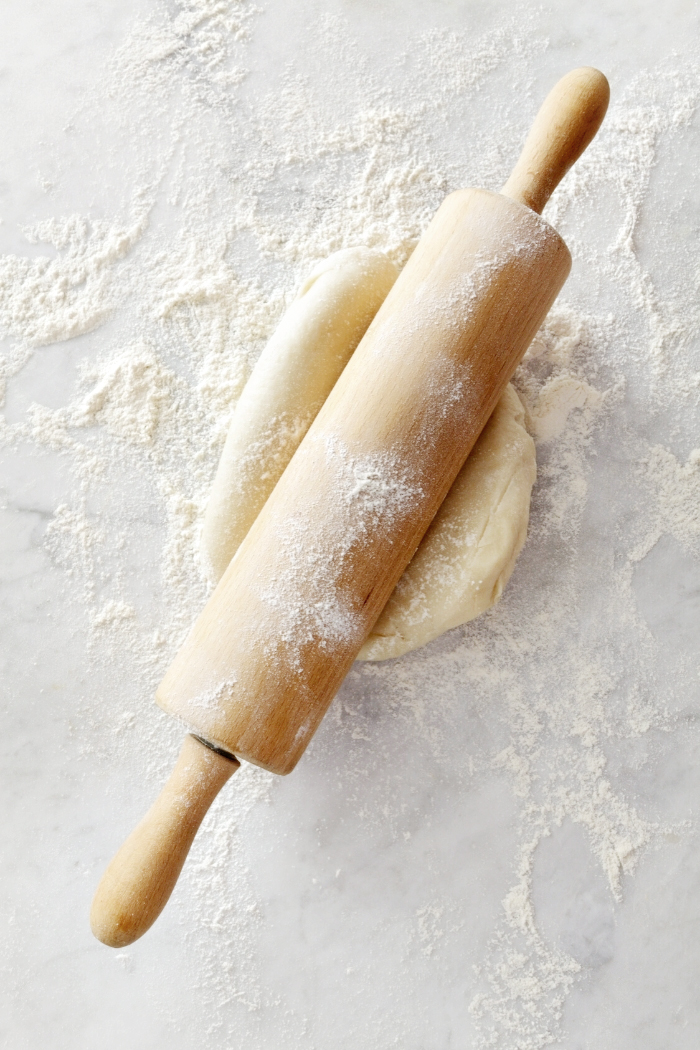 Make sure your surface is floured evenly (but not too heavily) to avoid sticking. Another tip is to use parchment paper – place the dough between 2 sheets and roll it out. This helps to prevent the dough from sticking to both the surface and the rolling pin.
I prefer to use the method of rolling the dough between 2 sheets of parchment paper. It helps to keep these Easy Vanilla Cut Out Cookies tender – it can be easy to add too much extra flour when flouring the surface which can result in excess flour in your dough.
How to Get Cut Out Cookies with Neat Edges
Have you ever wondered how to bake cut out cookies that hold their shape nicely and have nice edges?
The key to baking cut out cookies that don't spread all over the place is to chill the dough (which chills the butter after you've beat it!) on the baking pan before you bake the cookies.
The dough undoubtably warms while it is being rolled and handled. Re-chilling the dough helps preventing the cookies from spreading too much as they bake (which can happen too easily if the butter is already over warmed).
I also prefer to line my pans with parchment paper to help prevent sticking. Greasing baking pans to prevent sticking is not recommended in this instance as a greasy cookie sheet will lend to cookie dough that spreads more easily.
How to Frost Cut-Out Cookies
When decorating the Valentine cookies, you'll first want to outline the cookie shape with your chosen color of glaze. Next, fill the outline with additional frosting until the outline is filled completely solid. While still wet, add sprinkles, if desired.
For a swirled effect, choose two different glaze colors. First, outline the shape with the first color. Then outline the shape again, this time inside the first outline, with the second color.
Repeat this process until the entire cookie is filled with alternating colors. Using a toothpick, swirl the two colors together.
Can I Prep Valentine Cookies in Advance?
Yes, you can definitely prepare these Easy Vanilla Valentine Cut Out cookies in advance. There are a few time saving techniques. You can opt to use one, two, or none at all. Check my suggestions out:
Preparing the cookie dough a day ahead of when you plan to bake and decorate the cookies is the easiest way to prep in advance.
You can also save time by rolling the cut out cookie dough in advance, then store the cut out cookie shapes unbaked in a sealed container in the refrigerator for up to 2 days before baking. No need to warm before baking, they can transfer straight to the lined baking sheet while the oven preheats.
Cookies can be baked a day ahead of time, cooled completely, and stored in an airtight zip lock bag. Cooling them completely is important as any heat will add condensation to the bag.
You can completely prepare the cookies through the baking ahead of time. Chill completely and then freeze them in an airtight container until you're ready to decorate them. Remove them from the container and transfer to a wire rack to thaw while you prepare the ingredients for decorating.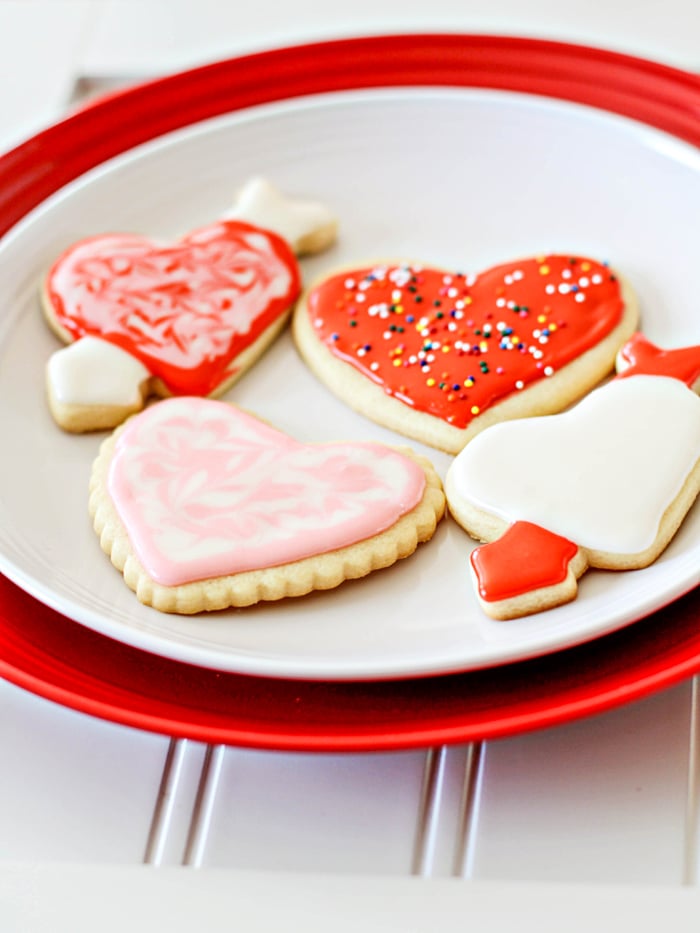 I highly recommend prepping and freezing the cookies if you're hosting a Valentine's Day party!
Tips for Making Valentine's Cookies
These cut-out sugar cookies can, of course, be adapted to any holiday you like by using different shapes and colors to decorate with.
If you'd like to prepare a lot of the cookies in advance and store them in the freezer for a variety of uses, I recommend using a simple circle cut out shape that will work well for any event or holiday.
If you prefer a cut-out cookie frosting flavor other than vanilla, like citrus or almond, you can also substitute those extracts in place of the vanilla extract. Lemon and almond flavored cookies are both delicious. Or, get extra creative by adding some citrus zest.
Also, some cut-out sugar cookie recipes call for almond extract in the cookie dough itself. If desired, I'm sure you could add a small splash of almond extract to this cookie dough recipe. Just be careful when doing so – someone with an almond allergy would also be allergic to almond extract.
Reader Reviews for these Valentine Cut Out Cookies
"Thank you for making a great tasting vanilla cutout cookie recipe. I'm allergic to almond extract and most recipes call for that, yet any other cutout recipe I've tried without almond extract is bland tasting. This one was great with the lemon juice- it doesn't taste lemony, but it gives the cookie an extra zing, almost like (weirdly) cream of tarter does. And they stay firm enough to decorate, but soft enough to eat! Thanks!" -Julie
More Valentine's Day Desserts:
Looking for more fun Valentine's Day recipes? Here are a few fun ideas to try:
Cherry Vanilla Cupcakes are perfectly pink and sweet for Valentine's Day.
This Raspberry Brownie Parfait is one of my favorite, easy desserts. Fudge-y brownies are layered with mascarpone whip and delicious raspberries
The combination of White Chocolate Pudding and Dark Chocolate Pudding makes these Triple Chocolate Raspberry Pudding Parfaits deliciously rich, but the chocolate pudding takes less than twenty minutes to whip up from scratch!
Chocolate Raspberry Vanilla Bean Marshmallows are a delicious and fun treat to eat or to add to a cup of hot cocoa.
These Valentine's Cupcakes are simple and moist chocolate cupcakes topped with a fail-proof cream cheese frosting colored pink for Valentine's Day!
Strawberry Fool is such an easy strawberry dessert recipe. It's basically strawberries and cream taken up a notch! Simple, yet delicious!
Don't see what you're looking for here? You can always head over to check out the recipe index to look for more recipes.
Love this Valentine Cookies Recipe? Sign up for Good Life Eats email updates and never miss another recipe!
How do you celebrate Valentine's Day at home?
Tag @goodlifeeats and include the hashtag #goodlifeeatsrecipes so I can see what you're cooking up in YOUR kitchen!
Click HERE to save this Valentine Cookies recipe!