Strawberry Fool is such an easy strawberry dessert recipe to make for Valentine's Day. It's basically strawberries and cream taken up a notch! Simple, yet delicious!
Click HERE to save this recipe for Strawberry Fool to Pinterest.
Easy Strawberry Dessert Idea
If you're looking for a super simple, last-minute idea for dessert for Valentine's Day, this Strawberry Fool is one of the easiest strawberry desserts you could make. I thought I would bump this recipe back up to the top and re-share it.
Essentially, a fool is nothing more than freshly whipped cream with mashed fruit folded in. For this particular recipe, I've used strawberries, making this a fancier take on strawberries and cream.
What I love about this easy strawberry dessert is that it really highlights the flavor of the fruit. Plus, it's 100% all-natural. It's not quite as rich as ice cream, or as sweet.
Not Valentine's Day? No problem! This easy strawberry dessert can be served any time strawberries are in season. Last year we served it for a summer bbq dessert and it was fantastic!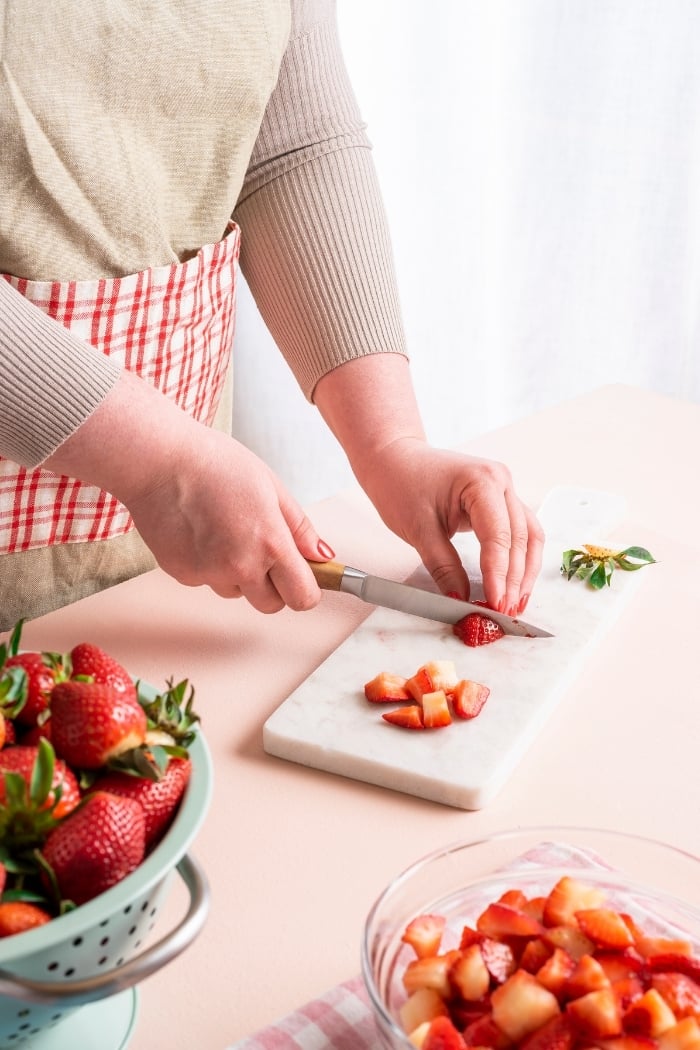 Click HERE to save this recipe for Strawberry Fool to Pinterest.
Strawberries and Cream Ingredients
This strawberries and cream recipe is so easy that any of our kids could make it themselves. It is even easier than making a pan of Homemade Fudgy Brownies, and it definitely makes less mess!
You'll need four simple ingredients, and I bet you have most of them already. Here's what goes into this easy strawberry dessert:
Strawberries
Heavy cream
Sugar
Vanilla extract
Optional Ingredients: Vanilla Bean, Grand Marnier, Chambord, or other fruit liqueurs
For the complete ingredient list and detailed instructions, scroll to the bottom of this post for the FREE printable recipe card.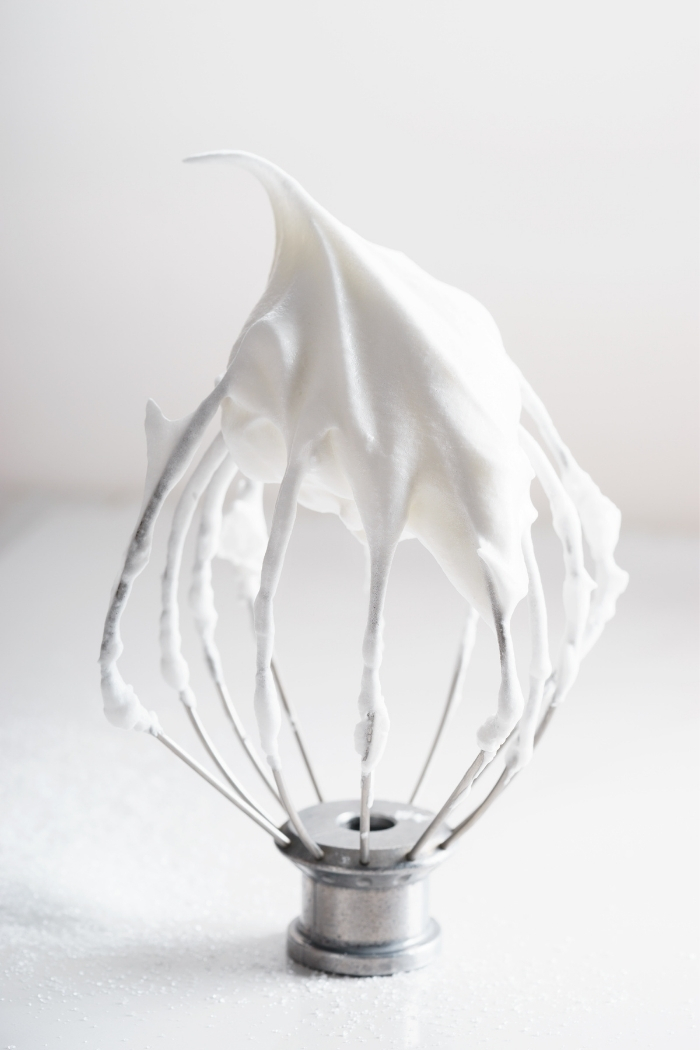 Click HERE to save this recipe for Strawberry Fool to Pinterest.
How to Make Strawberries and Cream
This strawberries and whipped cream dessert couldn't be simpler! Here are the basic steps to making strawberries and cream at home:
Beat chilled whipped cream until it becomes light and fluffy.
If you'd like to add vanilla bean, chambord, or grand marnier to the whipped cream you can stir it in here. Then, place it back in the fridge to chill until you're ready to use it.
Mash the strawberries in a large bowl, along with the sugar and vanilla extract.
Spoon the mashed strawberries into the whipped cream and gently fold them in. Reserve some of the mashed berries for serving.
To serve this fruit dessert, spoon some of the cream mixture into serving glasses or dishes, top with some of the remaining mashed strawberries, and add another spoonful or two of the cream.
Garnish each dish with a few sliced strawberries.
Step By Step Photos for How to Make this Recipe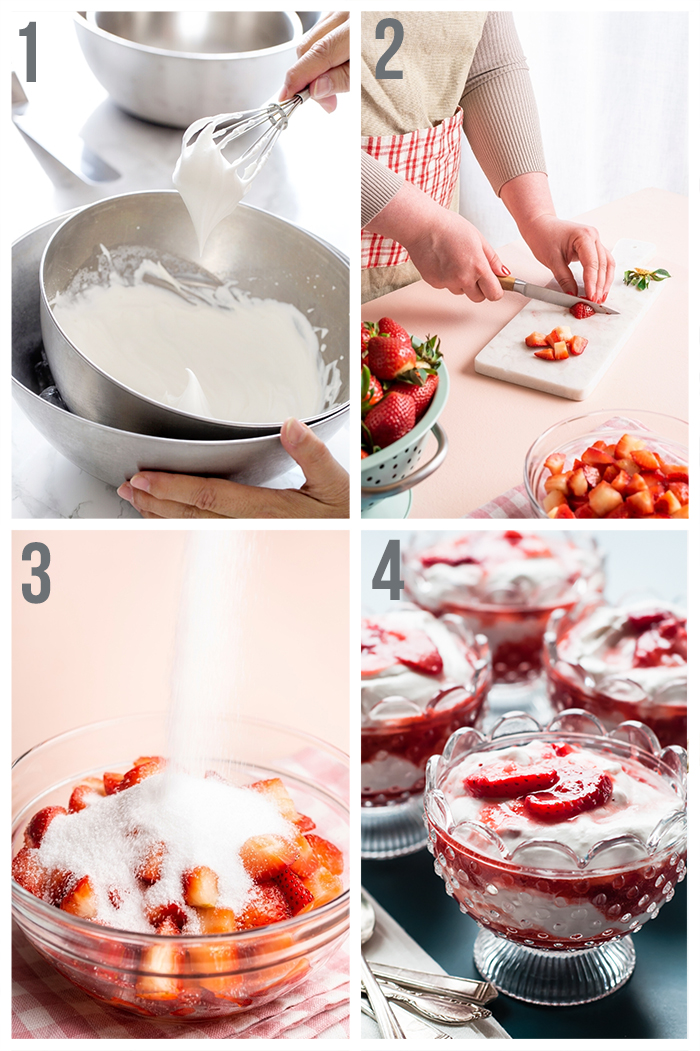 Click HERE to save this recipe for Strawberry Fool to Pinterest.
The above is simply a quick summary of this recipe. Check out the free printable card at the bottom of this post for all the detailed instructions.
Can I Use Frozen Strawberries?
Normally we make this easy fruit dessert when fresh fruit is plentiful during the summer and fall.
But, during the winter it can be harder to find quality fresh fruit, so using frozen fruit is perfectly acceptable. So feel free to turn this into a frozen or fresh strawberry recipe using whichever fruit is most easily on hand.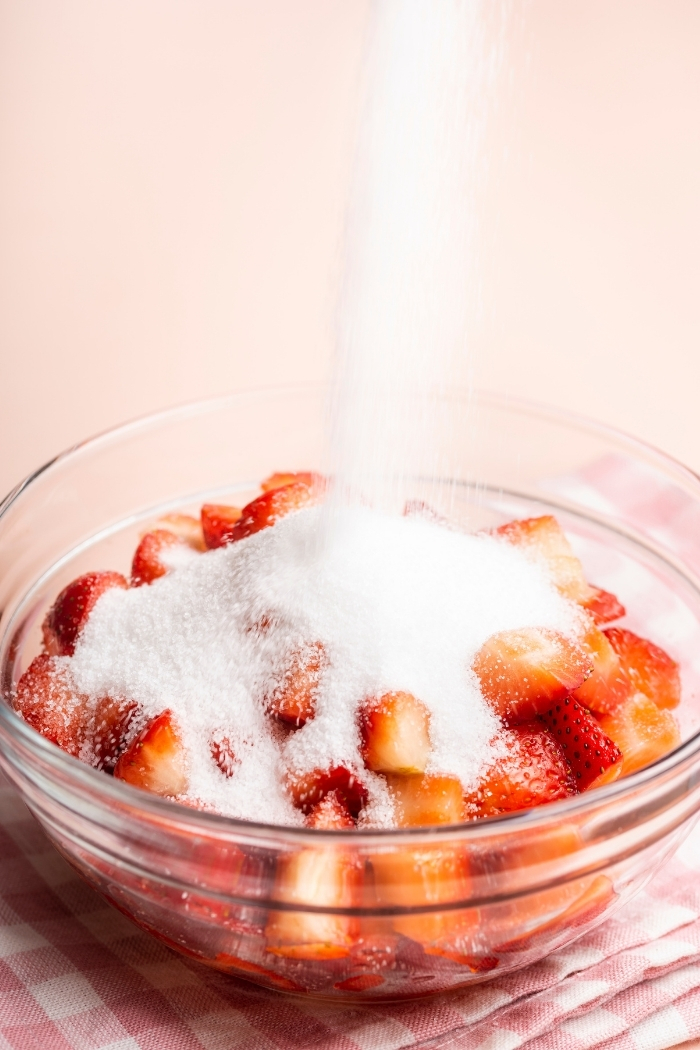 Click HERE to save this recipe for Strawberry Fool to Pinterest.
Can I Prep Strawberries and Cream in Advance?
Because this is a whipped cream dessert, it's best enjoyed within 4 hours of making it. If you wait too long to serve strawberries and cream, the whipped cream will deflate and the dessert will be runny.
You can however, do some of the prep work ahead of time to save time. Here are my suggestions:
Wash, dry, and slice your strawberries in advance.
You can prepare the strawberry, sugar, and vanilla mixture a few hours in advance and keep it refrigerated until you prepare the remainder of the recipe.
You can prepare and assemble the dishes up to 4 hours ahead of time at most. Keep them refrigerated until serving time.
Tips for Making Strawberries and Cream
This whipped cream dessert is really forgiving. You can change things up according to your preferences or what you have on had. Any type of berry works well, and a blend of berries is really tasty!
You can even add different extracts to this fresh strawberry dessert or make it fancy by adding flavored fruit liqueurs, like Chambord or Grand Marnier.
This recipe for Easy Strawberry Fool is really pretty and colorful if you serve it in individual clear glass parfait dishes or cute jars (I love Weck Jars!).
Click HERE to save this recipe for Strawberry Fool to Pinterest.
What Readers Are Saying:
"This is so simple, but I just know it's delicious! Wow!" — Dessert for Two
"I'm all about strawberries and cream. Yum!" — Dina
"I love how simple this is! My kiddo would go nuts for this, thinking I'd spent a ton of time on dessert." — Holly
More Easy Strawberry Desserts: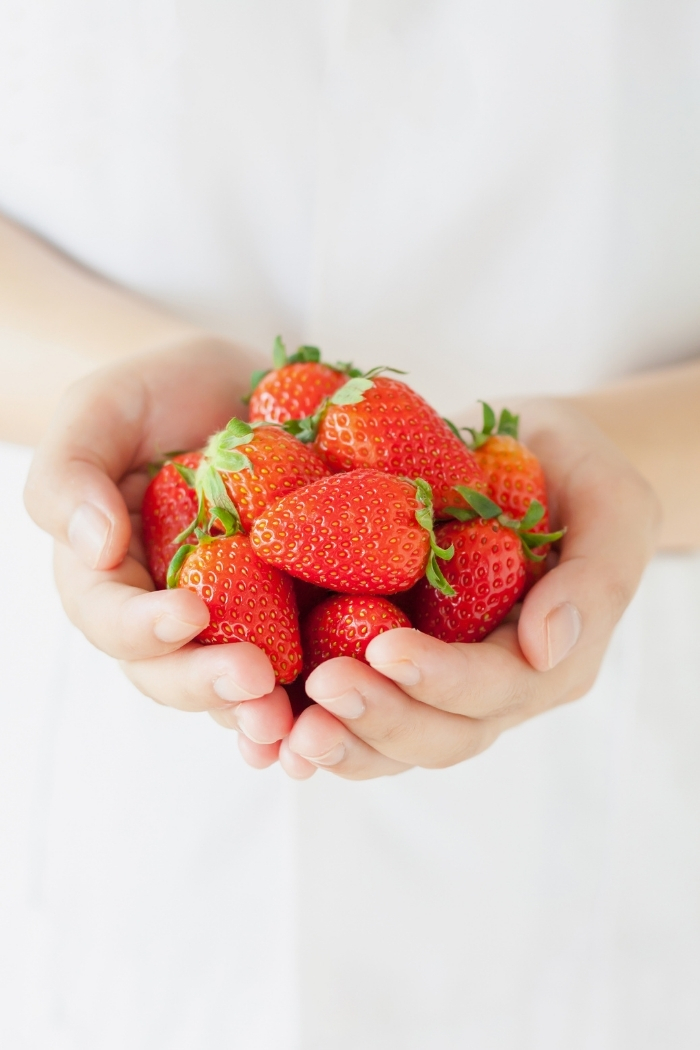 Click HERE to save this recipe for Strawberry Fool to Pinterest.
If you're craving something a little more refreshing, make a batch of these Creamy Strawberry Lemonade Popsicles. They're so easy to make, and kids love them!
These Basil Balsamic Strawberry Shortcake Parfaits are layered with strawberries soaked in a sweet balsamic and basil syrup, mini almond shortcakes, whipped cream, and sliced almonds.
Need to cool off? This Vanilla Frozen Yogurt is swirled with balsamic roasted strawberries and rhubarb. Bonus: it's a no-churn recipe!
This No-Bake Mango Lime Cheesecake is topped with a strawberry fruit salsa. It's tangy and sweet, and oh so delicious!
You'll be surprised when you learn how easy it is to make this Strawberry Orange Granita at home. It takes just 10 minutes to prep!
Don't see what you're looking for here? You can always head over to check out the recipe index to look for more recipes.
Love this recipe for Strawberries and Cream? Sign up for Good Life Eats email updates and never miss another recipe!
What's your favorite, easy go-to fruit dessert?
Be sure to follow Good Life Eats on Instagram. Tag @goodlifeeats and include the hashtag #goodlifeeatsrecipes so I can see what you're cooking up in YOUR kitchen!