No Bake Mango Lime Cheesecake with Fruit Salsa
When my friend Becca and I made the Strawberry Mango Salsa a few weeks ago, we did so with the intention of also using it as a topping for a new dessert – No Bake Mango Lime Cheesecake.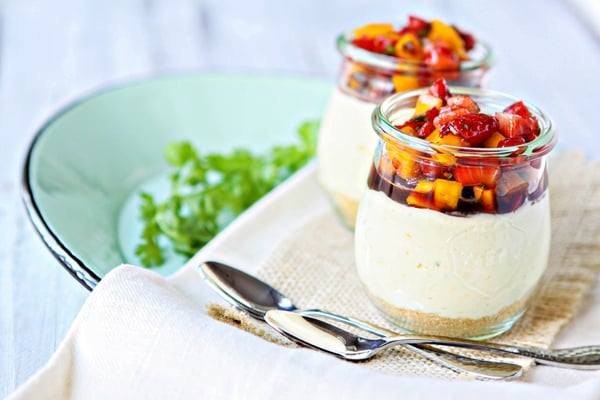 One of my favorite, easy summertime dessert recipes that I have shared here on GoodLife Eats is this Easy No Bake Raspberry Cheesecake (because as good as cheesecake is, who wants to bake one during the summer?). I knew that I wanted to revisit this recipe and come up with some new flavor combinations using the base of the original recipe.
These Individual No Bake Mango Lime Cheesecakes are an easy summertime dessert that provides a fun new take on my old recipe for Easy No Bake Raspberry Cheesecake. With the Strawberry Mango Salsa this recipe  is the perfect blend of sweet and savory. There is just a little hint of savory and spicy with salsa that pairs really well with the sweet, creaminess of the No Bake Mango Lime Cheesecake.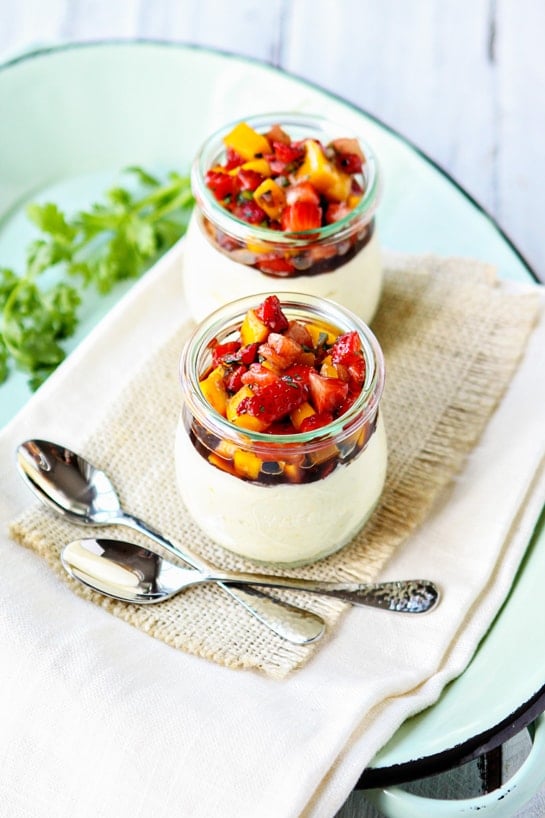 I had a lot of fun working on this recipe with Becca and sampling as we went. We had a little bit of a hard time waiting for it to chill at the end, but the great part about this No Bake Dessert is that it still tastes great if your taste buds are too impatient to wait.
What are some of your favorite No Bake Summer Desserts?
Summer Desserts
Looking for some more fun, no-bake summery desserts? Try a few of these:
No Bake Mango Lime Cheesecake with Fruit Salsa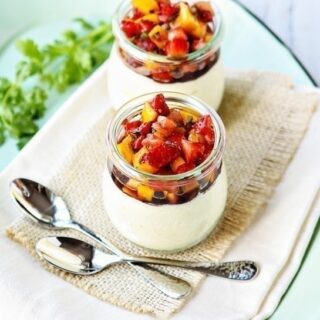 Ingredients:
Lime Sugar
1/3 cup + 1 tablespoon granulated sugar
zest of 1 lime
Crust
2 1/2 ounces store bought Lemon Snaps (hard cookies like gingersnaps, but lemon in flavor)
1 tablespoon butter, melted
1 tablespoon lime sugar
Filling
8 oz. cream cheese
1/3 cup lime sugar
1/4 cup whipping cream
1 teaspoon vanilla extract
8 oz. fresh mango, chopped
Topping
Strawberry Mango Salsa (click for recipe)
Directions:
Lime Sugar
In a food processor, combine the granulated sugar and lime zest. Pulse until zest is blended into the sugar and the sugar is fragrant. Set aside.
Crust
In a food processor, pulse the cookies and 1 tablespoon lime sugar together until the cookies become fine crumbs. Add the melted butter and stir well to combine.
Filling
Process the cream cheese, 1/3 cup lime sugar, cream, and vanilla in a food processor until smooth. Add the mango and process until only small bits of mango remain.
Assembly
Divide half of the cookie mixture between four 1/2 cup capacity dishes, pressing down until packed in the bottom of the dish. Divide the cheesecake mixture evenly between the dishes. Refrigerate for 1 hour, or until the filling has firmed up.
Before serving, garnish each dish with 2 tablespoons Strawberry Mango Salsa.