Fruity Mango Almond Butter
This Fruity Mango Almond Butter recently saved me from a food rut. I was staring down yet another slice of cheese toast last week when I realized that I had made a similar slice of cheese toast every morning for far too many days in a row.
Written by Allison of Some the Wiser
When I opened the freezer for almonds, planning to whip up a little almond butter for my apple slices, my eye settled on a bag of frozen mangoes. Everything that happened next was pure magic. Turns out Mangoes and Almonds combine to make one of the most delicious fruity nut butters I have ever tasted!
When you spread this delicious blend of fruit and nuts on an English muffin or slice of toast, it's almost like a simplified PB&J, but the more sophisticated incarnation of the favorite childhood snack.
This Mango Almond Butter is just as good spooned onto a slice of apple or scooped up with celery and carrots. It tastes like almond butter, but that fresh burst of mango has elevated it to everyone's favorite snack at our house now!
This revelation of a snack came at just the right time too. With a few extra pounds of baby weight left and a New Year ahead of me, I'm ready to buckle down and commit to losing a few pounds over the next few months. I've never been one for food fads or extreme diets, so homemade meals and healthy snacks paired with a more regular exercise regime is how I am planning to move forward.
This fruity nut butter is the perfect fuel for my current healthy eating and exercise plan. Using fruit reduces the nut butter's calorie density, making it a filling and healthy choice for snacking. The mango also adds a burst of flavor that makes this simple spread taste amazing, which completely satisfies my need for something sweet in the afternoon. I am totally hooked!
Fruity Mango Almond Butter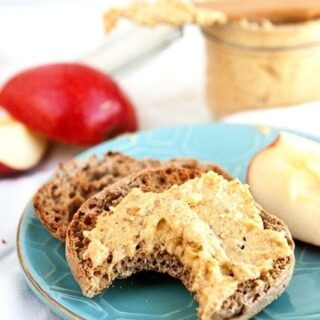 Ingredients:
2 cups mango, fresh or frozen and thawed
1 cup almonds
1 teaspoon coconut oil
pinch of salt
Directions:
In a high powered blender or food processor, pulse almonds until they become a coarse meal. Scrape down the sides, then add the remaining ingredients. Pulse, scraping down the sides as needed, for about 2 to 3 minutes or until mixture is thick, smooth, and creamy. Eat right away or store in the fridge for up to three days.