Oven-Baked Seasoned Fries
If you are like me, you could eat fries with a meal at least 3 times a week.
If you ate them out 3 times a week, or even bought the frozen version at the store… well we don't really need to talk about what that would do to our bodies.
But, with these homemade Oven-Baked Seasoned Fries, you can have your fries and eat them too!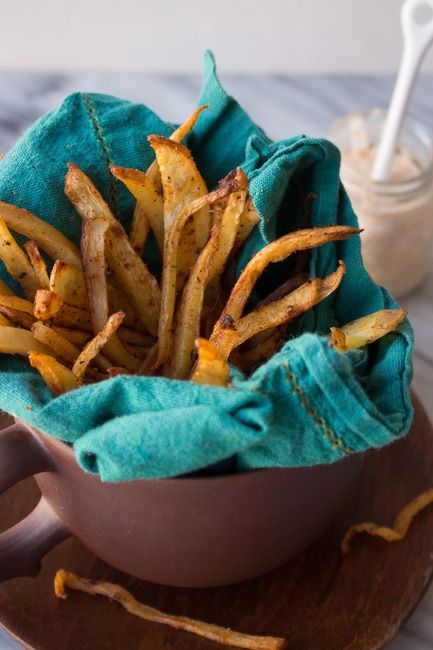 Written by: Carla of Carla's Confections Blog
I am ALLLLLL about being able to have food that doesn't seem or taste healthy, but in all reality, is actually not bad for you!
One of my favorite meals to make at home is homemade Chicken Strips.
They are also oven-baked, coated with Panko breadcrumbs and of course some amazing seasonings.
It makes me feel like I am eating out at a nice restaurant but eating something healthier for me all the same.
And I NEVER make Chicken Strips without the mandatory side dish of fries.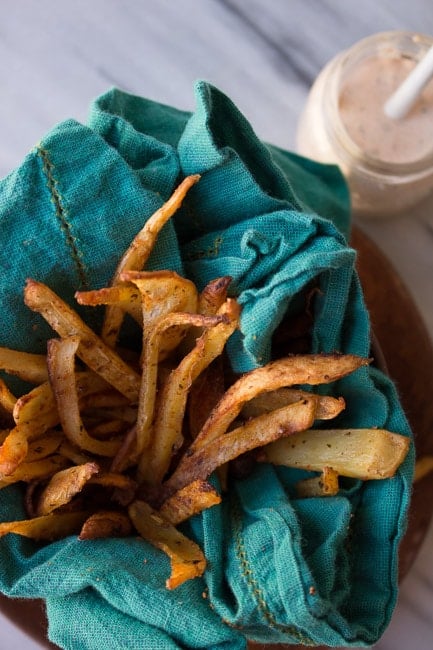 I switch all the time between using Russet potatoes, Golden potatoes and my favorite, Red potatoes.
You can feel free to use whatever potatoes you want here.
Like I mentioned, Reds are my favorite, but really for no other reason than the color.
I am a sucker for color.
And rhyming apparently.
You'll want to use a really nice quality knife to cut them up, because you want to get thin thin thin fries.
Otherwise they take too long to cook.
And ain't nobody got time for that!
As for the seasoning, you can really use whatever seasonings you want.
I tend to stick with garlic powder, onion powder, italian seasoning, paprika, salt and pepper.
But if something else in the spice cabinet is jumping up and down begging to be used… well how can you say no to such an eager spice???
Either way, you'll love these fries and I promise you won't have any desire to go back to the store bought frozen kind!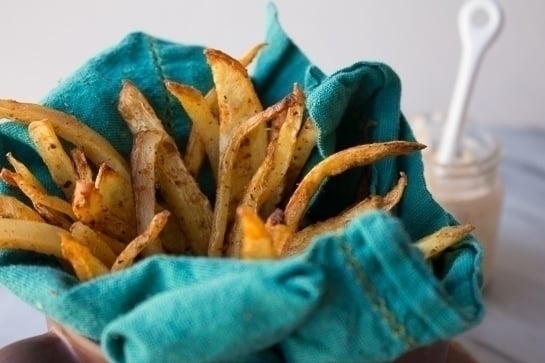 Do you have any unhealthy dinners turned healthy?
Oven-Baked Seasoned Fries
Yield: Serves 3-4
Prep Time: 15 min
Cook Time: 20-25 min
Total Time: 35-40 min
Easy oven-baked fries that will make you never want to eat the frozen variety again!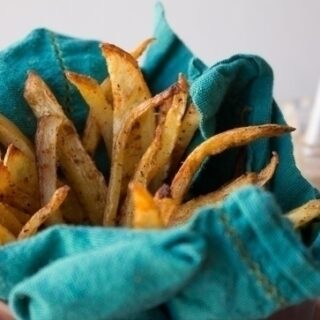 Ingredients:
1 1/2 lbs Russet, Golden or Red potatoes
2 Tbsp olive oil
1 tsp garlic powder
1 tsp onion powder
1 tsp paprika
1/2 tsp Italian seasoning
1/4 tsp crushed red pepper (optional)
freshly ground salt and pepper, to taste
Directions:
Preheat oven to 450°F and spray a large baking sheet with non-stick spray
If you are using Russet potatoes, wash and peel potatoes. If using Golden or Red, just wash potatoes. Using a sharp knife, slice potatoes into 1/4" thick slices, and then take those slices and cut them into fry-shapes, another 1/4" slice.
Place in a colander and rinse the starchy-ness off of the potatoes and dry thoroughly with paper towel. Place in a bowl, toss with olive oil and then with the seasonings, stirring well to combine.
Align on baking sheet in a thin layer. Bake 20-25 minutes, stirring frequently to keep from burning and sticking to the pan. Remove from oven when golden brown and slightly crispy. You can take them out sooner if cooked to your desire.
Serve warm with your favorite dipping sauce