Soft and chewy Gluten Free Oatmeal Raisin Cookie Bars with a mixture of old fashioned rolled oats, plump raisins, and chopped pecans.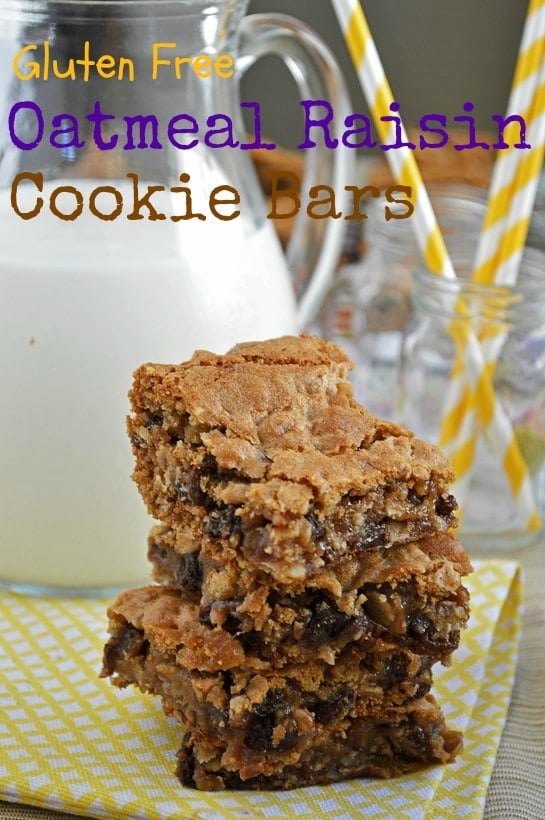 Written by: Brielle Gundersen of Breezy Bakes
Sometimes when I go grocery shopping alone I sneak in eating a cookie. I guess I don't really sneak it. I do pay for it. It's just that there is no way I would eat one in front of my kids in the middle of shopping. That would unleash pure chaos.
So it looks like I am the parent hiding treats from my kids rather than vice versa. Ooh, I'm good.
The last time I went grocery shopping alone was one evening after a haircut. I don't think I even necessarily needed anything; I'm sure I just wanted to prolong my alone time that evening. So, I ran into the grocery store. And what was the first thing I grabbed???
A fresh oatmeal raisin cookie. Heaven, pure heaven.
That cookie was ridiculous. It had a buttery crunch on the outside and a soft tender center filled with plump raisins and bits of oats. I could have filled my purse with these cookies if I didn't have any will power.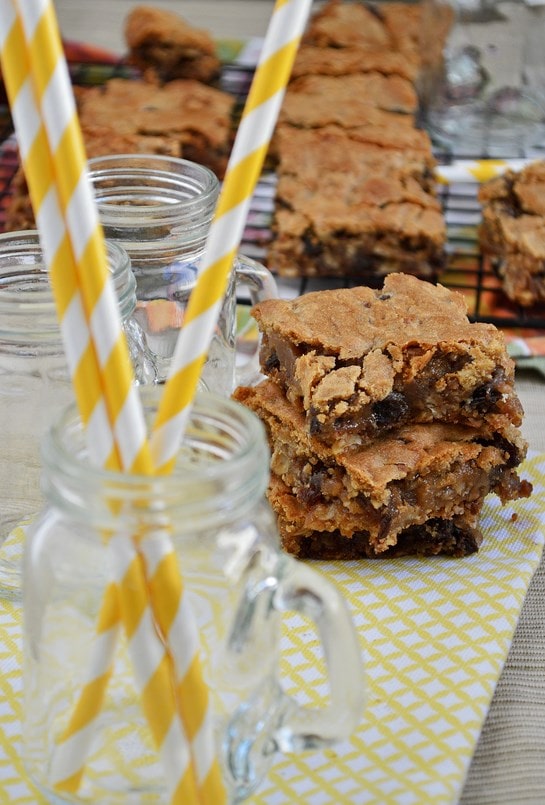 And now what have I been craving for the past two weeks?
Oatmeal raisin cookies. Like. Every. Day.
So it wasn't any shocker that when it came time to make another goodie I chose to whip up some of these gluten free Oatmeal Raisin Cookie Bars.
I was not disappointed.
These easy peasy oatmeal bars are soft, chewy, ooey, gooey and filled with cinnamon vanilla flavor. I love that this recipe requires no scooping and you can bake the dough all at once rather than having to sit there glued to the oven, waiting for batch after batch of cookies to bake. I literally made these from start to finish in 40 minutes while feeding my kids breakfast, getting myself ready for the day, and sending Braelyn off to school.
A serious no fuss treat for sure!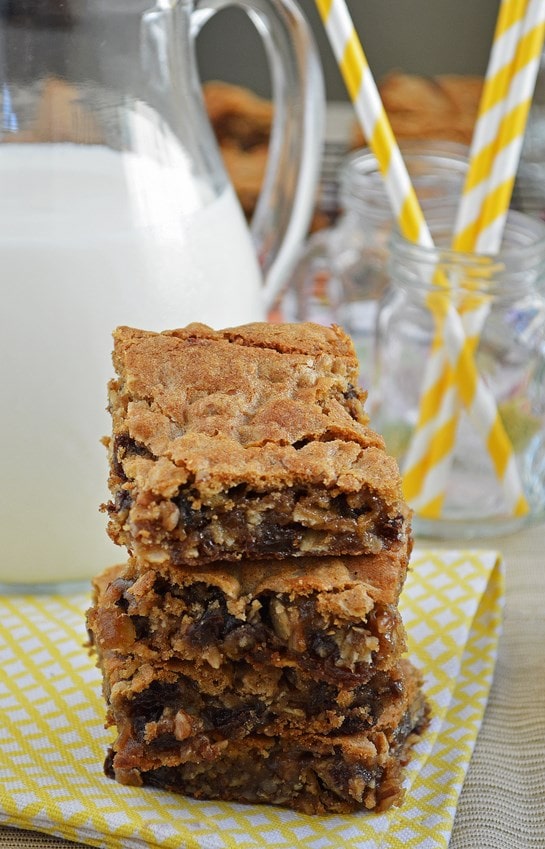 I also love that these cookies stay tasty for longer than a traditional cookie. I don't know about you, but I only like cookies the day they are baked. They tend to get stale and crumbly after that. Not these babies. I ate one tonight, 4 days after making them, and they were still soft and tender. A definite bonus after all that "not so hard work" to make them.
If you have the extra time and ingredients on hand, it really makes a difference to soak the raisins in a tablespoon of apple juice and a few shakes of cinnamon. It intensifies the flavor of the bars and makes those raisins plump and juicy. But if not, you're still looking at a killer dessert.
I prefer using old fashioned oats in this recipe rather than quick cooking oats because it yields more texture in the bars, and I am all about a little crunch and chew in my cookies. I like to think that the more adventurous you are with tastes and textures, the more refined you are. Am I right???
I mean, as a kid I would turn my nose up at any cookie with nuts, coconut, raisins, etc. And now I like those things. So it means I'm mature, right? Or so I'd like to think.
So the next time you are craving a treat but you don't hardly want to lift a finger, these bars are definitely for you. And I wouldn't be surprised if you eat the entire pan yourself.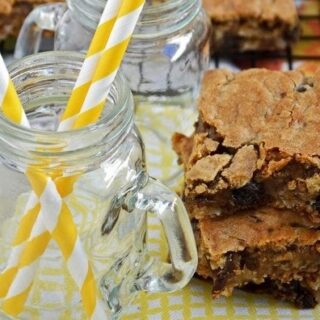 Gluten Free Oatmeal Raisin Cookie Bars
Yield: 16 bars

Prep Time: 15 minutes

Cook Time: 25 minutes

Total Time: 40 minutes

A soft and chewy gluten free blondie with a mixture of old fashioned rolled oats, plump raisins, and chopped pecans.
Ingredients
1 stick butter (1/2 cup), melted
1 egg
1/2 cup granulated sugar
1/2 cup brown sugar
1 teaspoon vanilla extract
1/2 cup brown rice flour
1/3 cup potato starch
1/3 cup gluten free oat flour
1/4 cup tapioca starch
1 teaspoon cinnamon
1 teaspoon baking soda
1/4 teaspoon baking powder
1/2 teaspoon xanthan gum
1/2 teaspoon salt
3/4 cup gluten-free old fashioned oats
2/3 cup raisins
1 tablespoon apple juice (optional)
4-5 shakes cinnamon (optional)
1/4 cup chopped pecans or walnuts
Instructions
Preheat oven to 375 degrees. Line an 8x8 baking pan with foil and grease with cooking spray. Set aside.
Melt butter and allow to cool slightly. In a large mixing bowl, combine melted butter, egg, granulated sugar, brown sugar, and vanilla extract. Beat until smooth, scraping down the sides of the bowl.
In a separate smaller mixing bowl, sift together brown rice flour, potato starch, oat flour, tapioca starch, 1 teaspoon of cinnamon, baking soda, baking powder, xanthan gum, and salt. Add dry ingredients to egg mixture and mix on low until combined. Beat an additional minute on medium speed.
Using a spatula or wooden spoon, stir in oats, raisins, and chopped pecans. Scoop dough into baking pan and smooth evenly across pan with spatula.
Bake at 375 degrees for 25 minutes until golden brown. Set on cooling rack to completely cool. Once cooled, lift foil from pan and cut block into 16 squares.
Store in an airtight container at room temperature for up to 4 days or in the freezer for up to 3 months.
Notes
If your raisins are hard, you can soak them in 1 tablespoon of apple juice and 4-5 shakes of cinnamon for an hour or heat them with the apple juice and cinnamon in the microwave for 30 seconds to soften. It adds more flavor as well.
Recommended Products
As an Amazon Associate and member of other affiliate programs, I earn from qualifying purchases.
Nutrition Information
Yield 16 Serving Size 1
Amount Per Serving Calories 366Total Fat 12gSaturated Fat 6gTrans Fat 0gUnsaturated Fat 5gCholesterol 42mgSodium 366mgCarbohydrates 61gFiber 2gSugar 46gProtein 7g

GoodLifeEats.com offers recipe nutritional information as a courtesy and is an estimate only. This information comes from online calculators. Although GoodLifeEats.com makes every effort to provide accurate information, these figures are only estimates.