You know what I haven't had in almost a year? An ooey gooey, light and fluffy, carb loaded cinnamon roll!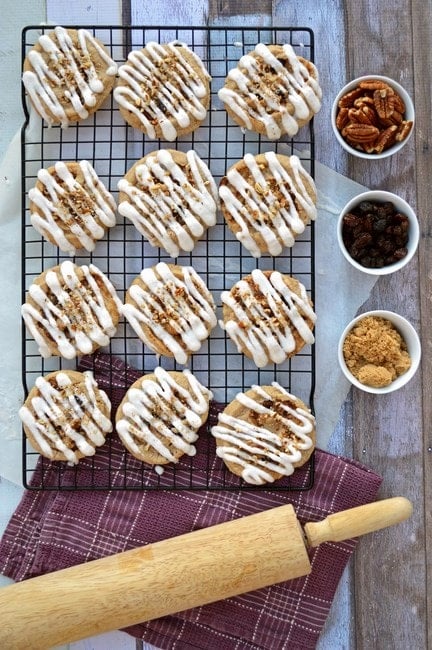 Oh cinnamon rolls, you are one thing that I miss. As much as I have conquered the rules of gluten free baking, one thing that I just can't seem to replicate perfectly is bread. I think my issue is that I want it to taste exactly like regular gluten bread, and it just never will. It's either light but dry (unless you heat it) or soft but dense, almost gummy in texture. I just haven't found a middle ground quite yet.
The recipes have come closest to acceptable in texture and flavor have dough the consistency of cake batter. There are pros and cons to this. Pro, no kneading. Con, no shaping. No shaping = no cinnamon rolls, no soft pretzels, no crescent rolls, you name it.
So instead of pulling my hair out trying to concoct yet another failed bread experiment, I found another way to suffice my oh so daunting craving of cinnamon rolls. There is no better way to fulfill a craving than with dessert, more specifically, cookies! If my bread dough can't be rolled, by golly my cookie dough can!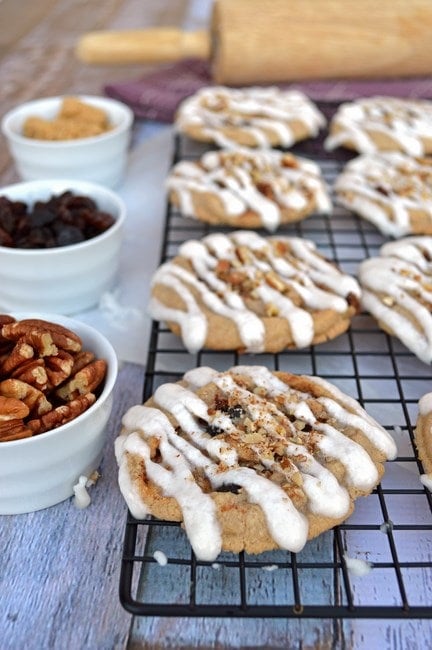 After a bit of tweaking to the base dough recipe of my Chocolate Chunk Oatmeal Craisin Cookies, I had the perfect start to these Gluten Free Cinnamon Roll Cookies.
These cookies not only have the exact taste of a freshly baked cinnamon roll, but they are soft and tender with a brown sugary undertone. They're sweetness is perfectly balanced by the ground cinnamon in the cookie and the touch of vanilla glaze.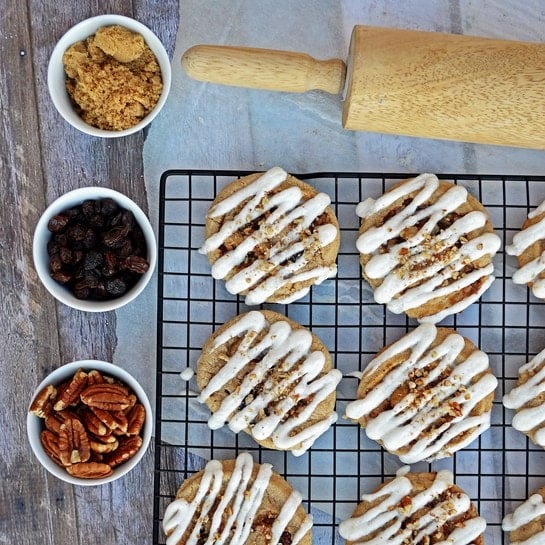 You can choose what to roll in the middle of the dough depending on your preference. I chose to put raisins and chopped pecans in ours, but I'm sure that cinnamon chips, butterscotch chips, or just plain cinnamon and sugar would taste great as well.
Either way you "roll the dough" you won't be disappointed with these warm, whimsical, wonderful cookies. Who needs cinnamon rolls anyway?!
In case you can't quite follow along the step by step instructions for rolling and cutting the dough (I try my best but I never really aced the "How To" papers in elementary school!) here is a picture guide for topping the dough, rolling it with the plastic wrap, slicing it, and placing it on the cookie sheet. Happy baking!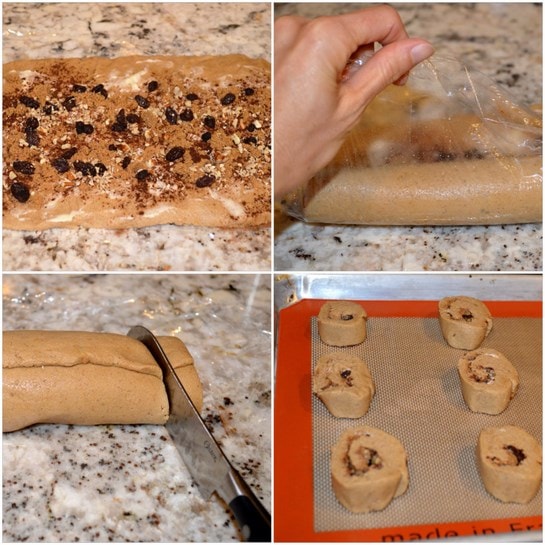 What is your favorite way to jazz up the traditional cinnamon roll?
If you enjoyed these cookies, be sure to check out some of my other favorite cookies like my Chocolate Marshmallow Dream Cookies, my Almond Butter Banana Chocolate Chip Cookies, my Super Soft Sixlets Cookies, and my Peanut Butter Almond Pinwheels.