Sweet and Sour Sausage
I have a love hate relationship with the school year. I love the routine and for the most part being able to predict how our day is going to go and knowing what time we have to be out the door in the morning.
I love that my kids are learning and for the most part enjoying school, making new friends and enjoying old friends. I love seeing all of the moms of my kids' friends that I seem to only see during the school year during morning drop off and after school pick up.
I love being able to get a few things done around the house a little more quickly than I can in the summer. And how I can for the most part exercise when I want, how I want since I don't have to plan it around the kids. And I think probably every mom out there appreciates being able to go grocery shopping without kids in tow.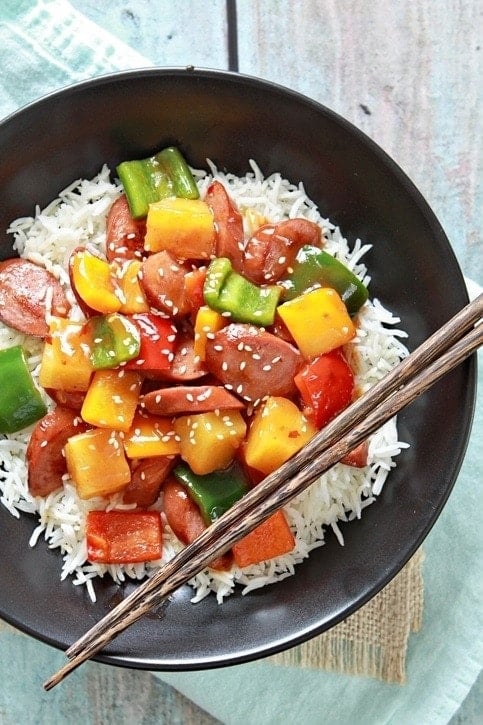 But, I miss the chill feeling and lack of routine that summer offers our family. As much as I like the routine, sometimes it is nice to not have to be anywhere. For the sun to be out late in the evening, to not really have a bedtime the way we do in during school year. To just play and run around the neighborhood and park after dinner with friends without worrying about getting to bed in time.
And then there's soccer. I love soccer season, but I don't love how practices get in the way of dinner time on certain nights or how everything has to be orchestrated just so if we want to get homework done, go to practice, and have a wholesome dinner. On nights like these we go for good, but easy or make-ahead.
This recipe for Sweet and Sour Smoked Sausage fits in the good, but easy category. If I get everything chopped and prepped before soccer it only takes a few minutes to throw together when we get home.
In this version of the classic sweet and sour recipe there is no battering or frying because the Butterball Hardwood Smoked Turkey Sausage has plenty of flavor on its own so you can forget about that time consuming and messy step. It is full of colorful peppers and juicy pineapple to compliment the savory sausage with a little extra punch thanks to some chili garlic sauce.
And best of all you're only using one skillet for the meal (and one saucepan for the rice) so you won't have a lot of dirty dishes at the end of a busy day. You're welcome.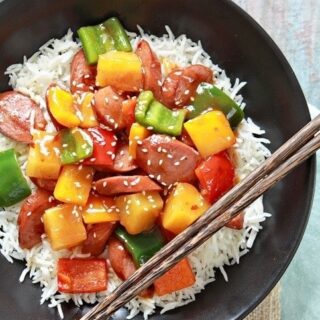 Ingredients:
1 package Butterball Hardwood Smoked Turkey Sausage, sliced approx. 1/4 inch thick
1 tablespoon olive oil
1 red bell pepper, chopped
1 orange bell pepper, chopped
1/2 of a green bell pepper, chopped
1 1/2 cups pineapple chunks
3 cups cooked rice
Chili Garlic Sweet and Sour Sauce
sesame seeds, for garnish
Chili Garlic Sweet and Sour Sauce
1/2 cup pineapple juice
3 tablespoons rice vinegar
3 tablespoons ketchup
2 tablespoons chili garlic sauce
3 tablespoons brown sugar
2 tablespoons soy sauce
1 tablespoon cornstarch
Directions:
Heat the olive oil in a large skillet over medium heat. Add the sausage and cook over medium heat, stirring occasionally, until lightly browned. Remove with a slotted spoon and set aside on a plate. Add the peppers to the pan and sauté over medium heat until tender. Remove and set aside with the sausage.
Chili Garlic Sweet and Sour Sauce
Combine all ingredients in the skillet and whisk until well mixed. Cook over medium high heat until boiling, then reduce to a simmer. Add the sausage, peppers, and pineapple. Stir to coat. Serve over rice. Sprinkle with sesame seeds if desired.
Disclosure: Disclosure: I've partnered with Butterball to create fun, new turkey recipes for their Turketarian program. This blog post is sponsored by Butterball. All opinions are my own.