Vietnamese Spring Rolls are incredibly fresh tasting and easier to make than you think! This fresh spring roll recipe can be served as an appetizer, side dish, or main dish. They're made using marinated shrimp, fresh vegetables, and plenty of fresh herbs. Serve the shrimp rolls with a side of peanut dipping sauce to round out your meal.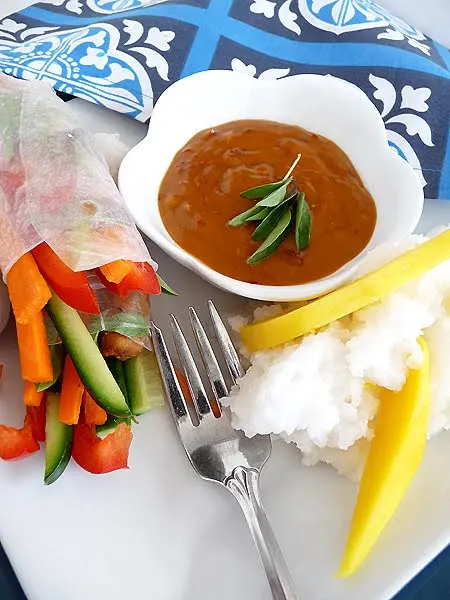 Making these Vietnamese Spring Rolls
During my friend's visit last week, we decided one of the nights that we weren't going to make dinner until after we put the kids to bed.
We had eaten a big lunch out and thought we could wait. My husband was out of town, so it was a fun girl's night in sort of evening.
Knowing how much my friend loves Asian food, I told her that we should pick a recipe out of The Steamy Kitchen Cookbook, a brand new cookbook written by Jaden Hair that I had just purchased.
We decided that spring rolls looked like the perfect girl's night in recipe. And I was finally able to put the Thai Basil in my garden to good use!
Vietnamese Spring Rolls are Easy to Prepare!
Once you get past the vegetable chopping, it's really a very simple meal. The only parts of the recipe that have to be cooked are the shrimp and the dipping sauce.
This recipe is great for social gatherings, too! We assembled all the ingredients on plates at my kitchen table and assembled our rolls as we talked an ate.
Once you've done a few rolls it's really not that hard at all and the taste is incredible and fresh.
I thought spring rolls were fried?
There are different types of spring rolls and this recipe is for fresh spring rolls.
Fried spring rolls use a different type of wrapper that is made with wheat flour, water, salt, and oil whereas these fresh Vietnamese spring rolls use rice paper for the wrappers.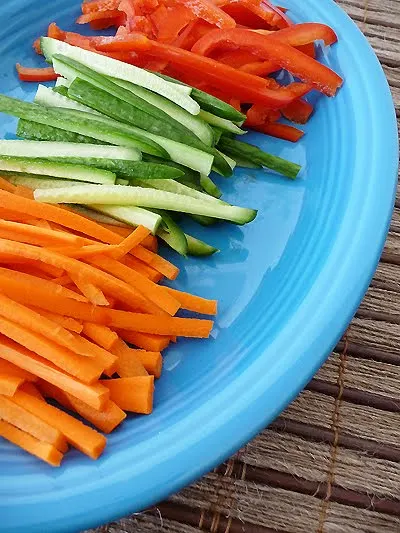 Ingredients for Spring Rolls
There are 3 components to this recipe: the marinated shrimp, the fresh veggies, and the homemade peanut sauce. Don't let the long ingredient list discourage you, this recipe is actually relatively simple to prepare!
Here's what you'll need to make these rice paper spring rolls:
For the Shrimp
Lime Juice and Zest
Fresh Garlic
Soy Sauce
Fish Sauce
Honey
Shrimp
For the Spicy Peanut Sauce
Avocado Oil
Sesame Oil
Fresh Garlic
Hoisin Sauce
Honey
Chili Garlic Sauce
Creamy Peanut Butter or Almond Butter
Water
For the Homemade Spring Rolls
Butter Lettuce or Green Leaf Lettuce
Red Bell Peppers
Thai Basil
Mint Leaves
Rice Paper Wrappers
For the complete spring roll ingredients list and detailed instructions to make these shrimp spring rolls, scroll to the bottom of this post for the FREE printable recipe card.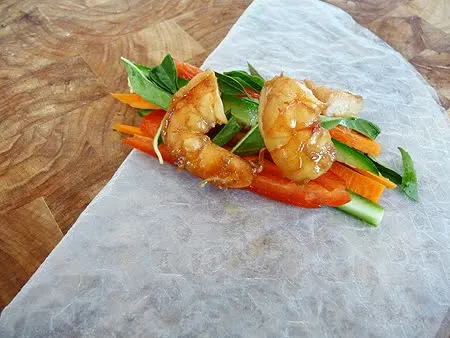 How to Make this Vietnamese Spring Rolls Recipe
First, you'll prepare a marinade for the shrimp.
While the shrimp marinates in the fridge, you'll prepare the peanut dipping sauce, and chop all of the fresh vegetables into thin slices.
After marinating, the shrimp is quickly cooked in a hot wok.
Then, you'll fill a deep plate or pie tin with cold water. Dip the delicate rice paper in the water until it becomes pliable.
Lay the spring roll wrappers on a clean work surface, then layer the fresh herbs, cooked shrimp, and sliced vegetables inside.
Roll the Vietnamese rice paper rolls up, securing all of the filling ingredients inside.
Serve with dipping sauce!
The above is simply a quick summary of how to make these shrimp spring rolls with peanut sauce. Check out the full recipe in the free printable recipe card at the bottom of this post for all the detailed instructions.
Tips for Making Vietnamese Spring Rolls
To make this recipe faster to prepare, you can prep all of the vegetables and herbs in advance and store in the refrigerator in an airtight container.
Don't skimp on or leave out the fresh mint and Thai basil. The herbs add a TON of flavor!
Mix things up by using red and yellow bell peppers for extra color.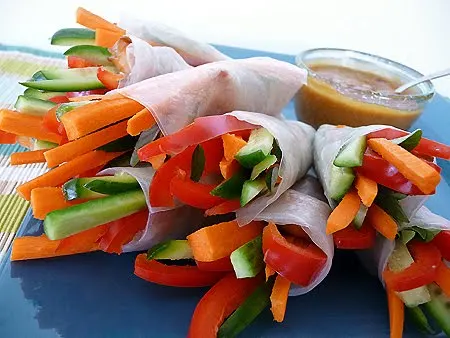 Vietnamese Spring Roll Recipe FAQs
Got questions about how to make this shrimp spring roll recipe? Here are the answers to a few commonly asked questions. Feel free to leave any other questions in the comments on this post and I'll respond with answers.
Can I use a different protein?
Sure! The original recipe used pork and I adapted it to use shrimp instead. You could use pork tenderloin, pork belly, chicken, tofu, or make them without any protein.
Can I add other vegetables or ingredients?
Yes, but make sure you don't over fill them otherwise the rice paper will be difficult to roll.
Ideas for other ingredients you can use:
bean sprouts
vermicelli rice noodles
shredded red cabbage
green onions
mango slices
blanched green beans
other colors of bell peppers
What should I serve with Vietnamese shrimp spring rolls?
Typically you serve spring rolls with a nut based dipping sauce.
The recipe's original dipping sauce uses either peanut and cashew butter. We never have peanut butter in the house since Logan is severely allergic to peanuts, so we use almond butter.
For a side dish, we served ours with a side of coconut sticky rice with fresh mango.
You might also like coconut quinoa, ground chicken lettuce wraps or quick sesame noodles, or if you want to serve this recipe as part of a multi-course meal.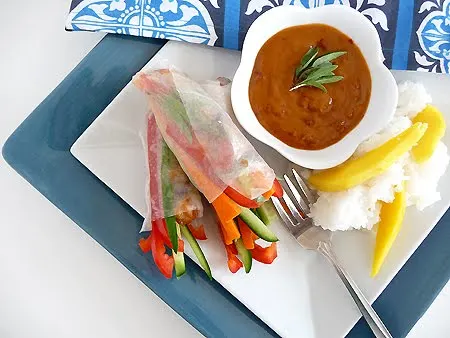 Try these Vietnamese Spring Rolls!
Next time you're looking for a delicious Asian inspired appetizer to make at home, give this recipe for Vietnamese spring rolls with peanut sauce a try!
Did you think it was fun to make your own spring rolls? Leave a comment below and give it a review for others to see what you thought of this great recipe.
On Instagram? Share your photo and tag me with @goodlifeeats and #goodlifeeatsrecipes. I'd love to see your photo of your shrimp rice paper rolls!
More Asian Inspired Recipes
In these Banh Mi Inspired Lettuce Wraps, marinated pork is served in lettuce leaves with plenty of Vietnamese Pickled Veggies and Cilantro Rice for a light and refreshing meal.
These Asian Meatballs are coated in the most amazing homemade sweet and sour sauce. Serve alone as an appetizer, or over rice to make a meal!
A simple and quick recipe for Vietnamese Noodle Soup with Beef. Contains snow peas, shiitake mushrooms, basil, cilantro, beef, noodles, & broth.
Beef and Broccoli is one of my favorite Chinese takeout dishes! It has plenty of rich flavor thanks to the tender beef slices, a savory sauce, and bright, crisp broccoli florets.
Don't see what you're looking for here? You can always head over to check out the recipe index to look for more recipes.
Get More Great Recipes via Email
Did you love this Vietnamese spring rolls recipe? Sign up to receive Good Life Eats Email Updates and never miss another recipe!
Have you ever made fresh spring rolls?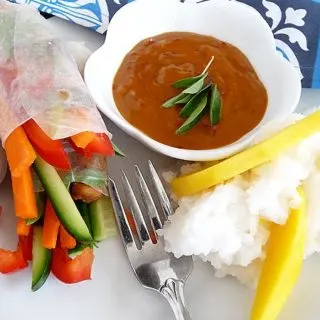 Vietnamese Spring Rolls
Assembly Time:
15 minutes
Vietnamese Spring Rolls are incredibly fresh tasting and easier to make than you think! This fresh spring roll recipe can be served as an appetizer, side dish, or main dish. Serve the shrimp rolls with a side of peanut dipping sauce to round out your meal.
Ingredients
For the Shrimp
1 teaspoon Lime Zest
1 Lime, juiced
2 cloves Fresh Garlic, minced
2 teaspoon Soy Sauce
2 teaspoon Fish Sauce
1 teaspoon Honey
1 lb Shrimp, cleaned, deveined and tails removed
For the Dipping Sauce
2 teaspoons Avocado Oil
1/2 teaspoon Sesame Oil
3 cloves Fresh Garlic, minced
2 tablespoons Hoisin Sauce
1 tablespoon Honey
1 tablespoon Chili Garlic Sauce
3 tablespoons Creamy Peanut Butter or Almond Butter
3/4 cup Water, divided
For the Spring Rolls
1 head soft, leafy Green Lettuce, leaves separated
1 English Cucumber, cut into matchsticks
2 Carrots, peeled and cut into matchsticks
1/2 of a Red Bell Pepper, cut into matchsticks
1/2 of a Yellow Bell Pepper, cut into matchsticks
1/2 cup thinly sliced Purple Cabbage
1 big handful fresh Thai Basil
1 big handful fresh Mint Leaves
1 – 12 oz package Rice Paper Wrappers
Instructions
Preparing the Shrimp
Combine the lime zest, lime juice, garlic, soy sauce, fish sauce, and honey in a medium sized mixing bowl. Whisk to combine.
Add the shrimp to the bowl, stirring to coat it with the marinade.
Cover the bowl in plastic wrap and transfer to the fridge to chill and marinate for 30 minutes.
Preparing the Vegetables for the Spring Rolls
Meanwhile, separate the lettuce leaves, then wash and dry them.
Cut the cucumber and red bell pepper into thin matchstick strips.
Peel the carrots and cut them into matchsticks. Thinly slice the cabbage.
Remove the leaves from the stems of the Thai basil and fresh mint. Discard the stems. Wash and dry the leaves.
Set all ingredients aside on a large cutting board or a large platter until spring roll assembly.
Making the Dipping Sauce
Set a small saucepan over medium-low heat. Add the oil to the pan and heat.
Then, add the garlic and cook until fragrant, approximately 30 seconds.
Next, add in the hoisin sauce, honey, chili garlic sauce, almond or peanut butter, and half of the water.
Stir with a small wire whisk until the ingredients are well blended, adding additional water if needed to achieve desired consistency.
Remove from heat and transfer the sauce to a small serving bowl for dipping.
Cooking the Shrimp
Place a woke over high heat and heat until the wok is very hot, evenly throughout.
Remove the shrimp from the marinade and add the shrimp to the hot wok in a single layer, working in batches if needed so the shrimp isn't crowded.
Cook for 30 seconds to 2 minutes per side, depending on how large the shrimp are.
Set aside the cooked shrimp on a clean plate.
Preparing the Rice Paper Wrappers for Rolling
Fill a pie tin with cold water. Then, slowly submerge the edge of one of the rice papers, turning so that each edge of the circle is dipped in the water for about a second.
Submerge the entire rice paper for 1 second, flip, and submerge again.
The rice paper should be slightly stiff still but more pliable than before.
It is best to wet only one rice paper at a time, fill and roll that spring roll, and then repeat with the remaining ingredients.
Assembling the Spring Rolls
Lay the rice paper on a clean surface.
Place a few leaves of fresh mint and Thai basil on the lower third of the rice paper.
Top with a lettuce leaf, a few pieces of sliced cabbage, a couple pieces of carrot, bell pepper, and cucumber, 3 cooked shrimp, and more herbs.
Fold the rice paper like you would a burrito: pick up the rice paper wrapper closest to you, pulling it over all of the fillings (folding it in half with the filling inside.
Then, fold the sides in towards the middle. After that, roll the rice paper wrapper into a log shape.
Using a sharp knife, cut each roll in half at an angle.
Arrange the bowl of dipping sauce and the the cut spring rolls on a platter for serving.
Garnish with additional fresh herbs, black and white sesame seeds (if desired), and lime wedges.
Recommended Products
As an Amazon Associate and member of other affiliate programs, I earn from qualifying purchases.
Nutrition Information
Yield

8
Serving Size

1
Amount Per Serving
Calories

326
Total Fat

8g
Saturated Fat

1g
Trans Fat

0g
Unsaturated Fat

5g
Cholesterol

120mg
Sodium

877mg
Carbohydrates

46g
Fiber

5g
Sugar

7g
Protein

19g
GoodLifeEats.com offers recipe nutritional information as a courtesy. This provided information is an estimate only. This information comes from online calculators. Although GoodLifeEats.com makes every effort to provide accurate information, these figures are only estimates.