Quick and Easy Sesame Noodles
I have had this recipe for Sesame Noodles bookmarked for a few weeks now. They looked so fresh and easy, great for a school night dinner when our schedules are a bit more rushed. I finally got around to making it last week, which was timely because I had a bottle of Nakano Red Pepper Rice Vinegar to taste and this was a perfect recipe to test it out in.
I normally buy plain Rice Vinegar, so it was a nice change to use something more flavored. I liked the little bit of zip the Red Pepper flavor added to the Sesame Noodles and it make making the dressing that much quicker. I can see that Nakano Rice Vinegars would have a variety of uses. I've never tried it before now, but a while back I was out to dinner with some friends for a baby shower and a friend actually pulled a bottle of this out of her purse to use on her salad instead of the high fat, high calorie restaurant salad dressing. I bet it would be great in marinades too.
You definitely have to try these Sesame Noodles. It is such a fast meal to prepare! I made them late in the afternoon and kept them in the refrigerator while I went to pick Logan up from school and until it was dinner time. The whole recipe, photography, and clean up took about 30 minutes. I did buy pre-cut matchstick carrots (they were on sale) and that did make it a little easier. I'm glad to have another fast recipe for crazy school nights! If you're willing to put a little more effort into it, I have a hunch that this Lemongrass Shrimp would be delicious tossed in.
Quick and Easy Sesame Noodles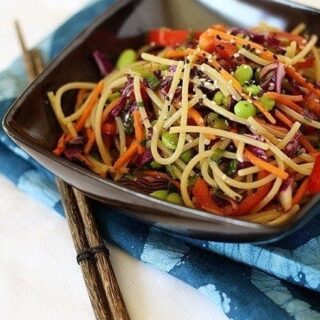 Ingredients:
12 ounces spaghetti
1/2 cup reduced-sodium soy sauce
2 tablespoons sesame oil
2 tablespoons canola oil
2 tablespoons Nakano Red Pepper Rice Vinegar
1 teaspoon fresh ginger, peeled and grated on a microplane
1 bunch of scallions, sliced
1/4 cup chopped fresh cilantro
1 1/2 red bell peppers, sliced thin
1/4 piece of red cabbage head, sliced thin
1-2 large handfuls matchstick cut carrots
1 1/2 cup shelled frozen edamame
1/2 cup toasted sesame seeds
Directions:
Cook pasta according to directions. Drain, rinse under cold water.
To make dressing, whisk soy sauce, sesame oil, canola oil, vinegar, and ginger. Prepare all the vegetables as directed and toss with the dressing, then combine with pasta. Top with sesame seeds. Serve cold. Salt and pepper to taste, if desired. Serves 4-6.
Giveaway (1 winner): Nakano Prize Pack ($25 Gift Card, 1 bottle of seasoned vinegar and a coupon/recipe booklet).
The Rules:
Visit the NAKANO website then come back and tell us what your favorite Splash tip is (by 11:59 PST August 27th)
Anonymous comments: leave your email address and first name in the comments.
1 random winner will be announced by August 30th. I will notify you via email and you will have 72 hours to respond before I choose a new winner.
Contest open to US Residents only.
Extra Entries: Additional entries can be earned by doing any of the following, giving you a total of 3 entries. Leave a separate comment for each of your entries.
Nakano provided me with a small grocery budget to purchase ingredients for a recipe and a bottle of Nakano Vinegar.