These Asian meatballs are coated in the most amazing homemade sweet and sour sauce. Serve alone as an appetizer, or over rice to make a meal!
Easy Asian Meatballs Recipe
We have been so busy at home lately. Yesterday left me wondering when the last time it was that I prepared a really nice weeknight meal. Sure, we've still been eating well, but I've been preparing simpler main dishes and relying on leftovers quite often.
Yesterday I was craving a robust, flavorful and filling meal…not something that was simple to throw together. The kind of thing I envision when I think of sitting down to a family dinner. Meatballs came to mind, but I didn't feel like Italian or pasta.
So how could I tweak that to align with the flavors I was really looking for?Asian-inspired was the way to go! Filling and hearty with tons of flavor. Add some vegetables with the sauce and serve the dish with rice, and you have a family dinner-worth one dish meal.
Yes, it was time consuming to prepare, but being in the kitchen with a wrote task like rolling meatballs was cathartic. It made me slow down on the preparation instead of feeling in a rush to get food on the table.
I prepared the food in the late afternoon since I know hungry tummies would be coming home from school and would not like their dinner delayed.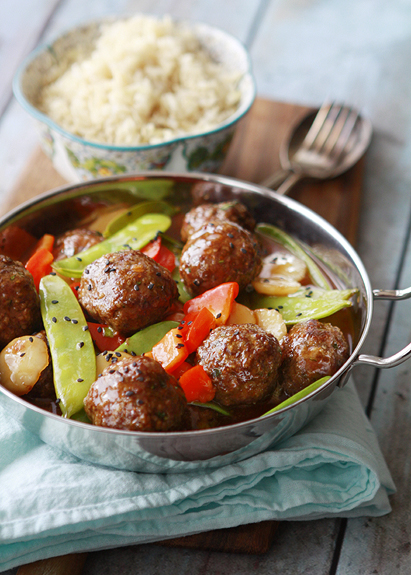 Click HERE to save this recipe for Asian Meatballs!
Asian Meatballs Ingredients
This sweet and sour meatballs recipe has a lengthy ingredient list, but that's what makes these taste so amazing! Here's what you'll need to make these Asian meatballs with homemade sweet and sour sauce:
Ground beef
Milk
Egg
Soy sauce
Honey
Sesame oil
Pure ginger oil
Herbs and spices
Garlic
Carrot
Mushrooms
Green onions
Panko breadcrumbs
And the sweet and sour sauce for meatballs is made with:
Pineapple juice
Ketchup
Hoisin sauce
Soy sauce
Apple cider vinegar
Ginger oil
Brown sugar
Honey
Cornstarch
For the complete ingredient list and detailed instructions, scroll to the bottom of this post for the FREE printable recipe card.
How to Make Asian Meatballs
I know the ingredients list looks long, but the actual prep work involved in this sweet and sour meatballs recipe is so easy! Here's how I made these Asian meatballs:
Stir together the meatball ingredients, then scoop into balls.
Place on parchment paper-lined baking trays and bake until no longer pink inside.
Meanwhile, make the sweet and sour sauce for the meatballs. Simply add all the ingredients to a pot and cook until thickened.
Add the Asian meatballs to the homemade sweet and sour sauce and stir to coat.
If desired, add veggies to the sauce and cook until tender.
Serve the Asian meatballs over rice to make it a meal, or serve as is for an appetizer.
Can I Substitute Ground Turkey for Ground Beef in these Meatballs?
Yes! You can definitely use ground turkey in place of the ground beef in this recipe for Sweet and Sour Asian Meatballs. You could also use ground turkey, ground pork, or a blend of meats.
What Can You Substitute for Cornstarch?
You can use arrowroot powder as an alternative for cornstarch when thickening the sweet and sour sauce for these Asian Meatballs. Arrowroot powder is more powerful than cornstarch and even more powerful than flour, so you'll need much less.
Start with using this rule of thumb when substituting arrowroot powder for cornstarch: 1 teaspoon of arrowroot powder = 1/2 tablespoon of cornstarch. Arrowroot powder is the best substitute when thickening sauces for gluten-free, grain-free, and paleo diets.
How Do I Make this Recipe Vegetarian or Vegan?
I don't have instructions to make a vegetarian Asian meatball as I've never done that myself, but you could prepare this recipe with cubes of tofu, sear them first, and use the same sweet and sour sauce, plus the vegetables, and the rice for a meatless meal similar to these Sweet and Sour Asian Meatballs.
Can I Use Pre-Made Frozen Meatballs?
If that's easier for you, then yes. However, store-bought frozen meatballs won't have any of the incredible Asian flavor that's packed into these sweet and sour meatballs.
Can I Prep Asian Meatballs in Advance?
Definitely! I actually prefer making a double batch of Asian meatballs and freezing half of them for later.
Meatballs may be prepared and cooked in advance and frozen in an airtight freezer-safe container or ziplock bag for up to 6 weeks. Make sure you completely cool the meatballs before freezing.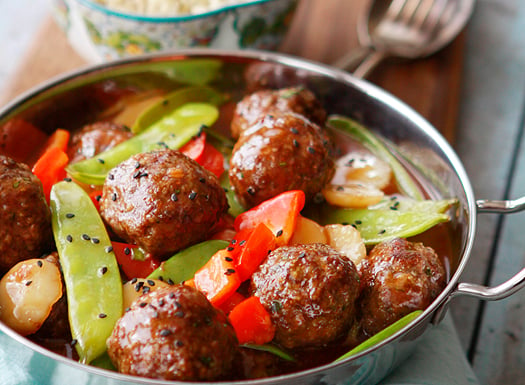 Click HERE to save this recipe for Asian Meatballs!
Tips for Making Asian Meatballs
1. Use a small food processor to finely chop any vegetables that will be added to the meat mixture. This ensures fast, even cooking and eliminates any large chunks that take away from the uniform texture of the meat.
2. Wear a pair of surgical cloves for the preparation process to keep your hands clean. Just make sure that no on you're serving has a latex allergy as the use of latex gloves would cross contaminate the meal. (Or simply buy latex-free gloves)
3. Periodically wet your hands (or gloves) while rolling the meatballs. This helps keep the outside texture of the meatball nice and smooth.
4. Use a Medium Cookie Scoop to scoop the meat mixture out of the bowl. This will ensure that the balls are all uniformly sized, which helps when assessing cooking times and doneness.
5. Use a meat thermometer. It can be hard to tell when the meatballs are done. Test the center with a meat thermometer after the shortest cooking time recommendation listed in a recipe to avoid under or over cooked meat.
What Readers Are Saying
"These were a huge hit last night!!!! Everyone ate them…even my 2 year old that doesn't eat ANYTHING gobbled these down! I'll be perusing the site this morning for tonight's dinner!!!! Thanks so much." — Chrysta
"As soon as I saw these I knew I had to make them! Ended up re-looking up the post on my phone at the grocery store just so I could. Both the sauce and the meatballs are perfect – thanks!" — Michelle T.
"What a tasty looking dish! We love meatballs at our house and Asian meatballs especially!" — Kristen
More Asian Dinner Recipes:
This Chili Marmalade Baked Chicken is a sweet and spicy Asian chicken recipe that can be served over rice or quinoa.
These Asian Ground Chicken Lettuce Wraps take little time to prepare and can easily be meal prepped!
When I'm in a rush and need to get dinner on the table fast, I make a batch of Sesame Noodles. My kids all love this meal, so it's a win-win recipe!
This Chinese Beef and Broccoli takes just 30 minutes to prepare and is much healthier than what you'd order for takeout.
This Banh Mi Lettuce Wrap Recipe is a healthier, low-carb, gluten-free version of the classic Banh Mi Sandwich Recipe.
What are your favorite ways to serve meatballs? Do you have any special preparation tricks?
Love this recipe for Asian Meatballs? Sign up for Good Life Eats email updates and never miss another recipe!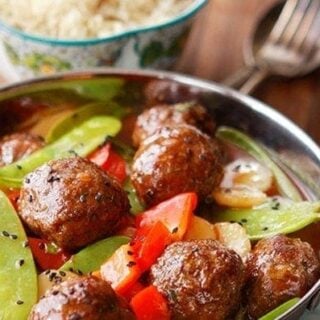 Sweet and Sour Asian Meatballs with Vegetables
Yield:
approximately 24 meatballs - serves 4 - 6
Meatballs are a perfect make-ahead meal. They are slightly time-consuming but well worth the flavor!
Ingredients
For the Meatballs:
1.25 lbs lean ground beef, preferably organic
1 tablespoon milk
1 egg, lightly beaten
1 tablespoon soy sauce
1 tablespoon honey
3/4 teaspoon sesame oil
2 - 3 drops 100% pure ginger oil
3/4 - 1 teaspoon salt
1/4 - 1/2 teaspoon pepper
1/2 teaspoon Chinese 5 Spice Powder
2 cloves garlic, finely minced
1 medium carrot, very finely chopped
2 ounces button or shiitake mushrooms, very finely chopped
2 tablespoons chopped fresh cilantro
1 tablespoon chopped fresh parsley
3 green onions, thinly sliced
3/4 cup panko breadcrumbs
For the Sauce:
1/2 cup pineapple juice
1/2 cup ketchup
3 tablespoons hoisin sauce
1 tablespoon soy sauce
1/2 cup apple cider vinegar
1 - 2 drops [100% pure ginger oil] (or 1 - 2 teaspoons fresh minced ginger)
2 - 3 tablespoons brown sugar (adjust for your sweetness preference)
3 tablespoons honey
2 teaspoons cornstarch
Other Ingredients:
1 red bell pepper, chopped into 3/4 inch squares
1 - 8 ounce can sliced water chestnuts
4 - 6 ounces snow peas or sugar snap peas
brown jasmine rice, for serving
sesame seeds for garnish
Instructions
For the Meatballs:
Place the ground beef in a large bowl. Set aside. In a medium bowl, combine the milk, egg, soy sauce, honey, sesame oil, ginger oil, salt, pepper, 5 spice powder, and garlic. Whisk to combine. Add mixture to the ground beef. Stir to combine.
Add the carrot, mushroom, cilantro, parsley, green onion, and panko breadcrumbs to the meat mixture. Mix until combined. I find that hands work best for this. Form into golf ball sized portions and place on a parchment paper-lined baking sheet. I like to use a Medium Cookie Scoop to ensure the balls are all evenly sized.
Bake at 350 degrees for 15 - 20 minutes, or until the insides are no longer pink and a thermometer registers 160 degrees F when inserted in the center of a meatball. Serve with sauce, vegetables, and brown jasmine rice.
For the sauce:
Combine the pineapple juice, ketchup, hoisin sauce, soy sauce, apple cider vinegar, ginger oil, brown sugar, and cornstarch in a medium to large skillet. Cook until boiling, then reduce to a simmer. Add the meatballs, snow peas, bell pepper, and water chestnuts. Cook until the sauce coats the meatballs and the vegetables are tender.
Serve with brown jasmine rice and a sprinkle of sesame seeds on top.
Recommended Products
As an Amazon Associate and member of other affiliate programs, I earn from qualifying purchases.
Nutrition Information
Yield

6
Serving Size

1
Amount Per Serving
Calories

556
Total Fat

17g
Saturated Fat

6g
Trans Fat

0g
Unsaturated Fat

9g
Cholesterol

116mg
Sodium

1179mg
Carbohydrates

64g
Fiber

7g
Sugar

33g
Protein

37g
GoodLifeEats.com offers recipe nutritional information as a courtesy and is an estimate only. This information comes from online calculators. Although GoodLifeEats.com makes every effort to provide accurate information, these figures are only estimates.
Tag @goodlifeeats and include the hashtag #goodlifeeatsrecipes so I can see what you're cooking up in YOUR kitchen!
Click HERE to save this recipe for Asian Meatballs!