Asian Salad Wonton Cup Appetizers
With temperatures soaring, I am turning my "cooking" to more recipes that require as little cooking as possible.
There is something about warmer weather that stifles my appetite for hot foods.
I crave more salads, fresh fruits and vegetables, grilled meats that I can put on top of a salad or stuff inside a lettuce wrap.
Sometimes, on really hot days, I just don't feel very hungry at all.
Of course, you can't go wrong with the season's best fresh fruits and vegetables.
We spend a lot of time at our neighborhood pool in the summer and always pack a cooler full of cold, fresh things to eat.
Recipes like these Asian Salad Wonton Cups satisfy my cravings for cool, crunchy recipes.
It doesn't require turning the oven on for very long at all and it is just enough for a little snack when a full, heavy meal doesn't sound very appealing.
Don't want to turn the oven on?
Skip the wonton cups and enjoy this cool, crunchy salad by itself.
If you need something with a little more substance, add some grilled chicken strips or cooked shrimp to the salad.
This packs easily in a reusable container to be eaten poolside.
What do you like to eat when the temperatures outside are rising?
More Cool Summer Recipes
Asian Salad Wonton Cup Appetizers
Yield: 24 wonton cups
Total Time: 20 - 30 minutes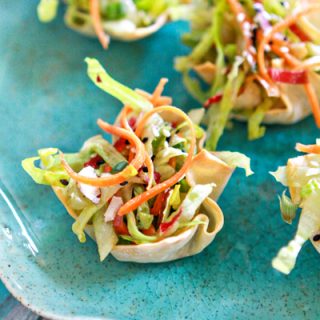 Ingredients:
24 wonton skins
Sauce:
2 tablespoons olive oil
1 teaspoon sesame oil
4 teaspoons rice vinegar
1 tablespoon soy sauce
1/2 teaspoon sugar or agave
salt, black pepper, cayenne pepper to taste if desired
Salad:
7 ounces romaine lettuce, shredded
2 1/2 ounces shredded purple cabbage
3 green onions, thinly sliced
1 carrot, julienne sliced
1 tablespoon finely chopped cilantro
1 ounce slivered almonds
2 tablespoons chopped water chestnuts
sesame seeds
Optional:
Shredded Chicken or Extra-Small Shrimp
Directions:
Preheat oven to 350. Arrange 24 wonton skins in 24 muffin cups and shape them to create a small cup like bowl. Bake until firm, about 7 minutes. After baking, remove the baked wonton cups from the muffin pan and cool completely.
In a small bowl, combine all of the sauce ingredients. Wisk and set aside. Thinly slice the lettuce and cabbage. Rinse and dry well and place it in a bowl. Toss the lettuce and cabbage with green onions, carrot, cilantro, almonds and water chestnuts. Pour sauce over the salad mixture and stir to combine. If desired, add some shredded cooked chicken or cooked extra small shrimp.
Distribute salad mixture between the baked wonton cups. Sprinkle with sesame seeds. Serve immediately.
Notes:
Tip: To prepare ahead of time, bake the wonton cups and store them in a dry place. Prepare the vegetables up to a few hours ahead of time but do not toss with the sauce or place in the wonton cups until just prior to serving.