Beef and Broccoli is one of my favorite Chinese takeout dishes! It has plenty of rich flavor thanks to the tender beef slices, a savory sauce, and bright, crisp broccoli florets. Read on to learn how to make this Chinese beef broccoli stir-fry at home. It's easier than you think!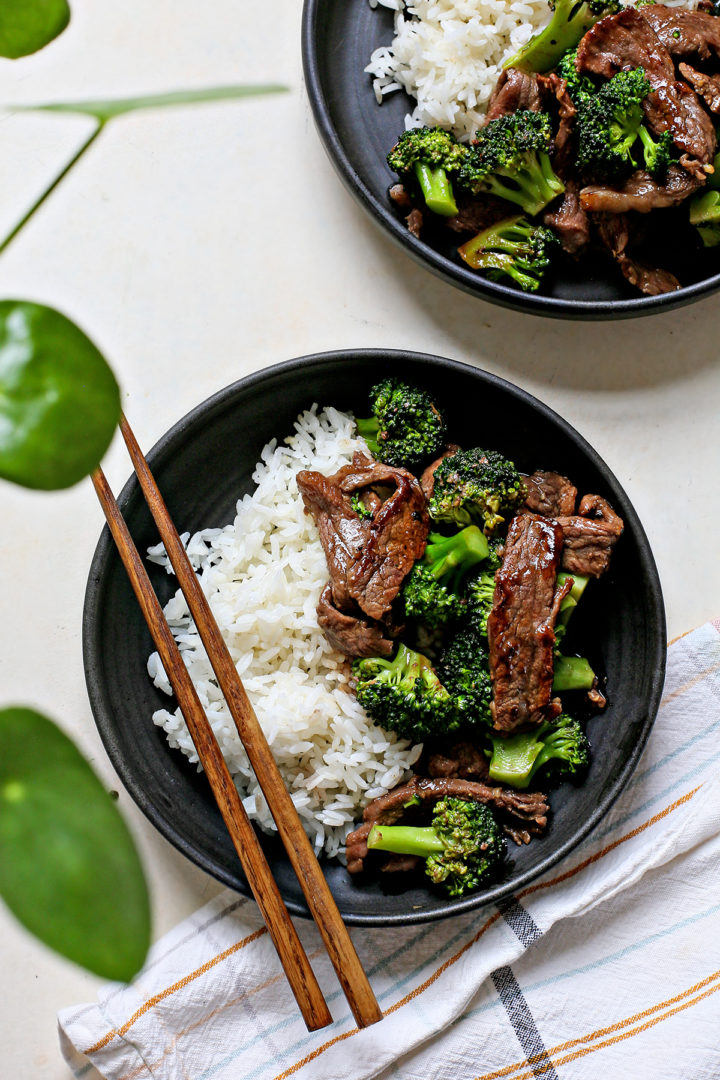 Making this Chinese Beef and Broccoli
One of my favorite dishes to order at a really good Chinese place is Beef and Broccoli. I loved the tender meat, the crisp broccoli and the sauce.
Oh the sauce! I could never get it right at home. Every time I tested out a recipe it never came out just right. Until I tried the recipe from The Steamy Kitchen Cookbook!
We've enjoyed this recipe dozens times since I received a copy from a BlogHer Food '09 after party sponsored in part by Jaden, the book's author, last fall.
I don't know why it's taken me so long to share it, because it certainly deserves to be shared, I guess that happens sometimes and it's always nice to have a few back up recipes. With broccoli growing in our garden, I can tell we will be enjoying this meal many more times in the near future.
If you love Asian food, I really recommend this book. Every recipe I've tried so far has been a hit for us and they're all simple and fast to prepare.
Tools Needed to Make Beef and Broccoli
You'll need a few different kitchen tools to prepare this recipe for beef and broccoli. Here's what I recommend having on hand before getting started:
Cutting Board and Sharp Knife – to slice the beef strips and cut the broccoli florets.
Meat Mallet – to tenderize the beef.
Measuring Spoons – to measure the ingredients for the beef marinade and stir fry sauce.
Glass Measuring Cup – to make the sauces in.
Wire Whisk – to whisk the sauces.
Wok or Large Sauté Pan – to cook the broccoli, marinated beef, and delicious savory sauce in.
Lid for the Wok – you'll steam the broccoli in the wok, so a lid is helpful.
Rice Cooker, Instant Pot, or Saucepan with Lid – to cook the white rice to go along with the beef and broccoli stir fry recipe.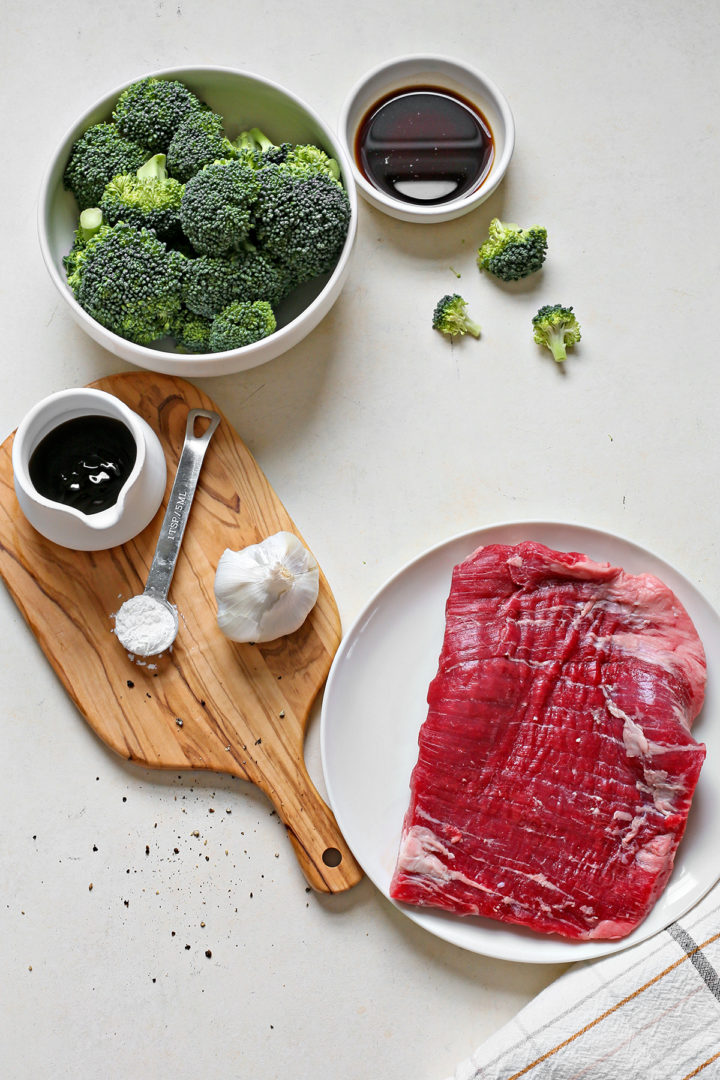 This post may include affiliate links. As an Amazon Associate and member of other affiliate programs, I earn a small commission from qualifying purchases.
What is Beef and Broccoli Made Of?
Have you ever wondered what's in Chinese Beef and Broccoli? There are a few different parts to this recipe: the beef, the broccoli, the beef marinade, and the stir-fry sauce.
Here's a quick overview of what you'll need to make this recipe:
Flank Steak
Broccoli
High-Heat Cooking Oil
Fresh Garlic
Beef Marinade
Beef and Broccoli Stir Fry Sauce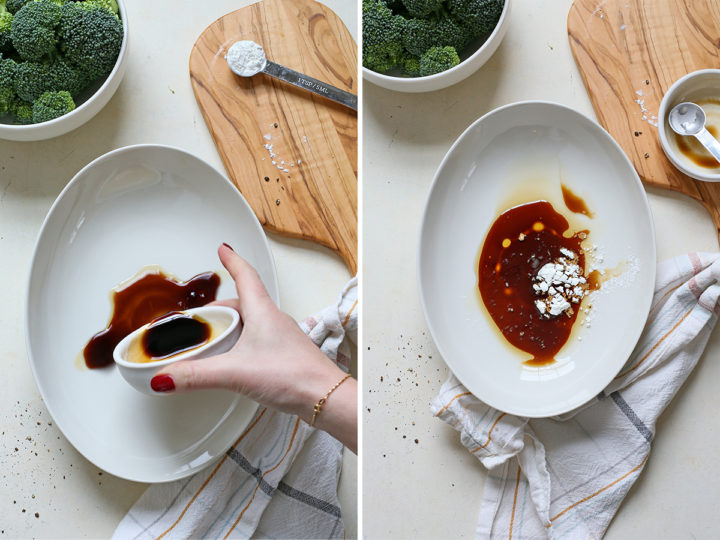 Beef Marinade Ingredients:
Soy Sauce
Cornstarch
Sesame Oil
Ground Black Pepper
Beef and Broccoli Stir-Fry Sauce Ingredients:
For the complete ingredient list and detailed instructions to make this Chinese Beef with Broccoli, scroll to the bottom of this post for the FREE printable recipe card.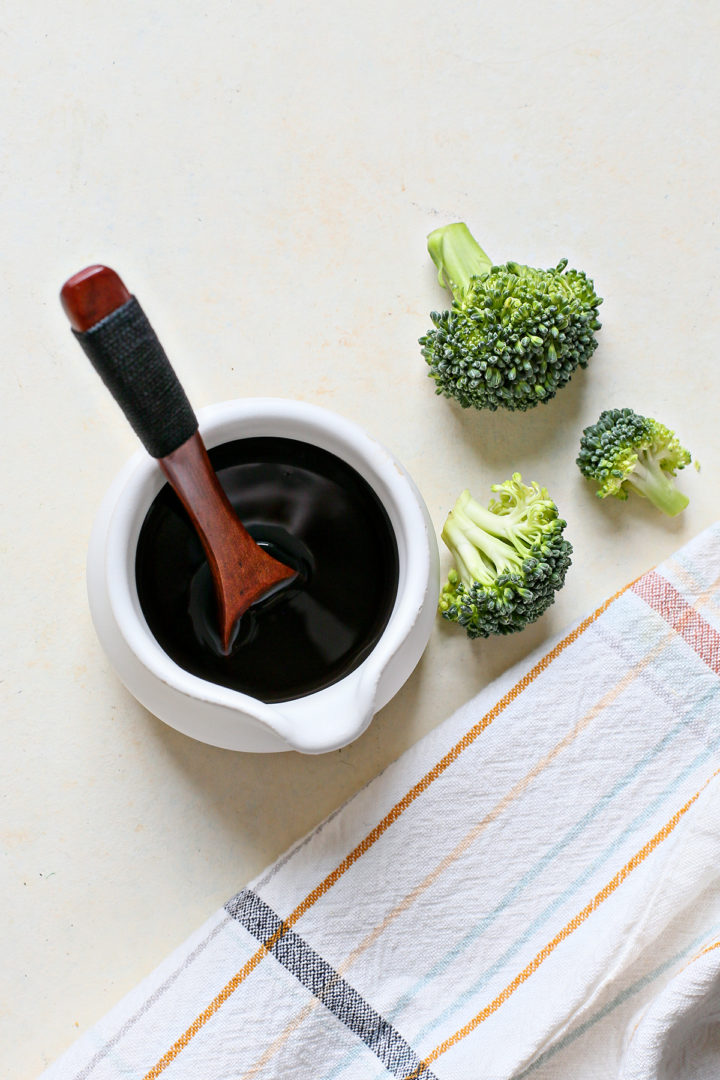 How to Make Beef and Broccoli
Making this Chinese beef and broccoli recipe is really simple! Here's a quick overview of the process.
Wash and cut the broccoli – wash the broccoli, then cut into florets. Reserve stems for a later use.
Tenderize and cut the flank steak – I tenderize my meat with a meat mallet. Then freeze it for 30. minutes before cutting it against the grain.
Prepare the marinade: next, you'll make a quick marinade for the beef. Add the beef strips and let sit for at least 15 minutes.
Prepare the Beef and Broccoli Sauce – while the beef marinades, combine the sauce ingredients and set aside.
Steam the broccoli – you can use the same wok or skillet to steam the broccoli, or you can use a saucepan with steamer basket if you prefer. Set aside.
Sear the beef – cook the beef strips in a hot wok or skillet. Then, add the garlic and ginger.
Cook the sauce – add the stir-fry sauce to the beef and cook until think. Then, stir in the steamed broccoli.
The above is simply a quick summary of this recipe. Check out the full recipe in the free printable recipe card at the bottom of this post for all the detailed instructions.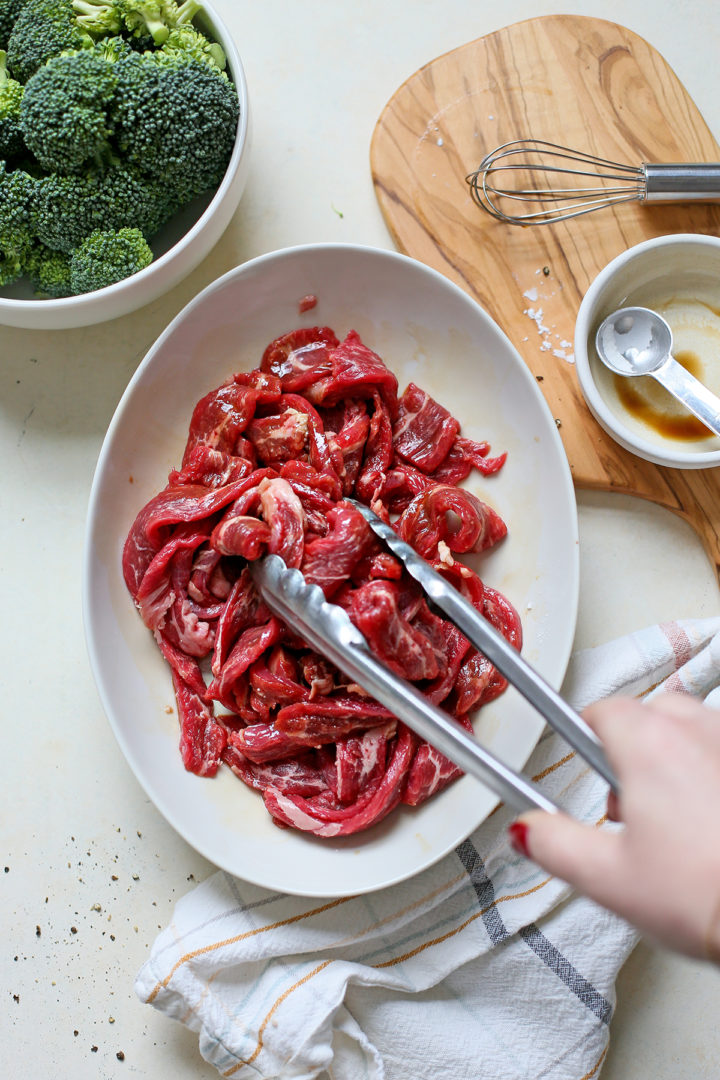 How to Meal Prep this Recipe for Broccoli Beef
Want to prep ahead to save time on a busy weeknight? Here are my suggestions for this recipe:
Cut the broccoli in advance – when I grocery shop, I like to wash, dry, and cut my broccoli ahead of time. Then, I store it in a produce container in the fridge so it is ready to use when I need it.
Tenderize, slice, and marinade the beef – you can do this step a day or two in advance. Just store the beef strips in the marinade in the refrigerator until you plan to make the recipe.
Prepare the stir-fry sauce ahead of time – the stir-fry sauce can easily be prepared a day or two before and stored in a jar or other airtight container in the refrigerator.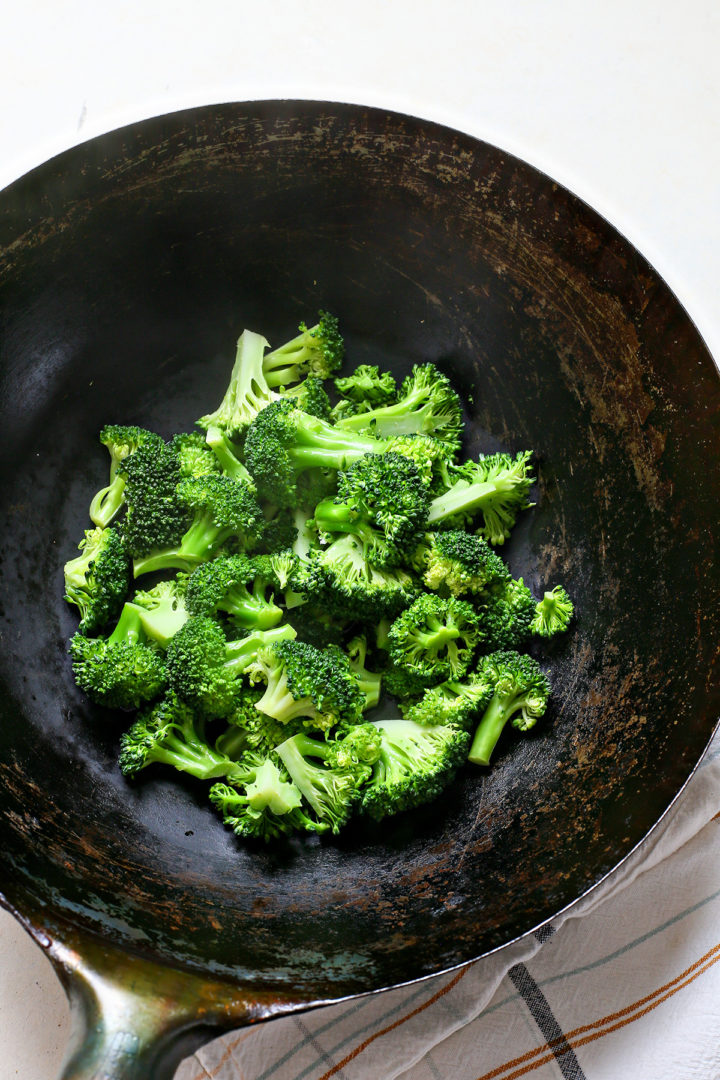 Tips for Making the Best Beef and Broccoli
Want to know how to make the best beef and broccoli? Here are some tips for success:
Pound the flank steak with a meat tenderizer. This will help tenderize the muscle fibers of the steak and you can even out any thicker spots on your cut of beef so it cooks evenly.
Make sure your knives are sharp. (Tip: how to sharpen knives)
Freeze the flank steak for 30 minutes before cutting. This makes it easier to slice!
Cut the meat in thin slices against the grain.
Preheat the wok so it is nice and hot for searing the beef.
Cook the meat in a single layer (cooking in batches if needed). If the pan is crowded, the meat won't brown as nicely.
Use fresh broccoli florets, not frozen broccoli or broccoli pieces.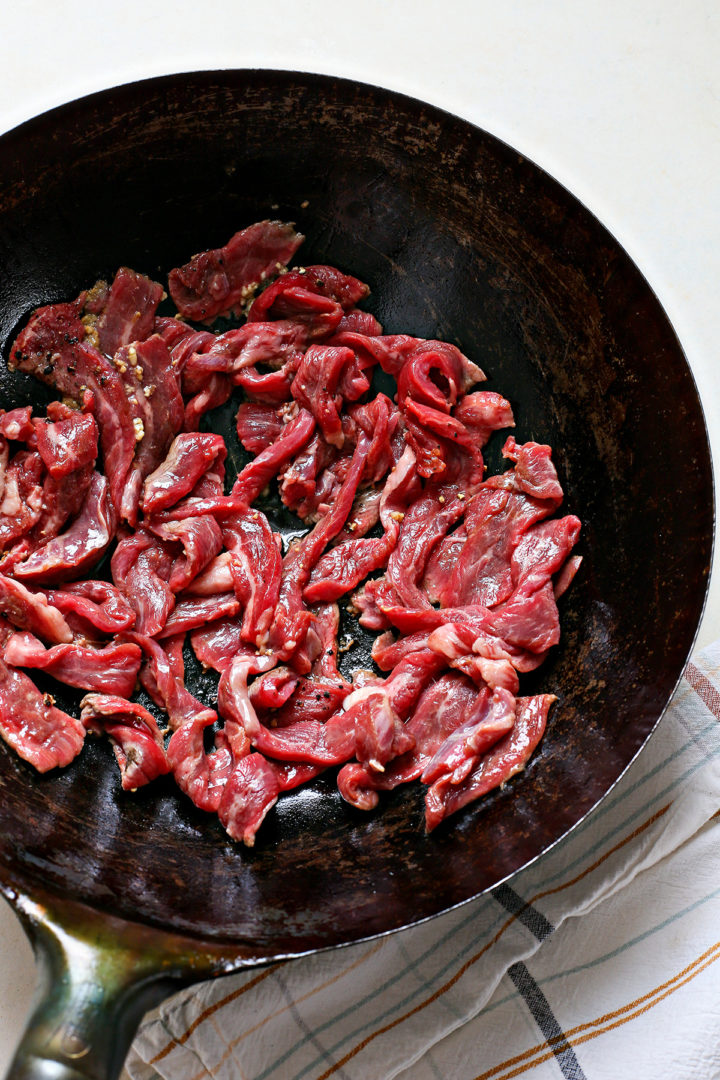 Beef and Broccoli Recipe FAQs
Got questions about how to make this Chinese beef recipe? Here are the answers to a few commonly asked questions. Feel free to leave any other questions in the comments on this post and I'll respond with answers.
Do I Have to Use a Wok?
No, a large skillet will work fine for preparing this broccoli beef recipe! Just make sure it is big enough to accomodate all of the ingredients.
What is the Best Cut of Beef for Beef and Broccoli
We prefer to use flank steak for this recipe.
What Can I Use Instead of Flank Steak
If you can't find flank steak, skirt steak is another commonly used cut of meat for this recipe.
I Don't Have Chinese Rice Wine. What Can I Substitute?
Dry sherry would be an acceptable substitute for Chinese rice wine.
What Can I Use Instead of Chinese Black Vinegar
In her book, Jaden recommends using Balsamic vinegar in place of Chinese black vinegar. It might sound odd, but it definitely works!
Can I Make this Recipe Without the Beef?
I haven't personally made a meatless version of this, but I bet you could substitute cubed extra firm tofu for the beef. You'll want to cook it so it is nicely browned on all sides.
Alternatively, maybe try using shiitake mushrooms instead of the beef.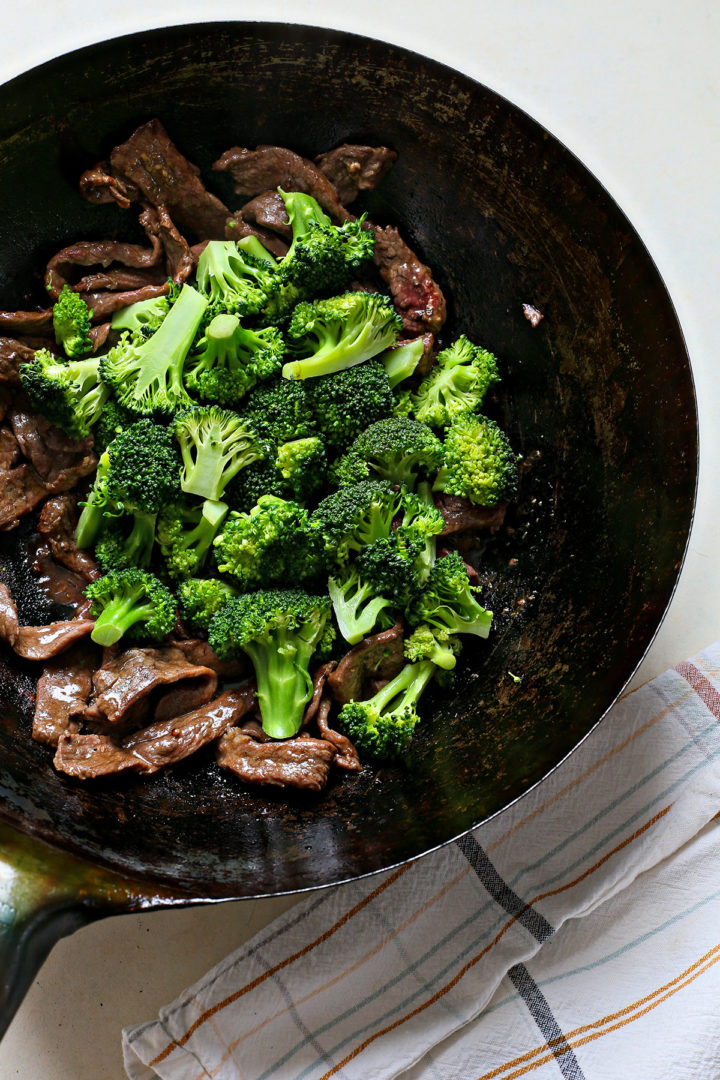 Can I Add Extra Vegetables?
Sure! You can definitely try your own take on this recipe. Sometimes we like to add sliced mushrooms in addition to the broccoli. Feel free to add some of your favorite vegetables!
Here are some other ideas:
Red Bell Pepper Strips
Bean Sprouts
Green Beans
Water Chestnuts
Green Onion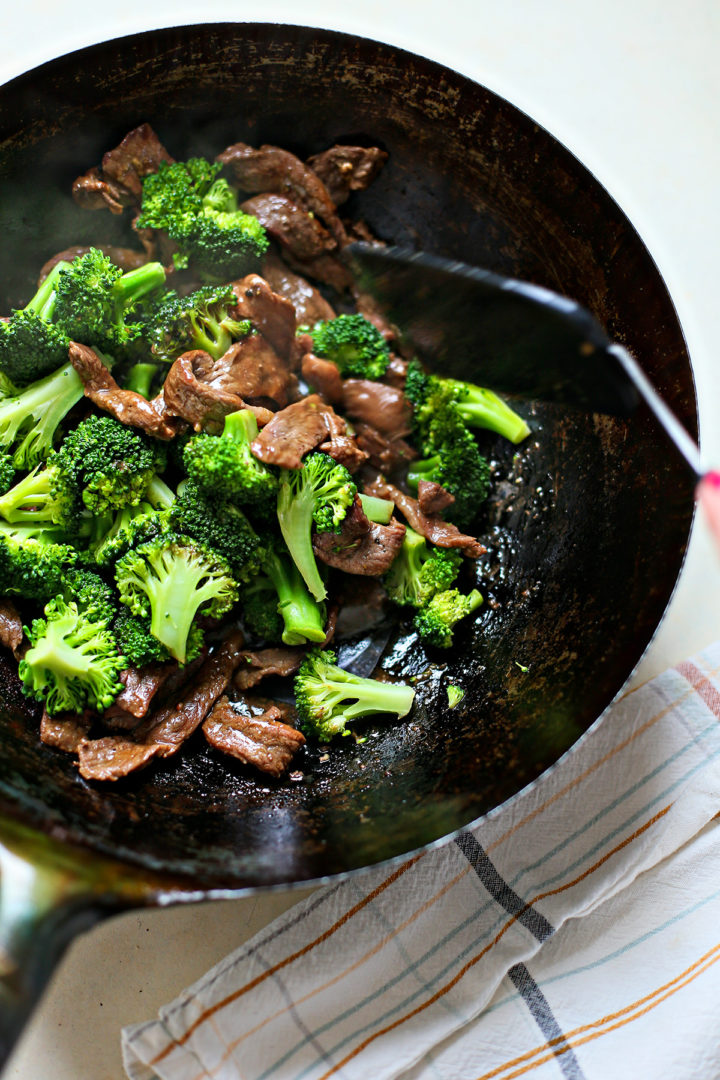 What Should I Serve with Beef and Broccoli?
We typically serve steamed white rice alongside. I like to cook rice in the instant pot. You could also serve the beef and broccoli with brown rice, ramen noodles, udon noodles, or rice noodles.
How Should I Store Leftovers?
Leftover beef broccoli stir fry should be cooled to room temperature and transferred to an airtight container in the refrigerator or freezer.
How Long Does Leftover Beef and Broccoli Last?
Leftovers will be good for 3-4 days in the refrigerator, and about 3 months in the freezer.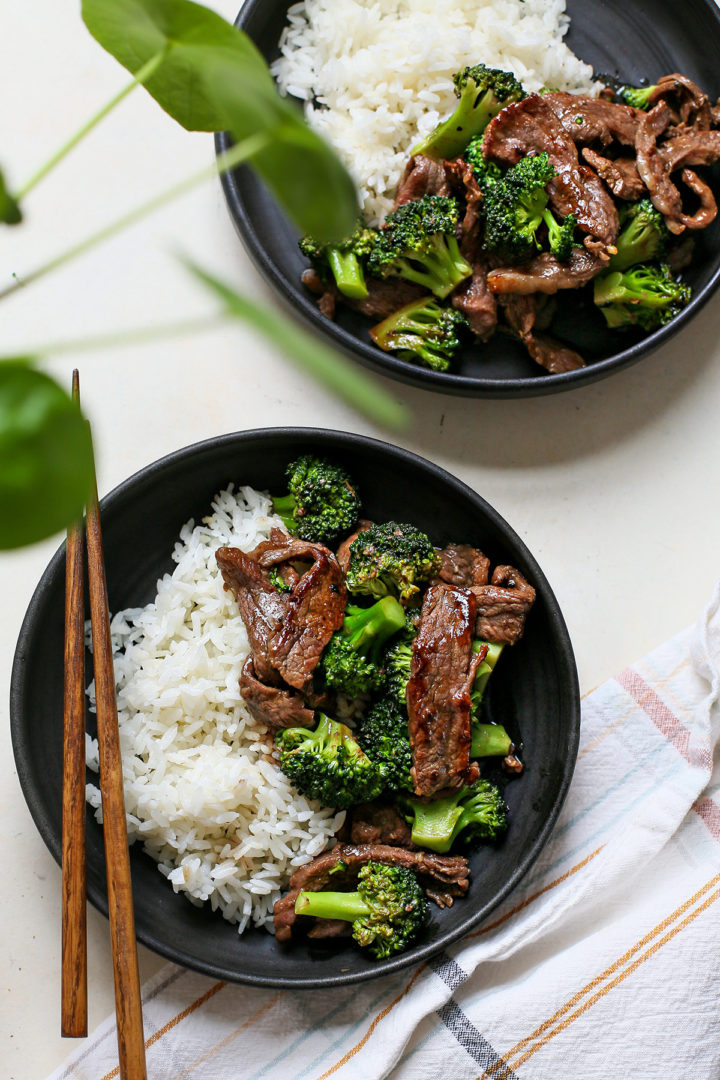 Try this Chinese Beef and Broccoli!
Next time you're looking for a great way to cook broccoli with dinner, give this Chinese Broccoli and Beef a try!
Did you love the combination of tender beef and crisp broccoli? Leave a comment below and give it a review for others to see what you thought of this delicious recipe.
On Instagram? Share your photo and tag me with @goodlifeeats and #goodlifeeatsrecipes. I'd love to see your photo of this easy beef stir fry!
More Stir Fry Recipes
This Gingered Beef with Snow Peas is a simple stir-fry recipe perfect for busy weeknights. Serve over jasmine rice for a complete meal!
This easy recipe for Chicken Asparagus Stir Fry is so quick to make! Serve this Chicken Stir Fry with Asparagus with the delicious homemade with Honey Ginger Stir Fry Sauce Sauce and rice for a wholesome meal.
Cucumber Chicken is an Asian Stir Fry Dish featuring tender chicken and chunks of cucumber in a spicy garlic sauce. Serve it over Jasmine rice to complete the meal.
This is a simple Chicken and Pepper Stir-Fry that's made with a homemade stir-fry sauce. Feel free to throw in any extra veggies you need to use up, this recipe is easy to adapt!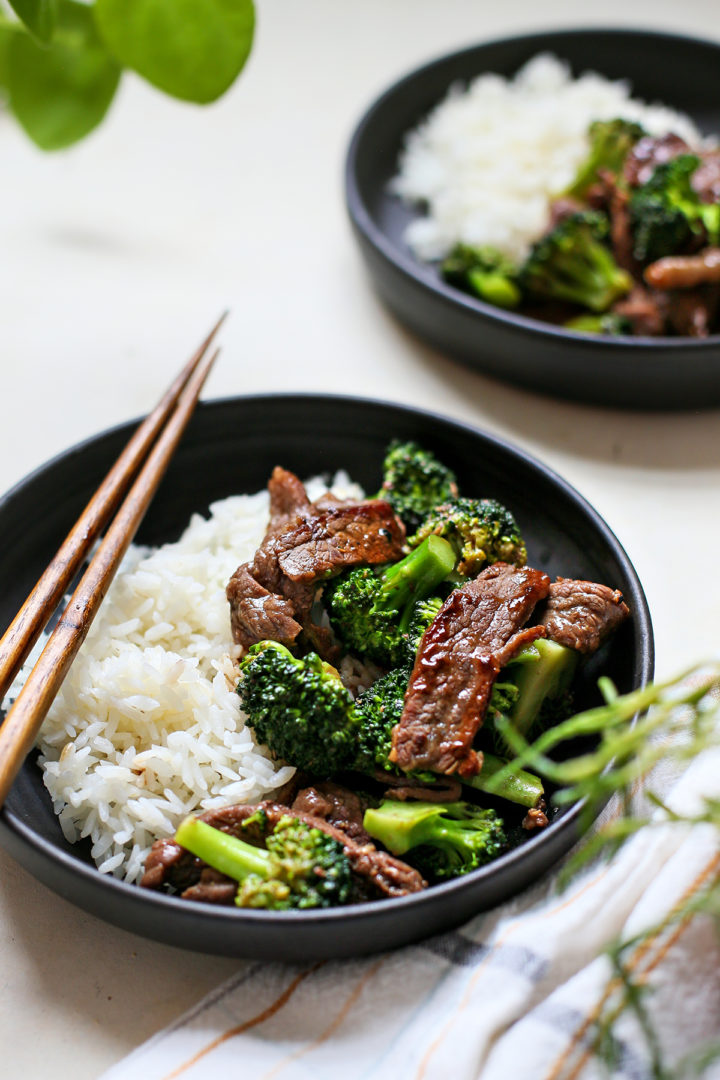 Don't see what you're looking for here? You can always head over to check out the recipe index to look for more recipes.
Get New Recipes via Email
Did you love this recipe for Chinese Beef and Broccoli? Sign up to receive Good Life Eats Email Updates and never miss another great recipe!
Have you ever made beef and broccoli stir fry at home?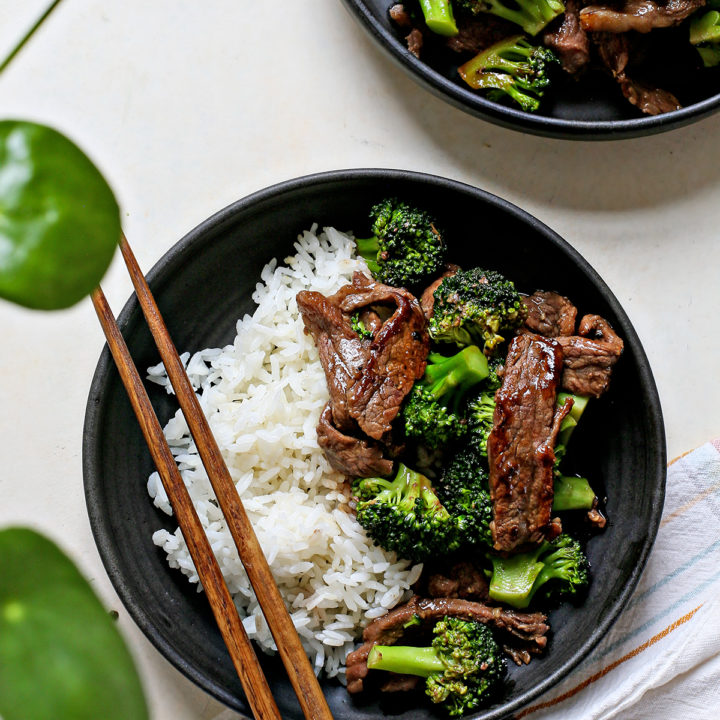 Beef and Broccoli
This Chinese beef and broccoli will become a staple in your home. The sauce is simply perfect and gives an authentic flavor for a quick weeknight dinner.
Ingredients
1 pound Flank Steak
1 1/2 pounds Fresh Broccoli
1 tablespoon High-Heat Cooking Oil
1 tablespoon Minced Fresh Garlic
1 tablespoon Minced Fresh Ginger
For the Beef Marinade
1 1/2 teaspoons Soy Sauce
2 teaspoons Cornstarch
1/2 teaspoon Sesame Oil
Freshly Ground Black Pepper
For the Stir-Fry Sauce
6 tablespoons Oyster Sauce
4 teaspoons Chinese Rice Wine
4 teaspoons Chinese Black Vinegar
For Serving
Steamed White Rice
Sesame Seeds, for garnish
Instructions
Prepping the Ingredients
Pound the flank steak with a meat tenderizer. This will help tenderize the muscle fibers of the steak and you can even out any thicker spots on your cut of beef so it cooks evenly.
Place the flank steak in the freezer for 30 minutes.
Then, remove it from the freezer and slice it against the grain in 1/8-inch strips.
Wash the broccoli and cut into florets. Set aside.
Making the Beef Marinade
Measure the soy sauce, cornstarch, sesame oil, and black pepper into a small bow. Whisk to thoroughly combine.
In a bowl large enough to accomodate the beef, combine the sliced beef with the beef marinade, tossing well to coat.
Let side for at least 15 minutes.
Making the Stir-Fry Sauce
Combine the oyster sauce, Chinese rice wine, and Chinese black vinegar in a bowl or glass measuring cup.
Whisk until well mixed. Set aside.
Preparing the Beef and Broccoli
Fill a wok or a large skillet with one inch of water. Bring the water to a boil over medium heat.
Then, add the broccoli and cover to steam for 2-3 minutes. Tip: the broccoli is done when it is bright green, and tender crisp.
Remove the broccoli from the pan, and set aside.
Return the pan to the stove, increasing to high heat. Then, add the cooking oil, swirling to coat the inside of the pan.
Add the sliced flank steak in batches, keeping them in a single layer. Cook for 30 seconds, flip, and cook another 30 seconds.
After the first batch is cooked, transfer the beef to a plate. Repeat with remaining beef until it is all cooked.
Once beef is cooked and set aside, add the garlic and ginger to the pan, and cook for 15 seconds.
Return the beef to the pan, stirring to coat with the garlic and ginger. Then, pour in the stir-fry sauce until combined.
Simmer until the sauce is thick enough to coat the back of a spoon, about 30 seconds.
Add the cooked broccoli back into the pan and toss to coat well.
Recommended Products
As an Amazon Associate and member of other affiliate programs, I earn from qualifying purchases.
Nutrition Information
Yield

6
Serving Size

1
Amount Per Serving
Calories

231
Total Fat

9g
Saturated Fat

3g
Trans Fat

0g
Unsaturated Fat

5g
Cholesterol

60mg
Sodium

654mg
Carbohydrates

12g
Fiber

4g
Sugar

2g
Protein

24g
GoodLifeEats.com offers recipe nutritional information as a courtesy and is an estimate only. This information comes from online calculators. Although GoodLifeEats.com makes every effort to provide accurate information, these figures are only estimates.