Vietnamese Rice Noodle Soup with Beef
Last week Logan didn't have school Thursday and Friday because of Parent-Teacher Conferences. Thursday everyone was so bored and had a rough day. It's hard for Logan to be home all day when he's used to being in school and when Logan's having a rough day…Madeline has a rough day…and then Mom has a rough day.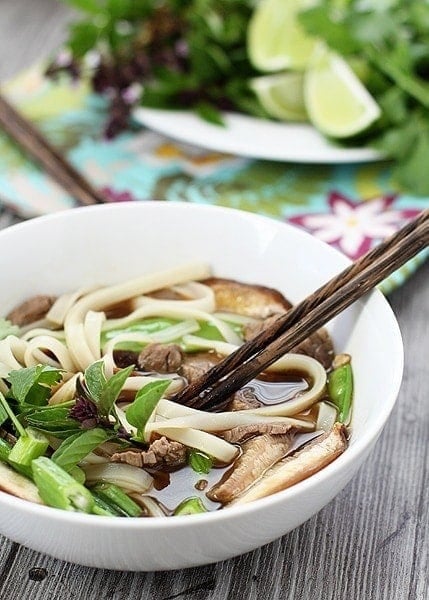 Friday we went to Costco for an errand. I had a list of things to pick up and it was better than staying home all day. After we did all our shopping, no one was really ready to go home yet so we took a little while to browse the books. One caught my eye that I hadn't seen before: Soups, Stews & Chilis, by Cook's Illustrated Magazine. I have one of their other books (The New Best Recipe: All-New Edition) and have been pleased with it, so I thought this one would be worthwhile to pick up with the cool weather that is finally arriving in New Mexico.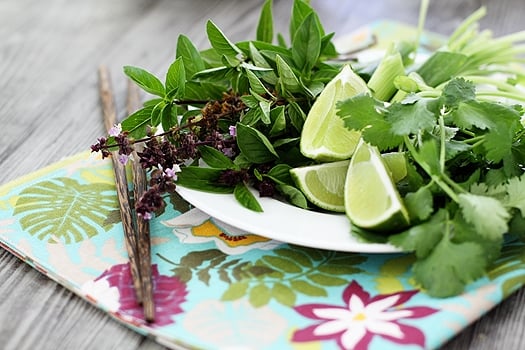 My other Cook's Illustrated book doesn't have any color pictures besides what's on the front and back cover. The Soup book, however, has one on the front, 20 two inch thumbnails on the back cover, and 16 full sized images inside. That's pretty good! There are lots of basic recipes in the book, but a good selection of recipes with International flavors. To name a few: Provencal Vegetable soup, Thai-Style Chicken Curry, Indian-Style Vegetable Curry, and the recipe I chose for this post – Vietnamese Rice Noodle Soup with Beef.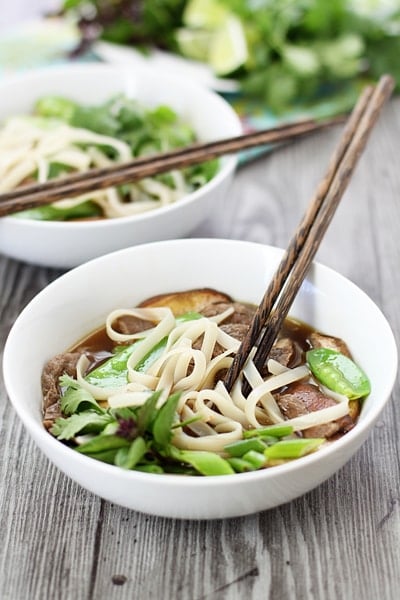 This recipe is incredibly fast to prepare. You can make the broth in advance and after that it is just a matter of stirring things into the broth. The meat is sliced so thin that you just stir it into the hot broth and you can do the same with the mushrooms and snow peas. Don't skimp on the herbs because they add a ton of flavor.
Note: While at the grocery store, I found that there were no bean sprouts to be found. The recipe originally calls for 2 cups of sprouts. Instead, I made the decision to substitute shiitake mushrooms and snow peas because I was way too tired to go to another store on a Saturday afternoon.
Vietnamese Rice Noodle Soup with Beef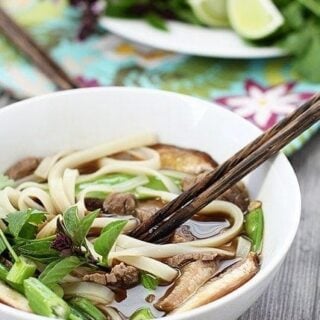 Ingredients:
For the Broth:
1 tablespoon canola oil
2 medium onions, diced
4 cloves garlic, minced
1 tablespoon ginger, minced
zest of 1 lime
1/3 cup fish sauce
4 cups low-sodium chicken broth
4 cups beef broth
2 cups water
2 tablespoons soy sauce
2 tablespoons sugar
5 star anise pods
5 whole cloves
Noodles, Meat, and Garnish
8 ounces dried, flat rice noodles
1 cup shiitake mushrooms, sliced
1 cup snow peas
1 cup loosely packed Thai basil
1 cup loosely packed cilantro leaves
2 green onions, sliced thin on the bias
12 ounces flank steak, sliced thin across the grain
Directions:
For the Broth:
Heat the oil in a medium-large stock pot over medium heat. Add the onions and saute for 2-3 minutes. Add the garlic, ginger, lime zest, and 1 tablespoon of fish sauce. Cook until vegetables are soft, about 4 more minutes. Stir in the chicken broth, beef broth, and water. Bring to a boil.
Stir in the soy sauce, sugar, anise, cloves, and remaining fish sauce. Cover, reduce to a gentle simmer and cook until the flavors have blended, about 15 minutes. Strain through a fine mesh strainer. Broth can be made up to a day in advance and refrigerated until needed.
For the Noodles, Meat and Garnish:
Cook the noodles according to package instructions. Drain the noodles, and portion them between the bowls. Arrange the basil, cilantro, lime wedges, and green onion on a plate.
Return the strained broth to a clean saucepan, bring to a brief boil, then remove from the heat. Stir in the beef, mushrooms, and snow peas and let stand off the heat for 2-3 minutes. Ladle the soup on top of the prepared bowls. Serve immediately, passing the garnishes round the table.