Smoky Black Bean Soup
Black beans are an ingredient that I don't think I will ever get tired of. I always have a big stock of them in my pantry. They are a pantry staple for me because they can easily serve as a base for so many different recipes.
Many of the recipes featuring black beans here on GoodLife Eats have been created out of sheer desperation: it was dinner and a bean recipe was easy to throw together.
This Black Bean Soup with Andouille Sausage was no exception. The soup has just a bit of spice with the andouille sausage that is enough for me. I loved the hint of smokiness from the smoked paprika and ancho powder. Another bonus, Madeline will eat this because she likes chili and she likes sausage. And it freezes well.
The soup is made thick by pureeing some of the beans and stirring that into the recipe, but it makes for a wonderful hearty soup that is perfect for the cooler evenings that still come around as the weather tries to decide if it wants to be winter or spring. 
We had some leftovers after eating it for two nights. I served the last bit of black bean soup on top of some leftover pasta for a quick lunch and it was great!
What are your favorite ways to cook black beans?
Smoky Black Bean Soup with Andouille Sausage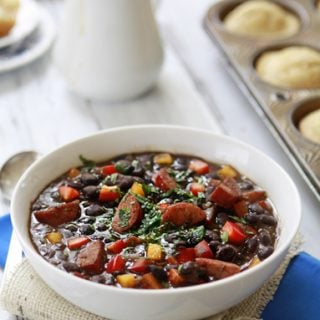 Ingredients:
12 ounces andouille sausage (I used a chicken andouille sausage)
2 teaspoons olive oil
1 large purple onion, diced
5 large cloves garlic, minced
1 teaspoon cumin
1/8 teaspoon smoked paprika
1/8 teaspoon ancho powder
4 cans Bush's Black Beans
2 1/2 cups chicken broth, plus extra if desired
3/4 teaspoon salt
1/4 teaspoon black pepper
1 teaspoon Mexican oregano
1 red bell pepper, diced
1 orange or yellow bell pepper, diced
cilantro, sour cream, and lime wedges for garnish
Directions:
Cut the andouille sausage into half moon slices. Brown in a large dutch oven over medium-high heat, adding olive oil if necessary. When brown, remove and set aside in a bowl. Add olive oil to the dutch oven and saute the onion over medium-high heat until golden and tender, about 3-5 minutes. Add the garlic, cumin, smoked paprika and ancho powder and saute an additional minute.
Meanwhile, drain 1 1/2 cans black beans. Add to a food processor or blender with 1 1/2 cups of broth. Puree until smooth. Add to the dutch oven with remaining broth and beans.
Return the sausage to the dutch oven along with the, salt, pepper, and, oregano. Bring to a slow boil, then turn heat to low and cover half way with a lid. Simmer for 20 minutes.
Stir in the diced bell peppers and simmer until the peppers are tender, about 5 minutes. Remove bay leaves and serve topped with cilantro, sour cream and lime wedges.
I have an ongoing relationship with Bush's Beans where I am compensated for my time, however this is a brand that I have always used in my own kitchen and any opinions expressed regarding the product are my own.