The Best Black Bean Recipe: Here are some of the best black bean recipes to add to your recipe rotation! These recipes using black beans and tried and true and some of our favorite ways to use black beans. Get cooking with those beans and try out a new recipe for black beans!
I love black beans. I'm not ashamed to admit that I have half a shelf in my pantry devoted to them. And so today, I thought I'd share with you some of my favorite black bean dishes from the recipe index and a funny little story about beans.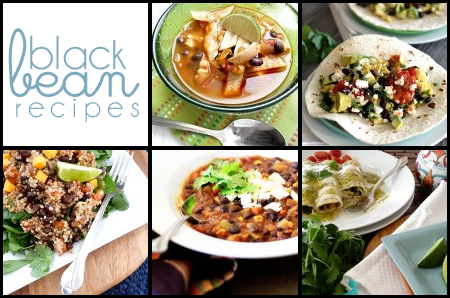 I have been hoping and hoping that Costco would get black beans in sometime so I could buy several at once and at a lower price. All they've had is pinto, re-fried beans, and ranch beans…but no black beans.
A few weeks back my husband and Logan went to Costco for me. While my husband was shopping he spotted some cases of black beans and loaded up the cart with FOUR CASES of black beans!
What he didn't know was that I had already bought about 10 cans the day before when I went to the grocery store. In the check out line someone asked him why on Earth he needed so many beans.
He shrugged (or at least I imagine he probably did) and said "Just to have." When he got home he told me that he had a present for me. I never would have guessed beans, but when he told me I was so excited!
It seems like I'm always buying black beans every time I go to the store. They're so versatile so I end up using them a lot. Now you know what a black bean nerd I am!
My pantry is all stocked up and ready for some new bean recipes. What do you have to share? What is your favorite black bean recipe?
The Best Black Bean Recipes
Are you looking for some recipes to make with black beans? Here are 15 of our favorite black bean recipes!
More Black Bean Dishes from the Recipe Archives:
Did you love this post?
Sign up for Good Life Eats email updates and never miss another update!