Easy Chicken and Bean Tostadas
I like to keep my pantry well stocked with lots of canned beans because they're one of my favorite pantry staples and go-to ingredients for quick, inexpensive meals.
Beans are perfect when you have a small amount of leftover meal that you'd like to stretch a little a little further, which is exactly what I did in these Easy Chicken and Bean Tostadas.
I've recently been experimenting with more than just your traditional culinary beans in some of my recipes. I have been a big fan of Bush's Culinary Beans for years, because I honestly don't think there is a better canned bean for out there for your recipes. Bush's also have great varieties of other bean options, such as Chili Beans, Baked Beans, and more.
In this recipe, a simple chicken Tostada gets a make over with these Bush's® Bold & Spicy Baked Beans. These Easy Chicken and Bean Tostadas are super simple to throw together and they're perfect for lunch or a quick dinner thanks to the help of Bush's Beans.
These Bush's® Bold & Spicy Baked Beans have a hint of  spice thanks to the seasonings of cilantro and cumin that are paired with bacon and brown sugar, making them a fun addition to these Chicken Tostadas.
Toasted flour tortillas are topped with your favorite guacamole or even just smashed avocado, lettuce and cilantro, shredded chicken, and Bush's® Bold & Spicy Baked Beans.
You can garnish them however you'd like, but I chose to add sliced green onion, diced red pepper and sour cream on top of mine. Other topping options might include sliced jalapeños, shredded cheese, sautéed onions, olives, or really anything else that you have on hand!
More Easy Bean Recipes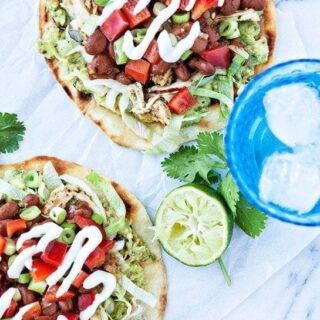 Ingredients:
3 tablespoons olive oil
8 small Flour Tortillas
2 cups Guacamole or Mashed Avocados
2 cups Shredded Lettuce, such as Romaine or Iceberg
2 tablespoons finely chopped Cilantro
3 cups Shredded Chicken, cooked and warm
1 can Bush's® Bold & Spicy Baked Beans
1/3 cup Salsa Verde
Garnish:
Diced Red Bell Peppers
Sliced Green Onion
Sour Cream
2 limes, cut into Lime Wedges
salt and pepper, if desired
Directions:
To prepare the tortillas:
Heat a skillet or late griddle (a grill works well too) to medium heat. Brush each side of the tortillas with olive oil and cook until crispy and toasted, about 1 minute per side. Set aside.
To prepare the toppings:
Combine the lettuce and cilantro. Set aside. Add the beans to a medium saucepan and cook over medium heat until hot, turn heat to low and simmer until you assemble the tostadas.
To Assemble:
Layer the ingredients in order: guacamole, lettuce mixture, chicken, beans, salsa, and your desired garnishes, making sure to divide the ingredients evenly between the eight tortillas. Serve each with a wedge or two of lime for squeezing on top. Season to taste with salt and pepper, if desired.
Notes:
Leftover grilled chicken or rotissere chicken works great in this recipe. Shredded Tex-Mex Crock-Pot Chicken also works well if you have that on hand. This recipe is great for making a big batch of and storing in the freezer.
This post is sponsored by Bush's Beans. All opinions are my own.