I recently had the opportunity to attend the School Nutrition Association's Annual National Conference in Salt Lake City. Prior to attending this conference, school lunch is not something that I really knew a lot about.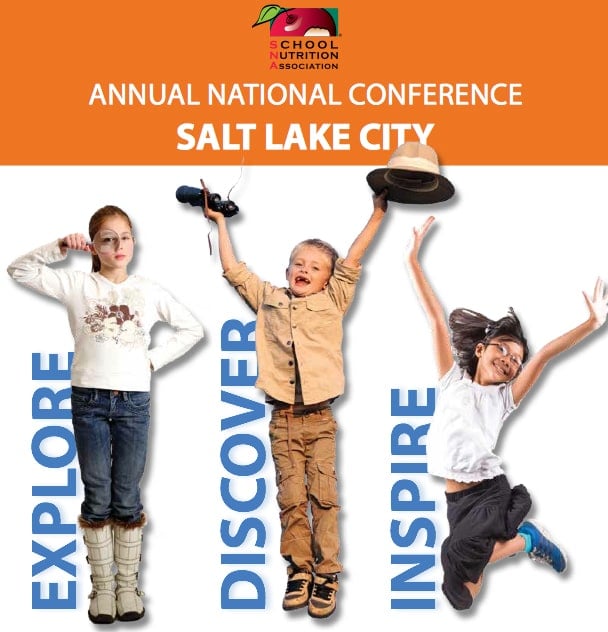 Due to Logan's peanut allergy and history of picky eating, he has always felt more comfortable bringing lunch from home. And because I packed lunch for him it was just easier to do the same for Madeline. Madeline, however, loves to eat school lunch. It isn't something that she does often, but because she likes it so much it was great to learn more about what goes into the nutrition in the school lunches.
During the conference I attended educational sessions about Cafeteria Reinvention – how small changes can make a big difference – based on the incredible research at Cornell University's Center for Behavioral Economics in Child Nutrition Programs, Food Allergies: a Review of State and Federal Level Support, and Experimental Nutrition Education: Promoting Healthy Habits.
A couple tidbits of information from the education sessions:
Kids are more likely to eat fruits or vegetables at lunch when they are offered a choice, such as "Would you like an apple or an orange?"
Labeling a school as "peanut-free" actually leads to more accidental exposures because a false sense of security is created. It is better for schools to have a "peanut aware" attitude and have guidelines in place for how to deal with allergies.
Getting kids involved in educational activities like school gardens, farm tours, and taste testing new recipes has a positive impact on their food choices.
I also had the opportunity to spend some time with Jeremy West, Director of Nutrition Services for Weld County School District 6 while touring the massive exhibit floor. I had no idea what to expect on the exhibit floor.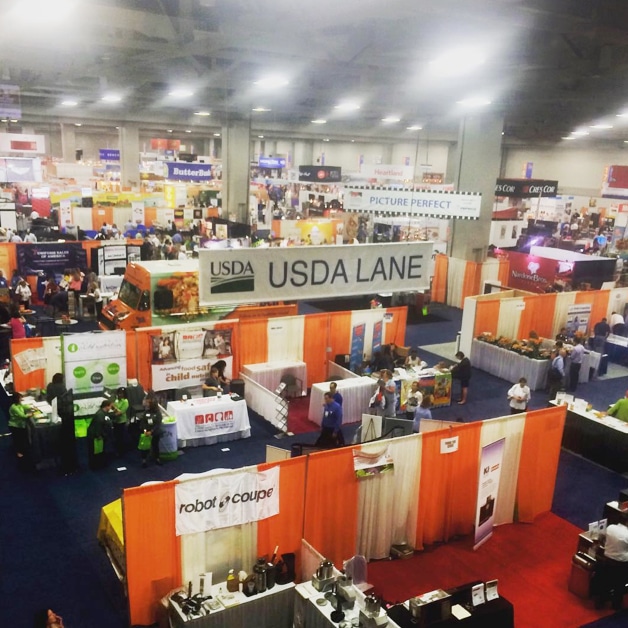 Honestly, I saw everything. From nutrition directors searching for the perfect vendor for their chicken tenders or French fries, technology like Nutritslice (an app that Weld Country D6 uses) to assist schools and parents with their school menus and nutrition, commercial kitchen appliances to make food prep simpler and faster, to vendors offering produce options for schools geared towards "from scratch" kitchens. I even spotted a few vendors geared towards offering peanut-free snack options for school cafeterias.
Jeremy is one of the founding members of the Colorado Farm to School Taskforce and currently serves as Vice President of the Colorado School Nutrition Association. While he doesn't serve as the director of nutrition for my children's school district, it was great to speak with someone in Colorado and to hear their perspective on school lunches.
Jeremy shared how Greeley has worked really hard to transform their school lunches from mostly processed foods to currently a mostly "from scratch" kitchen – something I was thrilled to hear. Weld County D6 makes their own spaghetti sauce and adds extra vegetables to it. While they do order pizza dough for crust, the rest of their pizza is made "from scratch." They even tried to make their own Butternut Squash Mac n Cheese which he said didn't go so well, but they found some work arounds for a mostly "from scratch" version that fit nutritional requirements and tasted great.
It is also a huge goal of Weld Country D6 to put more local foods in their cafeteria, something they have been working hard to implement, though it isn't a task that is without challenges.
This innovative approach to school lunches, providing fresh produce with meals cooked "from scratch," is offered to the 20,000 students in D6 schools. The quality of these menus has even caught the attention of news sources such as the New York Times and ABC's Nightline.
It was fantastic to learn about great things happening with school lunches in Colorado schools. If you'd like to get more involved in learning what goes on behind the scenes of the school lunch program, have questions about your child's school lunch, or would like to help your school get involved in initiatives like school gardens or utilizing more local produce, I would encourage you to learn who the director is for your school district.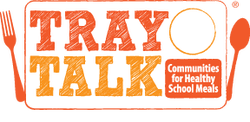 Parents can learn more by visiting Tray Talk, a community created by the School Nutrition Association with parents in mind. Tray Talk is a great resource for parents who want to learn more about school meals, participate in discussions and connect with success stories in the school meal programs across the country. Visit Tray Talk on Facebook and Pinterest.
This post is sponsored by School Nutrition Association. All opinions are my own.