lifeI wanted to try something a little different things year. I made a list of 15 specific things that I wanted to do this year rather than just making the typical resolutions (I still have a couple of those). Then I wondered…what would the kids come up with if I asked them to write a list of 15 things we wanted to do as a family for 2015?
At first it was pretty hilarious. I was met with really eager faces and lots of shouts of ideas, mostly pretty outlandish. Did they think that if they said it I would automatically put it on the list? Was this the key to getting to do everything they've ever wanted?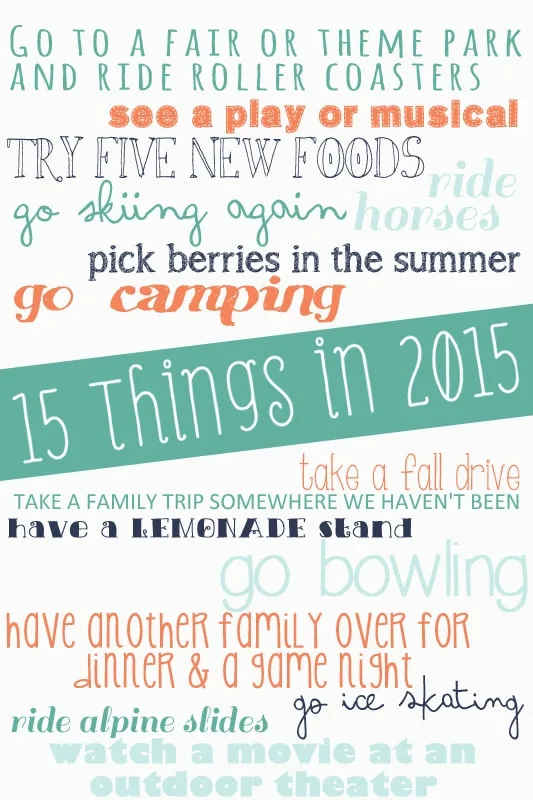 Sadly, no. Discarded were things like GO TO THE CARIBBEAN! GO TO HAWAII! (I wish, I wish). Even GO TO DISNEY WORLD didn't make it on the list. Big, expensive trips like that are not things I can promise right now, as much as I would really love to do those things with my kids. Especially while they are little and everything is so amazing and magical to them.
But we were able to come up with a reasonable list of 15 things we'd like to do together. Even though none of them are the Caribbean or Hawaii or even Disney World, I think the kids came up with some pretty fun ideas. Its kind of funny looking over this because a big majority of these things are warmer weather activities and here we are in the middle of winter.
15 THINGS IN 2015 – FAMILY EDITION
Go berry picking in the summer.
See a play or musical.
Have another family over for dinner and game night.
Go skiing again.
Ride alpine slides.
Take a fall drive.
Go to a fair or theme park and ride roller coasters.
Have a lemonade stand.
Ride horses.
Go ice skating.
Watch a movie at an outdoor or drive in movie theater.
Go bowling
Take a family trip somewhere we haven't been before.
Go camping.
Logan learn to eat 5 new things (and like them): oatmeal, pork chops, pineapple, couscous, tacos
Logan picked the foods on his 5 new things list completely all on his own. We had pork chops immediately after writing this list and he already likes that one. I'll have to share the recipe with you soon because it was really simple, but I liked it too.
Last week we tried tacos. I used this 4-Ingredient Slow Cooker Salsa Verde Chicken from Gimme Some Oven for the chicken. It was super easy. He liked tacos "okay, but not like love them," but he also committed to regularly eating these foods not just eating them once. He loved the pineapple and thinks couscous is "way better than rice, which tastes like nothing." I'm kind of motivated to get the food list tackled ASAP. The more foods he eats, the easier dinner time is for me!
I'm looking forward to tackling this list with the kids. I think they did a great job of coming up with ideas and it will be fun to experience these things with them – I hope we manage to get them all checked off!
Do you have any fun family plans for 2015?