A simple, just-spicy-enough Arrabbiata Sauce you can make from pantry ingredients. Serve it with anything — chicken, sausages, pasta, even your morning eggs!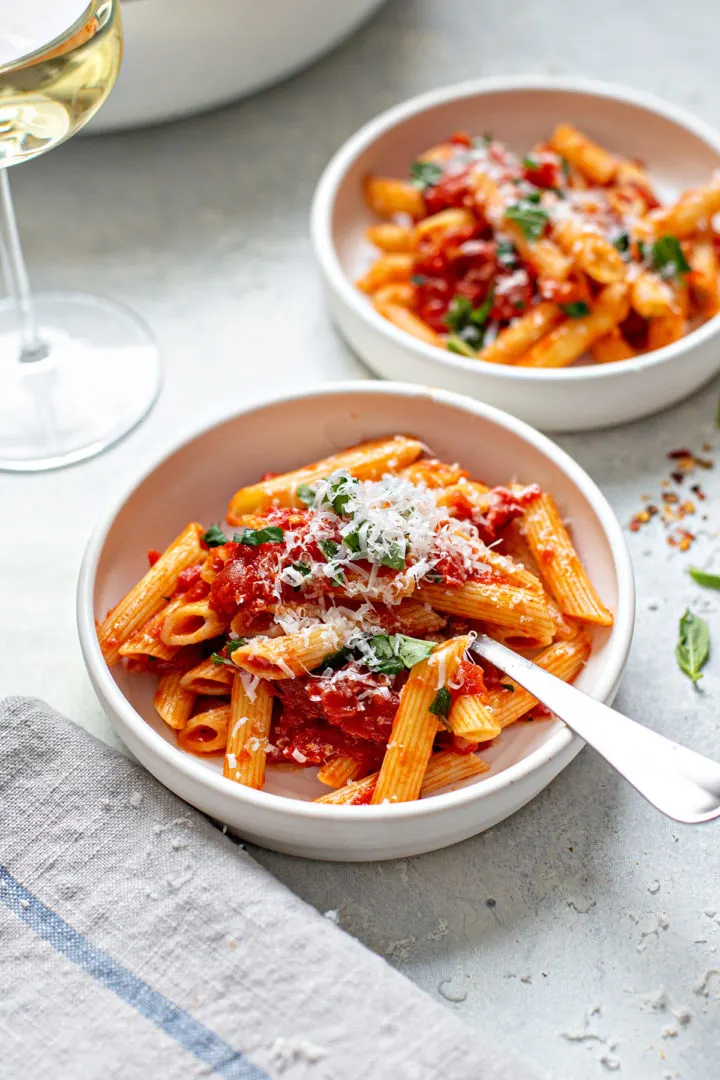 Click HERE to save this recipe for Arrabbiata Sauce!
Making this Spicy Arrabbiata Sauce Recipe
I wish moms got sick days. Like so many families this time of year, we've had a round of sore throats and colds.
Consequently, we've spent a lot of days at home recovering, which means we haven't had much time to get to the market, and the cupboards and refrigerator start looking a little dire.
On days like this, I love to make a double batch of this arrabbiata sauce. We'll eat it for dinner and the next morning I'll serve it with my morning eggs and veggies.
It's as versatile as it is quick, which can be such a lifesaver when you're extra busy or don't have time to dash off to the store.
It's warm, soothing, and perfect for chilly or cloudy days. You may not get sick days as a mom, but at least there are still dinners worth pulling yourself off the couch for.
What I Love About this Recipe for Arrabbiata Pasta Sauce
Arrabbiata sauce is one of those great recipes that you can basically pull out of thin air. The ingredients are pantry staples, and it's one of those magical recipes that tastes like so much more than the sum of its parts.
Plus, it's not soup. (Don't get me wrong, I love soup, but after a few days, it starts losing its magic, if you know what I mean.)
You can also control the level of spice. I make it medium-spicy for my kids, then my husband and I drizzle a bit of extra chile oil over ours.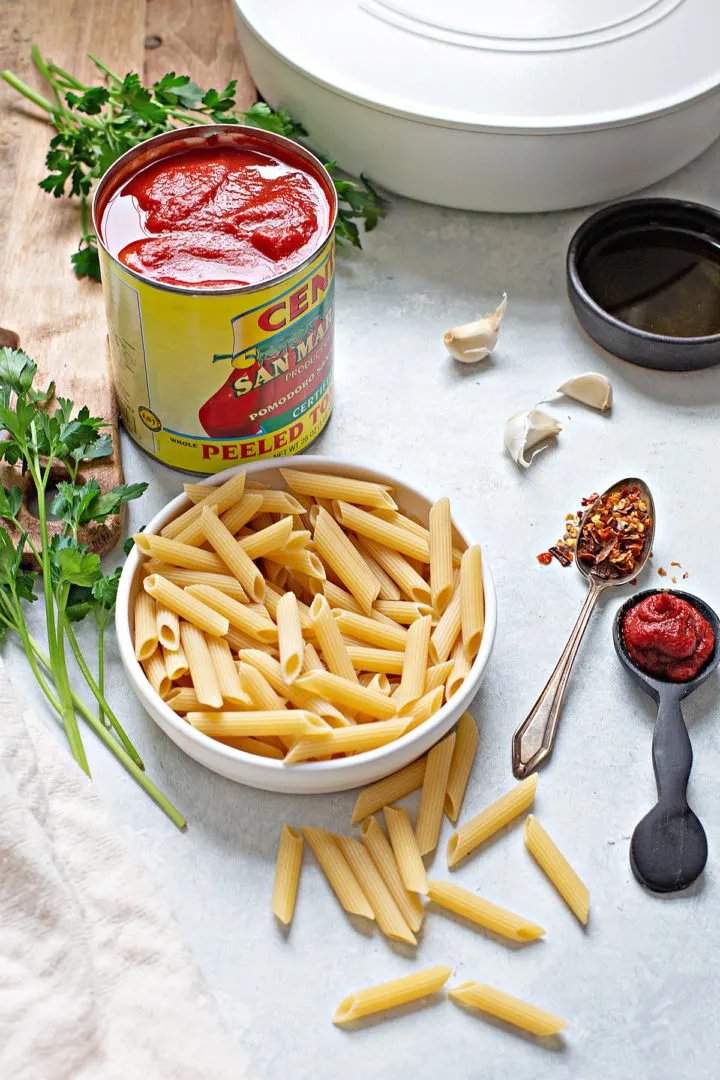 This post may include affiliate links. As an Amazon Associate and member of other affiliate programs, I earn a small commission from qualifying purchases.
What is Arrabbiata Sauce?
Arrabbiata sauce is a simple spicy, tomato based sauce that originates from the Lazio region of Italy, particularly the city of Rome. It is made from garlic, tomatoes, red chili peppers, and olive oil.
Wondering what Arrabbiata means? It literally translates to "angry" in Italian.
Will Kids Eat this Spicy Arrabbiata Sauce?
Perhaps surprisingly, this sauce is GREAT for kids and picky eaters. For one thing, you can blend it so it's entirely smooth. Then, there aren't any chunks or "weird things" going on texture-wise.
I've found my kids are much more likely to try a new sauce if they can approach it on their own terms. It definitely works for our family.
For my own little eaters, I serve sauces like this one on the side in a small dish or specific place on the plate and let them dip things into it, whether that's pieces of chicken, veggies, veggie noodles or pasta.
My youngest would eat this by the spoonful and called it "soup" when she was little. My older one was a bit more cautious, but he'll carefully dip the ends of pasta into the sauce to taste it.
Tools Needed to Make Penne Arrabbiata
You'll need a few different kitchen tools to prepare the arrabbiata sauce and the penne arrabbiata. Here's what I recommend having on hand before beginning this easy recipe:
Garlic Press – for mincing the fresh garlic cloves and chopping the tomatoes.
Sharp Knife and Cutting Board – to cut the fresh parsley and basil leaves.
Large Skillet – I recommend a skillet large enough that you can add the pasta to the sauce and stir it together.
Wooden Spoon – for stirring the arrabbiata sauce while it cooks.
Large Pot – you'll want to cook the penne pasta in a large pot of salted water so it has plenty of flavor.
Rotary Cheese Grater – to grate the fresh pecorino romano cheese for your pasta meal.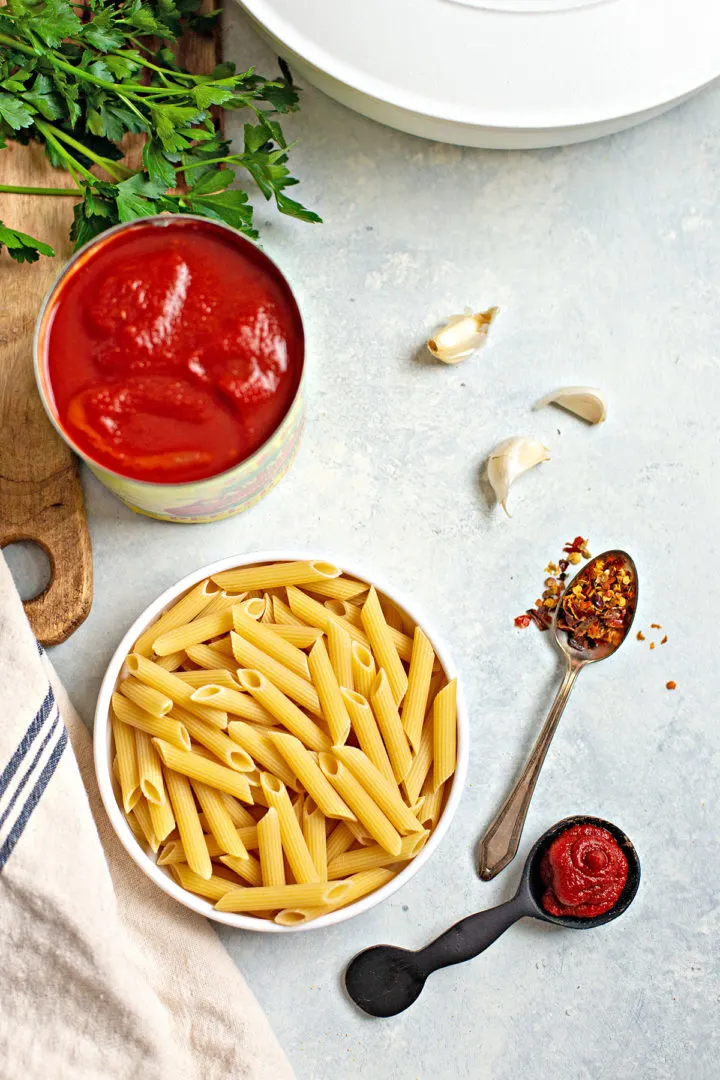 Click HERE to save this recipe for Arrabbiata Sauce!
Arrabbiata Sauce Ingredients
For this easy arrabbiata sauce, you'll need the following ingredients:
Extra-Virgin Olive Oil
Fresh Garlic Cloves
Crushed Red Pepper Flakes
Tomato Paste
Diced San Marzano Tomatoes
Kosher Salt
Fresh Parsley
For the complete ingredient list and detailed instructions, scroll to the bottom of this post for the FREE printable recipe card.
Can I Use Fresh Tomatoes in Arrabbiata Sauce?
Yes, definitely! Fresh, in season tomatoes are amazing in this spicy simple tomato sauce. Italian tomatoes, such as San Marzano or Roma tomatoes would be best for making this sauce.
You'll need to blanch the tomatoes and then peel them before you chop them for the sauce. This How to Freeze Tomatoes tutorial has instructions for blanching tomatoes.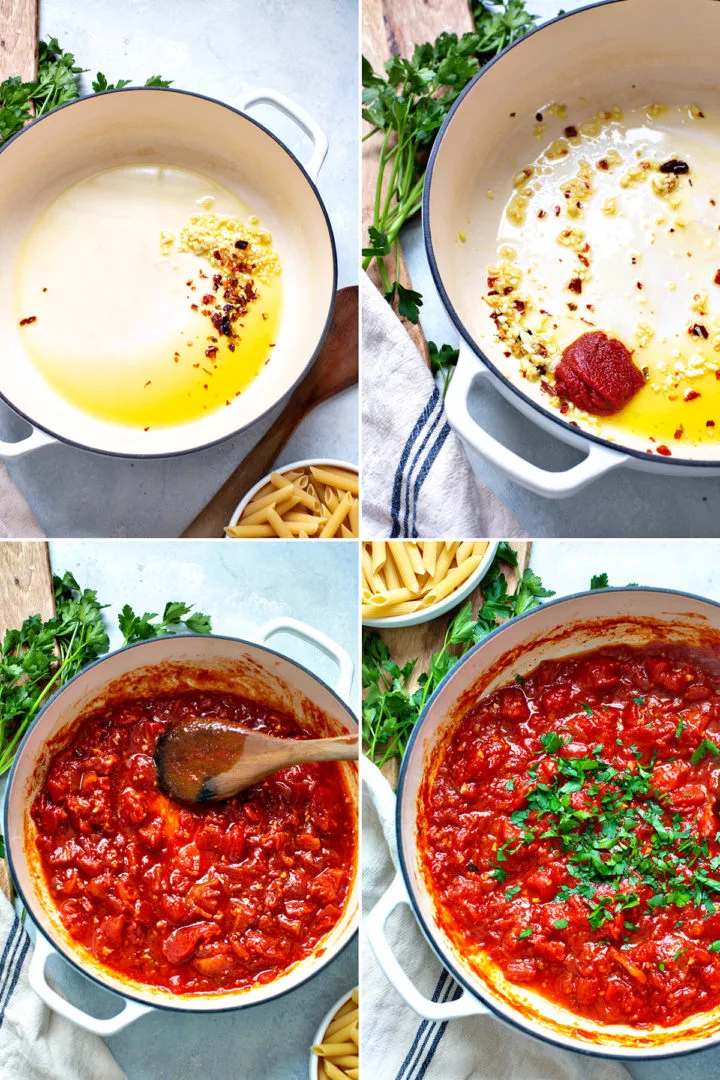 How to Make Arrabbiata Sauce
To make this homemade arrabbiata sauce, simply heat the olive oil in a pan. Then, let the crushed red pepper and garlic infuse in the oil. After that, stir in the tomato paste, diced tomatoes, salt, and parsley.
Recipe Note:
Not traditional, but if you prefer a smooth sauce, you can blend up the sauce using either a blender or a hand-held immersion blender. If needed, transfer the sauce back to the pan to heat it up again before serving.
The above is simply a quick summary of this recipe. Check out the full recipe in the free printable recipe card at the bottom of this post for all the detailed instructions.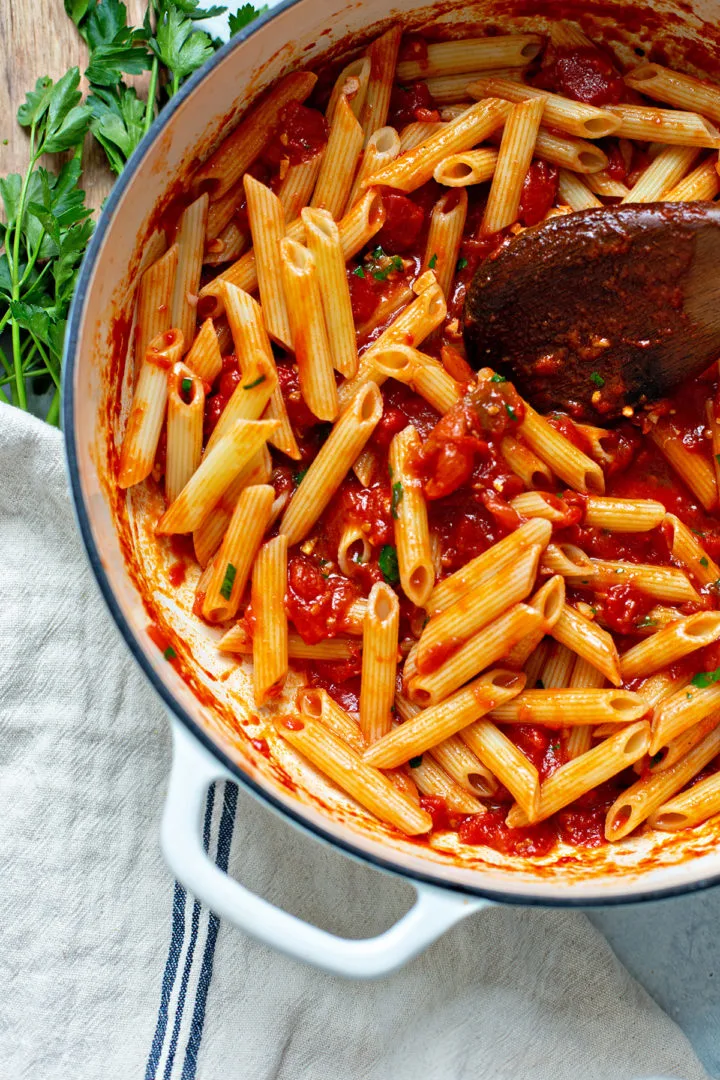 Making Penne all'Arrabbiata
Stir the cooked penne rigate into the pan with the arrabbiata sauce.
We like to serve the Penne all'Arrabbiata with my homemade chili garlic oil on the side for drizzling on top – perfect for those who would like more heat on the sauce.
Then, garnish each serving with fresh basil leaves and a sprinkling of pecorino romano.
Tips for Making the Best Arrabbiata Sauce
Arrabbiata Sauce is made from very simple ingredients, so the quality of your sauce will be determined by the quality of your ingredients.
Use quality tomatoes.
We prefer San Marzano Tomatoes. This tomato variety is grown at the base of Mount Vesuvius.
These tomatoes have a sweet flavor and low acid thanks to the nutrient-dense soil, which makes them perfect for sauce recipes.
Real San Marzano Tomatoes are labeled with a D.O.P. (Denominazione d'Origine Protteta) because they have a "protected designation of origin." You'll be able to find a DOP seal with a Consorzio San Marzano certification on your tomatoes.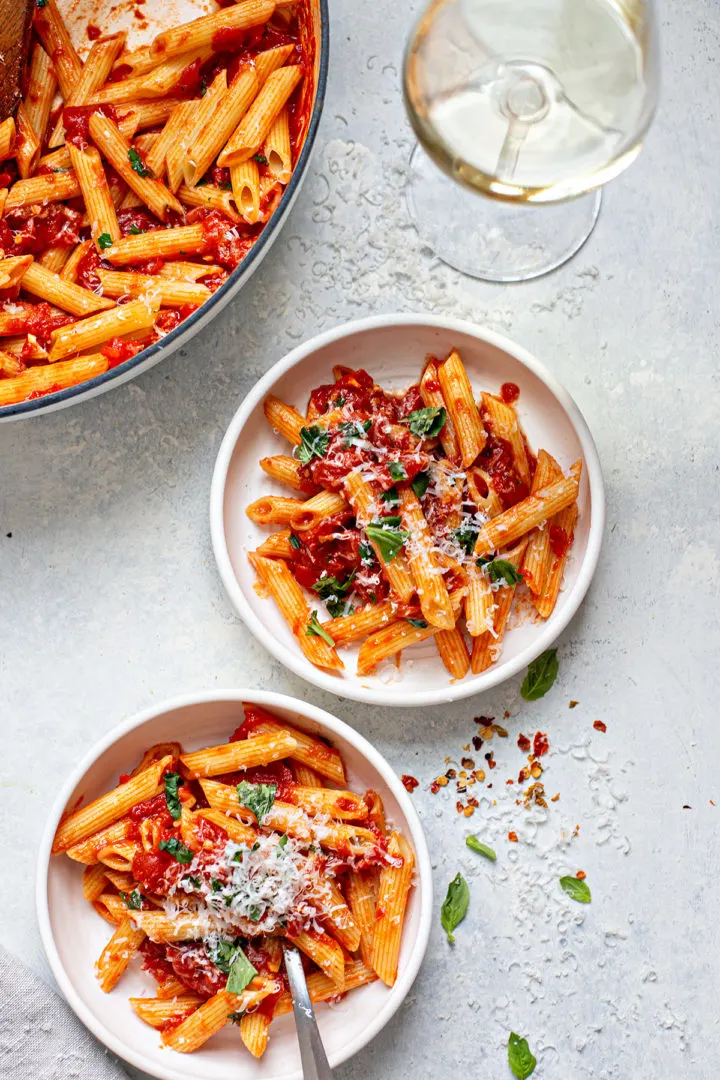 Click HERE to save this recipe for Penne all'Arrabbiata!
Use fresh garlic.
Fresh garlic cloves have a lot more flavor than the jarred, minced garlic cloves, so take the extra time to chop up some fresh cloves.
Adjust the heat to your preference.
When making this arrabbiata sauce, feel free to tweak the amount of chili flakes you use in it. If your family is sensitive to spicy foods, scale it back a bit!
Make homemade chili oil.
Store bought also works, but homemade is so easy to make and you'll have it on hand for other recipes. Those who prefer hotter arrabbiata sauce can drizzle their servings with some of the oil before eating.
If you make your own chili oil, note that the fresher your chili flakes, the better this dish will turn out. Toss that dusty old jar from a few years ago!
What to Serve with Penne all'Arrabbiata
For pasta nights, garlic bread and this Italian Mixed Greens Salad with Prosciutto are our favorite things to serve as side dishes.
You might also like this recipe for Copycat Olive Garden Salad alongside this pasta dish.
Other Ways to Use Arrabbiata Sauce
You can pair this spicy tomato sauce with almost anything you have in the house.
Pasta is the obvious choice, but it also goes with sausages, scrambled eggs, a bowl of steamed veggies, or some grilled chicken.
You can use it in place of pizza sauce on your pizzas, or as a dipping sauce for mozzarella sticks, spinach balls, and other appetizers.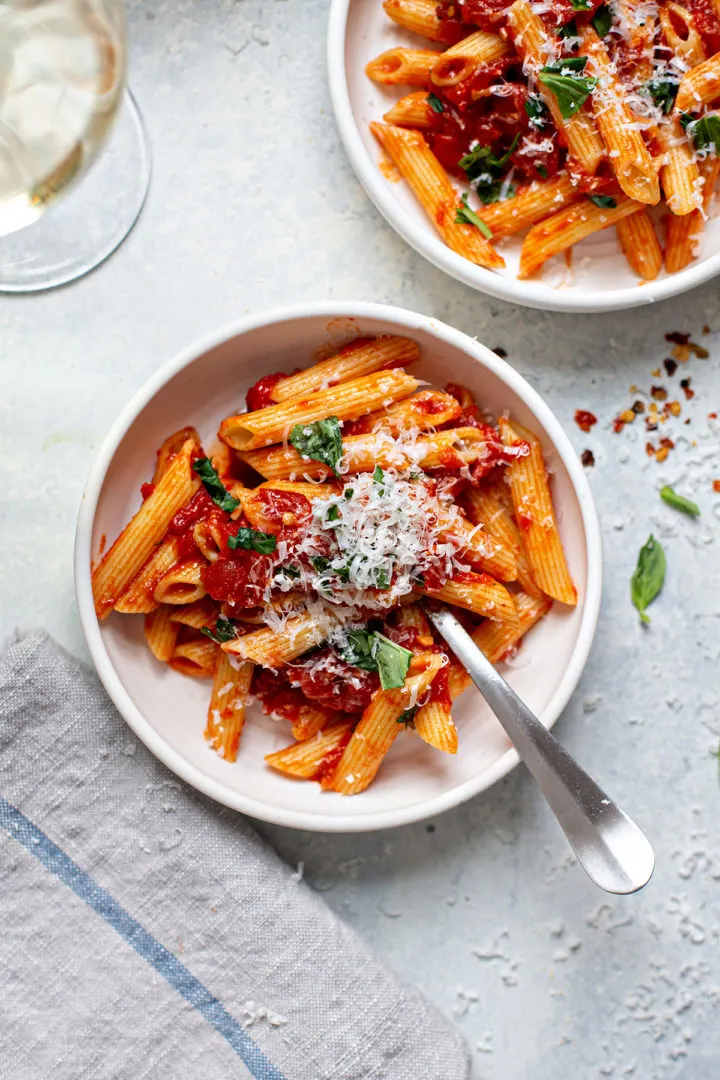 Try this Recipe for Penne all'Arrabbiata!
Next time you're looking for simple pasta sauce recipe for pasta night, give this Arrabbiata Sauce a try!
Did you love the spicy kick in this recipe? Leave a comment below and give it a review for others to see what you thought of this pasta dish.
On Instagram? Share your photo and tag me with @goodlifeeats and #goodlifeeatsrecipes. I'd love to see your photo of this pasta arrabbiata recipe!
More Easy Sauce Recipes:
This Homemade Marinara Sauce requires some planning, but it's so worth it. This is seriously the BEST marinara sauce recipe ever, and I think your family will really love it!
Don't want to splurge on pine nuts to make pesto? No problem, just make this simple Walnut Almond Pesto instead!
This Kale Cilantro Pesto is also delicious in its own right and pairs well with pasta, seafood, and grilled meats.
During the summer, I make this Honey Pecan BBQ Sauce on repeat. It's just that good!
If you love the flavor of pesto but can't have dairy, try making a batch of this easy Vegan Pesto. It's so flavorful thanks to the nutritional yeast and fresh basil.
Get More Delicious Recipes via Email
Did you love this recipe for Arrabbiata Pasta Sauce? Sign up for Good Life Eats email updates and never miss another recipe!
Have you ever made Penne all'Arrabbiata?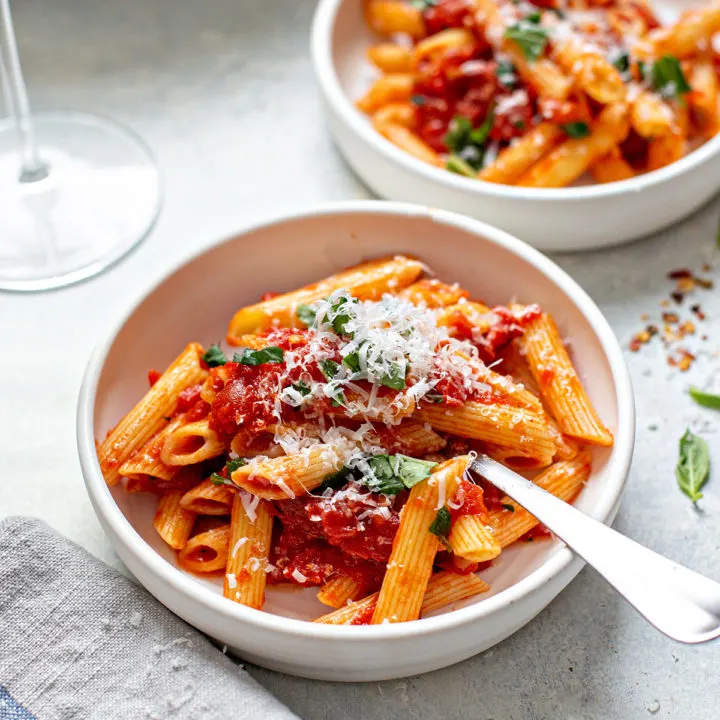 Arrabbiata Sauce
A simple, just-spicy-enough arrabbiata sauce you can make from pantry ingredients. Serve it with anything — chicken, sausages, pasta, even your morning eggs!
Ingredients
For the Pasta
1 pound Penne Rigate Pasta
For the Arrabbiata Sauce
3 tablespoons Extra-Virgin Olive Oil
3 cloves Fresh Garlic, minced
1/2 - 1 teaspoon Crushed Red Pepper Flakes, or to taste
1 tablespoon Tomato Paste
28 ounces canned Whole San Marzano Tomatoes
1/2 - 1 teaspoon Kosher Salt, or to taste
1 tablespoon chopped Fresh Parsley
To Garnish the Penne all'Arrabbiata
Chili Garlic Oil, for drizzling over top
Fresh Grated Pecorino Romano Cheese, for serving
1/4 cup chiffonade Fresh Basil Leaves, for garnish
Instructions
Preparing the Penne
Bring a large pot of salted water to a rolling boil. Add the pasta and cook according to package directions, until al dente.
Once cooked, set aside 1/2 cup of the pasta water for potential use. Then, drain the pasta and set aside until the sauce is ready.
Making the Arrabbiata Sauce
Remove tomatoes from the can, reserving any liquid. Dice the tomatoes and set aside along with the reserved liquid.
Heat the olive oil in a cast iron skillet, or other large heavy bottomed frying pan, over medium low heat until shimmering.
Once heated, reduce the stove heat to low. Then, add the minced garlic cloves and the red pepper flakes. Cook for 3-4 minutes, stirring with a wooden spoon periodically so it doesn't burn.
Next, stir in the tomato paste, mixing well, and cook for another minute. Then, add the diced tomatoes and salt to the oil mixture.
Increase the stove heat to medium and cook the arrabbiata sauce, while stirring, until slightly sputtering. Then, reduce the heat to low and continue to cook for 10 more minutes.
Taste for seasoning and add additional salt, if desired.
Stir in the fresh parsley.
Serving the Penne all'Arrabbiata
Add the cooked penne rigate into the pan with the arrabbiata sauce, stirring to coat the pasta completely. Cook for 1 minute before serving.
Note: If the sauce needs to be thinned slightly, you can add a small amount of the reserved pasta water to the sauce until desired consistency is reached.
Serve the Penne all'Arrabbiata with chili garlic oil on the side for drizzling on top - perfect for those who would like more heat on the sauce.
Then, garnish with fresh basil leaves and a sprinkling of pecorino romano.
Notes
I like to make Homemade Chili Garlic Oil to use in this recipe! Homemade Chili Garlic Oil is incredibly easy to make and a simple way to enhance the flavors of any dish. It is great used as a dipping oil for artisan bread, added to pasta dishes, drizzled in soups, sauces, or on pizza. Your creativity is the only limiter when it comes to using this Chili Garlic Oil.
If you'd rather use store bought, no problem. If you can't find or make chili oil, you can substitute olive oil for the chili oil and add additional chili flakes to your recipe when the garlic is sautéing.
Also note that the fresher your chili flakes, the better your dish. Don't use a dusty jar you've had sitting around for 2 years!
Recommended Products
As an Amazon Associate and member of other affiliate programs, I earn from qualifying purchases.
Nutrition Information
Yield

6
Serving Size

1
Amount Per Serving
Calories

229
Total Fat

9g
Saturated Fat

2g
Trans Fat

0g
Unsaturated Fat

7g
Cholesterol

5mg
Carbohydrates

30g
Fiber

4g
Sugar

4g
Protein

7g
GoodLifeEats.com offers recipe nutritional information as a courtesy and is an estimate only. This information comes from online calculators. Although GoodLifeEats.com makes every effort to provide accurate information, these figures are only estimates.