I picked up many great tidbits of knowledge at BlogHer Food, but the overarching message the speakers aimed to share was an idea so simple, yet so easy to forget. Does what I'm doing make me happy? That is how I measure my success as a food blogger. It doesn't matter what anyone else thinks as long as the work I put on my blog is bringing me joy. That's not to say it isn't nice when I receive positive comments on my posts, great blog traffic, and take photos worth complimenting. Who wouldn't want that? But, none of that matters if I don't like what I'm doing. Then, there were the tidbits of knowledge that I can use to improve what I'm doing once I've considered if I enjoy it to begin with.
Are you wondering how this relates to Pasta Bolognese? I'll tell you. Pasta Bolognese is basically spaghetti with meat sauce. Growing up I felt like this dish had been playing on repeat. Brown some ground beef, add a jar of sauce, boil water and cook the spaghetti. Instant dinner. Repeat again next week. It wasn't bad, but as someone who knew early on that I liked trying new foods and appreciated variety the weekly spaghetti dinner just wasn't for me.
As I began my own family and created my own home with our own unique traditions, instant dinner wasn't something I continued. These kinds of meals just didn't make me happy. I wanted complex flavors, new exciting recipes, homemade from scratch sort of meals. Making, eating, and sharing those kinds of foods – that is what makes me happy. And so that's why even though days are hectic with two little kids, one who wants 150% of my attention, I cook the way I do and make the time to blog about it.
The time it takes to make this recipe for Pasta Bolognese is worth it if eating homemade from scratch, deliciously flavored and textured foods is something that makes you happy. It's not going to give you instant dinner the way browned ground beef + jarred sauce does. If that sort of meal makes you happy, then by all means keep making and eating it.
If you're like me and want something more from food, this recipe will fill that need. Classic spaghetti with meat sauce that just gives the taste buds a little bit more. Actually, a lot more. Serve it with a basic green salad with vinaigrette and garlic bread.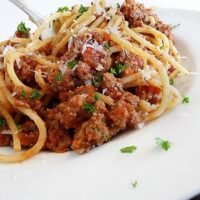 Pasta Bolognese
It takes some time, but a classic Bolognese is the best way to fancy up some spaghetti. The kids will clamor for more and your grandma will smile at the memories.
Ingredients
2/3 cup dried porcini mushrooms
2/3 cup water
1 1/4 cup sweet white wine (Riesling or White Zinfandel)
1 carrot, peeled and chopped roughly
1 shallot, peeled and chopped roughly
1 stalk celery, chopped roughly
1 – 28 ounce can crushed tomatoes
1 1/2 Tbs butter
2 cloves garlic, minced
1 tsp sugar
1 lb. lean ground beef
1 1/2 cup whole milk
2 Tbs tomato paste
3/4 tsp salt
1/4 tsp black pepper
1/4 c fresh parsley, finely chopped
1 lb. spaghetti, cooked according to package instructions
freshly grated Parmesan for serving
Instructions
Rinse the dried mushrooms under water in a small strainer and drain. Add the mushrooms and water to a small microwave-safe bowl. Cover with plastic wrap, cut steam vents in the plastic with a knife and microwave on high for 30 seconds. Allow mushrooms to stand for about 5 minutes, or until soft. Remove mushrooms from liquid (reserving the liquid) and set aside.
Bring wine to a simmer in a skillet over medium heat; reduce heat to low and simmer until wine has reduced to 1/4 cup, about 20 minutes. Set aside.
Meanwhile, chop the mushrooms in a food processor until broken down into 1/8 inch pieces. Add carrot, shallot and celery until and pulse until the vegetables are 1/8 inch pieces and mushrooms are well ground – scraping the sides as necessary.
Heat butter in a 12-inch skillet over medium-high heat. When the foaming subsides, add the chopped vegetables and cook, stirring often, for about 4 minutes. Add the garlic and sugar, cooking for an additional 30 seconds.
Add the meat, breaking into 1-inch pieces with a wooden spoon, about 1 minute. Pour the milk into the pan while stirring meat and breaking into 1/2 inch pieces.
Reduce heat to medium, continuing to simmer, while stirring to break up the meat into small pieces and until most of the liquid has evaporated and the meat begins to sizzle, about 18 minutes. Add tomato paste and stir till combined, about 1 minute.
Stir in the tomatoes, reserved liquid from the mushrooms, salt, and pepper. Bring sauce to a simmer over medium-high heat, then reduce the heat to medium and simmer for 12-15 minutes. Liquid should be reduced and the sauce should be thick, but still moist. Stir in the wine and parsley and simmer an additional 5 minutes.
Combine 2 cups of the finished sauce with the prepared pasta, stirring until coated. Divide the pasta among individual bowls or plates and top each with an additional 1/4 of sauce and a sprinkling of freshly grated Parmesan cheese.
Recommended Products
As an Amazon Associate and member of other affiliate programs, I earn from qualifying purchases.
Nutrition Information
Yield

8
Serving Size

1
Amount Per Serving
Calories

345
Total Fat

11g
Saturated Fat

5g
Trans Fat

0g
Unsaturated Fat

5g
Cholesterol

61mg
Sodium

517mg
Carbohydrates

32g
Fiber

4g
Sugar

10g
Protein

23g
GoodLifeEats.com offers recipe nutritional information as a courtesy and is an estimate only. This information comes from online calculators. Although GoodLifeEats.com makes every effort to provide accurate information, these figures are only estimates.