This is the best Marinara Sauce! It's the real deal and the only marinara sauce recipe you'll want to use from now on! Crushed tomatoes simmer all day with extra-virgin olive oil, oregano, crushed red pepper, plenty of garlic, and a generous helping of Italian red wine. This homemade marinara sauce is rich, but delightfully simple.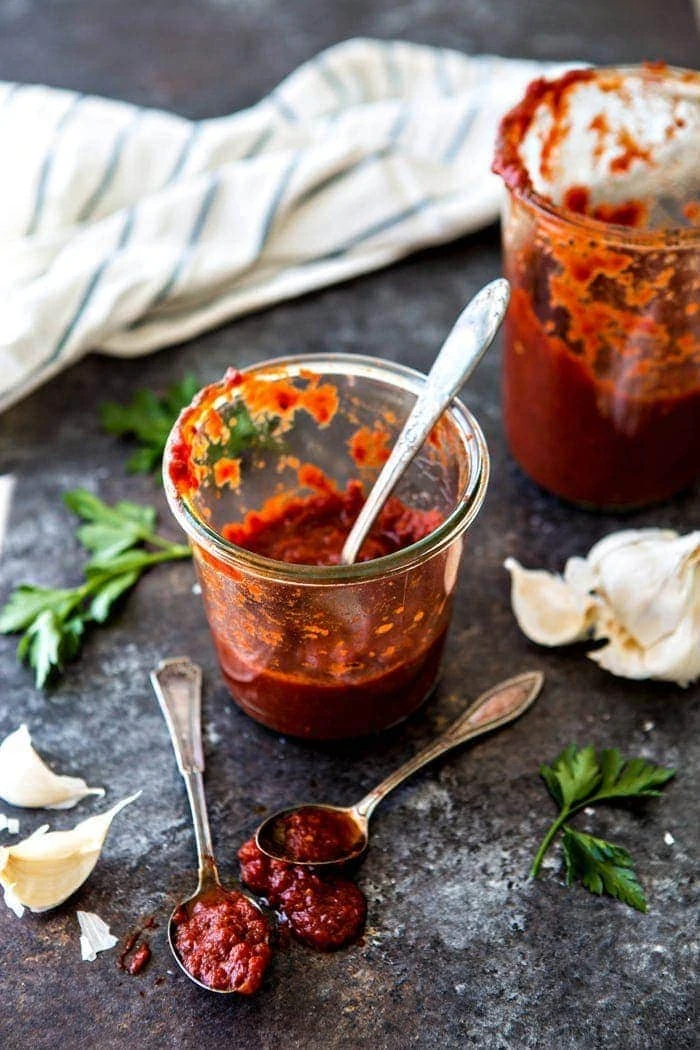 Click HERE to save this recipe for Best Ever Homemade Classic Marinara Sauce to Pinterest!
Creating this Homemade Marinara Sauce Recipe
We just had Kendall's family birthday dinner the other night. She requested Chicken Parmesan, so I made another huge pot of my homemade marinara sauce.
I breaded some chicken cutlets, smothered them in a casserole dish with some of the sauce, topped them with a sprinkle of Parmesan and a slice of fresh parmesan cheese. Then, I baked the casserole dish until the cheese was melted and bubbly.
I have never tried to make my own homemade pasta, but I really love fresh pasta. So, I bought some from the grocery store to serve along side the chicken parmesan.
We also had big Caesar salad courtesy of my mother-in-law (the kids are obsessed with her Caeser Salad), and artisan bread with Grandma's garlic butter.
Everyone was STUFFED after the meal. Needless to say, the birthday girl was pretty happy with her dinner.
I'm sure you're wondering, is this really the best marinara sauce?
This is the BEST Marinara Sauce!
You've probably seen lots of recipes around claiming to be "best ever." I promise you that this one really is the real deal.
Everyone asks me for the recipe and I can't believe that I haven't gotten it up on the blog before now.
This easy marinara recipe takes all day to cook, so I usually start it in the morning when I get back from taking the kids to school. The kids will ask me when dinner is as soon as they walk in the door after school because they can hardly stand to wait.
Then, they will beg for samples of homemade marinara sauce, and sneak tastes by dipping crackers in the pot when I'm not looking. I'm pretty sure if I ever left the pot unattended with all four kids in the house, I'd come home to half of what I thought that I was going to have because of all of their "samples."
I even love spaghetti night, and it was something that I was previously totally tired of after my childhood weekly spaghetti nights (courtesy of store-bought jarred sauce).
My best marinara sauce is seriously next-level. It only uses a handful of ingredients, but when they're good quality, simple ingredients go a long way!
This post may include affiliate links. As an Amazon Associate and member of other affiliate programs, I earn a small commission from qualifying purchases.
Tools Needed to Make Your Own Marinara Sauce
You'll need a few different tools to prepare my go-to recipe for marinara sauce. Here's what I recommend having on hand before beginning this authentic Italian recipe:
Glass Measuring Cup – to measure the wine and olive oil for this easy recipe for homemade sauce.
Measuring Spoons – to measure the seasonings.
Cutting Board and Knife – to chop the fresh garlic and fresh parsley.
Can Opener – to open the canned tomatoes.
Large Heavy Bottom Stock Pot – I use my Le Creuset Enameled Cast-Iron 7-1/4-Quart Round French Oven
Wooden Spoon – to stir the red sauce as it cooks.
Marinara Sauce Ingredients
For this easy marinara sauce recipe, you'll need the following ingredients (most of which are basic pantry ingredients that you probably already have!):
Extra virgin olive oil
Garlic cloves
Crushed red pepper flakes
Dried oregano
Crushed tomatoes
Sea salt
Granulated sugar
Red wine
For the complete ingredient list and detailed instructions, scroll to the bottom of this post for the FREE printable recipe card.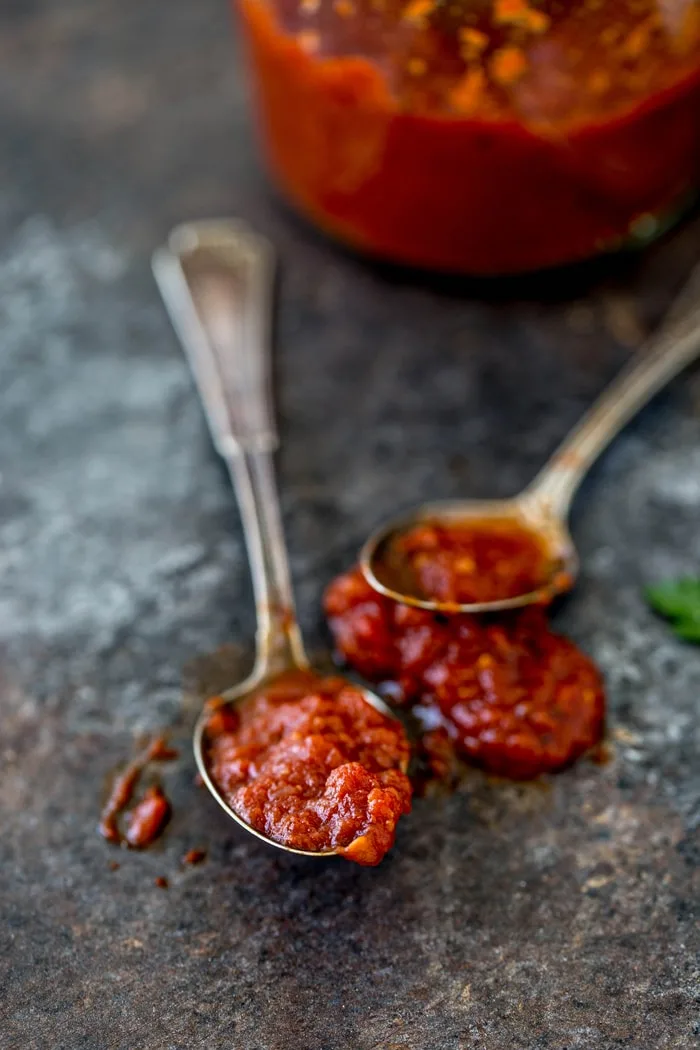 Click HERE to save this recipe for Best Ever Homemade Classic Marinara Sauce to Pinterest!
How to Make Marinara Sauce From Scratch
This recipe might look time consuming, and it's true, it does take a long time to cook. But the great thing is that it is a relatively hands-off recipe.
Start off by heating some extra-virgin olive oil in a large pot.
After you heat the olive oil, you'll add some garlic, crushed red pepper, and dried oregano.
Sauté this mixture until fragrant, then slowly add the cans of crushed tomatoes (stirring in between additions so it all mixes well).
Then add salt, sugar, and red wine.
Bring the mixture to a simmer, reduce it to low, and cook all day long. Your house will smell amazing. Anytime I make sauce, everyone who walks in comments on how good the house smells.
The above is simply a quick summary of this recipe. Check out the full recipe in the free printable recipe card at the bottom of this post for all the detailed instructions.
Tips for Making Homemade Marinara
Choose a Large Pot for Cooking:
Between the 6 cans of crushed tomatoes, the red wine, and the olive oil, you'll be using nearly 6 quarts of ingredients. Your pot needs to be relatively large so it can both accommodate the ingredients as well as allow room for stirring without overflowing.
Quality, Fresh Ingredients Matter:
Use fresh garlic cloves, not jarred garlic. It has so much more flavor!
Pick a good quality red wine – something you would enjoy when drinking a glass of wine. Check out tips in my Complete Guide to Cooking with Wine if you're unsure.
If you are concerned about the alcohol in the red wine, after 6 – 8 hours of cooking most (if not all) will have cooked off. Instead, you'll be left with lots of great flavor to enhance the tomatoes, garlic, and olive oil.
Cook Low and Slow:
Because this recipe does cook all day, I've written it to make a really large batch so you can prepare it less frequently. The long cook time is worth it though.
Because if you can cook it 6 – 8 hours instead of just a couple of hours, the flavor of this homemade marinara sauce gets deeper.
Cook Once, Freeze for Later:
This recipe makes a big batch of marinara sauce! We always end up having something using the sauce I've made that day for dinner (I have lots of recipe ideas below), and then I'll freeze the rest in portions for later uses.
How to Freeze Marinara Sauce
This is a great recipe to keep stashed in the freezer for a variety of uses and it provides a jumpstart on future dinner recipes for busy weeknights!
To freeze marinara sauce:
First let it cool completely and then transfer it to an airtight container (such as a freezer safe mason jar) or freezer bags. If using freezer bags, double bag the sauce and label before freezing.
If using freezer bags, lay them flat in the freezer so you can store them upright once frozen.
How to Thaw Frozen Marinara Sauce
When you're ready to use the frozen marinara sauce, simply place it in the fridge to thaw overnight. Then, the next day, reheat gently in a pot on the stove over medium-low heat.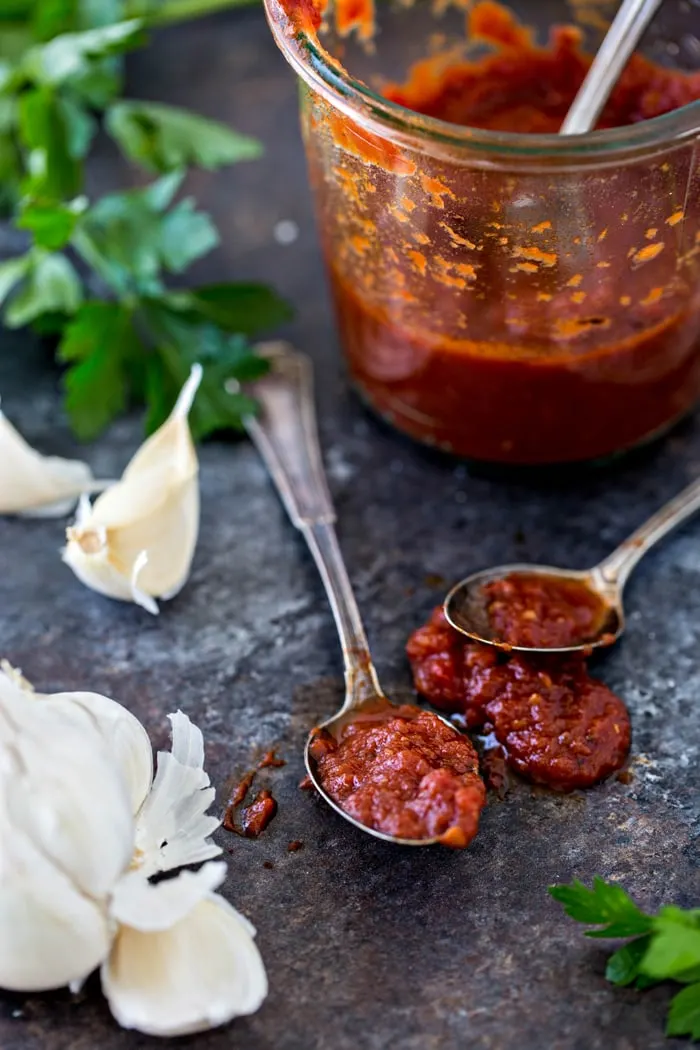 Click HERE to save this recipe for Best Ever Homemade Classic Marinara Sauce to Pinterest!
My Favorite Uses for this Homemade Marinara:
Looking some of my favorite ways to use the best marinara sauce? Check out some of these recipes that use homemade marinara sauce, or browse the recipe index archives for even more great recipe ideas:
Take this Easy One Skillet Baked Ziti to the next level by using this marinara sauce. Easy One Skillet Baked Ziti is the perfect, easy comforting pasta dish.
Use this homemade marinara sauce for a dipping sauce when serving these Spinach, Ricotta and Tomato Calzones.
Ricotta is mixed with a combination of primavera style vegetables, parmesan, and fresh herbs to create a tasty primavera stuffing to fill manicotti pasta. The Manicotti Primavera is then baked smothered in marinara sauce and mozzarella cheese for a comforting meal.
Sun Dried Tomato and Spinach Lasagna Rolls are stuffed with a decadent mixture of ricotta, sun-dried tomatoes, spinach, and Romano cheese, then topped with homemade classic marinara sauce.
Homemade DIY Pizza Night is one of our kids' favorite nights! It also makes a really fun dinner party to have with another family over. We love to do this with one of our neighbor families. Make some Totally Awesome Pizza At Home and then use this recipe for marinara sauce recipe for the pizza sauce.
Brown some ground beef and simmer it in plenty of this marinara sauce for a super simple spaghetti night that the whole family will love. If Baked Spaghetti is more your style, try this recipe for Baked Sausage and Vegetable Spaghetti.
For a simple Chicken Parmesan, make breaded chicken cutlets according to this recipe for Chicken Parmesan with Sun-dried Tomato Sauce.Take a stash of this marinara sauce out of your freezer and use that to spoon over the breaded chicken cutlets. Then, top with a sprinkle of parmesan and a slice of fresh mozzarella. Bake until the cheese is melted.
Try this Homemade Sauce!
Next time you're looking for a homemade pasta sauce with rich tomato flavor, give this Homemade Marinara Sauce a try!
Did you think it was the best ever tomato-based sauce? Leave a comment below and give it a review for others to see what you thought of our favorite pasta sauce recipe.
On Instagram? Share your photo and tag me with @goodlifeeats and #goodlifeeatsrecipes. I'd love to see your photo of this marinara sauce!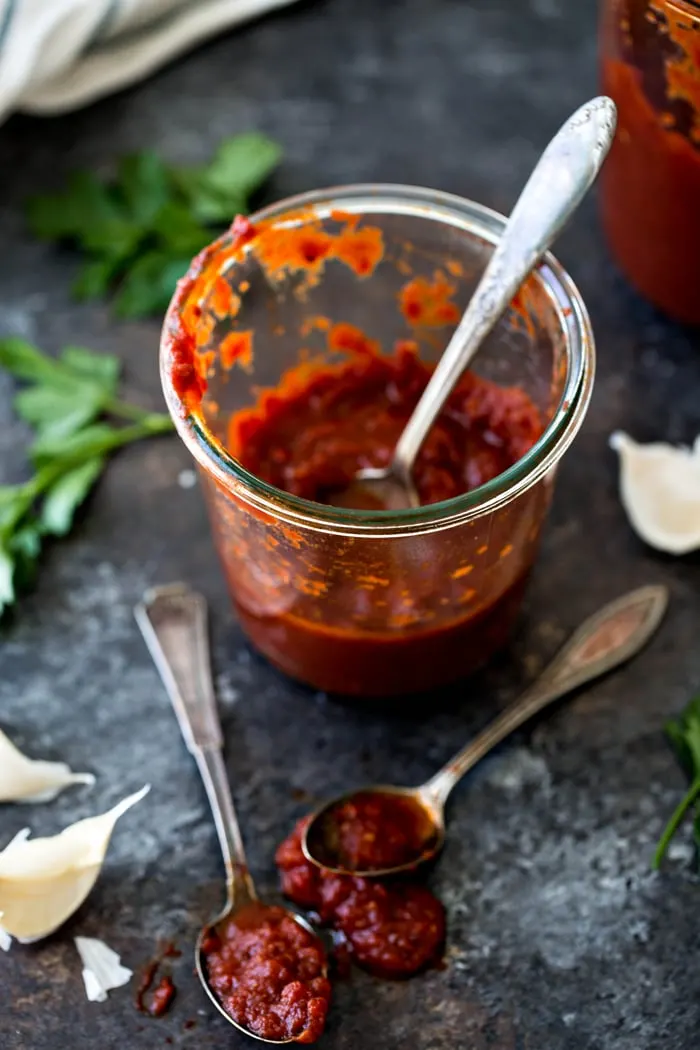 Get More Recipes via Email!
Did you love this recipe for Best Ever Homemade Classic Marinara Sauce? Sign up for Good Life Eats Email Updates and never miss another recipe!
Have you ever made homemade marinara sauce?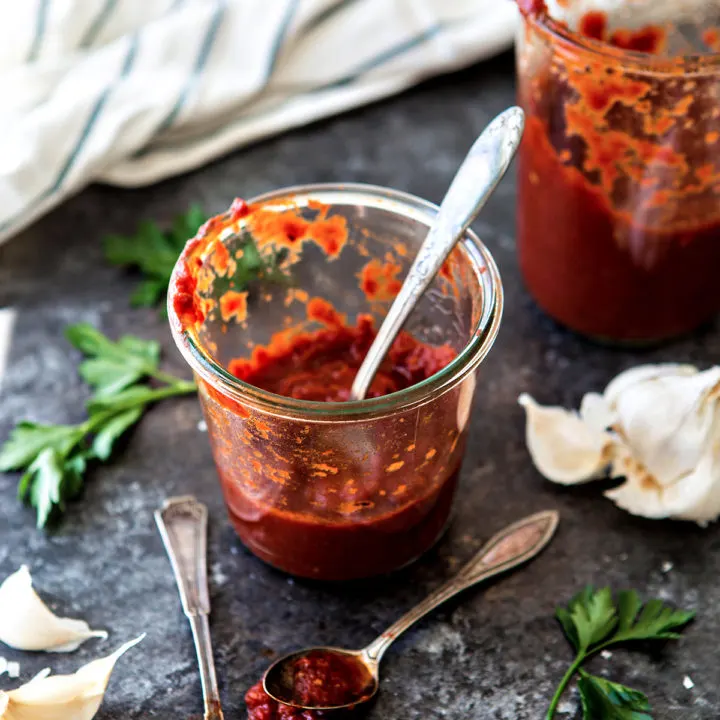 Best Ever Homemade Classic Marinara Sauce
Total Time:
8 hours
5 minutes
This Best Ever Homemade Classic Marinara Sauce is the real deal and the only Marinara Sauce you'll want to use from now on! Crushed tomatoes simmer all day with extra-virgin olive oil, oregano, crushed red pepper, plenty of garlic, and a generous helping of Italian red wine for an incredibly rich, but delightfully simple, sauce.
Ingredients
1/2 cup Extra-Virgin Olive Oil
4 1/2 tablespoons minced Fresh Garlic Cloves
2 - 4 pinches Crushed Red Pepper Flakes
2 1/4 teaspoon dried Oregano
6 28-ounce cans Crushed Tomatoes (do not drain)
2 teaspoons Sea Salt
2 teaspoons Granulated Sugar
1 1/2 cup Chianti or Sangiovese Wine
Instructions
Heat olive oil over medium heat in a large cast iron pot 7 quart (or other heavy bottom pot) or larger in size.
Add the garlic, crushed red pepper, and oregano. Sauté the garlic mixture for 2-3 minutes, until it becomes very fragrant.
Slowly add the crushed tomatoes, 1 can at a time, stirring after each addition.
After all of the crushed tomatoes have been added to the pot, add the salt, sugar, and wine.
Stir the mixture well using a wire whisk.
Bring the tomato mixture to a simmer.
Then, reduce to low and cook all day (with no lid), stirring with a wooden spoon every hour so the bottom doesn't burn.
I like to start it in the morning so it can cook at least 6 hours but 8 is better.
Taste before serving and add additional salt, up to 1 more teaspoon at most usually, depending on how much it has cooked down.
You can do a larger amount if you have a big enough pot because it freezes really well. I use this for spaghetti, pizza sauce, chicken parmesan, etc.
Notes
Freezing Instructions:
Cool the sauce completely, then transfer to freezer safe containers or freezer ziptop bags - quart or gallon sized work well.
If freezing in bags, make sure they are sealed completely, then double bag, and lay flat to freeze. Label containers with contents and date prepared.
A quart sized bag will hold approximately 4 cups of sauce. A gallon sized bag will hold approximately 16 cups of sauce. I recommend freezing in portions that work for your family and the recipes that you'll typically use the sauce for.
Recommended Products
As an Amazon Associate and member of other affiliate programs, I earn from qualifying purchases.
Nutrition Information
Yield

16
Serving Size

1
Amount Per Serving
Calories

185
Total Fat

8g
Saturated Fat

1g
Trans Fat

0g
Unsaturated Fat

6g
Cholesterol

0mg
Sodium

819mg
Carbohydrates

24g
Fiber

6g
Sugar

14g
Protein

5g
GoodLifeEats.com offers recipe nutritional information as a courtesy and is an estimate only. This information comes from online calculators. Although GoodLifeEats.com makes every effort to provide accurate information, these figures are only estimates.
Favorite Pasta Night Recipes