This recipe for Chicken Parmesan with Sundried Tomato Sauce is our very favorite recipe for Chicken Parmesan.
Make a double batch of the sauce and freeze some for later!
Chicken Parmesan feels like home.
I've been making it for so long that I barely remember the first time that I made it.
I know that it was sometime during college, because at one point I remember having roommates who were amazed that I could cook something so good.
And that's when cooking when from an activity I enjoyed to a bit of an obsession.
I was lucky enough to have one other roommate who was also a very good cook (who I am so very lucky to still be in touch with on a regular basis and get to visit often – Hi, Nila!).
Somehow the two of us convinced the other 4 that we should start a meal rotation.
That it made more sense for us to take turns cooking real meals each night than it did for all of us to make our separate dinners.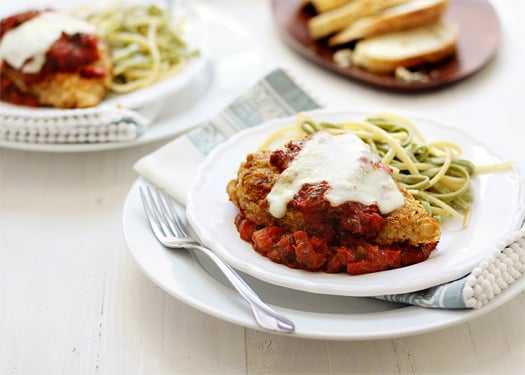 Cooking Light was the only food website that I really knew of back then.
I would avoid homework and instead browse recipes and bookmark what I wanted to make next.
Perhaps that itself was an indication that I should have changed majors…
But, who knew what a food blog was anyway?
If they even existed, they were probably so few and far between.
And the word "blog" certainly was not in the average person's vocabulary.
So I pressed on studying Psychology with a Neuroscience focus and kept on cooking in my spare time.
And thought about food pretty much all the time.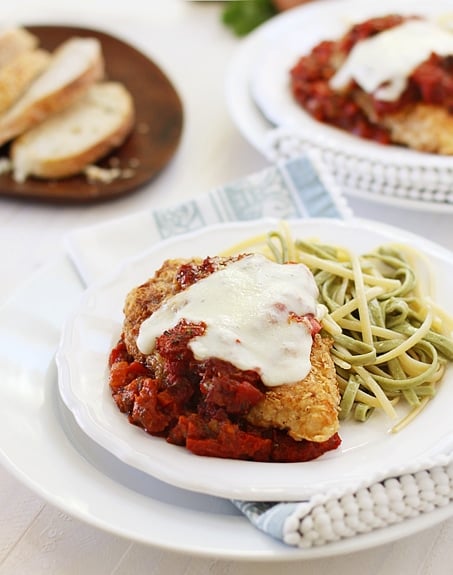 So here is my recipe for what my husband and I both consider "Better Than Any Restaurant" Chicken Parmesan, originally beginning from a Cooking Light recipe with a few adaptations through the years.
The chicken is basically the same, it's the sauce that has had a few evolutions.
And I do believe this is the first recipe I ever cooked for my In-Laws.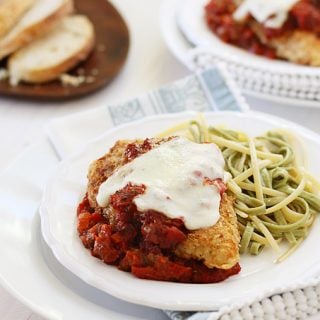 Chicken Parmesan with Sundried Tomato Sauce
Inactive Time:
30 minutes
Total Time:
1 hour
20 minutes
This recipe for Chicken Parmesan with Sundried Tomato Sauce is our very favorite recipe for Chicken Parmesan. Make a double batch of the sauce and freeze some for later!
Ingredients
Sundried Tomato Sauce:
2 teaspoons olive oil
1 medium onion, diced
3 garlic cloves, minced
1 (4 ounce) jar tomato paste
1/2 cup red wine
1 (14.5-ounce) can diced tomatoes, undrained
1 (14.5-ounce) can crushed tomatoes
1-2 teaspoons dried Italian Seasoning (in summer I use a handful of fresh basil added at the end)
1 bay leaf
1/2 cup sundried tomatoes, sliced*
1 heaping cup red bell pepper, diced
1/4 cup chopped fresh parsley
1 teaspoon balsamic vinegar
3/8 teaspoon black pepper
1/2 teaspoon salt, or according to taste preferences
For the Chicken:
1/3 cup all-purpose flour
1/3 cup grated Parmesan cheese
1/2 teaspoon black pepper
1/2 teaspoon salt, if desired
4 (4-ounce) boneless, skinless chicken breasts
1 egg white, lightly beaten
1 tablespoon olive oil, plus more if needed
1 cup (4 ounces) shredded mozzarella cheese
Instructions
For the Sauce:
Add the olive oil to a large saucepan or dutch oven and heat over medium-high.
Add onion and saute for 3-5 minutes, until translucent.
Add garlic and saute a minute more.
Add the tomato paste and cook, stirring frequently for 2 minutes.
Add the wine and whisk to combine with the tomato paste.
Stir in the diced and crushed tomatoes, Italian seasoning and bay leaf.
Bring to a boil and then let simmer for 15 minutes.
Stir in the sundried tomatoes and bell pepper.
Simmer until pepper is tender.
Stir in parsley, balsamic vinegar and season with salt and pepper (if desired).
Discard bay leaf.
For the chicken:
Preheat oven to 350°.
Combine the flour, parmesan, salt and pepper in a shallow bowl or plate with a rim.
Place chicken breasts in a gallon sized Ziploc bag.
Using a meat mallet, pound meat on both sides until it is flattened to 1/4 to 1/2 of an inch. (Some are easier to flatten than others. If they are really thick, I will cut them in half through the middle into to thinner breasts).
Coat each piece of chicken egg white, then dip both sides into the in parmesan mixture.
In a cast iron skillet, heat 1 tablespoon of oil over medium-high heat. Add chicken pieces to the pan, cooking cook 5 minutes per side - or until golden.
Add chicken to a lightly greased 9x13 pan.
Pour a large spoonful of sauce on top of each breast, then top with mozzarella.
Bake at 350° for 5-10 minutes (or until chicken is cooked through and cheese is melted.
Serve with pasta and additional sauce.
Notes
*I like to buy the kind in oil that are julienne sliced. Purchase a large jar at Costco. Before using in dishes, I rinse excess oil off.
adapted from Champion Chicken Parmesan
Nutrition Information
Yield

4
Serving Size

1
Amount Per Serving
Calories

484
Total Fat

17g
Trans Fat

0g
Fiber

4g
Sugar

9g
Protein

50g
Favorite Pasta Night Recipes